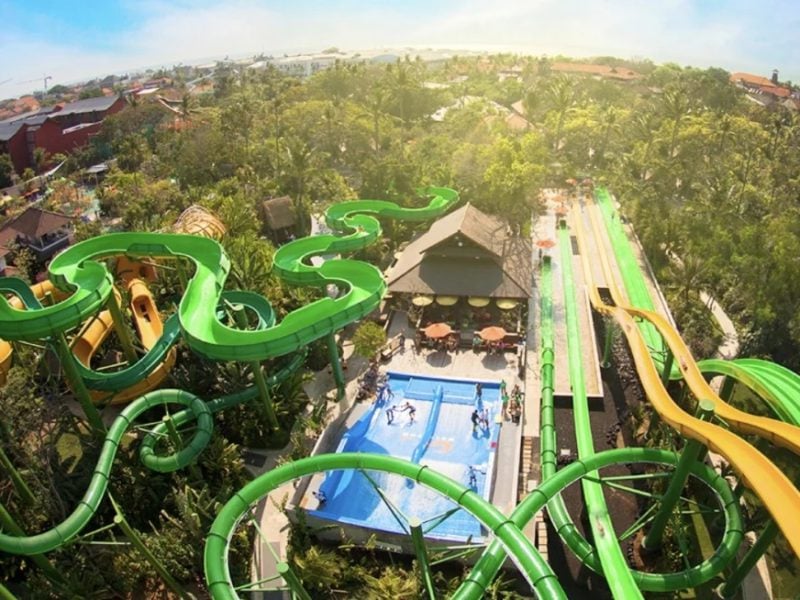 Bali is a fun choice for a vacation spot with family. On this island of a thousand temples, you can find so many options for family tourist attractions. Moreover, if you specifically want to enjoy your vacation time by visiting waterparks in Bali, there are so many choices of waterparks that you can visit.
Access to various waterparks in Bali is also very easy. You can find it in areas that are close to the airport or in areas that are known as popular tourist destinations.
To help you choose the best waterpark in Bali, here are the recommendations we have prepared!
1. Waterbom Bali, Kuta
Waterbom Bali is one pioneer of the first Bali waterpark in Kuta Bali. Located in the heart of the tourist village of Kuta, it occupies a total area of 3.8 hectares. Provides a variety of the best rides & slides in Indonesia. Complete supporting facilities will add to the comfort of waterpark visitors.
No less than 16 rides & attractions can be played at this Bali Waterpark. Good for adults and children. Not only that, but Waterbom Bali has also been selected several times as one of the Best Waterparks in the Asian Region.
2. Circus Waterpark, Kuta
Circus Waterpark Bali is a water park that carries a family-friendly theme. This waterpark also received the Excellence Service Award from TripAdvisor in 2013.
Offers a variety of exciting rides that you must try! Especially, the children's playgrounds are so many and all seem fun! No less than 6 rides made especially for children. Of course, do not miss dozens of other rides & attractions that bring joy to family holidays.
3. Splash Waterpark, Canggu
A little to the north, you can play water at the Bali Splash Waterpark. Located in North Kuta, precisely at Fins Recreation Club Bali, it can be reached by driving approximately 5 km from Seminyak Beach.
Splash Waterpark Bali offers world-class water rides. One of the slides even has a height of five levels with 4 tracks and a length of not less than 90 meters.
Enjoy a different sensation when playing at Splash Waterpark Bali in a comfortable and beautiful environment. Apart from the water park, Splash Waterpark Bali is also integrated with other games such as Trampoline, Bowling, Kid Club House, and other numerous water fun!
4. Taman Segara Madu, Canggu
Taman Segara Madu is one of the water parks that offers a beautiful environment with views of the rice fields. Located in the Canggu area, stands on an area of 4500 m2 with a variety of excellent facilities and rides.
This Bali Waterpark carries the concept of Recreation and Achievement, with an Olympic standard pool. Besides, there are also 3 other pools that have a variety of rides for both adult children.
5. Surf & Turf, Nusa Dua
Carrying a slightly unique concept from other water parks, Surf & Turf offers a surfing experience in an artificial pool. Having a water park area of 3300 m2 is perfect for an alternative vacation for friends and family while in Bali.
Besides surfing rides, you can also try other water park games. You can play various water rides such as Water Slider and space balls at Surf & Turf Nusa Dua Bali.
6. Sunday Beach Waterpark, Nusa Lembongan
Tired of the crowded vibe of Kuta? It's time to find another quieter area. Well, one option you can consider is Nusa Lembongan. With a more calming atmosphere and beautiful beaches, this small island can be a calming oasis for you. Oh, yes! There is also a small waterpark here, you know!
Reporting from its TripAdvisor page, Sunday Beach Waterpark Lembongan is the only waterpark in Nusa Lembongan. Although not as big as other water parks, this one tourist attraction is still worth a visit. There are two slides for those of you who like challenges. Children can also swim as much as they want in the kiddie pool. What's best? You can immediately relax on the beach which is right across from this waterpark!
7. CitraLand Waterpark, Denpasar
Finally, there is CitraLand Waterpark which is located in northern Denpasar. This water tourism spot is located in the CitraLand Denpasar residential area which is not far from the road outside the city to Tabanan.
This water attraction has a variety of really exciting rides, such as a foam pool, water sliders with medium to high speeds that can boost your adrenaline, and many others.
Other facilities provided in this place are also very complete and the entry price is also cheap, starting from IDR 35,000 on weekdays and IDR 50,000 on weekends.
---
Those are 7 waterpark recommendations that you can visit while on vacation in Bali. Besides the fun water games you can play, all waterparks listed above also have swimming pools for you who want to practice. Don't forget to prepare everything before leaving so that your vacation is barrier-free, Flokqers! But if you do, click here to buy bikinis and other swimsuits in Bali. See you in Bali Flokqers!
---
Want to find a rental option for your vacation in Bali? Flokq has several rental options in Bali with well-facilitated rooms and at an affordable price! Click the button below to find out more.
Click Here to Check Out More Flokq's Homes