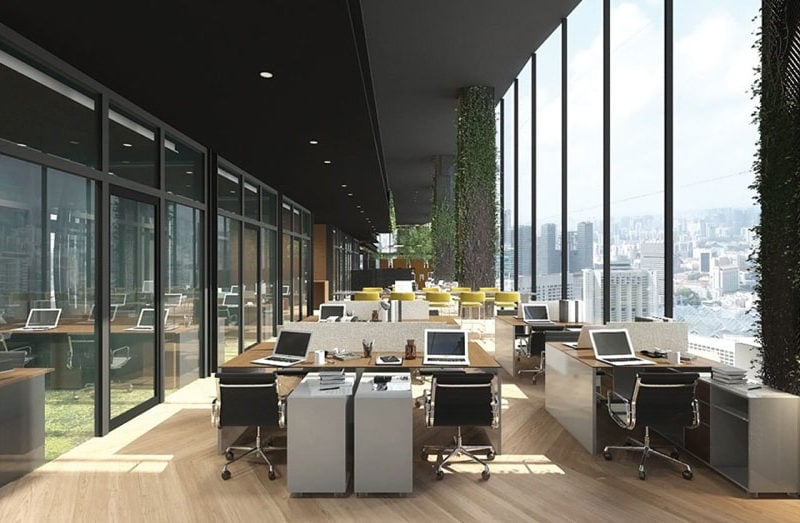 Local Guide
9 Coworking Space in South Jakarta to Boost Your Productivity
A coworking space is now a solution for workers who want to work in a new atmosphere besides home or office. Apart from being a place for individual work, coworking space is also widely used by developing start-ups, especially in Jakarta. There are a lot of coworking space options, especially in South Jakarta where there are many offices and business centers.
---
Read also: Zone Guide in South Jakarta
---
Recommended Coworking Space in South Jakarta
So, if you're looking for a place to finish work before the deadline, here are 9 recommendations for coworking spaces in South Jakarta.
1. GoWork
GoWork is one of the most popular coworking spaces in Jakarta. In South Jakarta, you can find GoWork at Millennium Centennial Kuningan, Pondok Indah, Pacific Place, Setiabudi, Menara Rajawali Mega Kuningan, Standard Chartered Tower, Fatmawati, Kemang X, Sopo Del Mega Kuningan, Sampoerna Strategic Square Setiabudi, Treasury Tower Senayan, and Lippo Mall Kemang. A lot of branches, right?
With an elegant and modern design, this coworking space offers a luxurious, comfortable atmosphere, and complete facilities to support productivity. You can choose Hot Desks Daily for IDR 125,000 per day, Flexible Hot Desks for IDR 1,000,000 per 10 times, Monthly Hot Desks for IDR 2,300,000 per month, and Private Offices starting from IDR 2,800,000 per month. They also offer great facilities. For instance, high-speed internet, printers, free coffee and tea, spacious lounges, and exclusive events and workshops.
GoWork is open Monday – Friday from 9.00 – 18.00, but if you rent a private office, you have 24-hour access. Click here for the complete address, detailed prices, and bookings. Also, check their Instagram @lets.gowork.
2. CoHive Coworking Space
CoHive is the largest coworking space in Indonesia. They have many branches throughout Jakarta, even to Banten, Yogyakarta, East Java and North Sumatra. In South Jakarta, you can find them in 10 locations spread across Setiabudi, Mega Kuningan, SCBD, Gandaria, Sudirman, and TB Simatupang.
You can choose from several packages that they offer: Daily Pass, Flexi Desk, Dedicated Desk, Team Desk, and Private Office. In addition, CoHive also provides other services such as meeting rooms, event rooms, studios, to cooking seminars. Also, you can get high-speed internet access, free-flow drinks, a lounge, as well as opportunities to network with other members.
CoHive is open every Monday – Friday from 9.00 – 20.00. For the locations in South Jakarta, complete address, and prices, click here or visit their Instagram @cohivespace.
3. WeWork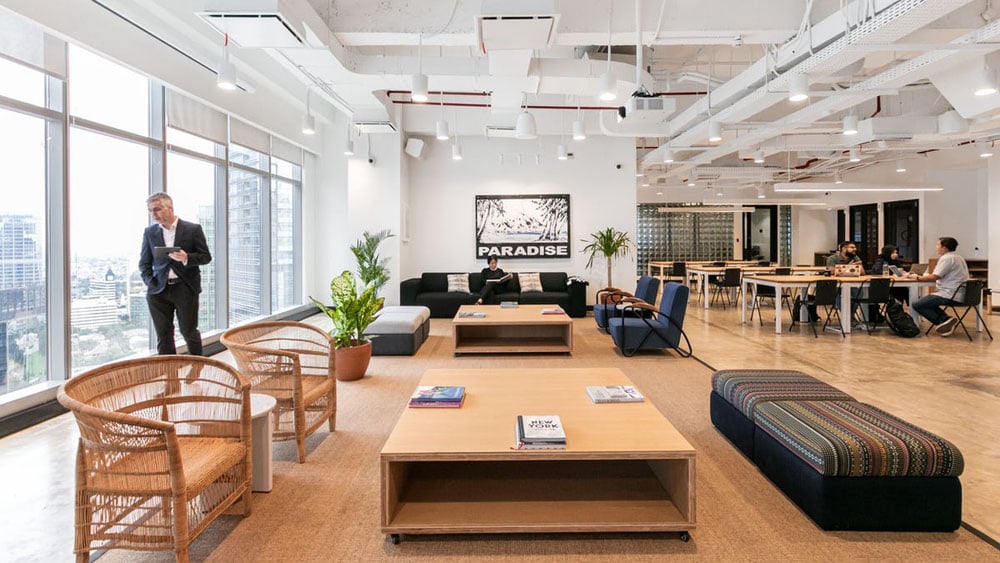 WeWork is one of the most popular coworking spaces in the world. Starting from New York, WeWork now has hundreds of branches including in Indonesia. In South Jakarta, you can find WeWork at Noble House Mega Kuningan, Sinarmas MSIG Tower Setiabudi, Revenue Tower SCBD, South Quarter Cilandak, and Gama Tower Setiabudi.
At WeWork, there are three options that you can choose: Hot Desks, Dedicated Desks, and Private Offices. The prices range from IDR 2,600,000 (Hot Desk) – IDR 17,000,000 (Private Office) per month. You will get access to high-speed wifi, meeting rooms, lounge, pantry, printers, and community events. Moreover, each WeWork location has unique facilities that vary from location to location. For example, event space, nursing room, shower, food hall, karaoke room, and games!
This coworking space is open Monday – Friday from 9.00 – 18.00. For the complete address, pricing, and facilities per WeWork location, click here. For info on WeWork around the world, check out Instagram @wework.
---
Read also: 7 Coworking Space in Central Jakarta
---
4. Conclave Coworking Space
Conclave is a coworking space provider located in three locations in South Jakarta: Wijaya, TB Simatupang, and Arteri Pondok Indah. Located near offices, Conclave is suitable for those of you who work or live near this area.
You can use a coworking space here from IDR 100,000 per day with access to the internet and a pantry. You can also rent a meeting room for IDR 300,000 per hour with a capacity for 20 people and meeting facilities. If you need a bigger room, there's an auditorium with a capacity of 150 people starting from IDR 1,500,000 per hour. Apart from that, you can also rent a private office starting from IDR 5,000,000 per month.
Conclave is open every day from 9.00 – 17.00, but if you register as a member, you have 24-hour access. For more information regarding addresses and facilities, click here or see their Instagram @cnclvco.
5. Kolega Coworking Space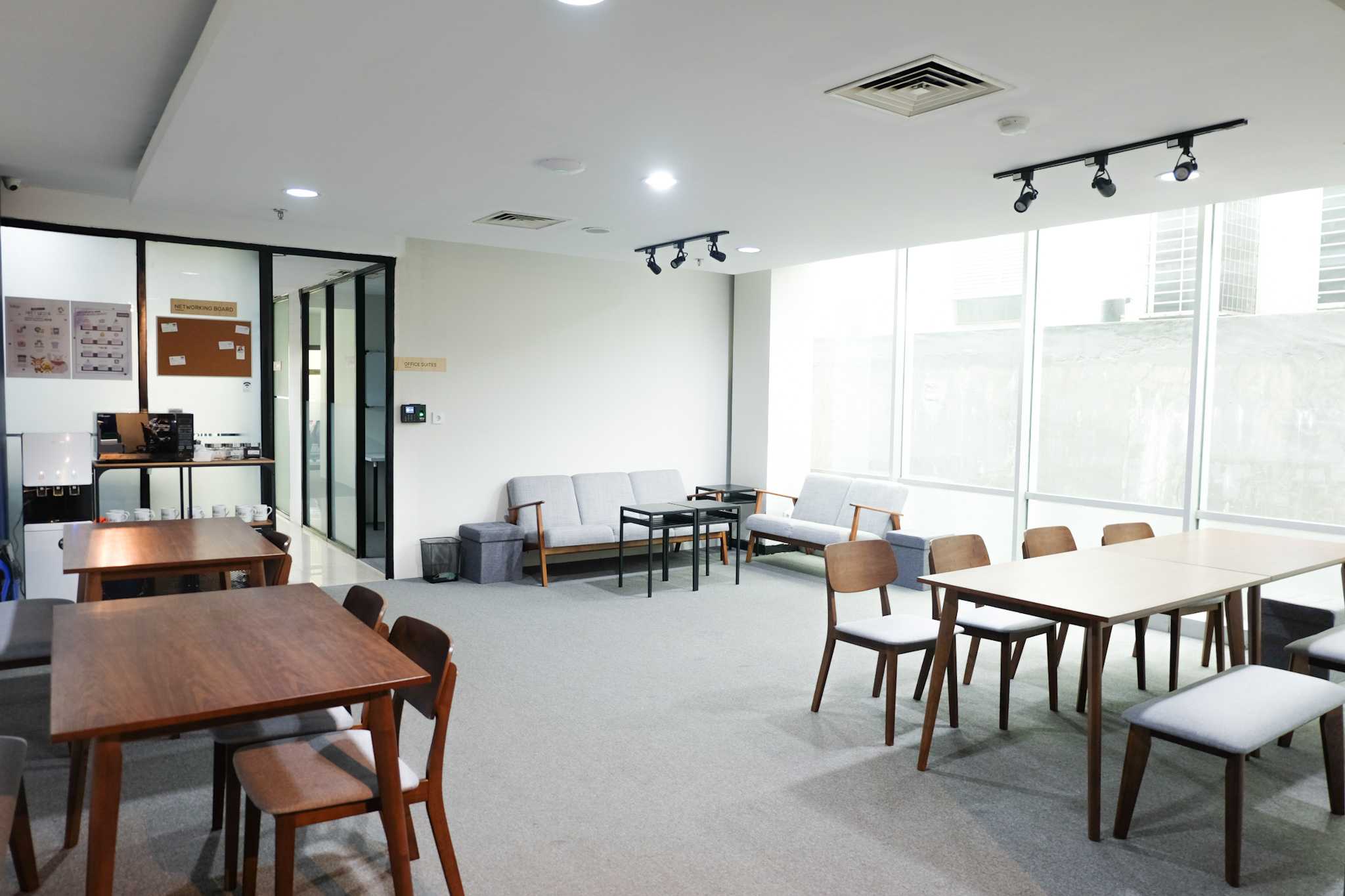 Established at first in Tebet, this coworking space in South Jakarta has gained popularity because of its strategic locations and its approach to the youngsters. Now, you can find Kolega in Kemang, Radio Dalam, Antasari, Cipete, AD Premier TB Simatupang, Equity Tower SCBD, Menara Hijau Pancoran, and Triangle Gold Business Park Kuningan.
You can rent a coworking space starting from IDR 110,000 per day, meeting rooms starting from IDR 220,000 per 2 hours, event space starting from IDR 1,100,000 for 2 hours, or private offices starting from IDR 2,500,000 per month. By renting this coworking space, you will be given access to fast internet, lockers, printers, pantries, and free flow coffee. Apart from that, you can also take part in the exclusive events and workshops they hold.
Kolega opens from 9.00 to 21.00 and is an option for people in the world of start-ups, creatives, freelancers, and even students. To check package prices and full locations, you can click here or check their Instagram @kolegaco.
6. Wellspaces
Located in office buildings and central business areas, Wellspaces has the atmosphere of a work environment that supports productivity. You can find Wellspaces at Equity Tower SCBD, Menara FIF TB Simatupang, Tokopedia Tower Kuningan, Treasury Tower SCBD, Epicentrum Kuningan, and Kemang.
Wellspaces aims to build an engaging and collaborative environment. They often hold events and seminars, so you have the opportunity to network with startups and/or other entrepreneurs.
Each Wellspaces location offers various facilities, ranging from Shared Desks, Meeting Rooms, Private Offices, and Event Space. For the price, Wellspaces provides different prices, depending on the rental package chosen and its location.
To check their address, package options, and price details, click here. Also, follow their latest information on Instagram @wellspaces.co.
---
Looking for an apartment in SCBD at an affordable price?
District 8 Coliving | Sharing Apartment
---
7. Greenhouse Coworking Space
As the name implies, Greenhouse has an eco-friendly interior design that gives a natural and fresh impression. Located at Multivision Tower 25th floor, Jl. Kuningan Mulia Lot 9B, Kuningan, Greenhouse offers views of South Jakarta from an area of ​​1,800 m2 and a capacity of 300 people.
Enjoy working at the Greenhouse starting from IDR 177,000 per day for Hot Desks / Open Plan Seating. You can also become a member and rent a Dedicated Desk for IDR 3,000,000 per month or a Private Office starting from IDR 16,000,000 per month.
The facilities you get in this coworking space are high-speed wifi, a printer, scanner, photocopier, and mineral water and coffee. Moreover, if you are hungry, you don't need to leave the building because the Greenhouse provides a restaurant and bar.
This coworking space is open every Monday – Friday from 9.00 – 20.00 but is open 24 hours for members. You can click here to check their facilities, complete prices, bookings, or check Instagram at @greenhouse.co.apac.
8. Kenobi Space
Kenobi Space is located at Colony 6 Kemang 6th floor, precisely on Jalan Kemang Raya No. 6A. This coworking space aims to provide a workplace for small-medium companies, freelance workers, and community space.
You can choose from the three options provided: Private Office for IDR 1,750,000 per month, Shared Desk for IDR 1,300,000 per month, and Meeting Room for IDR 350,000 per 2 hours. The facilities are quite complete: high-speed internet, scanner and printer, lockers, pantry, mailing services, and event space. In addition, Kenobi Space is also often used for activities such as workshops, seminars, and film fan community meetings.
This coworking space is open Monday – Friday from 9.00 – 18.00. For more information, click here or check their Instagram @kenobispace.
9. TierSpace
This coworking space on Jl. Bakti No. 10, Kebayoran Baru has a simple and minimalist architectural design and is suitable as a workshop or event venue. TierSpace is available to rent per hour, per day, or per month, with a price range of IDR 40,000 – IDR 5,000,000. You'll get internet access and free-flow drinks such as mineral water, tea, and coffee. If you are bored working indoors, you can work on the outdoor terrace which is also a smoking area.
For a list of facilities and other packages such as meeting packages, event packages, and private office packages, click here. Also, visit their Instagram @tierspace_id for the latest information.
---
So, those are 9 coworking space in South Jakarta to support your productivity while working. Actually, there are many other options for coworking spaces in South Jakarta. However, if you're looking for a place to work or a private office, we hope this list helps you. Happy working productively!
| We offer the best coliving options in Jakarta. Click here to know more. |