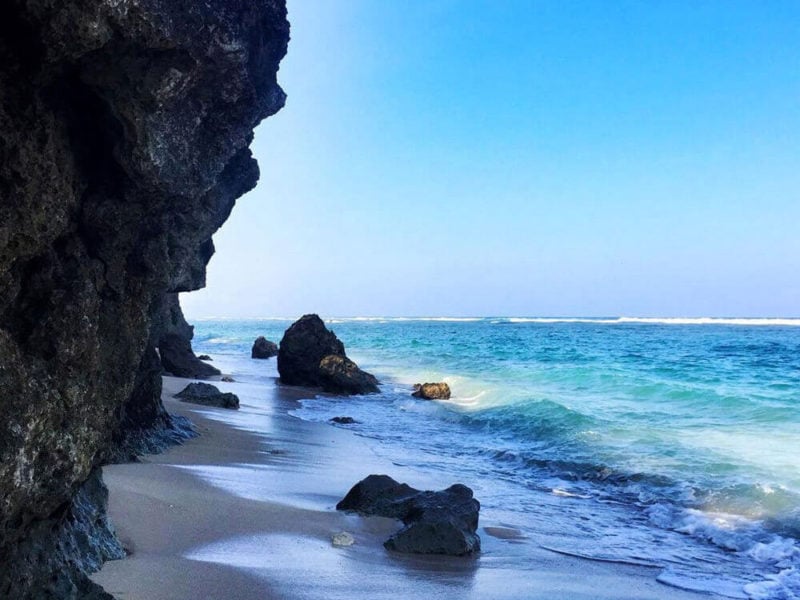 Many acknowledge that beaches are Bali's most popular beauty. There are a lot of popular beaches like Kuta, Legian, Jimbaran, and many more that are always full of crowds. There are also a lot of hidden beaches that are less known by people, even many people never heard of before, if you're not into crowds.
This tropical island boasts of many secret places tucked away in its little corners, where you can enjoy the sun, sand, and sea far away from the crowds. And here are the 15 hidden beaches in Bali that you probably never heard of before, if you're up for some adventures.
1. Nyang Nyang Beach, Uluwatu
Have you ever wondered what it feels like to have a private beach? Well, stop wondering and just come to Nyang Nyang Beach!
This white-sand Bali hidden beach is surrounded by high cliffs so you would feel you have your own private beach. If you love to explore and want to find some solitude, then this secluded spot in South Bali is the right choice.
To get to this beautiful beach, go through a dirt road near Uluwatu Temple and follow the road signs that read "Nyang Nyang Surfing Beach".
Then, you will cross the rice fields where you will find a drink shop (the only one in the area) before finally descending 500 steps that lead directly to the beach.
Indeed, the trip to this beach requires extra efforts, but it is all very well worth it.
2. Gunung Payung Beach, Nusa Dua
As a hidden treasure, Gunung Payung Beach is (fortunately) easy to access. Only an hour's ride from Denpasar to Nusa Dua, you just have to follow the road signs to get here. On arrival at your destination, get ready to enjoy a beautiful panoramic view of the ocean on the horizon.
This Bali hidden beach is spotless and calm, perfect for those of you who want to do yoga activities on the beach. Other activities you can do here are surfing and snorkeling, or even just seeing the cultural traditions and way of life of the local people who live around it.
3. Honeymoon Beach, Jimbaran
On this beach, you jump right to the sunset view!
About 250 metres before Tegal Wangi Beach, you can park in around the bushes and walk through a dirt road that ends at the coolest little cliff on the island. This place is perfect for those of you who like challenging activities and gather with some friends while having barbecue.
From this jutting cliff 4 meters above sea level, you can even dive into the sea below and swim back to land. But if you don't have guts to jump, you can just sit and chill while enjoying this incredible beach view.
4. Bias Tugel Beach, Padangbai
In the local language, Bias Tugel means a cut off beach. The area of this white sandy beach is not very wide because there are large rocks on either side, that's why people name it a cut off beach. Even though it is near to Padangbai, you need to go through quite steep terrain as far as 500 meters.
Upon arrival, you can do various water activities, from snorkeling, diving to exploring the beautiful coral walls.
The water conditions on this Bali hidden beach are also perfect for swimming, even including safe for children. If you are too lazy to go down to the sea, you can also sunbathe on the fine sand while looking at the clear sea.
This beach is not as remote as Nyang Nyang Beach, so it will be easy for you to find various stalls selling various foods and drinks. Remember not to litter and keep the beach clean, Flokqers!
5. Green Bowl Beach, Badung
The local people call it the Green Bowl Beach because when the sea water is receding, the coral clusters here will trap the remaining water along with moss, and form a natural green pool.
This bewitching and peaceful beach also goes by the name Bali Cliff Beach, because in the past near this beach there was the Bali Cliff Resort, which is now history. Its location which is quite far in the Ungasan area makes this beach less popular and empty of visitors, it is fitting that we call this beach an abandoned paradise.
Even though it is necessary to go through various curves and narrow paths to reach it, the natural beauty that it has there is second to none.
Before you can enjoy the soft sand on your toes, you have to go down hundreds of stairs which are quite steep.
Green Bowl Beach is also famous for the small caves around which are inhabited by bats. If you are not afraid of them, during the day you can go in and see hundreds of sleeping bats hanging from the cave walls.
6. Suluban Beach, Uluwatu
Many people might already know that Suluban Beach is a surfer's paradise, but the real attraction of this beach is Suluban Cave.
At first glance, Suluban Cave looks like a Pirates of the Caribbean setting as the structure is truly unique and exotic, giving this cave a mysterious and mystical impression.
The location is just below Uluwatu, so even if you keep going, this cave will bring you to the beach near Uluwatu Temple, one of the amazing sea temples which is definitely a must visit!
7. Melasti Beach, Ungasan
One of the most charming beaches on the south coast of the Island of the Gods is often overlooked by tourists. Usually, those who often visit here are photographers who want to capture the beauty of towering rock formations and cliffs.
Note that the Melasti Beach we mean here is the one in the Ungasan area, not the more popular beach with the same name which is near Tanah Lot. Every time it rains, from the cliff walls that frame this beach, emerge a spectacular 'waterfall' that rushes down onto the sand before ending up in the sea.
8. Atuh Beach, Nusa Penida
Take a break from the usual beaches and let the charm of Atuh Beach take you by surprise!
Located in Nusa Penida, this beach has a unique view that you have never seen before. The combination of crystal clear seawater that exudes a bluish colour, high and steep cliffs, and sand that is so white and smooth is truly extraordinary.
But the main attraction of Atuh Beach is the charming and colourful stretch of coral, which will be clearly visible at low tide.
Come and chill here while spending time at one of the most beautiful beaches in Bali. And while you are here, capture your special moments by taking as many pictures as possible.
9. Melasti Beach, Tanah Lot
Want to enjoy the sunset with the sight of a waterfall on the beach?
Then you have to go to Melasti Beach (the one in Tanah Lot). Apart from presenting a beautiful panoramic view of the beach with soft sand and rocks, here you will also find a small waterfall!
It is only 15 minutes by foot from Tanah Lot, head to this beach after you visit Tanah Lot Temple. Where else can you capture the sunset, the ocean, the coast, and the waterfall flowing from the cliff in one frame?
Note, the waterfall on Melasti Beach is seasonal. During the dry season you will not be able to find it. So, the best time to visit is around the end and beginning of the year.
10. Geger Beach, Nusa Dua
Even though it is in the Nusa Dua area among luxury resorts, Geger Beach still offers a hidden untouched natural charm of Bali.
In fact, beach-goers who want to find a calm and quiet atmosphere usually escape to this hidden Bali paradise. With a location in the middle of an elite area, it's no wonder that Geger Beach is more popular among expatriates living in Bali than other international and local tourists.
While enjoying a relaxing afternoon sunbathing and playing in the water, don't forget to visit the seaweed cultivation area, where the plants are harvested to be used as raw material for cosmetics and so on. You can even see farmers planting or collecting seaweed directly.
With calm and crystal clear water conditions, Geger Beach is perfect for swimming or snorkeling. The abundance of seaweed also attracts many exotic fish to the shallower coastal areas.
11. Karma Kandara Private Beach, Ungasan
Want to find an exclusive beach with a plus point for privacy? Karma Kandara Beach is one of the few places in Bali where you have to pay to enjoy its natural beauty.
By spending IDR 500,000, you can go down the hill to the beach using the elevator at Karma Kandara Villa. This fee includes IDR 300,000 for food and drink.
Supermodel Kristy Hinze and actor Jeremy Piven are among the world's celebrities who have spent time on this beach, renting a villa for USD 1,400,000 per night.
This is the perfect beach to enjoy the beauty of white sand and turquoise colored sea water, while enjoying delicious Mediterranean dishes and fresh cold beer. Coupled with the background of the sun moving into bed, you can watch movies on the big screen on the beach.
12. Soka Beach, Gilimanuk
Soka Beach offers a unique view with black sand, and green rocks covered in moss. And the view is perfectly framed by a row of hills on one side, and a panoramic view of the majestic summit of Mount Agung on the other.
For those of you who like mystical things and legends, Soka Beach has many secrets that are sure to make you even more curious.
In the western corner of Soka Beach there is a large rock called Payuk Kebo Iwa. It is said that that is the pot used by the legendary magic figure Kebo Iwa for cooking!
If you want to satisfy your adventure desires, the area around this beautiful Soka Beach is also worth exploring, including areas with unique rock formations and bat caves.
13. Amed Beach, Karangasem
Have you ever imagined a beach with black sand in Bali? The uniqueness of this volcanic sand is one of the attractions of Amed Beach. But that's not the only thing that makes this beach in the northeast region of Bali dubbed an exotic paradise.
With calm water, flat lagoons, and gaps in pretty beautiful coral reefs near to the mainland, we highly recommend Amed Beach as an ideal spot to learn to snorkel or dive.
No need to worry if you have a limited budget, because in the surrounding area there are many cheap accommodation options.
The thing that you must enjoy here is the seafood. Probably among the best in all of Bali. Moreover, local people serve their seafood with real sea salt produced by them as well.
14. Perasi Beach (White Sand Beach or Virgin Beach), Karangasem
Local people call it Perasi Beach, while tourists are more familiar with this beach as White Sand Beach, and also Virgin Beach. But if you ask a local when looking for this beach, you probably should mention Perasi Beach, Karangasem.
Although it is only 2 hours from Kuta, finding this beach is a bit difficult because of its hidden location, and you have to go through a small village, difficult terrain, plus there are no signs.
But for those of you who want a beach that is quiet, away from the crowd, clean and pollution-free, this is the place to be. You can swim in the clear blue water or rent a deck chair to relax and sunbathe while enjoying food and drinks from the surrounding stalls.
So secluded, as far as the eye can see, you will not see a single villa or hotel around this beautiful Bali hidden beach.
15. Yeh Leh Beach, Gilimanuk
You may not have heard of the name Yeh Leh Beach in Bali. Yes, this beach is indeed more popular among anglers.
Located on the border between Jembrana Regency and Tabanan Regency, this beach does not have white sand like most tourist beaches in Bali.
On the lips of Yeh Leh Beach are thousands of rocks of various sizes, some of which are green because moss covers them. Only a few locals know where these mysterious rocks came from.
This Bali hidden beach is actually easy to reach and to see the unique charm of Yeh Leh Beach, you should visit it at low tide. Not only can you see the rocks, but you can also see small sea animals trapped in a puddle between one rock and another.
And if possible, come just before sunset to enjoy the dramatic scenery around the coast.
---
So, those are 15 hidden beaches that we recommend on the island of Bali. However, you might find other hidden beaches during your adventure in this Island of the Gods. Have you ever visited one before? Let us know in the comment section below. See you in Bali, Flokqers!
---
Want to find a coliving option for your stay in Bali? Flokq has several well-facilitated homes in Bali at an affordable price! Click the button below to find out more.
Check Out Flokq's Units in Bali