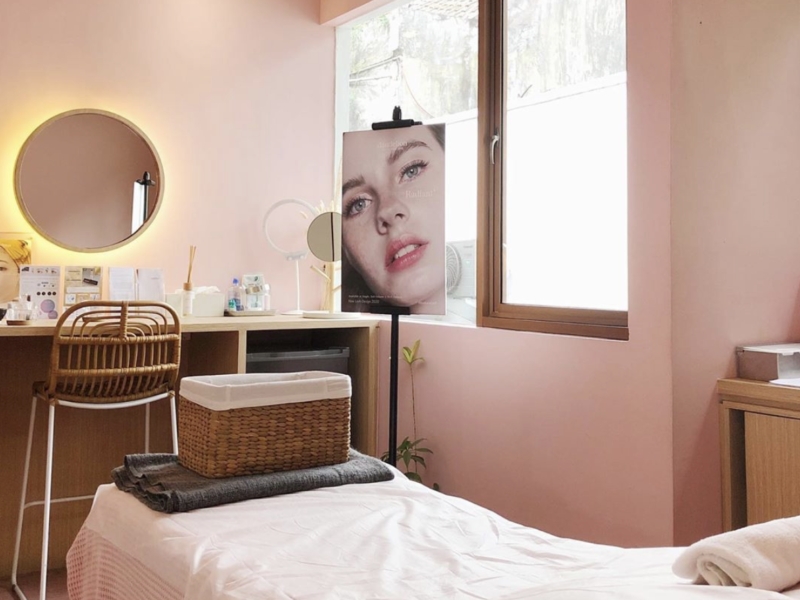 The typical routine city dwellers in Jakarta of over caffeination, catching trains, and general stressful nonstop-ness isn't exactly conducive to your shiny hair, glowing skin, or knot-free muscles. This is why whether it's for a simple trim, a double process, mani-pedi's, Jakarta's dwellers don't mess around when it comes to their beauty needs. Fortunately for us, there are insider beauty spots in Jakarta offering you unique beauty treatments that you can't get anywhere else—ranging in price that you could easily afford to the higher end.
So which Jakarta salons are worthy of your investment? Since there is a plethora of spas, salons and everything in between, we decided on 5 of our favorite insider beauty spots in Jakarta so you will have peace of mind knowing that your visit will not disappoint. Trust us, your pamper day will be handled in good hands with these pros!
1. Salon De Coiffure
Located in the Kemang district of Jakarta, Salon De Coiffure is nestled inside the Papillion retail store. This salon is a full-service salon with immaculate service, great skills, the best quality ingredients, exceptional creativity and hair color techniques. Moreover, Coiffure is led by Christoper Tarigans who has been trained by the famous Alexandre de Paris Salon and Tarigans has over 20 years of hair design experience.
Salon De Coiffure is famous for its hairdressing services especially for its hair coloring and highlights as the salon boasts a talented portfolio of hairstylist experts. Furthermore, to keep up with the newest beauty trends, there are a variety of non-hair services from nail treatments to make-up services and even eyelash extension services. Transform your hair and relax with Salon De Coiffure's most exclusive treatment systems! Maybe after, you can get lunch or dinner at a fancy fine-dining restaurant in Kemang to show off your new fancy hair.
Address: Level L. The Papillon, Jl. Kemang Raya No.45AA, Jakarta 12730.
Phone Number: +62-21-719-3118
Price Range: Hair services start from Rp.100.000 to Rp.2.000.000+ (prices may vary if you inquire for a certain stylist, purchase additional products and treatments, or your hair conditions)
Non-hair services start from Rp.75.000,- to Rp.565.000,-+
Opening Hours: 09.00-20.00 (Mon-Sun).
Official Website: http://www.thepapilion.com/lifestyle/salon-de-coiffure
Social Media: @thepapilion
2. Dandelion
Dandelion is a popular beauty studio that specializes in waxing, nails, and lashes. Located in Pondok Indah, Pakubuwono, Senopati, and Menteng area, Dandelion is known and loved by locals as the place to go for manicures that include nail art, pedicures, and lash treatments. And I can attest that it's true. With a book full of options, color combinations, and sizes, you will leave looking like you just got your mani and lashes done by a Hollywood celebrity salon. Furthermore, Dandelion provides halal, chemical-free and vegan nail polish options, making them the salon of choice for the health-conscious.
Customers can also experience Dandelion's premium waxing services that range from face waxing, upper body waxing, to lower body waxing, with Dandelion's very best imported wax from France. Furthermore, Dandelion has a home service for you who are too busy to hit up the salon. Don't forget to hit up to take a snapshot of your new nails and lashes!
Address:
Jl. Metro Pondok Indah SG-21, Jakarta Selatan
Jl. Senopati No. 41 C, Jakarta Selatan
Jl. Bumi No. 24, Kby. Baru, Jakarta Selatan
Jl. Wahid Hasyim No. 47, Menteng, Jakarta Pusat
Phone Number:
+62-8121-622-622 (Pondok Indah)
+62-811-900-9919 (Senopati)
+62-811-900-1131 (Pakubuwono)
+62-811-900-9210 (Menteng)
Price Range:
Nails Price List – start from Rp.80.000,- +(special packages prices are upon request)
Waxing Price List – start from Rp.60.000.- +
Lash Price List – start from Rp.80.000,-+
Opening Hours:
09.00-19.00 (Mon-Fri) and 09.00-18:00 (Sat-Sun) for Pondok Indah and Pakubuwono stores.
07.00-21.00 (Mon-Fri) and 09.00-18:00 (Sat-Sun) for Senopati and Menteng stores.
Official Website: https://dandelion-id.com
Social Media: @dandelion.id
3. Andrea Zhu Salon & Beauty Lounge
Andreas Zhu Salon & Beauty Lounge is located in Pluit, the salon itself is worthy of Instagram shots. Inspired by the Parisian Chic concept, the salon is beautifully decorated with vintage sofas, dreamy paintings, and a golden hanging chandelier. Furthermore, Andreas Zhu Salon and Beauty Lounge have a high-end clientele. The owner himself, Andreas, has worked with many top Indonesian actresses, actors, and beauty bloggers, therefore making him one of the most sought celebrity stylists in Indonesia. Moreover, this salon specializes in hair treatments and colorings; the Andreas Zhu salon is famous for recreating a natural look with a unique approach, creating the most unique hair colors, and their one of a kind hair designs. With Andreas Zhu salon the best quality products and services, this is the kind of place for men and women to go for perfect fresh cuts and colors!
Address: Jalan Pluit Putri Raya no 2B, Jakarta 14450.
Phone Number: +62 813-1012-1777
Price Range: Available upon request.
Opening Hours: 09.00-19.00 (Mon-Sun)
Social Media: @andreaszhusalon
4. One Piece by Hisato Suzuki
Pioneered by Hisato Suzuki, One Piece is arguably the best and most popular Japanese salon in Jakarta. One Piece boasts a collection of expert hairstylists and technology from Japan. Also, you can expect only the best and forward latest cutting edge hair styling and coloring from One Piece. This salon is famously known for its unique chic and effortless hairstyles. Specialties from One Piece include: Engraving Piece that creates texture and hair volume by using a combination of razor and scissors, Volume+ hair extension technique that is virtually invisible to the naked eye, Step Bone Cut hair cutting technique that can correct the bone structure to create the perfect shape, as well as their popular hair coloring techniques and breathtaking color mix.
With clientele ranging from the young to the young at heart, celebrities, and excellent top-notch sugaring services. Additionally, their branches are conveniently located in major shopping malls across Jakarta. As a result, you'll be hard-pressed to ditch your tea and the cozy chairs and get going after you're done.
Address:
Lippo Mall Kemang Lt.1 unit 2, Jalan Pangeran Antasari no 36, Bangka, South Jakarta.
Central Park Mall Lt 2-105,Jl. Letjen S. Parman kav 12, West Jakarta.
Kelapa Gading Mall 3/5 Level 2, Jl. Boulevard Raya, North Jakarta Utara.
The Pakubuwono Residence, Jalan Taman Pakubuwono VI No.72, Kebayoran Baru, South Jakarta.
Phone Number:
+62-21-3970-5200 (WhatsApp for Booking and Consultation)
+62-21-2952-8298/+62-21-2952-8399 (Lippo Mall Kemang)
+62-21-2920-1008 / +62-21-2920-1009 (Central Park Mall)
+62-21-4587-8359 (Kelapa Gading Mall)
+62-21-2912-600 (The Pakubuwono Signature)
Price Range: Available upon request.
Opening Hours: 10.00-22.00 (Mon-Sun)
Official Website: https://onepiece.co.id
Social Media: @onepiecehairstudio
5. Felize Beauty Bar
A one-stop destination that can cater to all of your needs, Felize Beauty Bar is a beauty studio that specializes in nails, lash, wax, brow, and skin treatments and services. They use carefully curated products and personalized services to ensure the very best in their specializations. Furthermore, the studio will tailor each service to our client's needs with top of the line luxury products and equipment. The thorough consultation will ensure we use and recommend products and services, such as what kind of nail colors, lash designs, and skin treatments, that will be perfect for you!
Our favorite treatments that you can get at this beauty bar include; W Line Glow facial treatment, customized nail art, and brow micro-needling.
With comfort and serenity at the forefront of the Felize Beauty Bar experience, you are pampered as soon as you walk through the door; your service customized just for you from start to finish. Furthermore, Felize Beauty Bar offers competitively priced services for the unique experience that they provide
Address:
Jl. Panjang Raya 8L, Kedoya Utara, Jakarta 11520.
Jl. Pantai Indah Kapuk Metro Broadway No.49, Jakarta 14460.
Phone Number: +62-21-2256-2476 / +62-818-0818-2623
Price Range: Available upon request.
Opening Hours: 09.00-19.00 (Mon-Sun).
Social Media: @felize.beautybar
So here you go, 5 insider beauty spots in Jakarta that you must check out! Don't forget to show off your new hair to your friends while you guys have drinks at a lovely bar in Jakarta.