With the very big size of Jakarta, there is certainly one word that can describe Jakarta as a city: diverse. With culture from all over Indonesia mixed with ones from other countries from residents who have moved here, Jakarta is a big melting pot of cultures for everyone to enjoy. These different cultures thoroughly affect the places that are found in Jakarta, especially for entertainment purposes. You can feel like you've gone to many countries just by staying in Jakarta and exploring the areas with an open mind.
Jakarta always has an answer for everything you're looking for: whether it be Indonesian culture or Jakarta's take on foreign culture. If the second option sparks your interests, try going to Little Tokyo: a place to get a taste of Japan right here in Jakarta. We're giving all the basic information about this area with no spoilers, so you can experience Little Tokyo on your terms and make your memories in this vibrant and lively area.
Little Tokyo In A Nutshell
Little Tokyo can be found inside Blok M Square, a very popular place in South Jakarta. The easiest way to come to Little Tokyo is to ride an MRT and get off at Blok M Station. From there, you only have to walk to Blok M Square and stroll around the area. You will find the area of Little Tokyo from the vibrant red hue that's inspired by Japanese lights. From there, it's all just a good time for yourself.
Originally, the area came together from the interests and passion of Japanese expats who came to Jakarta for business especially in the '90s. Knowing how much entertainment is a part of a healthy lifestyle, many Japanese restaurants and facilities are built in this area, as a place for Japanese businessmen to aid their homesick feeling by adopting the architecture and decoration style of inshokutengai in Japan. Along with the development of Jakarta and Blok M Square, more places are added to the area: more restaurants, dessert places, even a Japanese supermarket selling Japanese products.
After the area became popular, many Japanese events are held in this area. One of them would be the Ennischa festival or cosplay festival. When these events occur, you can enjoy classic Japanese ornaments and decorations to please your eyes. Believe it or not, you're still just in Jakarta!
Your Newest Nightlife Ritual
From the many restaurants lining in Little Tokyo, many of them are semi-pubs or semi-bar, in which they usually serve the Japanese drink sake on their menu. Most of these restaurants open at 17.30 WIB until after midnight for some, so you can feel the area coming alive at night. If you're looking for a good area to go place-hopping with your friends, this is it for you. You can come in the afternoon and eat lunch, then wander around to go to a coffee shop and dessert place and to wait to get a drink with your friends.
One of the highly favored restaurants found in Little Tokyo is Kashiwa, that offers delicious food with very low prices and very Japanese-like ambiance. The menu offers many original Japanese foods like sushi, dim sum, gyoza, or ramen. This range also widens to delicious desserts like mochi. To add, the restaurant also gives fusion foods, like the Japanese version of pizza and salad or fried rice. It's guaranteed that you will find something good for everyone in your friend group, so everyone can have a good time.
To get the Japanese ambiance felt by customers, the restaurant uses table settings like Japanese do, where customers sit on a hard wooden floor. As a plus factor, they also add a shelf full of Japanese comic books that customers can read to wait on their food (although there's not that much time due to the very good service). Keep in mind that this is just one of the many options that you can find in Little Tokyo. There are many more restaurants that offer many more menus to satisfy your palette. If you're feeling adventurous, take a stroll before you choose your favorite restaurant. Picking a random one might surprise you!
Show Off Your Style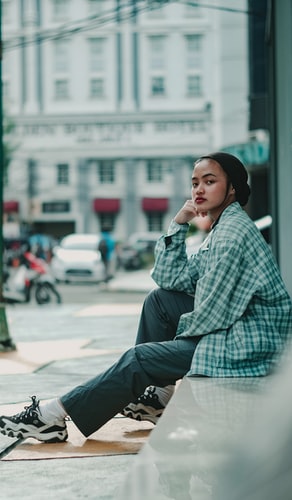 While wandering around anywhere in Jakarta, you should always bring your best mood and open mind in case something doesn't go according to plan. Especially in popular places like Melawai, you may notice that you often get stuck in line while waiting to get into your favorite restaurants, bars, or coffee shops. Getting annoyed while waiting doesn't make the line go any faster, so we advise you to make the best out of everything. Try fun things with your friends, like taking pretty pictures!
With Japanese aesthetics, decorations, and architecture, Little Tokyo has become quite a go-to place to take pictures. You can easily find photogenic places to take pictures with your friends. With the right kind of shooting and attitude, you can even make it look like you're not in Jakarta! Instagram and other photo-based social media should be a place for you to have fun. Take great pictures that capture your happiness in Little Tokyo, and post them to show how you have fun! You can even plan out your outfits beforehand, so you match or stand out from your surroundings (according to your theme, of course). This way, you can use all of your time with fun activities then get a good meal after. What's not to love?
With all the entertainment that Little Tokyo offers you, there is no doubt that you will find your new favorite place in this area. When you want to eat something new or feel a new ambiance in Jakarta, Little Tokyo has many options for you to try. You can find the beauty of Japan resonating from this place, and it's only a car ride or a train ride away. If that's not an easy way to have fun, we don't know what is. 
Read Also: 12 Must-Have Apps in Jakarta