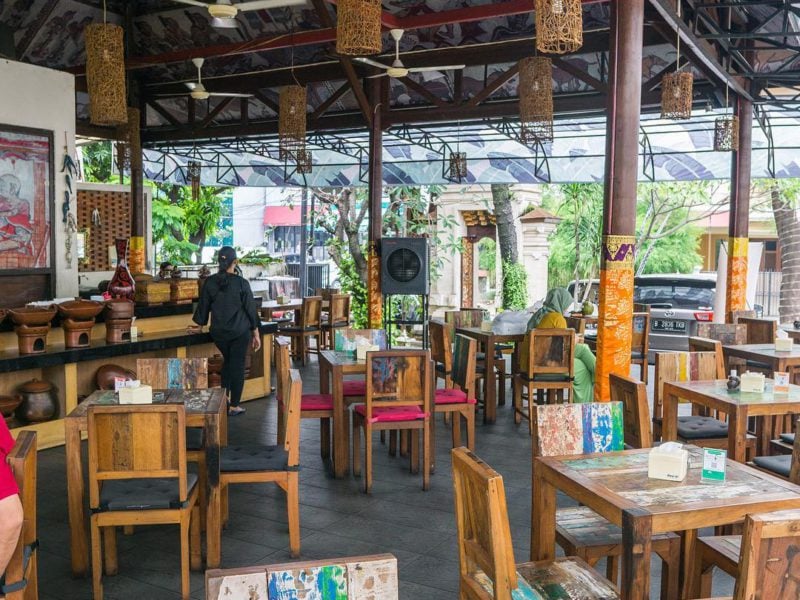 Local Guide
Top 5 Must-Try Indonesian Specialty Restaurants in Jakarta 
Eating Indonesian food is like taking a peek at its history. With influences from the past settlers from the Middle East, East Asia, and European countries, the food is an amalgamation of flavors which created a unique taste that can only be described as Indonesian. Here are the lists for the top 5 must-try Indonesian specialty restaurants in Jakarta. Go and explore the history of Indonesia through your tastebuds!
1. Mendjangan, Kemang
Located in the bustling and trendy district of Kemang, South Jakarta, Mendjangan brings to your plate Indonesian comfort foods with a modern twist. A perfect place for a family dinner, Mendjangan has a cozy and homey ambiance with an outdoor seating area near a swimming pool, so you can take a dip to battle Jakarta's hot weather. Mendjangan is also suitable for group gatherings or small events with up to 140 seats.

Mendjangan also offers an extensive menu of Indonesian cuisines that will fit your taste. Having curated a menu from all around the Archipelago, from Sumatran's Mie Ayam Bangka to Javanese, Selat Solo, Mendjangan has even the most discerning tongues to come back for more. We recommend Selat Solo, which consists of a braised beef tenderloin served in a sweet thin sauce with hard-boiled egg and vegetables. Go visit Medjangan and create wonderful memories with your loved ones!
Address: Jl. Kemang I No.2, Kemang, South Jakarta, Jakarta 12730
Phone Number : +62 21 22717999
Price Range :
Rp75.000 – Rp200.000/person
Food (Rp30.000 – Rp145.000)
Beverages (Rp5.000-Rp56.000)

Opening Hour: Monday to Sunday (10.00 – 22.00)

2. Tugu Kunstkring Paleis, Menteng 
Famous for its antiquated ambiance, this fine-dining restaurant is located inside an art gallery of a restored 1914 Dutch Colonial building in Menteng, South Jakarta. Due to the historical nature of the building, the restaurant is frequented by international tourists who stayed near hotels around the area. What makes the restaurant stand out is its interior with an art gallery, the restaurant is lavishly decorated in the old Batavia theme, with drapes and rich golden ornament.
The Tugu Kunstring Paleis is serving an extensive range of Dutch-Indonesian cuisines from the colonial time with eye-catching presentation and excellent taste. Dessert items are also really recommended here. Try the Oebi Oengoe Royal Platter, which is a variety of Indonesian traditional cakes or kueh.
Address: Jl. Teuku Umar No.1, Menteng, Central Jakarta 10350
Phone Number: +62 213900899
Price Range:
Rp50.000 – Rp200.000/person
Food (Rp22.000 – Rp398.000)
Drinks (Rp23.000-Rp110.000) 

Opening Hours: Monday to Sunday (11.00 – 00.00)

3. Plataran, Menteng
Located in the center of every food lover's haven in the upscale part of Menteng, Plataran is an authentic Indonesian restaurant that shines with its vintage decor. This fancy restaurant is a favorite amongst tourists and the socialite of Jakarta. The three-story building is a reminiscence of the Indonesian-Dutch colonial family home elegantly decorated with a semi-modern touch. The restaurant also offers private dining rooms, a rooftop lounge, and indoor and outdoor courtyards, perfect for a romantic dinner, intimate gathering or celebration. The fine-dining experience at Plataran is completed with live entertainment and warm-service from the staff. 
Get yourself a dinner reservation and experience the luxury at Plataran, Menteng! Marvel at the scrumptious taste of exquisite Indonesian cuisines worthy of its price. Make sure to try its Kari Ayam Deli – a curried chicken with pomelo, curry leaves, and served with roti prata that is to die for.

Address: Jl. H. O. S. Cokroaminoto no.42, Menteng, Central Jakarta 10350
Phone Number: +62 2129627771
Price Range:
Rp200.000- Rp500.000/ person
Food (Rp21.000 – Rp269.000)
Drinks (Rp49.000-Rp195.000)
*alcohol not included
Opening Hours: Monday to Sunday (11.00 – 21.00)
4. Warung Mbah Jingkrak Setiabudi (MJS), Setiabudi
Located in the CBD of Setiabudi, South Jakarta, Warung Mbah Jingkrak Setiabudi (MJS) has a variety of authentic Indonesian menu for affordable prices. Previously well-known as Mbah Jingkrak Setiabudi, Warung MJS is a family restaurant with a rather bold and eccentric concept. The restaurant is heavily decorated with antique trinkets adorning every corner of the place, on its walls, on the ceilings, and on its corridor. There are three dining areas in Warung MJS: indoor, partially-outdoor, and outdoor. The indoor dining area is air-conditioned and can seat up to 16 people, and is great for a small gathering. The outdoor area is a garden that is much larger with a capacity of up to 63 people. While the partially-outdoor area has taken most of the space of the restaurant with more than 100 people capacity.
Warung MJS offers an extensive menu of authentic home-cooked Javanese cuisines with great taste for low prices. For those who can handle spice, we recommend Ayam Satan or the Devil's Chicken, this restaurant's specialty, which is a steamed locally-raised chicken lathered with spicy chili-based seasoning. Another must-try item is its Oseng Daun Pepaya, which is sauteed papaya leaves served with salted-fish. Go visit Warung MJS for those old-school Javanese dishes with a modern twist.  
Address: Jl. Setiabudi Tengah No.11, Setiabudi, South Jakarta
Phone Number: +62 5252602
Price Range:
Rp50.000 – Rp100.000 per person
Food (Rp6.364 – Rp35.135)
Beverages (Rp6.600 – Rp29.091)
Opening Hours: Monday to Friday (10.00 – 23.00)
Saturday to Sunday (09.00 – 23.00)

5. Smarapura, Tebet
Located in Tebet, South Jakarta, Smarapura Resto is serving authentic Balinese food in a soothing and cozy ambiance imitating the atmosphere of the Island of Gods. The restaurant has an indoor and outdoor dining area. You can choose to be seated inside and enjoy the romantic low-light setting and Balinese paintings that adorn the ceilings or outside in one of the traditional Balinese gazebos overseeing a small pool.
Smarapura brings high-quality Balinese foods to your plate for a low price, such as Lawar, Ayam Taliwang, and Nasi Campur. The restaurant is great for family dining, with a special menu for the little ones. We recommend the Ayam Betutu, which is a roasted chicken slathered in rich and spicy betutu seasoning. If you are craving Balinese food, Smarapura is the place to go.
Address: Jl. Tebet Timur Dalam 2 No.43, Tebet, South Jakarta     12820
Phone Number: +62 2183702402
Price Range:
Rp50.000 -Rp100.000/person
Food (Rp12.000 – Rp59.000)
Beverages (Rp7.000 – Rp26.000)
Opening Hours: Monday to Sunday (10.00 – 23.00)