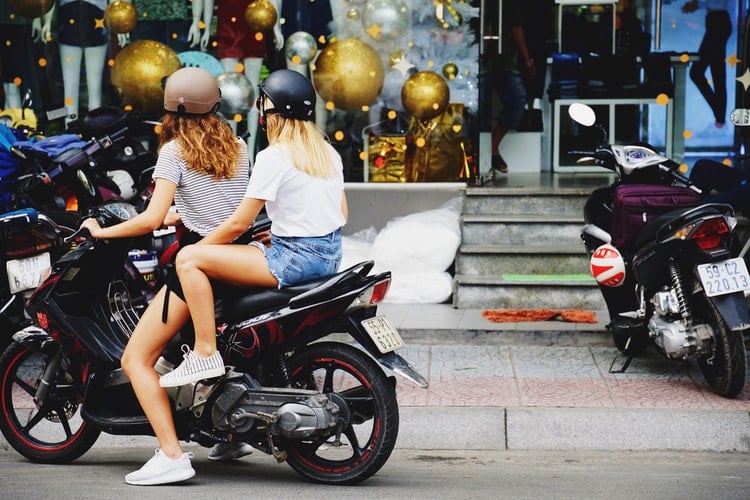 There is no better, more convenient and fun way to see Bali than exploring around the island on a scooter or a bike. Imagine yourself driving around the island through endless emerald rice paddies, passing lakes, waterfalls and Hindu temples or driving right by the ocean with the wind and the sun shining down on your face. It sounds idyllic, isn't it?
"But how do I rent a scooter in Bali?" Worry no more, guys! This is the guide for you to rent a scooter in Bali. Read it carefully and off you go!
The centers of Kuta, Seminyak and even Ubud can be quite hectic, so you will need to give yourself some time to adjust and see the order in the chaos, but once you get the hang of it, you will certainly love it! Outside of the busy centers, the roads are mostly quiet and the scenery are breathtaking! There are a few safety rules you will need to follow to stay safe and sound on your adventure.
Where to Rent Scooter in Bali?
There are many places that can arrange scooter rental in Bali, you'll find rental shops all over the place in the larger towns such as Kuta, Seminyak, Ubud, Sanur, or Lovina.
However, the safest way would be to ask the staff at your staying place where to go for a good scooter rental. The staff may even hire one for you and bring it to you directly to rent for a day, a week or a month, depending on your needs.
You should always be careful, there are always some unscrupulous people that are just out to scam you. However, if you organize through your staff at your staying place, you are less likely to run into these people.
How Much Does It Cost to Rent Scooter in Bali?
Daily rental: around IDR 50,000 – 75,000
Weekly rental: around IDR 300,000 – 400,000
Monthly rental: around IDR 600,000 – 800,000
Do not hesitate to bargain if they start at a higher price.
Scooter Rent Requirements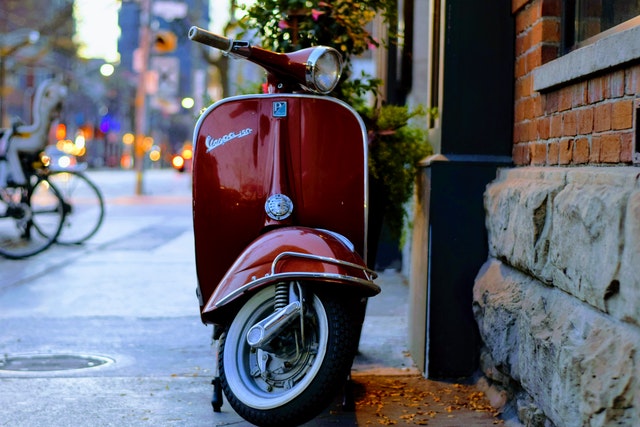 To hire a scooter in Bali, you only need three things: Driver License (International Driver License for International Tourist), ID or Passport, and, of course, money.
Once you have your scooter, it is wise for you to get photos of any damage or a video of the entire scooter. Be sure to highlight anything you see before you leave the rental place.
One of the more common scams is to get people to pay for the damage(s) that have already existed when you return the scooter. The vendors are often ambivalent to scratches and dents telling you not to worry about them, but they would hit you with the fine when you return. Having a good quality video taken in the rental place can help you avoid this.
---
Also read: Getting Around Bali with These 8 Public Transportations!
---
Safety Tips
Now if it is your first time in Bali, you will notice pretty quickly that the drivers here are mental. Especially if t's your first time renting scooter in Bali, it is important for you to stay safe at all times. Most of these tips are common sense, but just in case you need a reminder, here are a few tips:
Always wear your helmet – don't be that person that tries to look cool only to end up in a hospital or worse. It is also the law, you don't need to give the police any extra reason to pull you over.
Cover your skin – at the very least, cover your legs. If you do fall off you can be sure your knees will hit the ground first and a bit of cover can be the difference between a small cut or digging sand out of an open wound for weeks.
Start slowly – if you're still kinda new to scooters, slowly build up to speed and if you feel uncomfortable, just slow down.
Use good footwear – if you lose control and have to put your foot down quickly, you really do not want to be wearing flip-flops, a massive gash on the bottom of your foot is a real holiday killer.
Get a scooter to suit your ability – you really don't need masses of power, so if you are new, stick to a 50cc or 125cc ones. Just don't go for power.
Things to Look Out When You Ride
Now that you have paid attention to the safety briefing of renting scooter in Bali, let us brief you on a few dangers you may face on the road:
Dogs and other animals – stray dogs and/or cats can be found all over the place and are ready to jump into a busy road at any opportunity. It may not be you that needs to swerve, it could be the car going the other way so just keep an eye out and be aware of any dogs that may wander into the rod.
Potholes – The roads aren't the most pristine in the world, that's for sure. Keep an eye out for any holes that could hurt both you and your scooter.
Weather – If it rains while you're out, the road will get very slippery very quickly so proceed with extreme caution.
Sand – keep an eye out as riding over a patch of sand can quickly wipe you out, especially when going around a corner, the bike will just lose all grip and the chances are so will you!
Locals – They know the roads well so go much faster and expect you to get out of the way. The best thing to do is just that, ride to the side of the road and let them pass.
Returning the Scooter
If there are parts broken or if you made any scratches during your adventures, you can fix it at workshops before returning the scooter. Another option is to pay for the damage at your rental place, however, it might be a bit more expensive. One thing is for certain, you will go home or continue your travels with a great new experience in your pocket and lots of good memories!
Enjoy the ride in Bali! Stay safe and alert at all times too, Flokqers!
Also read Bali Bike Rental Guide here
---
Want to find a rental option for your vacation in Bali? Flokq has several rental options in Bali with well-facilitated rooms and at an affordable price! Click the button below to find out more.
Click Here to Check Out More Flokq's Homes