Settling Down
Living in Tangerang: Get to Know Best Apartments Near Grocery Stores
As one of the satellite cities near Jakarta, Tangerang is home to many professionals who work in the capital city. It is perfect for those who prefer a less crowded area than Jakarta but still want to get easy access to the highways and public places. Nowadays, there are many people who choose to rent a Tangerang apartment. Besides the easy access, living in Tangerang can give you more comfort. Furthermore, you can always find everything you need in this well-developed city.
In this pandemic situation, some of us might have to stay at home or the unit. Well, not really, because sometimes we need to fill our fridge with foodstuffs from outside. This makes us have to go to the nearest grocery store around the apartment. Here are 5 Tangerang apartments that are located near grocery stores to meet your needs.
U Residence
This Tangerang apartment is integrated with Supermall Karawaci in the same building. Located in the strategic Karawaci area, U Residence offers cozy living with the finest quality for you. It is suitable for those who live alone or with their family.
When you need to buy some foodstuffs, you can just go straight away to Hypermart inside the Supermall Karawaci. This grocery store is enough to meet your daily needs. If you drive a little bit further, you also can find a grocery store inside Summarecon Mall Serpong. There is also a modern market beside the mall building.
Apart from its strategic location, U Residence provides several utilities and facilities that will awe you. From the swimming pool and fitness center with landscape view to high-speed Wi-Fi connection; you will enjoy staying in with peace.
Surrounded by greenery and a calm environment, the apartment is close to schools, including Sekolah Pelita Harapan (SPH) and its university. If you get sick, you can seek a doctor in Siloam Hospital. Need to go out of town for work? The highway gate is only 10 minutes from the residence.
The Nest Apartment
Developed by PT Karya Cipta Sukses Anugerah, this apartment is located in Karang Tengah, Kota Tangerang, near West Jakarta. It is perfect for married couples, young executives, and college students who love to live in strategic areas.
If you need to shop in a grocery store nearby, you can go to Hypermart Puri Indah. You might want to buy other things in Puri Indah Mall or Lippo Mall Puri. These two shopping centers are very close to The Nest Apartment.
This Tangerang apartment is reachable to several institutional educations such as Ipeka, Tunas Muda, Bina Bangsa, and Mercubuana University. Moreover, you can find markets, restaurants, and other entertainment places nearby.
Want to stay in the apartment building all day? No worries, because The Nest Apartment has some facilities to maximize your convenience. It has a large swimming pool, foodcourt, roof garden, grocery store, and many more.
Roseville Soho & Suites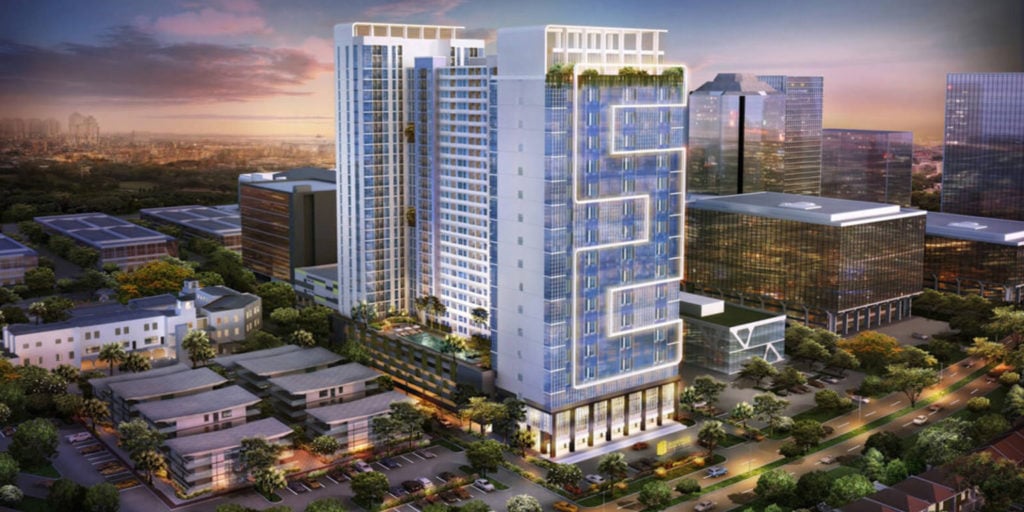 From its name we know that this Tangerang apartment is integrated with SOHO (Small Office Home Office). This means it can also serve as an office while you can also feel like home. Roseville Soho & Suites is located in Sunburst block, BSD, South Tangerang.
Its strategic area enables the residents to access several public places, including grocery stores. If you rent this apartment, you can easily reach the BSD modern market nearby. It sells fresh products and street foods. Need to shop at other places? Just drive a couple minutes to reach the AEON Mall, Qbig, ITC BSD, or The Breeze.
At Roseville Soho & Suites, you will experience a cozy living with plentiful facilities, such as a jogging track, gym, swimming pool, yoga lounge, game room, and even a golf swing practice area. You can relax after work at the sky garden, which is located on every two floors. Every unit comes with a housekeeping service that you can control via the Smart Unit live app.
The apartment is also reachable from the Green Office Park, which only takes 10 minutes by car. From the ICE BSD, Roseville is just 9 minutes away. Apart from the BSD area, living in this apartment enables the tenants to travel to the residential business zone of Karawaci. In just 5 minutes, you will be able to enter the highway. It is also connected to downtown Jakarta and the Soekarno-Hatta International Airport.
Skandinavia TangCity Apartment
Located at the heart of Kota Tangerang, living in Skandinavia TangCity will make you able to get everything you want. This fully-furnished Tangerang apartment comes with Scandinavian-living concept.
As a part of the Superblock TangCity area, Skandinavia TangCity is right next to the famous TangCity Mall. The easy access enables you to grocery shop in Carrefour supermarket inside the mall. Furthermore, you can get anything you need from fashion to the fast food restaurants here. Want to shop in a less crowded place? Well, the Bale Kota Mall will be another choice for you.
Skandinavia TangCity offers plentiful facilities in scandinavian style, such as Fika Corner, tropical swimming pool, and kids playground. Inside the apartment, they provide a base home theater system and electronic door lock. It also comes with the Genius Home System that helps you to operate the administration service from your phone. Sounds cool, right?
Marigold Nava Park Apartment
This luxurious Tangerang apartment is built as the joint venture between Sinarmas Land and Hongkong Land. If you rent a unit here, you will be able to visit many public places easily since it is located in the strategic area. Need a grocery store? The AEON Mall is only several minutes away from the apartment. You can also find the modern intermoda market by just driving for a couple minutes.
Apart from the shopping centers, Marigold Nava Park is reachable from BSD Central Business District with only 11 minutes of driving. By 8 minutes, you also can reach Edutown which has the Prasetya Mulya Business School and Unika Atma Jaya Campus 3. Besides the easy access, this apartment provides a cozy living with an abundance of facilities. You can enjoy the landscape from the viewing decks, train yourself at the gym or swimming pool, and many more.
---
So, that's all some Tangerang apartments with the grocery stores nearby. Now, no need to worry if you wanna stay in the apartment and run out of food stocks! Are you seeking another Tangerang apartment to rent? Check out Flokq's private apartment here.