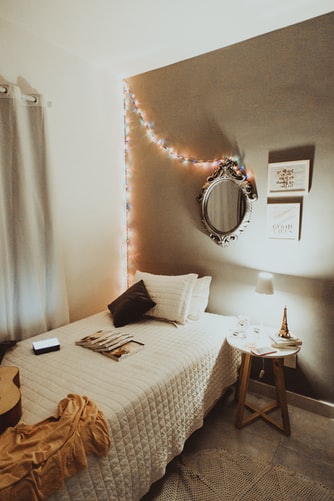 Home decoration becomes something important to make the house come alive, one of them by using wall decoration. Wall decoration is a component that is needed to enhance your home decor. Wall decoration is done to arrange the room to be more attractive and comfortable. In addition, you can also use the decoration to fill the void in the room at home, so it looks more full of something that attracts attention.
To make wall decorations, there are many types of creations and materials that can be used. Among them is using wood, fabric, metal, paper, and several other materials. Therefore, before providing wall decoration for the needs of our homes, we need to know the needs of our own homes, because every home has a different style and creation. You should do this so that the house we live in becomes comfortable and beautiful in accordance with the concept of our home.
Many ways you can do to decorate the house, the easiest thing is to use the wall area. You can give a few touches to a large wall area. In addition to beautifying the room and filling in the blanks in the room, the wall decoration with the correct placement can provide a visual effect so that the low-roofed room looks taller, or a narrow room can look spacious.
If you think that wall decorations are just picture frames or paintings, then you are wrong. You can give it a little creativity, the wall area can be a medium for you to be creative by utilizing the items that are around you. What items can be created as wall decorations? Let's see the explanation below, we have summarized it for you.
1. Big Mirror
A mirror is a must for wall decoration in the house. But the mirror with a large size has more value to the aesthetics of the house. A mirror with a large size can add to the impression of a spacious room. Also, the selection of mirrors has to be in tune with the room's theme. Mirror with gold or silver color gives the impression of elegance, compared to other dark people.
2. Minimalist Frame Photo
Decorating a house with photos is mandatory, but we need to have the type of frame that will be used. Frames with black and white play make the display more simple, making it suitable for you to decorate a room with a minimalist concept. If you want something more colorful, you can mix and match frame colors with matching colors to give the impression of a more lively home.
3. Decorative Plants
If you want to decorate a house with a fresh and calm impression, you can use plants. Choose plants that match the size. If the plant you choose is large, then you can place it on the floor or in the corner of the room. Meanwhile, if you have vines you can hang them on the side of the wall, or some small plants you can also put on a wooden shelf.
4. Clipboard
Utilizing unused items into a solution for you who want to decorate the house. The use of frames as a medium for displaying photos is not always cheap. However, you can use the clipboard as a medium for your artwork in a simple way. In addition, you can give a touch of creativity that you have in the clipboard.
5. Hanging Plates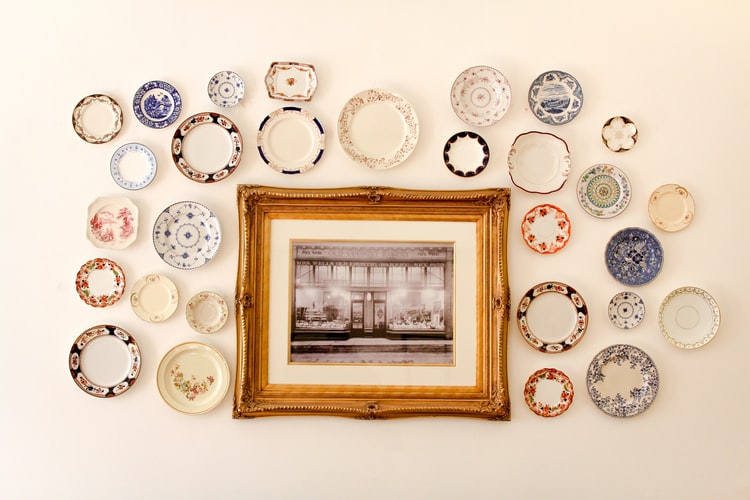 There are not just one or two ways to decorate your wall. One way is to try new things by using patterned plates that you have. Arrangement of plates with a variety of motifs can decorate your blank walls. These plates will give the impression of ethnicity and life in your room.
6. Minimalist Wall Shelf
Wall shelves consist of many types. To decorate the walls to be more minimalist, you can use minimalist wall shelves. Aside from being a decoration, this place can also be used to place items, so that you can accommodate the storage of your trinkets.
7. String Light
For a particularly distinct decoration, we have the string light. String light or decorative lights become one of the favorite items that are usually found in the bedroom. In addition to being a room decoration, this small lamp looks very beautiful when it is lit at night. You can also put these lights in the dining room, so that it will give the impression of a warmer dining room. Its size is not too big, so you can put it wherever you want.
8. Wall Clock
Next, is the classic wall clock. Wall clock is no longer a new thing in the house but becomes different if the wall clock has a unique shape and appearance. Wall clock with a unique shape and appearance can be a versatile and attractive home decor. Aside from being a timepiece, many wall clocks have a unique look when people use it to liven up the atmosphere of the room.
People also read Best Plants to Decorate Your Place
9. Wall Lamps
Just like a wall clock, a wall lamp can also be a versatile home decoration. Besides functioning as a room light, lights can also be used as wall hangings when combined with the appropriate combination. The choice of lamps and this combination can make the room more lively and more colorful.
1Macrame Wall Hanging
This wall decoration is perfect for filling blank walls. Its simple appearance makes this decoration great to be almost anywhere. Besides that, you also make it yourself.