Do you like yellow?
Psychologically, yellow gives off a warm, cheerful and energetic impression. When applied to a room, yellow is considered capable of stimulating creativity and enthusiasm. Besides that, the yellow color is also able to give the impression of a spacious room so you can apply it in a small room! Not only as a color on the walls, but the addition of yellow elements to furniture or room decoration can also add color to the room.
If you like neutral colors, maybe you think that yellow is too bright and will hurt your eyes. In fact, the use of yellow in the room is not considered tacky, depending on how to decorate it. You can combine yellow with neutral colors to make it more balanced.
11 Room Design Ideas in Yellow
Now, if you need inspiration and examples of rooms with yellow paint or elements, consider the following room ideas:
1. Living room with a warm and homey impression
The yellow color in the room can give a warm impression. Therefore, you can use yellow shades in the living room. As a room to gather and welcome guests, yellow will add a warm and homey impression from the home owner to guests.
In addition, a touch of bright yellow in the main room can also be encouraging. Not only is it an energetic impression, yellow also gives the illusion of a wider space so it is suitable if you have a living room that is not too large or tends to be narrow.
2. The living room is more lively
If you are hesitant to make the living room walls full yellow, you can add elements of yellow to the living room. For example, a yellow sofa, yellow sofa cushions, or yellow curtains.
Also, to create a more calm and balanced atmosphere, you can combine yellow with neutral colors like white or black. Not only that, the yellow color also goes well with green, for example green plants. The combination of yellow and green plants can make a room more lively!
3. The yellow kitchen is uplifting
Because of the meaning of the cheerful yellow color, yellow fits perfectly in kitchens and dining rooms. Plus, yellow can create a brighter room atmosphere. Therefore, you can use yellow as a kitchen wall paint for an energetic impression.
Not only full yellow, you can also combine yellow with white or gray for a more minimalist kitchen room impression. The use of yellow on the kitchen walls that gives an energetic feel can make you excited when cooking food in the kitchen!
4. Bright yellow kitchen furniture
If you feel the yellow paint for the entire kitchen wall is too bright, you can still bring a bright nuance to the kitchen through yellow furniture such as yellow cabinets. Your kitchen will look less crowded, but still have a fresh impression.
---
Also read: How to Paint Your Wall: 10 Easy Steps and Many Tips!
---
5. A vibrant, minimalist dining room
Moving slightly from the kitchen, not much different, here, the yellow color in the dining room can also create a warmer impression for the family. So that it's not too flashy, you can combine yellow with white and gray for a minimalist impression.
You can also add other color elements to create a more balanced composition, for example, a wooden table and green chairs. Carpets with inconspicuous motifs are also okay to combine with yellow to create a cozy impression. Cool, right?
For a dining room design with a pop of color, you can choose yellow furniture for the chairs or dining room lights.
6. Rustic yellow dining room
If you are bored with the same dining room design, you can make a rustic-style dining room design with a soft yellow touch.
Yellow wallpaper can also be an interesting accent for the room. Like this image example, the yellow wallpaper and blue chairs with geometric patterns and white accents look beautiful!
7. Yellow workspace to spark excitement and creativity
As previously discussed, yellow is believed to be able to increase creativity. The yellow color in the workspace is also expected to increase enthusiasm.
You can use a soft yellow color and combine it with white so it's not too flashy and not monotonous, or with gray for a minimalist impression.
Besides that, you can also give a touch of yellow accents that will give you a pop of color in the study or workroom! For example, using yellow chairs or other furniture and yellow table decorations.
---
Also read: How to Paint Your Door and Window
---
8. Yellow bedroom for relaxation
Yellow is indeed synonymous with joy and enthusiasm, but that doesn't mean it can't be used in the room to sleep, you know. When combined with the right color, yellow can give off an aesthetic impression! You can choose soft yellow or muted yellow to paint the bedroom walls.
Also, mix it with brown and wooden furniture if you want a room with a bright rustic feel. With a bright but calm room atmosphere, you will definitely be excited every morning you wake up!
9. A bathroom with a fresh impression
You may rarely find a bathroom with yellow paint. However, the yellow color in the bathroom will actually give a unique and comfortable impression, you know. So that it doesn't seem monotonous, mix it with a neutral color like broken white.
If your bathroom is small, yellow can add to the impression of a wider room, especially if you add a mirror! In addition, the green plants in the bathroom are also suitable as a yellow color combination and make the bathroom more vibrant.
10. Luxurious impression in the bathroom
Did you know that many kingdoms use golden yellow for their interior designs? Yes, yellow can actually give off a luxurious impression, you know! You can create a luxurious design in the bathroom with yellow wall paint.
Combined with neutral colors like white or gray, you can get an aesthetic bathroom. Don't forget to add live plants for a more colorful finish!
11. Walk-in closet with a modern feel and pop style!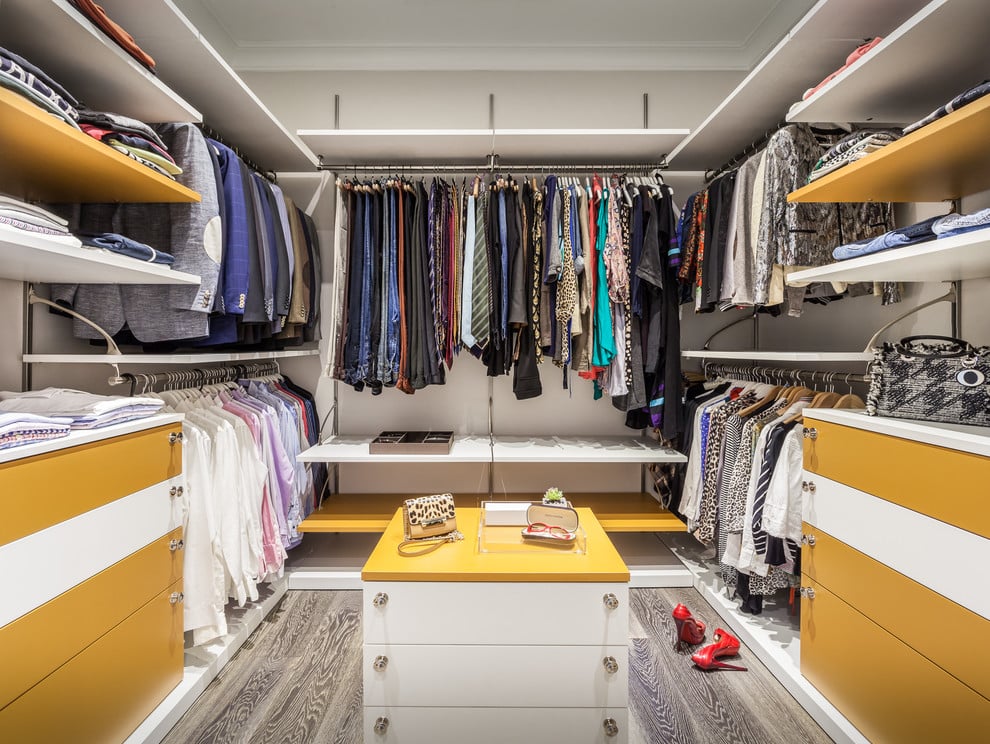 So that the walk-in closet doesn't look too plain, you can give it a yellow accent while giving it a pop impression! In addition to balancing the colors of your clothes, yellow can also help your creativity in mixing and matching OOTD styles!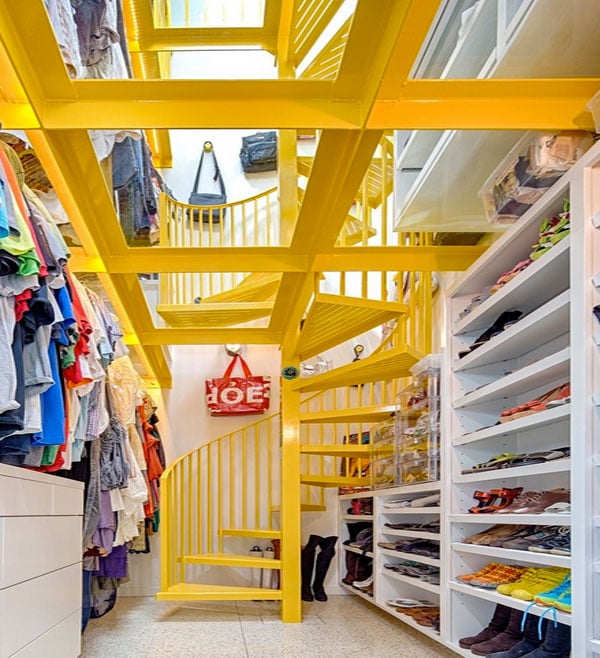 If you have a large walk-in closet, you can also add a yellow color to only one side or element. Yellow can make your walk-in closet look fun and modern, Flokqers!
---
Those are some room design inspirations with yellow paint or other yellow elements. So, don't be afraid to apply yellow to the room. Not only with yellow walls, but decorating a room in yellow can also affect the overall atmosphere.
Happy designing and exploring, Flokqers!