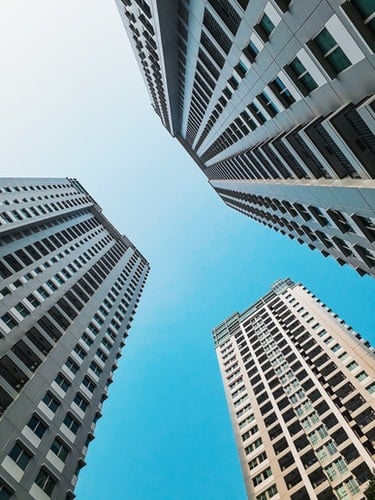 The first one or two months in a new city is pretty challenging, especially searching for accommodation. Thus, flexible housing would be a great option during that time. The short-term leasing system will make it easier for you to move if your current housing is not fit yet. You could flexibly rebel away to find other hearts to sleep in once the commitment with the first heart is over. Looking for that kind of accommodation? Don't worry! here are 6 recommended flexible housing providers in Jakarta
1. Flokq
Flokq is a Jakarta-based co-living company that connects you with beautiful spaces you might want to call home. They have a variety of apartments across Jakarta ready for you to move in. The price range varies very widely. Depending on your location and unit type preferences, it starts from IDR4,000,000 up to IDR12,000,000 per month. Furthermore, it sets up a monthly leasing policy for the Flokq community members. It means that you could just rent a room for only a month before deciding whether to keep it or pass it on to the next room resident. Indeed, it is one of the most flexible housing providers in Jakarta.
5 Things to Know Before Choosing Co-Living
To add up, one of the many perks you've heard of living in a co-living space is definitely the communal events. Therefore, you will certainly meet new people to hang out together. Flokq is hype on this that they regularly hold fun events like game nights or drinking nights for every fellow Flokq community, so fear no more stress from work! Want to hear even better news? Flokq comes up with an app for your mobile devices. The features including chat rooms, event schedules, even housekeeping services to hit up 24/7. 
2. Rukita
Rukita is a Jakarta based start-up company that introduces a co-living concept to the Indonesian millennials. It also owns a monthly leasing policy which enables you to move flexibly across Jakarta in a quest of finding the right home. Like other co-living spaces, Rukita and the #RukitaTribe are active in holding communal events. Every morning, the Rukita pantry wakes everyone up with delicious breakfast which could be enjoyed together before the day starts. Plus, the facilities and the modern design are surely worth every penny you are spending to rent a room here. The good news is, Rukita attends almost every corner of Jakarta as per today, extending all the way to the suburbs as well. 
Renting An Apartment In Jakarta
So far, Rukita's young-spirited concept has attracted many young people who refuse to live in a kos-kosan since it mostly bounds its residents within a 3-month leasing policy, but still have a very tight budget in their hands. Starting from IDR2,000,000, you could have this much fun with new people, and of course, no long-term commitment! Really suitable for you who's currently looking for flexible housing providers in Jakarta. However, the website is currently only available in Bahasa Indonesia, although maybe their WhatsApp service is able to proceed with English. Nevertheless, we hope the English website will be launched very soon because nobody should ever miss this chance!
3. Mamikos 
Mami kos literally means the landlady in Bahasa Indonesia. It explains why you are seeing an angry-looking woman in this green-themed platform. Many Indonesians have found their perfect home in a place far away from after looking through the rooms listed here. Most importantly, it has the specific jangka waktu or 'term of stay' column for you that works as a filter for the shown results. So, you can choose daily, weekly, or monthly. Of course, you are likely to have more restricted results because not many properties want to lease their room daily unless they practically serve as a hotel/motel. Nevertheless, contacting the property's contact person directly for specific inquiries might work too after some little compromises here and there. For more efficient use, try downloading the Mamikos app on Play Store or App Store. 
Looking for kos-kosan in Jakarta? click here!
4. Travelio
Travelio is similar to the famous AirBnB, where you could just rent a room for a minimum of one night. This one is particularly perfect for anyone looking for a comfortable stay during a sudden work trip that your office requires you to look for your own accommodation. But, its newer version allows you to choose a monthly even yearly rent plan! Just set up the check-in and check-out dates for each plan according to your need, then wait for the results to be listed. The prices vary widely since they list many different apartment units in the city or area you've selected. So, just use the price filter for you to control based on the available budget in your hands. For each room, they give away free toiletries for a maximum feels-like-home experience too. Furthermore, Travelio is currently available in Jakarta, Tangerang, Bandung, Bekasi, Depok, and Surabaya. 
5. Traveloka
Traveloka, Indonesia's number 1 startup company for traveling matters, might not be your ultimate destination in situations like this one. However, the maximum period of stay in each hotel or motel you want to choose is up to 15 days! You could always adjust the pricing to be a bit lower or everything that works according to your budget in hands. The 15-day time seems to be enough for you to look around and find the most perfect home, no? 
6. Airbnb
Airbnb is trending among the backpack travelers to the high-budgeted ones as they offer not only accommodations but also experiences guided by local hosts. Since its aim is to immerse these travelers to local culture, some properties in AirBnB let you book up to a month term stay. Moreover, they mostly offer apartment units, not the hippie-style hut in a remote Ubud village. If you're used to using this platform to book accommodation during holidays, the same function would work as well for non-holiday purposes. 
This list of six flexible housing providers in Jakarta will hopefully help you settle in much more relaxed. In fact, that's the only way you could think efficiently and effectively especially in a quest of finding the perfect home. Not a bland 'a home', but the specific 'the home', see the difference? Good luck!