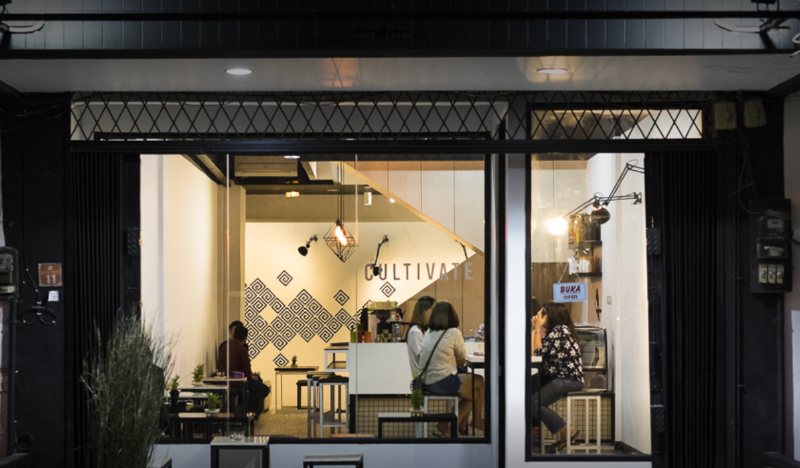 Looking for a restaurant in Gading Serpong is not difficult. This area has become one of the culinary centers in Tangerang. Indonesian cuisine, Korean cuisine, and Western cuisine such as steaks can be easily found in Gading Serpong. Some of them are already known to have flavors that can satisfy your culinary desires. Besides, several restaurants in Gading Serpong also have a top-notch atmosphere. Suitable for dining with family, friends, and colleagues. Well, so many places to eat in Gading Serpong might make you confused. And there's no way you're going to be the only place to find a restaurant that fits your taste? Relax, we have listed a full-day complete list of restaurants if you're going to stroll around Gading Serpong!
Breakfast: PappaRich
A good breakfast is simple yet precise. Roti Hainan toast with a dollop of butter and homemade kaya; eggs cooked to the exact millisecond for that perfect slurp. At PappaRich, they understand it can be hard to wake up early, so they serve your favorite Malaysian breakfast staples throughout the day. With a storied history in re-creating authentic Malaysian cuisine that's born from age-old traditions and recipes, the PappaRich brand today is synonymous with bringing the Malaysian experience all over the world through the enjoyment of its carefully-crafted food and homely ambiance. As they take another step forward in our efforts to share our brand story with the world, they look to creating a consistent and palpable brand identity Malaysia can be proud of.
Phone Numbers: +622155687155
Social Media: @papparichid on Instagram and Facebook
Address: Jl. Gading Serpong Boulevard, Kav M5 No.17-18, Klp. Dua, Kec. Curug, Tangerang, Banten 15810
Price Range:
Snacks and mains from Rp 12.000-139.000
Drinks from Rp 15.000 – Rp 40.000
Opening Hours: 8 AM-11 PMWebsite: http://papparich.co.id/
Lunch: O! Fish
The unique interior on O! Fish is a great attraction for foodies in Jakarta. The room is dominated by white and filled with natural lighting that will make your shots good. On the outside, there is also a cool mural to be a photo spot. As the name implies, this restaurant in Gading Serpong has a Fish and Chips menu with several fish and sauce variants. Pan Sear Dory with Sambal Matah often makes people curious. And it turns out it did not disappoint. The Sambal Matah on this menu is very refreshing and blends well with the soft and savory Dory fish. You can also replace the fish with Cobia. Cobia texture that is firmer than Dory fish will make this menu enjoyment more optimally.
Phone Numbers: +622155681088, +628118849685
Social Media: @ofishid on Instagram
Address: Ruko Graha Boulevard Blok A, Jalan Gading Serpong No. 18, Curug Sangereng, Kec. Klp. Dua, Tangerang, Banten 15810
Price Range:
Snacks and mains from Rp 6.000 – Rp 165.000
Drinks from Rp 10.000 – Rp 35.000
Opening Hours: 9 AM-11 PM
Read also : One-Day-Food-Hunt in Menteng
Dinner: B'STEAK GRILL & PANCAKE
Western Family Restaurant that conveniently located in Jakarta, Gading Serpong-Tangerang, and Bogor. We focused on Western comfort food, specialized in steak and pancake. B'Steak Grill & Pancake Restaurant is a fine choice when dining out; with its distinctive menu, there's something delicious for everybody! The restaurant has full table service for breakfast, lunch, and dinner, seven days a week. A one-of-a-kind, family venue restaurant that serving up freshly prepared cut steak, authentic pasta dishes, homemade rosti, traditional pancake, and much more. It offers the perfect combination of good quality food at an affordable price at family and child-friendly ambiance with a touch of rustic quality. Its dishes are prepared freshly, cooked to perfection, and savory to the last bite, whether you're looking to enjoy a fun dinner with family and friends or want to celebrate a special occasion with a loved one, it'll ensure you have a wonderful time!
B'Steak Grill & Pancake also has branches in Muara Karang and Green Ville, but only in its branches in Gading Serpong, you can feel a comfortable atmosphere with a very attractive and photogenic interior. If you bring a child, you don't need to worry because there is a very child-friendly playground area. The mainstay food at the restaurant in Gading Serpong is Fillet Mignon. If you like it creamy, you can have it served with mushroom sauce. The meat itself is very tasty, juicy, tender, and still delicious even if eaten without sauce. Prices for good quality food at B'Steak are also very affordable compared to restaurants in its class.
Phone Numbers: +622129419075
Social Media: @bsteak_grill on Instagram, bsteakgrillnpancake on Facebook, @bsteak_grill on Twitter
Address: Gading Serpong, Ruko Golden 8, Jl. Ki Hajar Dewantara No.3, Pakulonan Bar., Kec. Klp. Dua, Tangerang, Banten 15811
Price Range:
Snacks and mains from Rp 9.000 – Rp 550.000
Drinks from Rp 12.500 – Rp 35.500
Opening Hours: 11 AM-8 PM
Dessert: Cultivate
If you think that the only way to enjoy Thai Mango Sticky Rice is eating a huge blob of sticky rice and freshly cut mangoes, think again. As a huge fan of that dish, the image sticks to my heart and is ingrained in my brain. But Cultivate Gading Serpong has proven me wrong. At Cultivate Gading Serpong, gone is the rustic, street-style Mango Sticky Rice (IDR 45K). It is replaced by a beautifully plated dessert, reminiscent of those at posh cafés and five-star hotels. On the plate are two neat balls of sticky rice, mango gelee in place of fresh mangoes, refreshing coconut sorbet, and a bit of crumb. On the bottom of it all is a splash of coconut milk, Jackson Pollock style. To be frank, the purist in it feels like something is missing without the freshness and texture of real mangoes.
Having said that, the Cultivate version manages to capture all the essential flavors and elevate the presentation. It also feels great to be able to have Mango Sticky Rice any time you want, regardless of the mango season. If you think Cultivate is just the same as a typical coffee shop in Gading Serpong, maybe you are mistaken this time. The main star is not coffee, but dessert. Yes, dessert is the main focus at Cultivate, not only is the taste brilliant, but the visual appearance of the dessert served is very artistic. Cultivate has proven itself as a special Coffee Shop where visitors are not only satisfied with the taste of coffee itself but can enjoy a variety of the best dessert variants in one place. No wonder this place is so special because it cannot be separated from the role of Jane Setiady, who has experience as a pastry chef at Akira Back.
Phone Numbers: +6281294110057
Social Media: @cultivate.id on Instagram
Address: Gading Serpong, Jalan Kelapa gading selatan blok BH10 no.11, Serpong, West Pakulonan, Kelapa Dua, Tangerang, Banten 15810
Price Range:
Snacks and mains from Rp 28.000 – Rp 48.000
Drinks from Rp 22.000 – Rp 38.000
Opening Hours:
Weekdays: 10:00 – 21:00
Weekend: 10:00 – 22:00
And there you have it! A full day food guide for you who likes to stroll around Gading Serpong. We hope that this list increases your incentive to visit Gading Serpong. After visiting these places, don't forget to leave some reviews!