Others
|
Staying In
11 Gaming Room Tips: Carry Out Your Missions Safely and Comfortably!
As long as you have enough gadgets, batteries, internet network, gaming can be done anywhere. However, for maximum results, you certainly need a separate room. That way, you can freely concentrate on the game and of course your calls during the game won't disturb others. In addition, gaming equipment also needs a number of gadgets with cables that spread everywhere. By keeping all your gadgets and cables in a separate room, you no longer have to worry about someone tripping and accidentally breaking your cable. Thus, here are gaming room setup tips that can be your inspiration!
1. Room Size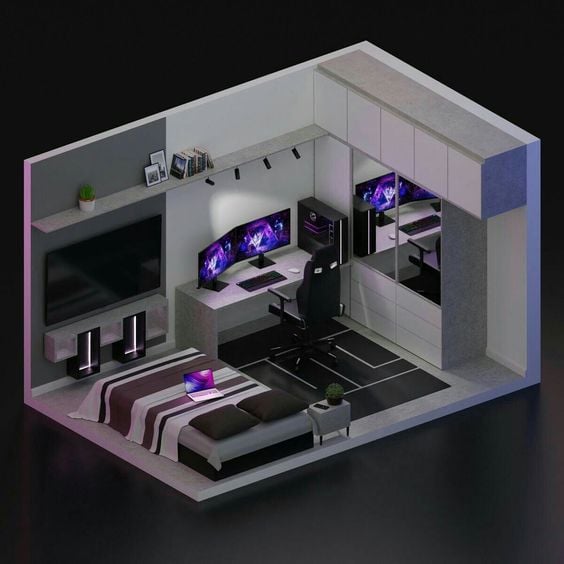 Gaming rooms don't have certain rules regarding the absolute size of the room that should be used, but you still need to consider them. If you want to use your private room as a gaming room, you need enough space to place your monitor, speakers, keyboard, and so on. If you use a separate room, there should be sufficient distance between the game console and your seat, be it a gaming chair or a regular sofa.
You also need to consider additional space if you often play together with other people. An ordinary sofa will be more practical because it can be used alone or with several friends, but you can also use more gaming chairs so you don't bump into each other when playing together.
2. Gaming Chair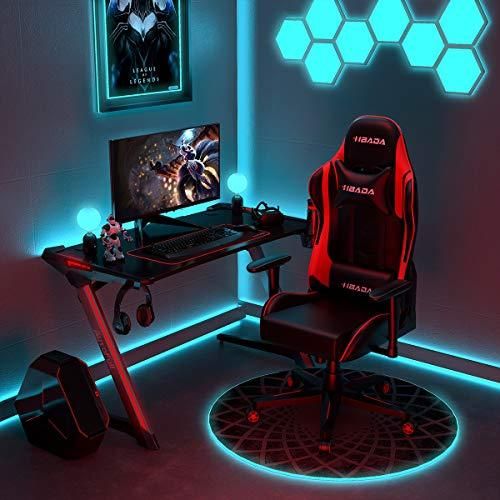 Since your games can take up to hours, it's important to have a gaming chair that fits your needs. If you use a gaming console, a sofa can be a good choice, but if you use a gaming PC, you need to consider ergonomics, materials, size, to additional features such as massagers and back cushions on the chair so that your body does not suffer after being in the same position. the same for hours. In the picture above is an example of the most commonly used gaming chair. These chairs have armrests, a wheel base, and are often height- and tilt-adjustable. There are also those who choose products that can rotate vertically and have more advanced features such as the product below.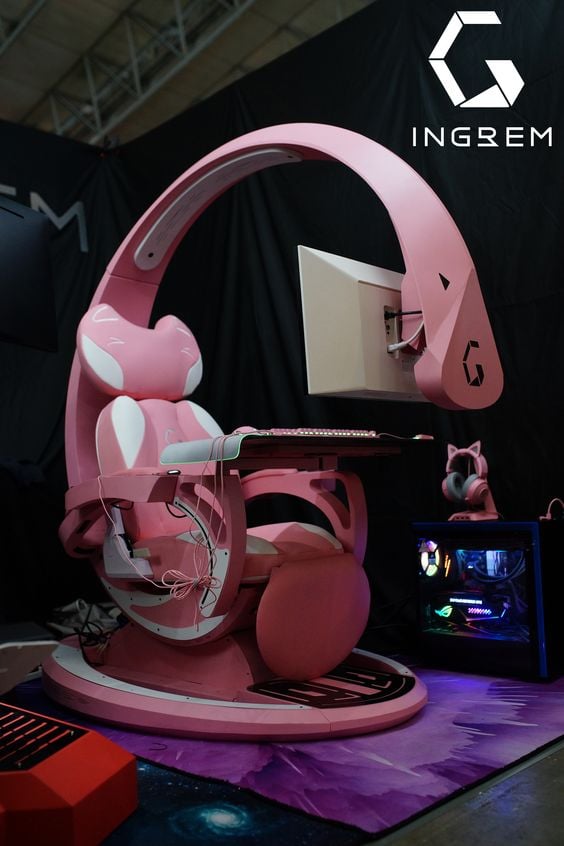 Whatever product you choose, be sure to choose a chair with lumbar support to minimize back and body pain. Faux leather and vinyl are durable and easy to clean, but not very sweat-wicking. Mesh, cotton and microfiber are breathable and comfortable, but rarely last long and are difficult to clean. Be sure to choose a seat that can accommodate the player's weight stage and the available space.
3. PC Desk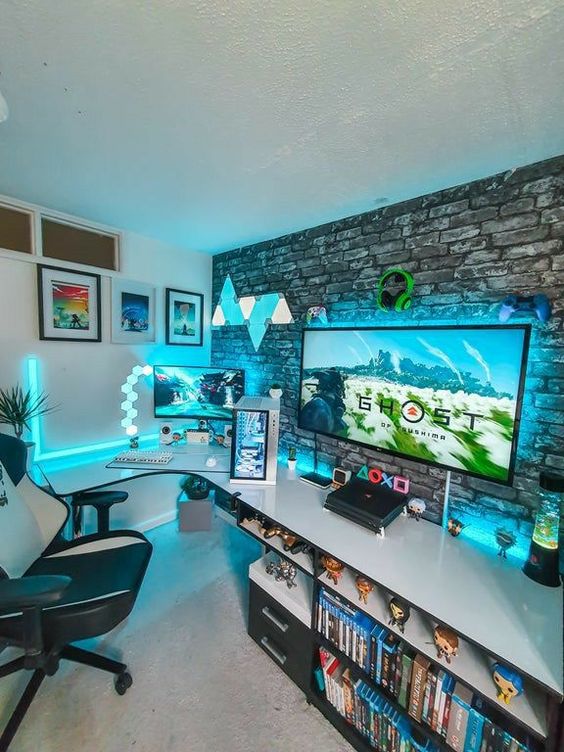 In choosing a gaming table, you don't need to be too specific. You only need a table with a smooth, sturdy surface, and a size that fits your space and gaming chair. To fit more gaming accessories, you can choose a table with a flat and wide surface that can comfortably accommodate a monitor, keyboard, mouse and other accessories. A gaming desk with storage shelves and drawers underneath can also help you store a lot more stuff.
If you often consume food and drinks during games, you should also choose a table that has a cup holder or other consumption storage space to avoid food crumbs and drinks' drippings from entering your gadget.
4. Charging Station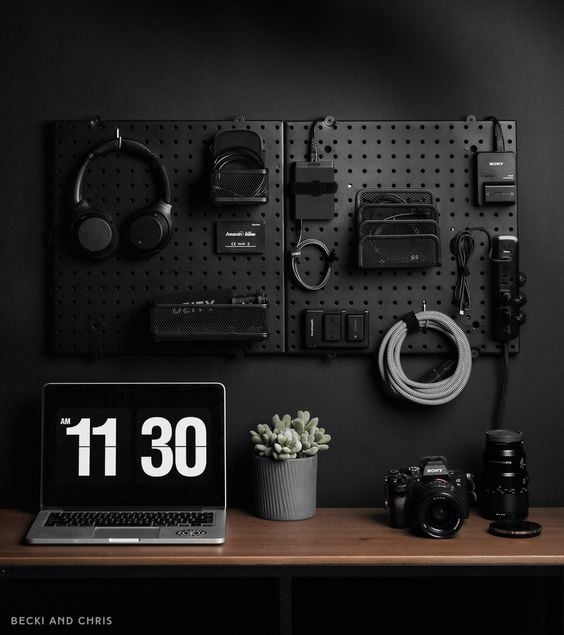 Most gamers have plenty of accessories and extra cables to complete their gaming setup. Drawers and storage cabinets under the table can store these items, but it is not uncommon for us to forget where an item is located because the item is located in a closed storage. The charging station in the picture above can be an alternative for your storage. Not only can you see all your belongings and accessories at all times, but you can also charge your accessories right away on the hanger due to the space for cables to plug into the wall outlet.
5. Room Lightings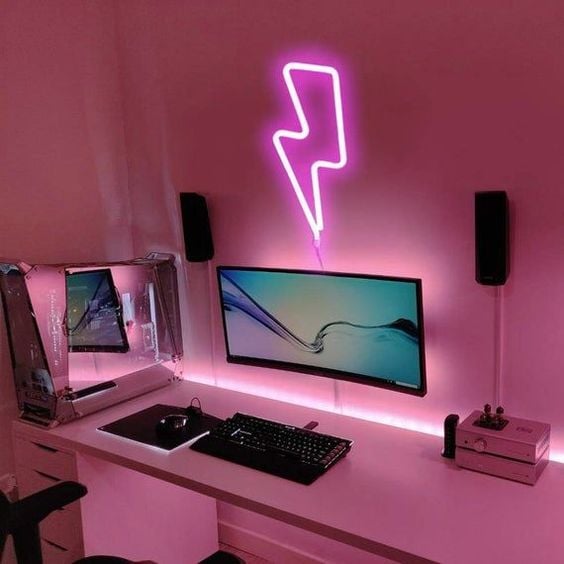 The gaming room should be dark enough for gamers to concentrate on the monitor screen, but it should be bright enough for gamers to recognize their surroundings. Therefore many choose LED strip lights below as a substitute for the main lighting. Some gamers choose LED strips with color settings to adjust the light according to their needs.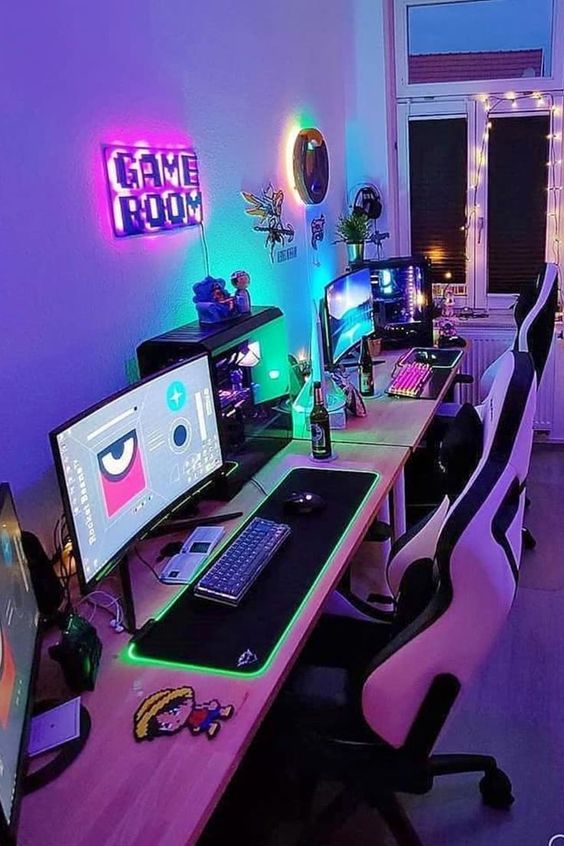 6. Gaming Monitor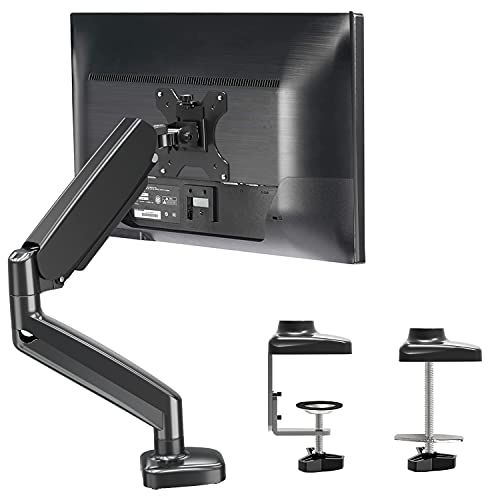 Just like a gaming chair, you need monitor accessories that can maximize your comfort. In this case, the position of the monitor affects neck comfort. You can avoid neck pain or stiffness by using a monitor stand that changes the angle of the monitor. You also need to make sure your monitor stand is strong and sturdy enough to prevent your monitor from falling out of place. Your monitor can also be placed on the wall as shown below.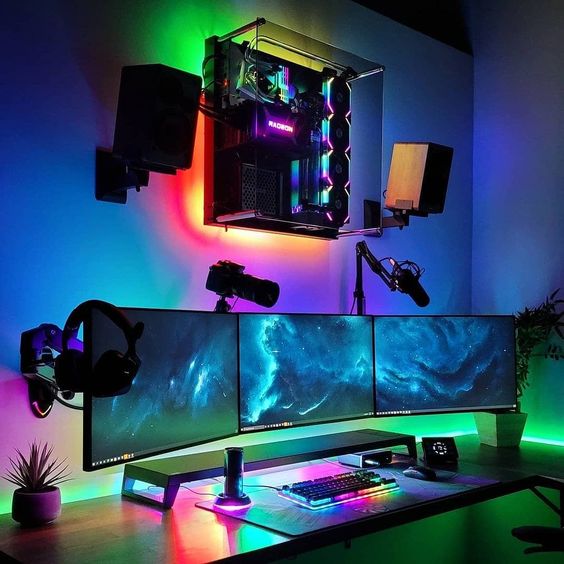 7. Soundproofing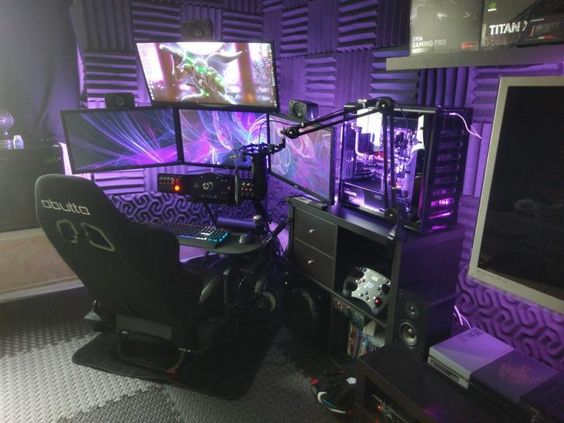 Even though it has been connected to a headset, gaming sessions usually remain noisy because players are calling strategically when playing together or conveying other information. So even though you already have your own room, game sessions can cause noise and disturb other residents. You can solve this problem by installing soundproofing in the room, such as the gaming room above which uses soundproofing foam on the walls and on the floor.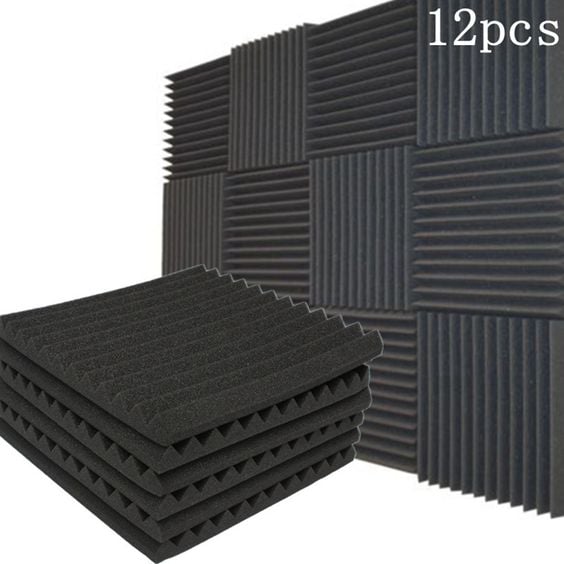 8. Wiring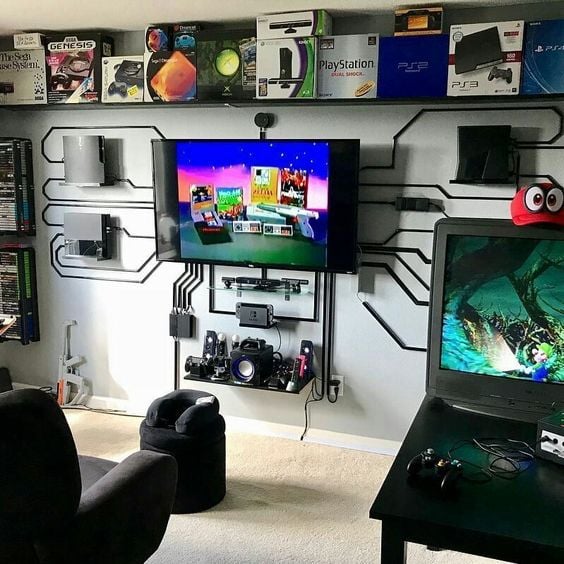 One part that is quite inconvenient in the gaming setup is the cables from the accessories and gadgets used. Because they are quite long and elastic, we are often tempted to just let these cables dangle from the table. As long as the strands of cables don't interfere with your comfort, that's fine, but if you find it bothersome, you can use adhesive or cable holders and hold them in an arrangement like the picture above to organize your cables and add to the aesthetics of the room.
9. Projector
The PC monitor may be too small for you, and you are not in the budget for a second monitor. If this sounds like your problem, you can still use a projector as an alternative. With a projector, you can adjust the distance and screen size to your liking. Just make sure your projector can connect with your speakers, console, keyboard, and other gaming accessories.
10. Gaming Mouse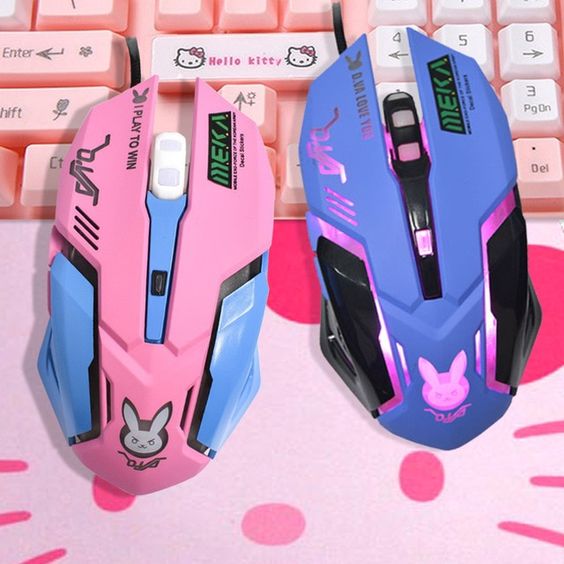 Because gaming sessions can take up to a dozen hours a day, it is recommended that you choose a mouse that is made for gaming. Apart from the durability of materials and components, gaming mice generally have more features, such as quiet buttons, more durable power, and LED lights to make them look better in dark gaming rooms.
11. Gaming PC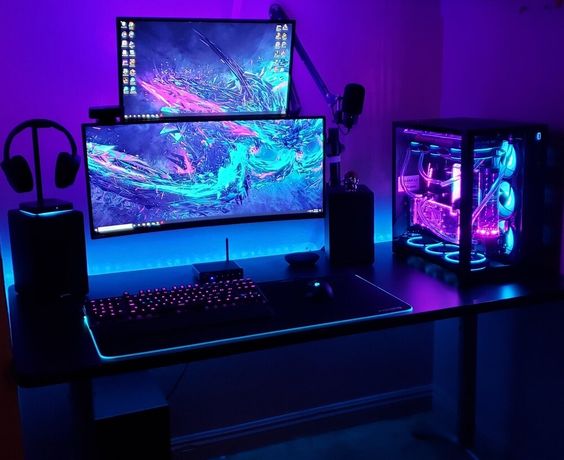 You can run any game on any PC as long as the PC system is capable of running game files, but since game files tend to be heavy and take a long time, you'll also need a PC that's durable. If you're playing regular mobile games, that's fine, but if you're a fan of games like Skyrim, Assassin's Creed, Red Dead Redemption, and others, you'll need an equivalent PC Setup like ASUS ROG, Alienware, and Razer.
Keep in mind that it's not good to stare at the screen all the time without taking a break, so make sure you also have eye drops or eye bath on hand to keep your vision healthy while playing. Happy decorating!
Need a large kost for a cool gaming room?Check this out!