Moving to Indonesia's bustling capital city can be overwhelming. This city may not go easy on those who are new to the neighborhood; you should be prepared mentally, financially and certainly knowledge-wise before hopping on to the next flight to Jakarta. Flokq is here to guide you with the most essential things you need before moving to Jakarta. Starting from visas, housing, education, community and many more. Here we go!
Visa
Just like in any country, expats are required to have valid visas when entering Indonesia for the purpose of living or working. There are a few visas that you can apply for, depending on the reason for your visit. First of all, you should have your own valid passport. It is best to contact the nearest Indonesian embassy to consult about your travel plans and administrative work. You can visit the Indonesian Ministry of Foreign Affairs at kemlu.go.id
Regardless of the visa you are applying for, you should be aware that the approval of your visa may take days or even weeks. You should then consult and apply weeks or even months in advance so you can make sure that you comply with all the requirements. Whether you have traveled abroad or particularly to Indonesia before, there will be several questions regarding your visit. Make sure you have done your research as well as a strong background as to why the embassy should approve your visa.
For more information regarding visa/permits, click here.
Housings
It is always a good idea to find housing in advance before arriving in Jakarta. No one would want to be homeless and confused as choosing a place to live in Jakarta can be overwhelming. There are numerous neighborhoods in Jakarta. But, as expats, it would probably be better for you to choose a more upscale, safer and modern neighborhood. Most expats end up renting a house or apartment. However, Indonesian property is also a good investment as the rapid development of the economy in big cities.
Expat-Friendly Neighborhoods in Jakarta
Central and South Jakarta are the areas with the most expats population. These areas come with tall skyscrapers, decent sidewalk and street infrastructure, exclusive residentials housings, and top landmarks like entertainment spots, shopping malls and many more. If you are looking for a more lavish style, Pondok Indah in South Jakarta can be an ideal option for you. Other than the castle-like housings, the neighborhood in this area is friendly and comfortable.
On the other hand, Menteng in Central Jakarta is also another good option as the neighborhood is known to be exclusive, safe and friendly. Most of the houses here have the design from the colonial-era with big pillars and tall gates. Furthermore, as the neighborhood is close to the Central Business District of Jakarta, Menteng has a very high demand and price. Its strategic location and convenient neighborhoods attract both expats and locals to live there. If you are interested in living in this neighborhood, you should perhaps arrange it months in advance. The property law can be rather complicated along with the increasing cost of the lands and houses. If you want to find out more about Jakarta neighborhoods, click here. 
Schooling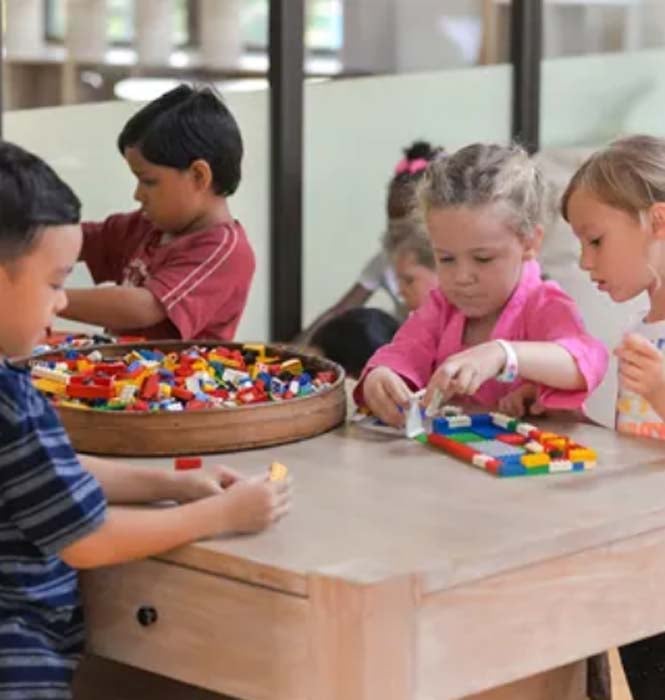 If you are moving to Jakarta with children, then you might just be pleased to know that there are plenty of international schools in Jakarta. Not only they are accredited by internationally legitimized institutions like International Baccalaureate (IB) and Cambridge, but some of them also follow the curriculum and education culture of other countries. For examples British, American, Germany, India, Japan, Russia, Australia, Korea, New Zealand, and Singapore.
For instance, Jakarta Intercultural School located in Pondok Indah, South Jakarta offers an IB program as well as college preparation courses for your children to adjust to Indonesia's education environment. Some of the teachers are also fellow expats with good teaching reputation from both their home country and in Indonesia itself. The facilities are quite complete with a gym, swimming pool, laboratory, library and many more. However, the tuition fee for international schools like JIS is generally pricier than other private and public schools.
Some of the international schools may even require you to pay them in dollars. In addition, you might also need to pay yearly fees in advance, unlike the common private and public schools where you pay monthly in rupiah. Furthermore, most of this school is located in the outer suburban area of Jakarta. Thus, it may cost your kids daily commuting up to several hours. That is why moving to Jakarta with kids is a level more challenging when moving with yourself or your partner and it is important to take care of this issue before you settle in.
Free time
Jakarta is arguably a lively city with another level of urban lifestyle. There are numerous shopping malls, from the low-to-middle ones to the sophisticated gigantic shopping centers. If you like to shop, go for casual dining with your friends and family, or just sit in cafes for hours, Jakarta offers you a wide variety of shopping malls that include everything that you need.
One of the great shopping malls you should visit in Jakarta is located right in the center, namely Grand Indonesia. Other than its gigantic building with hundreds of stores inside, there so many things one shopping mall can offer you. The lavish lifestyle in Jakarta may require you to go to these kinds of shopping malls, as meeting or social activities tend to happen in spots like these. (click here to read about more malls in Jakarta)
Furthermore, if you are more into outdoor activities, there are also plenty of entertainment spots you can go to. Jakarta's well-established amusement park, Dufan, is probably the oldest and most famous family park in Indonesia. Located in North Jakarta, this internationally must-visit themed amusement park offers interactive rides, shows, and occasional events. For further information, go head to their website at www.ancol.com.

Want to know what other things to do and see in Jakarta? Click here.