Local Guide
What is Kue Basah? Guide to Indonesia's Tasty Snacks
If you're in Indonesia, one must try is the culinary of the country. Fortunately, Indonesia has many foods that are worth trying, one of them is jajanan pasar. Jajanan Pasar is a traditional Indonesian snack that you can find in the traditional market. Although there are other modern snacks, Jajanan Pasar is still one of everyone's favorite snacks. Kue Basah is also a part of Jajanan Pasar, as you can find Kue Basah in traditional markets. Kue Basah or wet cakes are kues that contain rice flour, sugar, and coconut milk. Because of that, usually, it can't last long. If you are in Indonesia, of course, you can't miss tasting jajanan pasar. We have collected 11 jajanan pasar you should try!
Kue Cubit
Who doesn't know this famous cake? You can find it easily, especially in traditional markets and schools. Cubit means pinch, some people believe that name came because the sellers have to pinch it with pinchers. The main ingredients of this cake are baking powder, flour, and sugar. Some people said kue cubit is related to poffertjes, a traditional Dutch pancake. Usually, the sellers put chocolate sprinkles on the top of the kue cubit, with innovative flavors and toppings being added into this late-night favorite. Nowadays, you can find this famous cake everywhere and even has various variants. Call it kue cubit green tea that was famous a few years back. You can buy Kue Cubit for Rp. 10,000.00 for 1 box containing 9 pcs
Kue Putu
Kue putu is another jajanan pasar you can find everywhere, as it is so famous. Kue putu is made with palm sugar, grated coconut and rice flour. More interestingly, putu cake traders usually use steam devices that make a sound, so that it becomes characteristic.
Pastel
When talking about pastels, of course this one food is known to many people, as some countries have their versions of pastels. In Indonesia, pastel is made by thin pastry, and inside there are eggs, vegetables such as carrot and potato, fillet chicken or meat and rice vermicelli. You can find pastel everywhere, and even many restaurants provide this food. Usually, pastel is served as a snack.
Dadar Gulung
Dadar Gulung means rolled pancake, and this is another jajanan pasar you should try. Dadar Gulung is a popular snack, usually has a green color, because it contains pandan leaves. The primary ingredients of this snack are palm sugar, grated coconut, rice flour, and pandan.
Lemper
Lemper is a well known snack in Indonesia and made with sticky rice. Usually, lemper is packed with chicken, abon, or fish. The main ingredients of lemper are sticky rice, chicken, abon, or fish. Frequently, people eat lemper as a snack, but sometimes lemper is seen as an appetizer.
Kue Mangkok
Kue Mangkok is a famous steamed cake you can find everywhere. Not only in Indonesia, this cake is also popular in Maritime Southeast Asia. The name of kue mangkok came because the cake is put on a cup. Usually, kue mangkok is served as a dessert. The primary ingredients of this cake are sugar, baking powder, flour, rice flour, flavoring, and steamed.
Risoles
Risoles is another jajanan pasar you should try. Risoles is a pastry filled with meat and vegetables, wrapped in omelet and coated with bread crumb But, the sellers have to coated risoles chicken eggs before putting the bread crumb. Risoles have several variants, such as smoked beef and ragout. Usually, risoles is served as side dish. also you can find it everywhere
Rempeyek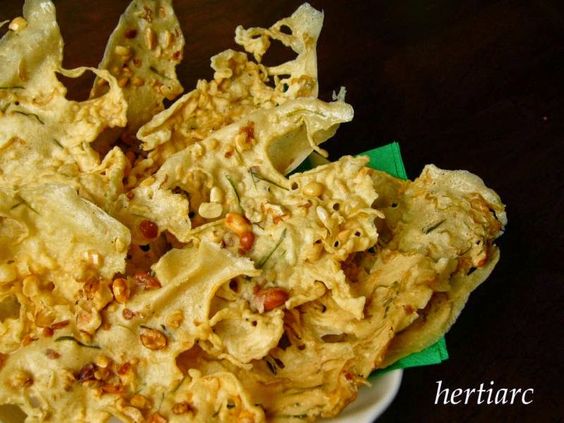 Rempeyek or peanut brittle, is a well known fried food from Javanese. Rempeyek is made by flour rice mixed with water, so the texture becomes thick. Usually, rempeyek is filled with peanuts, but nowadays there are variants of rempeyek such as anchovies rempeyek, ebi rempeyek and small shrimp rempeyek. Rempeyek turned out to be suitable for eating with vegetables, as the spinach rempeyek is easy to find. You can eat rempeyek as a snack, and as a complement when eating pecel.