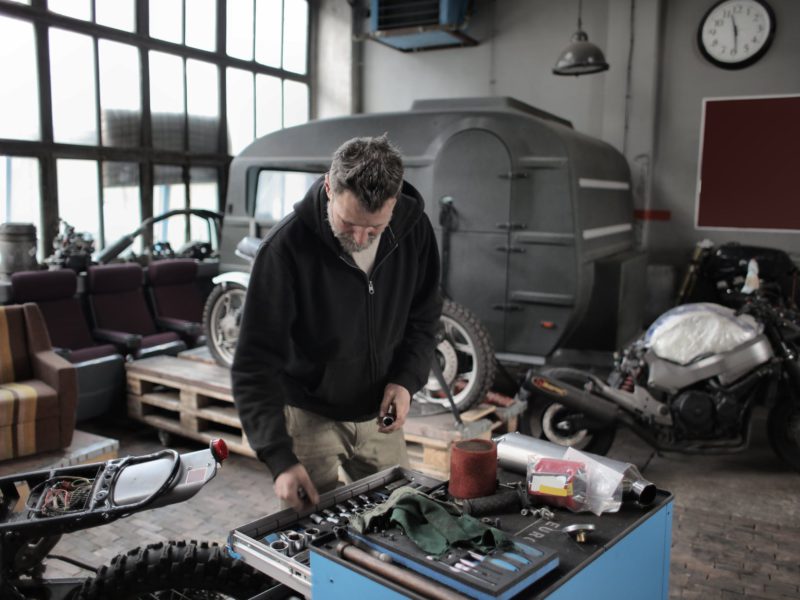 It was a Monday morning, you wake up late because of last night's hangover. Then you realize you are in a rush and should be preparing your meeting. You take a shower and the water heater is off. You just go with it and you go downstairs ready for quick breakfast. You turn on the stove, ready to make the pancake, and oops the stove also cannot function properly. You open the refrigerator and decide to just take whatever ready to eat to cut the time. You grab a small pack of milk, and banana and put it in your bag. You then realize you almost run out of time and then you walk quickly and close the door. You walk to your car, heat the engine, and grab the remote to open the gate. And again, the sensors don't work for today. You take a deep breath and trying not to let it ruin your mood. Imagine, having to go through a day like this. Some of us may experience it or even worse than this. Especially when you live in the metropolitan city of Jakarta when everyone seems to demand your time. You cannot help but look for a more practical way to solve the problem inside your house without letting it ruin your schedule. Some people are just born naturally gifted with creative hands to fix or repair something. But to some, it can be such a burden to bear. Don't worry, we got you! In Jakarta, there is this thing called handyman, a man whose job is to prepare or fix anything broken in your home. His job is surely such a lifesaver Below, we listed several places for you who need handyman services at Jakarta:
1. RumahAhli.com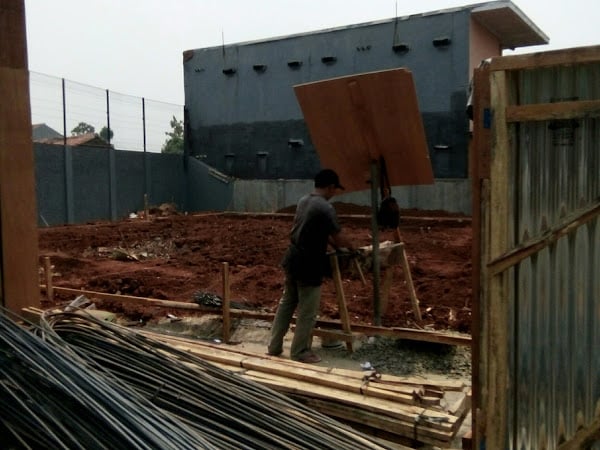 Rumah ahli.com provides handyman services to the user in the area of Jakarta, Bekasi, Bogor, and Tangerang. It's focusing more on giving you the services for your house or property. It promises to give the best materials which are handled by professionals and to become more efficient. If you are in a deadline, worry not, because it also promises and ensures its services to be on time. The services which are given include painting, renovation, design, and build, supplier, supervision, kitchen set, landscape, manpower, and electricity power by the professional and the handyman. Rumahahli.com can be trusted and their former projects include skyscrapers, round building, and royal house.
Website: https://www.rumahahli.com/
Contact Us:
Email: rumahahli123@gmail.com, Info@rumahahli.com
Phone Number: 081296748982
2. Sandi Jaya Bor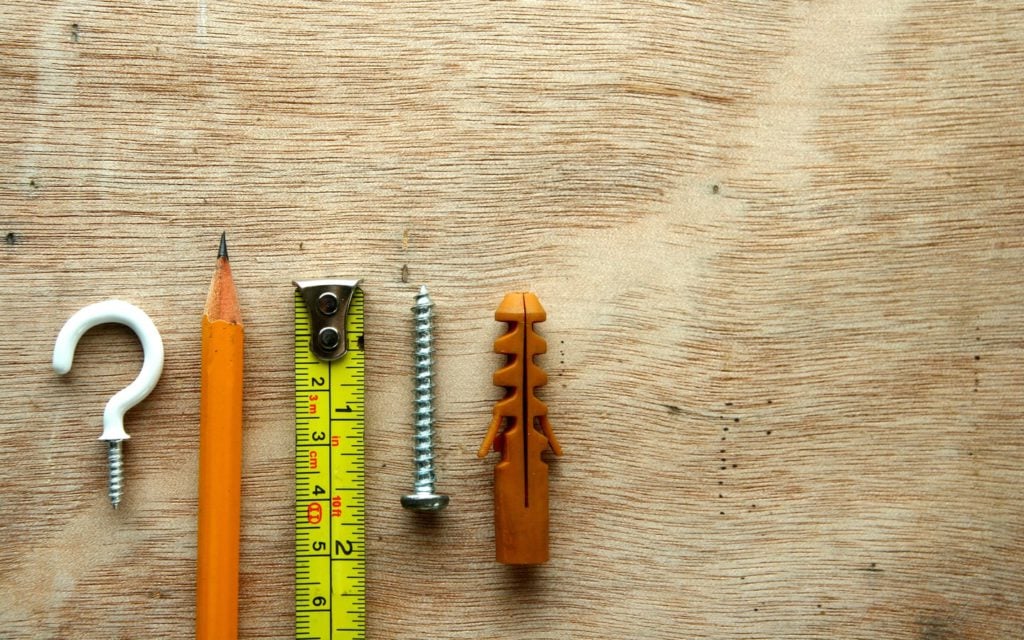 or those who are looking for a plumber to fix your plum or water pipe, this might be the right one for you. They provide excellent service by professionals and very fast in response.
Website: https://sandijayabor.business.site/utm_source=gmb&utm_medium=referra
Contact Us:
Address: Jl. Pangeran Antasari Gg. Koba No.48, RT.4/RW.6, Cipete Utara, Kec. Kby. Baru South Jakarta, DKI Jakarta 12150, Indonesia
Phone Number: 0815-9437-895
Open Hour: Everyday 24/7
3. Sumber Jaya Pompa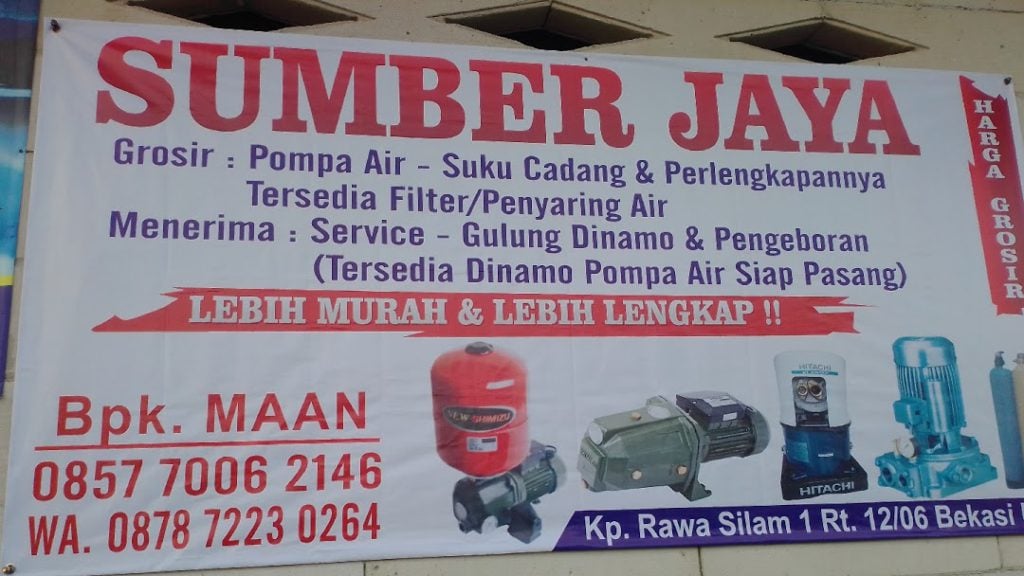 Sumber Jaya Pompa was built and established to fulfill the needs of clean water in households of Jakarta. Some areas in Jakarta do not have a good quality of water, especially in terms of colors, smell, and purity. Some of the areas in Jakarta do not have a great contour of land that hinders the creation of bore wells to produce good waters. Therefore, Sumber Jaya Pompa is available to see deeper of your land contour to give good quality of bore wells according to your budgets. The services provided by Sumber Jaya Pompa are promised to be professional, high quality, on time, affordable, fully guaranteed, and use modern tools. It accepts 24/7 services in the Jabodetabek area.
Website: https://www.sumberjayapompa.com/
Contact Us:
Phone Number: 0812-1343-6294
4. Abadi Teknik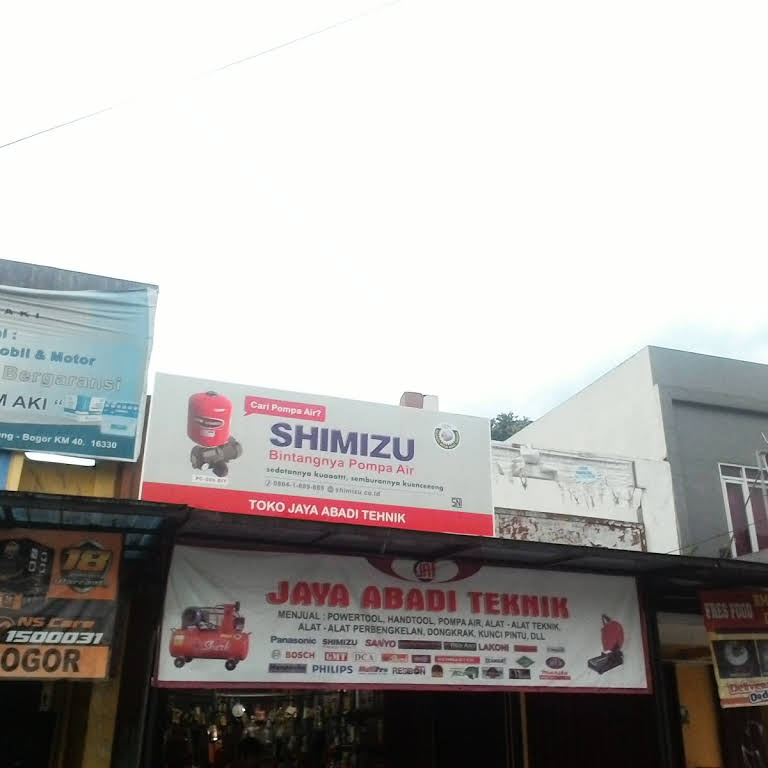 In this humid and tropical weather of Jakarta, the usage of air conditioners has become one of the most essential part in our life. If that lifesaver thing called "Air conditioner" is broken, we can't help but find a way as soon as possible to fix it. But, worry no more since Abadi Teknik come to the rescue. With the experience of more than 9 years, it accepts services including fix the broken one, AC installation, sells and buy new or used AC in the area of Jabodetabek. It is highly experienced in AC cassette, Split duck, Split Wall, Central (Ducted), Standing Floor (Portable), and etc. For brands such as AC Daikin, York, McQuay, Panasonic, Mitsubishi, LG, etc. It has experience for offices, households, apartments, industrial areas, schools, corporations, apartments, governments, shops, supermarkets, and give full guarantee services to its clients. Abadi Teknik gives fast services and has cooperated with big and well-known brands such as Maxx Cofee, The Altitude Plaza, Aston Imperial Bekasi, Taman Rasuna, and many more.
Contact Us:
Address: Jl. Raya Penggilingan, Daerah Khusus Ibukota Jakarta. 13940
Phone Number: 02129148695, 081293913793, 081296410193
Email: abaditehnik10@gmail.com
5. Betul Jaya Teknik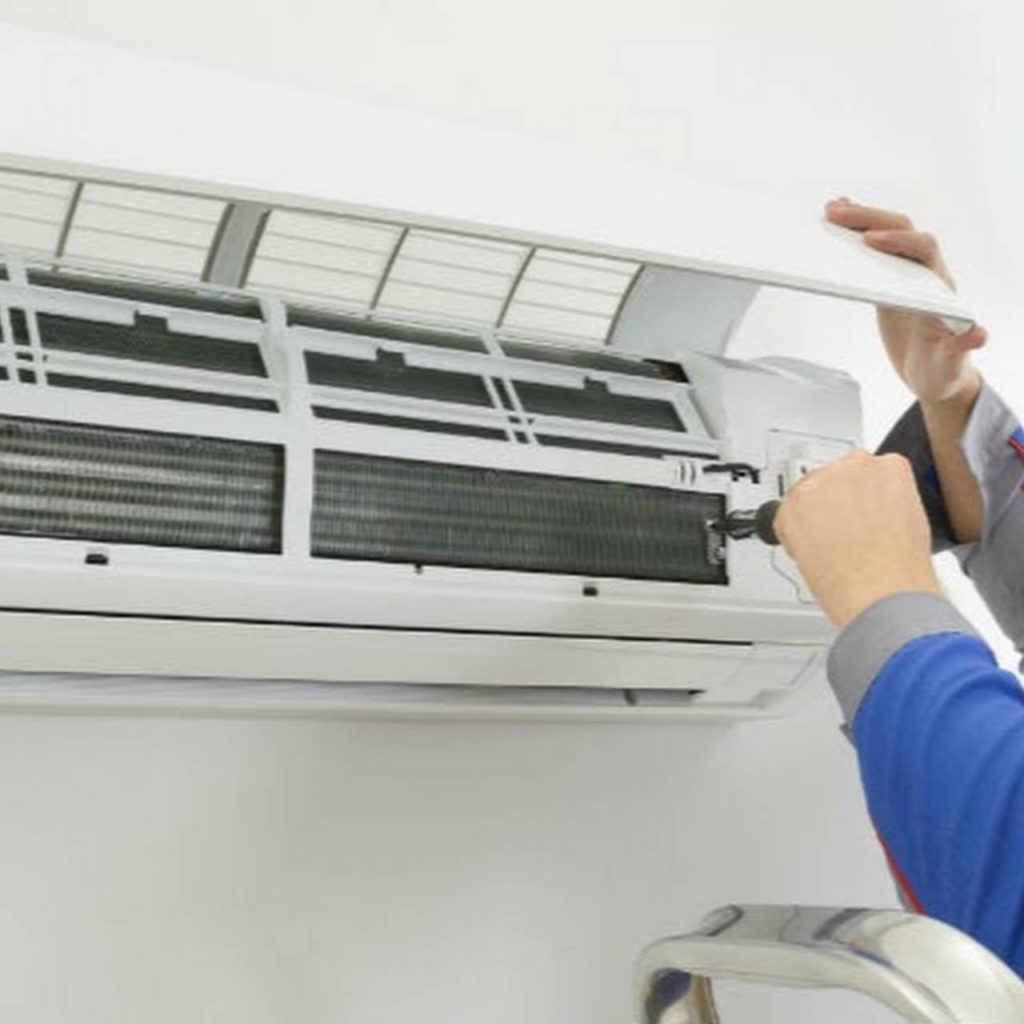 Betul Jaya Tekhnik giver services from repairing the air conditioner, washing machine, refrigerator, and water pipelines around the Jabodetabek area. For the air conditioner services including fixing freon, and any brokenness of things. It offers motto of fast service, full 1-month guarantee, highly experienced, full of integrity, with high commitment.
Website: https://betuljayateknik.com/
Contact Us:
Address: Jalan kelapa gading hibrida, North Jakarta, Indonesia
Phone Number: 081295211014
Read also : 5 Best Pest Control Services in Jakarta
6. BedahListrik.com
Bedah Listrik is basically a platform that gathers all repairmen who fix electricity around the Jakarta area and the Tangerang area. The services offered including electricity installation for households, corporations, electricity off, shorting out, fixing socket, fixing fuse, changing lamps, control AC installation, and many more. For further information about the estimated price, you can try to dig deeper from their website.
The price starts for IDR 100.000/visit and IDR200,000/ one point of work. For one floor research for electricity installation, it costs more than IDR 1 million rupiahs. Bedah listrik only focuses and offers the service, not the materials. So any additional material will need extra budgets. It accepts service for households, companies, restaurants, shops, mini markets, or any kind of business. They provide excellent service, fast response, and only handled by the professionals.
Contact Us:
Address: Jln Warung Gantung No 91, Kp Kojan Rt 10 Rw 06 Kalideres West Jakarta 11840, Indonesia
Phone Number: 082 111 555 299