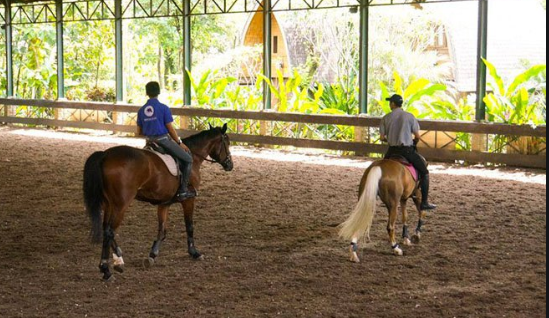 Horses, beautiful horses! The animal that has been human's greatest aid since the dawn of civilization. Although not abundant, Indonesia has some quality horse riding clubs, avid and competitive riding community, and also some high-end equestrian vacation centers. For Jakarta, fans of horse riding, or also known as equestrianism, will need to venture a little outward to find a suitable place for this magnificent animal to prance around. Whether you are a seasoned rider or someone who is just interested in horseback riding, the city offers some great opportunities to explore this hobby.
Horse riding can be an alternative activity to fill the weekend. In particular, for those of you who are in Jakarta and are bored playing the mall every weekend. Certainly will be interested as well as challenged to try horse riding. Fortunately, there are many horse riding places around Jakarta. Although horse riding has an expensive impression, this horse riding place offers affordable rates. Some riding classes are a bit expensive because they promise quality. The following are recommendations for riding places in Jakarta.
1. Arthayasa Stables & Country Club
Arthayasa has a rich history in the Indonesian equestrian community and has offered horse riding in Jakarta for over 20 years, owned by the devoted equestrians with very high standards of equestrian services. Other than the many horse riding lessons and programs (ranging from 20 minutes pony rides, lunging lessons, 45 minutes group lessons, to intensive training course) Arthayasa's 14 hectares of green pasture is an exclusive sanctuary away from the hustle of Jakarta living. Closed on Mondays. Located outskirts of South Jakarta, on the 14 hectares of beautiful greeneries, Arthayasa Stables & Country Club was established in 1992 by Rafiq Hakim Radinal as the private horse riding facility.
Now operated by Rafiq and his Russian-born wife Alla, the club employs a team of experienced and professional riding instructors to deliver the European standards in horse care and rider education. Since its establishment, the club has developed into one of the best equestrian property not only in Jakarta but in the South East Asia. Arthayasa Stables, an approved facility to conduct international competitions, hosted many International and National prestigious competitions including the FEI World Cup Showjumping, SEA League for few years as well as the SEA Games for equestrian disciplines in 2011.
The club caters to all levels and interests in horses. It offers horse riding lessons, horse training, and boarding, pony rides, after school activities, field trips, birthday parties, location for photo and video services as well as other horse-related activities in the club or at the client's property. Services include Barding, Training, Lessons, Clinics, Breeding, Equestrian Consulting, Equestrian Facility, and Ground Design & Construction. Also provide training for Lessons from Beginner to Higher Levels, Competitions, Jumping, Dressage, Cross Country. Arthayasa Tack Shop offers high quality imported equipment for the riders and horses from the well-known international manufacturers.
Address: Jalan Bulak Tengki/Kp Grogol No.10, Limo, Depok, West Java 16514, Indonesia
Phone Number: +62217547025
Opening Hours: Tuesday-Sunday, 8 AM – 5 PM (horses rest from 12 AM to 2 PM)
Website: http://www.arthayasa.com
Read also : 5 Best Golf Driving Ranges in Jakarta
2. Trijaya Equestrian
An equestrian club and horse riding school for all age groups. Pony rides are also offered for your little ones. Pony rides for under 6 years old are available for Rp 100,000 for 45 minutes. Lunging lessons are available for 6-year-olds. The cost is Rp 200,000 for 45 minutes. They have all kinds of horses from the local Sumbawa until the big imported European horses that are throwing away. All on average are tame and can be used carefully. To become a member, you can pay 3.5 million per year and once you come, you have to pay another Rp.200 thousand per session (remember, this was written in 2013). If you don't want to be a member, you can, but it's a bit more expensive to pay per one-time visit, which is around Rp. 350 thousand per training session. For costumes, you just need to wear any top (not too kebaya anyway … just use T-shirts to make it easy), then use leggings if you can, the problem will be lent to knee-length boots if you don't use leggings (or super tight pants for guys), it's really hard for the boots to use. Special hat or helmet riding is also lent, so it is safe and stylish.
Address: Jl. H. Montong No.23, RT.8/RW.3, Ciganjur, Kec. Jagakarsa, Kota Jakarta Selatan, Daerah Khusus Ibukota Jakarta 12630
Phone Number: +622178880176, +62217863063
Opening Hours: 6 AM – 6 PM (Tuesday-Sunday)
Website: https://smartexpat.com/indonesia/jakarta/business/lifestyle/sports-fitness/jakarta-trijaya-equestrian-centre-5842
3. Gading Equestrian
The biggest challenge for beginner riders is to endure the shame of having to gather together with professional horsemen. However, that feeling will not be felt by you at Equestrian Ivory horse riding. Although it is often used for ASEAN Games class horsemanship training, this horse riding place will not separate class and visitor experience. You who are just learning are getting even more excited to be able to ride by seeing professional horsemen. Because it offers topnotch facilities, horse riding here is quite expensive. Fun again, where Gading Equestrian also opens riding classes for children, you know. This horse riding place also acts as a horse farm.
Address: Jl. Pejaten Raya No. 9, RT 7/RW 10 Pejaten Baru, Pasar Minggu
Phone Number: +622179184122
Open Hours: –
4. Jakarta International Equestrian Park
Jakarta International Equestrian Park or JIEP (Indonesian: Jakarta International Equestrian Park) is an equestrian sports arena and is often misinterpreted as a racetrack located in Pulomas, Jakarta, Indonesia. After the massive renovation began in the era of DKI Jakarta Governor Basuki Tjahaja Purnama, the arena was inaugurated on August 2, 2018, by the next Governor of DKI Jakarta, Anies Baswedan. 35-acre with four-story main pavilion with a seating capacity of 1500 people, 156-capacity horse stable, athlete accommodation, horse hospital, horse walker, and the best training ground in Indonesia. The park is friendly to people with disabilities and has been certified internationally by the World Organization for Animal Health (OIE) in Paris and from the European Union. After the 2018 Asian Games is over, JIEP can also be used for other events, such as conference locations, weddings, or even music concerts and art exhibitions.
Address: Jl. Pejaten Raya No. 9, RT 7/RW 10 Pejaten Baru, Pasar Minggu
Phone Number: +622179184122
Open Hours: 11 AM-8 PM (Tuesday-Saturday)
Website: https://pulomasjaya.co.id/jakarta-equestrian/
Those are the locations of riding in Jakarta and its surroundings that you can visit. Try something different, it's fun, you know! Spending a vacation to the beach or to the mountain is very common, yes. So that it is not saturated, Traveler can look for other activities that are not less fun. For example, horse riding. This choice of activity has many benefits, you know. In addition to relieving stress, it will also be healthier with horse riding. Now, dare to schedule horse riding next weekend?