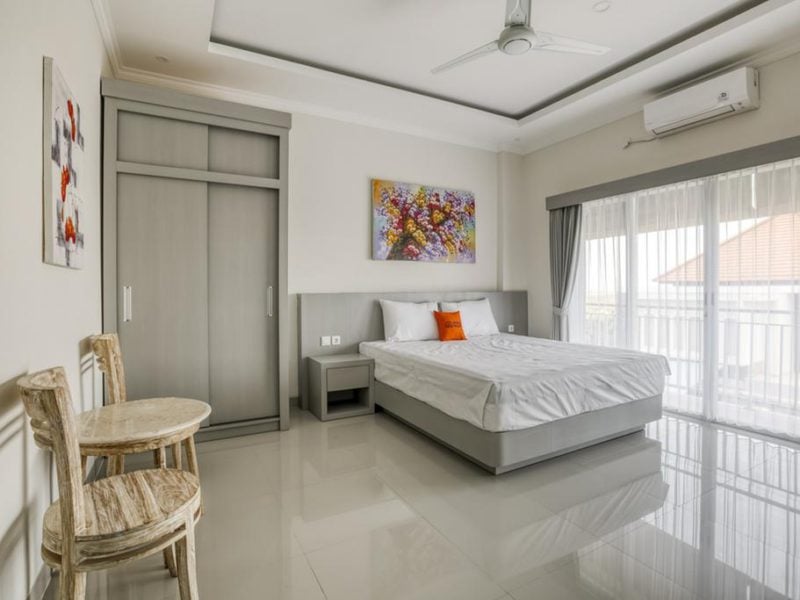 We all hate traffic jams and getting late to work or classes. Although Karawaci isn't as crowded as Jakarta, it is an area that is becoming more and more advanced like it. Worry not, all of that will be solved by staying near your office or campus. Therefore, we recommend you this kos-kosan with the best value in Karawaci.
1. Avalon Karawaci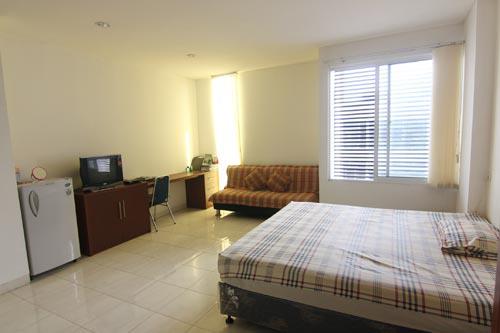 Avalon Karawaci provides a room for rent to anyone who needs a place to stay in Jakarta, Indonesia. Prices are very affordable for students and workers, and the payment system are monthly. Pelita Harapan University main campus is only 7 minutes drive from their location, and Siloam Hospital Karawaci or the Faculty of Medicine is 3 minutes away. You do not have to worry about public transportation since the building is located on the main street, and many public transportation (Taxi, Bus, Mikrolet, Ojek) pass right in front of the kos. The building also located in a neighborhood filled with many restaurant that serves a variety of foods. Most of them also take delivery and their staff will gladly help you order delivery right onto our front desk.
Address: Jl. Permatasari Blok A3 No 32, Perumahan Taman Villa Permata, Curug, Binong , Tangerang 15811, Indonesia
Phone Number: +6281932325221
Website: http://www.avalonresidence.com/kost-di-dekat-uph-lippo-karawaci-avalon-karawaci/
Price: Please contact the reps for a detailed price
Facilities:
Air conditioning
Fully Furnished
Refrigerator
24Hr Security & CCTV
Intercom
Access Control
Room Cleaning
Internet & Cable TV
Laundry
Kitchen
Guest Area
Parking (Check Availability)
Hot Water
2. Dormitory Brooklyn High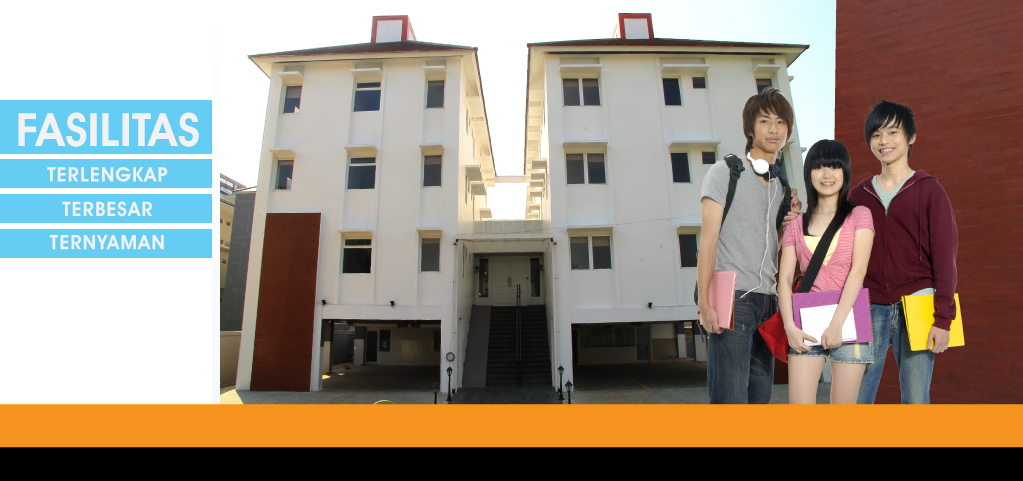 Dormitory Brooklyn High is specially built for students. They carefully design our room around the needs of a university student. Dormitory Brooklyn High has 48 modern minimalist rooms for 51 students. Each room is facilitated with a spring bed, locked drawer wardrobe, desk and chair, bookshelf, shoe rack, TV, AC and WIFI, etc. Each has been designed to accommodate the needs of a student. As for leisure, we provide Entertainment, Study, and Pantry rooms where residents can mingle and hang out.
The two dormitory buildings are connected by a Cozy Pantry. Furnished with a big refrigerator, build-in stove, water dispenser, microwave, and 40″ flat TV. Perfect place for having a fun meal with your friends! Don't you ever wish you have a place to study together? Have homework or have a small discussion over your group projects? They provide a conducive study room for 16 students complete with whiteboard. Wanna have a private party? Or just wanna see a movie with your friends? You can do it all in our Entertainment Room facilitated with big screen TV, Home-theatre entertainment and refrigerator. All you have to do is make a reservation. Free of charge!
Address: Jl. Newton 32-36, Lippo Karawaci, Tangerang
Phone Number: +622133999790, +622133999791
Website: http://kostkarawaci.com/index.html
Price: Rp1,700,000.00 – Rp2,800,000.00/month
Facilities:
Fully furnished
Inner bathroom
AC
Refrigerator
Water dispenser
Kitchen
Laundry service
Cleaning service
24-hour security
Spacious car park
3. 4SD Dormitory (Men Only)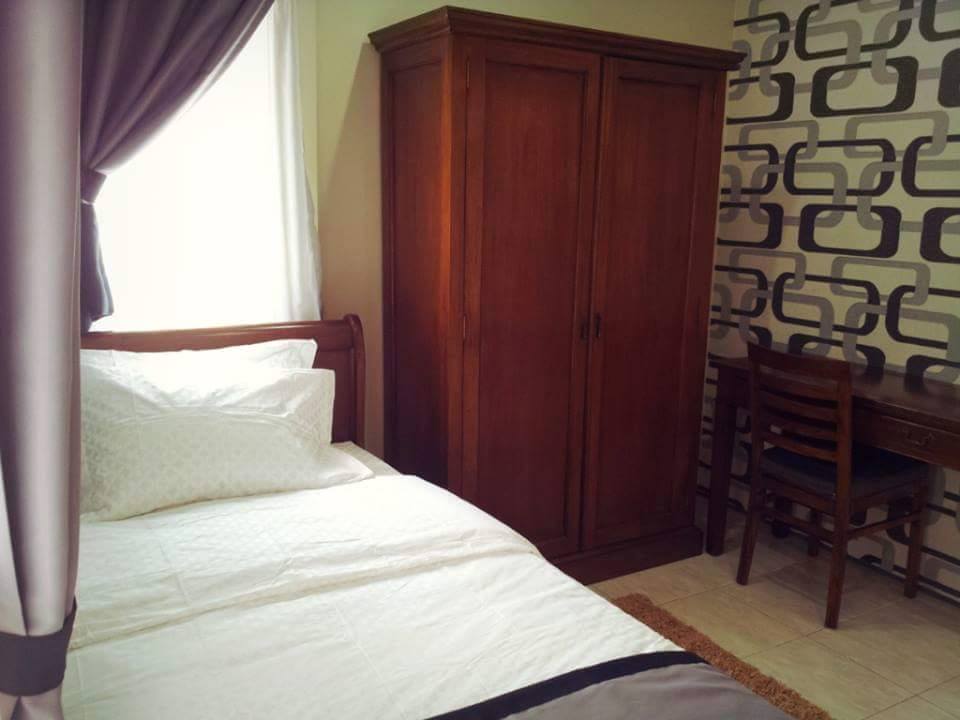 4Sd Dormitory provides a good student living room with a very affordable price. This dorm is only for gents. Fully furnished, clean, quiet, secured, and friendly. Our dormitory is located around a couple of kilometers from the Medical School of UPH and also around 5 km from the main UPH Campus. If you are looking for a good study environment, 4SD is one of your best choices. Fancy homey-like outlook. Rooms are fully furnished with Complete bed set (bed covers, pillows, and cushions), Desk & chair, Mirrors, Curtain, and Cupboard.
Address: Jl. Newton 32-36, Lippo Karawaci, Tangerang
Phone Number: +622133999790, +622133999791
Website: https://4sd-dormitory.blogspot.com/2015/03/4sd-dormitory-at-lincoln-drive.html
Price:
Rp 2,000,000.00/month (Type A)
Rp 2,200,000.00/month (Type B)
Rp 2,300,000.00/month (Type C)
Rp 2,500,000.00/month (Type D)
Facilities:
Fully furnished
Inner bathroom
AC
Free Wifi
CCTV 24 hours
Water dispenser and freezer every floor
Free laundry maximum 2 sets a day
Hot water
Spacious parking area
TV channels
Mini carpet
4. C&C Dormitory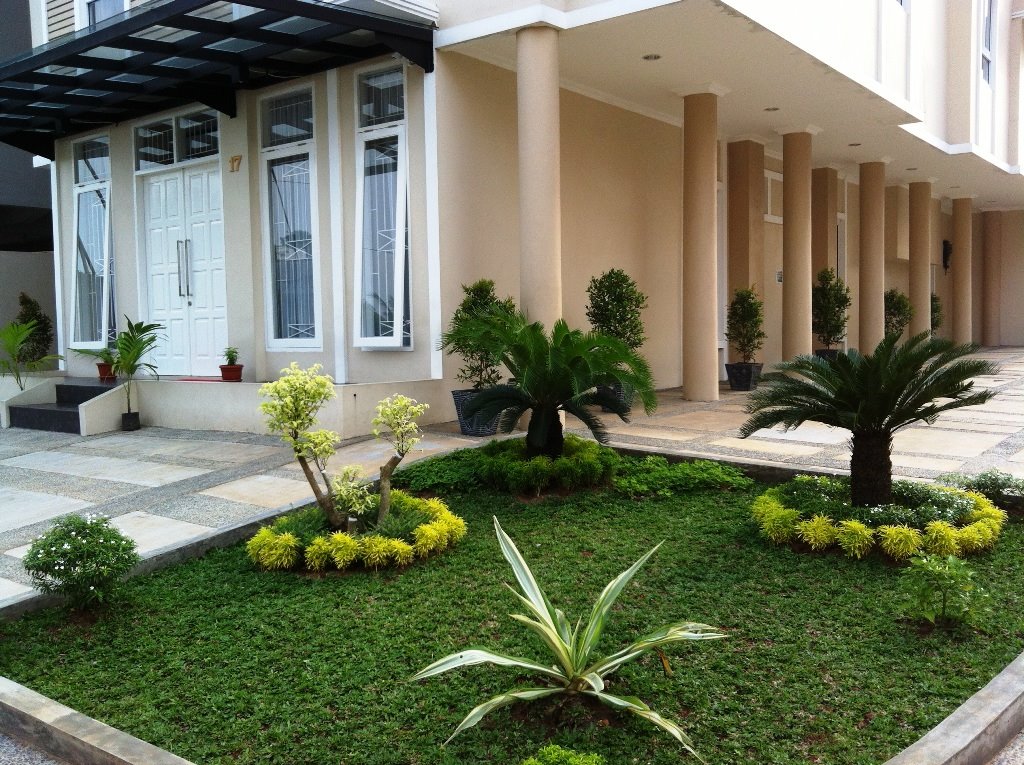 C&C Dormitory is located in a strategic place, the track of the Lippo Bus is just in front of the kos, and you could have access to angkots too that are active till midnight! It is also located near culinary goods and mini markets for your needs. C&C Dormitory has a cozy ambiance that makes you feel at home. Their facilities are fantastic, with a kitchen and dining table on the second and fourth floors along with a refrigerator and dispenser on each floor. The kos is cleaned every day and there are room cleaning services. They also have laundry!
Address: Jl. Newton No.17, Binong, Kec. Curug, Tangerang, Banten 15810
Phone Number: +6285781938991
Price: Please contact the reps for a detailed price
Social media: @ccdormitory on Instagram
Website: https://ccdormitory.blogspot.com/2016/12/c-dormitory-solusi-kost-di-dekat-uph.html?m=1
Facilities:
Fully furnished
Inner bathroom
AC
Living room with cable TV
Internet
Kitchen
Dining room
Read also : Best Kos Kosan in Gading Serpong
5. Mirzakos Karawaci (Near UPH University, Near Menara Matahari Office Area, Gd.Dynaplast)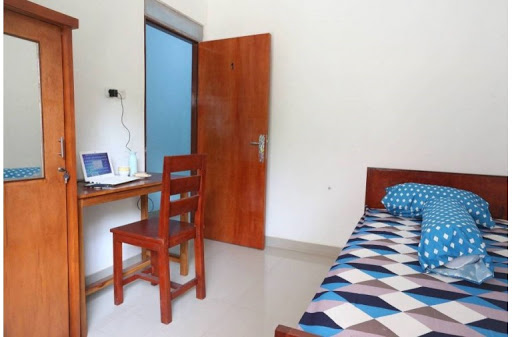 Mirzakos Karawaci is also located in a Strategic location. It is near an ATM center, cafes, restaurants, gyms, UPH university, schools, mini market, clinics, apotiks, salons, and even malls! The transportation access is also easy, other than online transportation you could go on angkot or a bus. This kos also has a maid to clean the kos, toilets, and even rooms. They also have 2 placesfor you to do your laundry.
Address: Perumahan Taman Ubud Estate 5 No. 61 Lippo Lippo Karawaci, Sentral
Phone Number: +6285781938991
Price: Rp 1,500,000.00/month
Website: https://www.sewakost.com/banten/tangerang/mirzakos-lippo-karawaci-tangerang-dekat-kampus-uph-kawasan-perkantoran-menara-matahari-29313.html
Facilities:
WiFi
AC
Fully furnished
Living room
Kitchen
Refrigerator
Dispenser
Parking area
Terrace
6. M Suite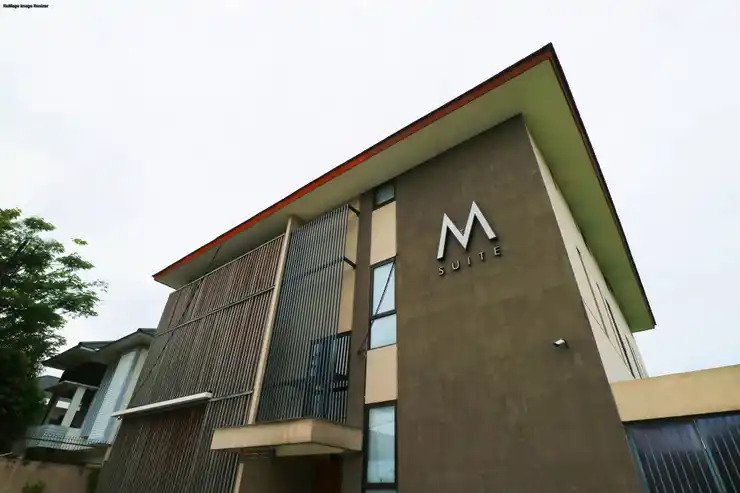 Want the comfort of an apartment, location close to UPH, and having laundry and cleaning services included in the rental price? Try looking at this boarding house. M Suite is worth mentioning as one of the best boarding places in Karawaci. This place has a swimming pool, pantry, and study room that can be used together. Private rooms in M ​​Suite are also spacious and fully furnished and equipped with a private bathroom, so your privacy is not disturbed. To ensure security, M Suite uses a fingerprint access system so that the door can only be accessed by residents and interested people. Each room also has an intercom, so you can recognize guests from inside the room.
Their newest homestay has opened in the Lippo Karawaci M STUDIO area, with a capacity of 44 exclusive rooms for singles, doubles, twins, and suite rooms (all en suite bathrooms). There are swimming pool facilities, lounge area, RFID door lock, and so on. M Group Homestay currently has 5 locations, which are located in Lippo Karawaci and BSD. For housing they offer can be for daily, weekly, and monthly, with premium prices but five-star class. Extra bed Rp. 75,000 / day.
Address: Taman Permata Millenium, Blok B2 No.37, Lippo Karawaci, Tangerang
Phone Number: +622155658606
Price: Rp 4.000.000,00
Facilities:
Parking area
Swimming pool
Gym
Wifi
Lounge
Kitchen
Cable TV
AC
Refrigerator
Water heater
Laundry 3 set/day
CCTV
Fingerprint acc
RFID Card (room)
Website: https://mpavilions.com
7. Three J Living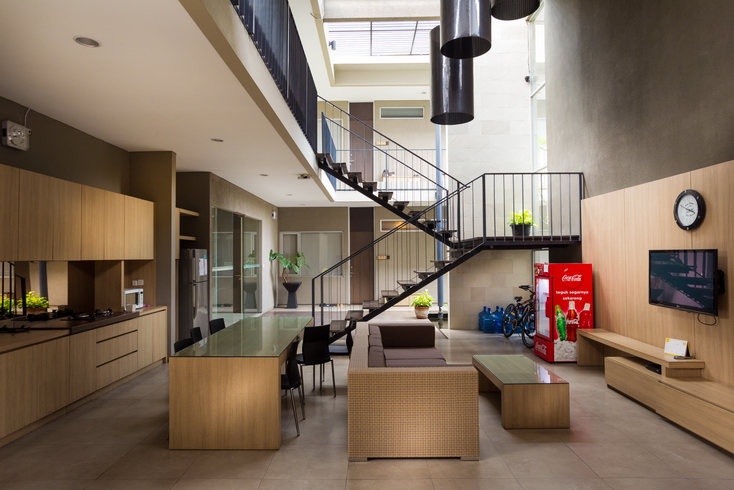 There are 3 types of boarding houses from the same manager, with the names Three J Home, Three J Residence, and Three J Living. Each place provides a large living room, post box, and spacious rooms. Here you will get private TV facilities, cleaning service, and laundry service. No need to worry anymore, laundry piles up if you are busy packing. If you choose to stay in Three J Living, you can also choose premium amenities such as a fridge in the room and a queen-size bed.
Three J Properties provides you a place to stay where you feel like home at a competitive price. their mission is to satisfy you, their guests, and make you enjoy your stay. They are committed to getting better every day to reach their goal of being the best in their business.
Their Core Values:
Hospitality
Providing facilities and services that will make their properties comfortable to stay.
Feedback
Always listens to their guests' comments and be willing to improve.
Teamwork
From top to bottom of the management, they work together to ensure they provide quality service. Discover "Your Second Home" at Their properties. they offer MONTHLY or YEARLY stay at competitive rates. Try to contact them for availability!
Address: Permata Kasih II C7/1&36, Lippo Village, Karawaci
Phone Number: +628179989984, +622130067978
Price: Rp 3.500.000,00/month
Facilities:
Cleaning Service
Fully Furnished
Laundry Service
In-Room A/C
In-Room TV
In-Room Shower
Free Wi-Fi
CCTV
In-Room Fridge*
Kitchen
Free Electricity
Bed by King Koil©*
Website: https://www.threejproperties.com/
8. 9 AM Creative Dorm House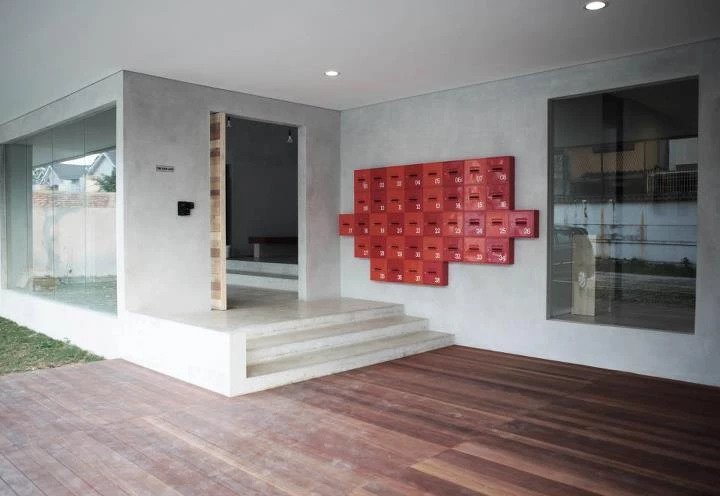 If you are looking for a dorm house that is unique, fun, a place to balance your academic and leisure time with friends – then they are the ones! Located a few minutes away to renowned UPH University. Providing the accommodation that you can look for in a place. A swimming pool for healthy and relaxing after the busy schedule. Unlimited high-speed wi-fi internet. Bored in the room? You can try their Spacious living area equipped with 42-inch tv and watch International channels! 9 AM Creative Dormhouse also offers laundry for 2 sets of clothes, Hungry in the middle of the night? Not to worry they have a pantry area for you to cook! Room types: standard, standard pool view, standard balcony, deluxe, deluxe pool view
Address: Jl. Permata Indah I Blok B 2 No 2, Karawaci, Tangerang
Phone Number: +6281317669730, +62816975971
Price: Please call the reps for a detailed price
Facilities:
AC
High-Speed Wi-Fi
Housekeeping & Laundry
Swimming pool
CCTV / 24 hour Security
Hot Water
Spacious Parking
Website: https://www.9am.co.id/booknow
Read also : Best Kosts around Mega Kuningan
9. Zion Residences Lippo Karawaci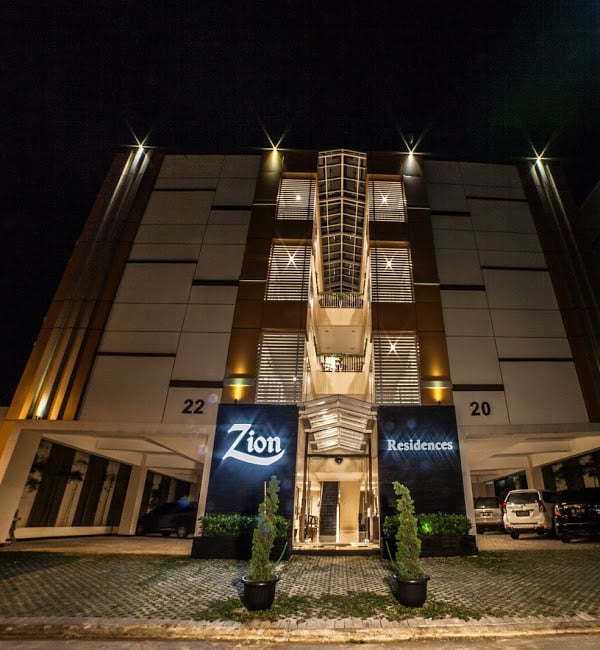 Providing kost with a room-sized 4 x 7 meter, private balcony, queen bed measuring 1.6 x 2 meters, and one pillow with pillowcase. It also provides a pantry, 2-door refrigerator, 2 gallons/month water dispenser. Other accommodations include free laundry (2 sets of clothes/day), daily room cleaning service, private bathroom, and water heater. There is also a sharp LCD TV 29 " in each room, WiFi, and local TV broadcasts for entertainment. You can also change to the First Media cable TV channel network (self-subscribed).
Address: Komplek Lincoln Drive Dormitory, Jl. Newton No.20-22, Lippo, Kec. Karawaci, Tangerang, Banten 15811
Phone Number: +6281230698859,+62818593279
Price: Please call the reps for a detailed price
Facilities:
Fully Furnished
CCTV
Parking area
Lobby with WiFi
Lift
Kitchen
Cleaning/laundry room
Fingerprint entry
Rooftop garden
Website: https://www.sewakost.com/banten/tangerang/zion-residences-kamar-kost-di-lippo-karawaci-dekat-uph-3832.html
10. Habitat 7.0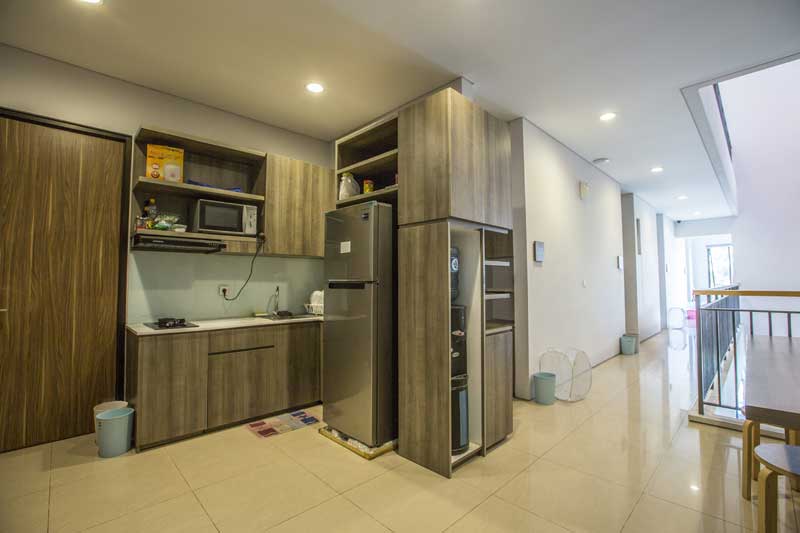 HABITAT 7.0 Karawaci was created as a means of supporting accommodation for students and workers around us. They provide a strategic and safe place to stay for all our residents. Located in a very strategic place and full of supporting facilities such as siloam hospitals, karawaci supermals, aryaduta hotels, supermarkets, and minimarkets. They want to create and manage positive nuances to ensure the comfort of their guests so they can feel the atmosphere of a home away from home. With that, they have provided supporting facilities that are very useful for their residents such as parking areas, HD CCTV cameras, fingerprint access, study rooms, and fast Wi-Fi connections.
Their onsite support staff will also be responsible for assisting daily needs such as cleaning rooms and public areas. Their architects have created "homogeneous" room types where each room can enjoy the beauty of Panorama Permata Villa, Karawaci. They provide rooms with an area of ​​18 m2 and complete with private bathrooms in each room. All rooms are also equipped with a bed for 1 person, LCD TV, private desk, study chair, bookshelves, cupboards under the bed, and wardrobe.
Address: Jl. Permata Kasih Blok C7 No. 16, Karawaci, Tangerang – 15810
Phone Number: +628158719803
Price: Rp 4.500.000,00/month
Facilities:
Parking Lot (First Come First Serve)
Lounge Room (Lt. 1)
Study Room (Lt. 2 & Lt. 3)
Kitchen
Laundry Service
Refrigerator
Microwave
24-hour security (CCTV camera)
Fingerprint access
Supporting staffs
Website: https://habitatkostkarawaci.com/tentang-habitat/
So there you have your best kos-kosan in Karawaci, there are still many kos that are yet to be discovered but we hope this is enough to help you. Good luck with your move! Don't forget to check out our other posts