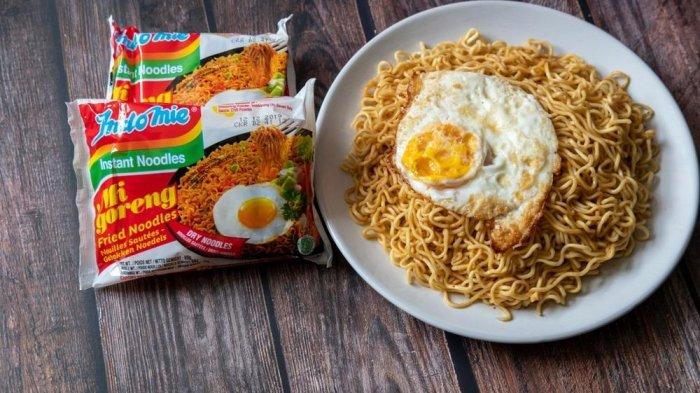 Local Guide
Ultimate Guide to Indonesian Famous Noodle: Indomie!
Did you know that the number one instant noodle in the world is Indomie? Arriving in Indonesia with this in mind, you might wonder what it feels like and why people in Indonesia and the world like it so much.
What is Indomie?
Indomie is an instant noodle brand produced by the Salim Group through PT Indofood CBP Sukses Makmur Tbk (ICBP). This noodle product, which is the pride of the Indonesian people, has been distributed in Australia, Asia, Africa, New Zealand, the United States, Canada and Europe. Over the years, Indomie has served the best of instant noodles and has created a culture of eating noodles as a midnight snack or for breakfast, lunch and dinner. Of course this is due to the unique Indomie taste and various flavors that have entered the heart. It's a waste if you don't take the time to try these instant noodles!
The History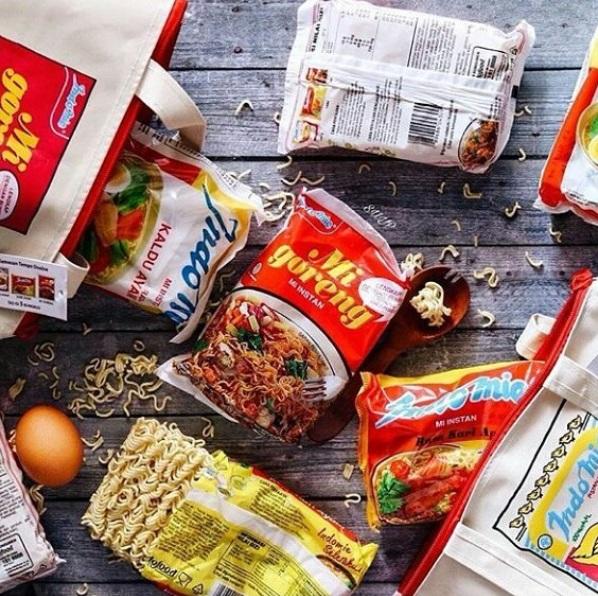 Indomie, first produced in 1972 with Chicken Broth flavor, was launched by Sanmaru Food Manufacturing, which was founded by Djajadi Djaja. Starting from Liem Sio Liong's interest because of the scarcity of rice that hit Indonesia at that time. Liem, who is famous for Soedono Salim, the founder of the Salim Group, finally approached Djajadi Djaja so that Indomie would partner with him. At that time Soedono Salim had also established his own instant noodle company, namely Sarimi and PT Sarimi Asli Jaya.
Starting in 1972, Indomie was first launched with a flavor variant of Indomie Chicken Broth. In 1982, Indomie Chicken Curry appeared until Indomie Mi Goreng in 1983. Now, Indomie is increasingly making many variations of noodles with a variety of flavor innovations, from broth to fried. The company has 17 factories in 12 locations, namely North Sumatra, Riau, South Sumatra, Lampung, Jabodetabek, West Java, Central Java, East Java, West Kalimantan, South Sulawesi, North Sulawesi and Malaysia.
Types of Indomie
Here are a variety of choices for the types of noodles and flavors from Indomie. Which one do you like the most?
1. The Classics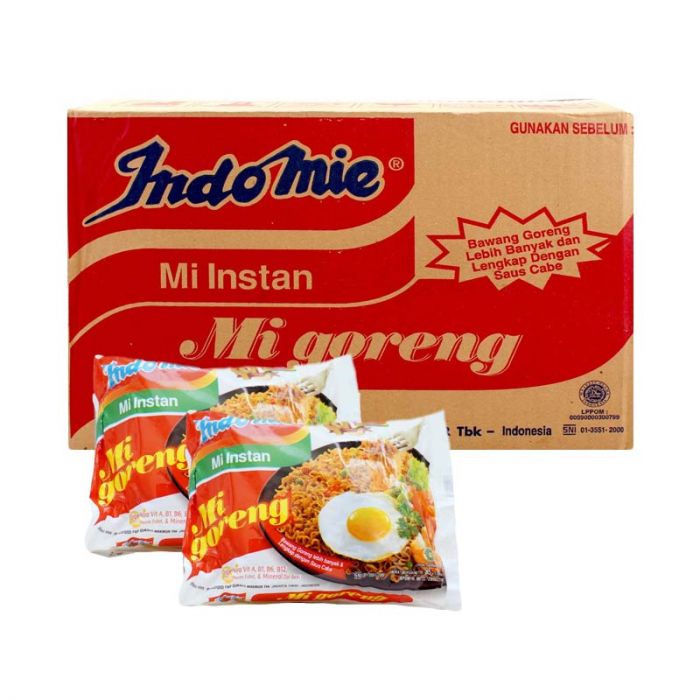 Some of The Classics are Indomie's first products in the market, but what makes The Classics special is it's rich in taste and originality. The fried garlic completes the taste and its seasonings are unique, making the noodles much more savory and delicious. The Classics is also special because it's rich in vitamins A, B1, B6, and B12 that are needed by our body. So, here is the list of classic Indomie that you must try :
Indomie Mi Goreng
Indomie Mi Goreng Hot and Spicy
Indomie Mi Goreng Cabe Ijo (Spicy with green peppers)
Indomie Mi Goreng Sambal Matah (Spicy with red peppers)
These noodles are suitable to eat anywhere and anytime! But, they are kind of spicy. If you're not good with spices then try the original taste of the classic Indomie Mi Goreng!
2. The Wet (Soup-based)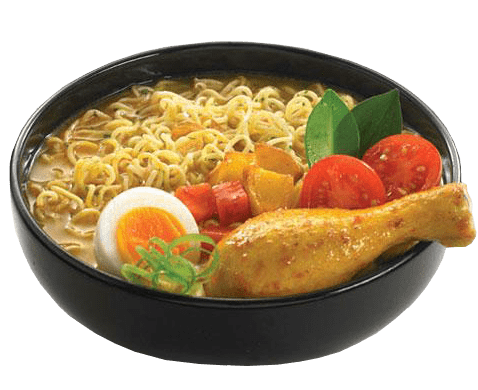 The Wet is mainly noodles that are soup-based, they have various taste in soup and broth, adding rich flavors to your noodles. People tend to eat soup-based noodles when they want something filling or warm-up on rainy days. Some people say that the soup-based Indomie noodles are the most savory and rich variants. Because of that, people tend to make different noodle recipes from these noodles, like adding milk and cheese to the soup to make a simple carbonara. Here's the list of those soup-based noodles :
Indomie Chicken
Indomie Special Chicken
Indomie Chicken Curry
Indomie Vegetable
Indomie Shrimp
Indomie Onion Chicken
Indomie Soto Special
3. Nusantara's Taste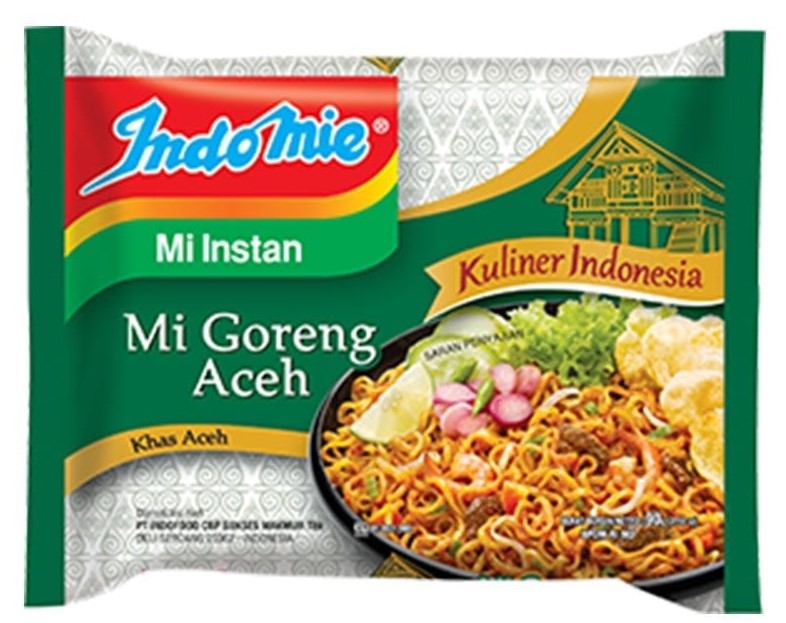 Indomie has taken a step forward in its products by introducing Indonesian food culture in their noodles. The seasonings in Nusantara's Taste noodles took off from the unique character taste of different noodles that originally came from a region in Indonesia, portraying its culture. Indomie has brought you the taste of Medan, Jakarta, Aceh, and many more! So, if you're curious on what kind of taste each Indonesian culture has to offer, Nusantara's Taste is not a bad start. Here's the list of those extraordinary noodles:
Indomie Mi Goreng Satay
Indomie Mi Goreng Rendang
Indomie Mi Goreng Iga Penyet
Indomie Mi Goreng Soto
Indomie Mi Goreng Aceh
Indomie Mi Goreng Soto Betawi
Indomie Mi Goreng Soto Medan
Indomie Mi Goreng Soto Padang
Indomie Sop Buntut
4. The Curly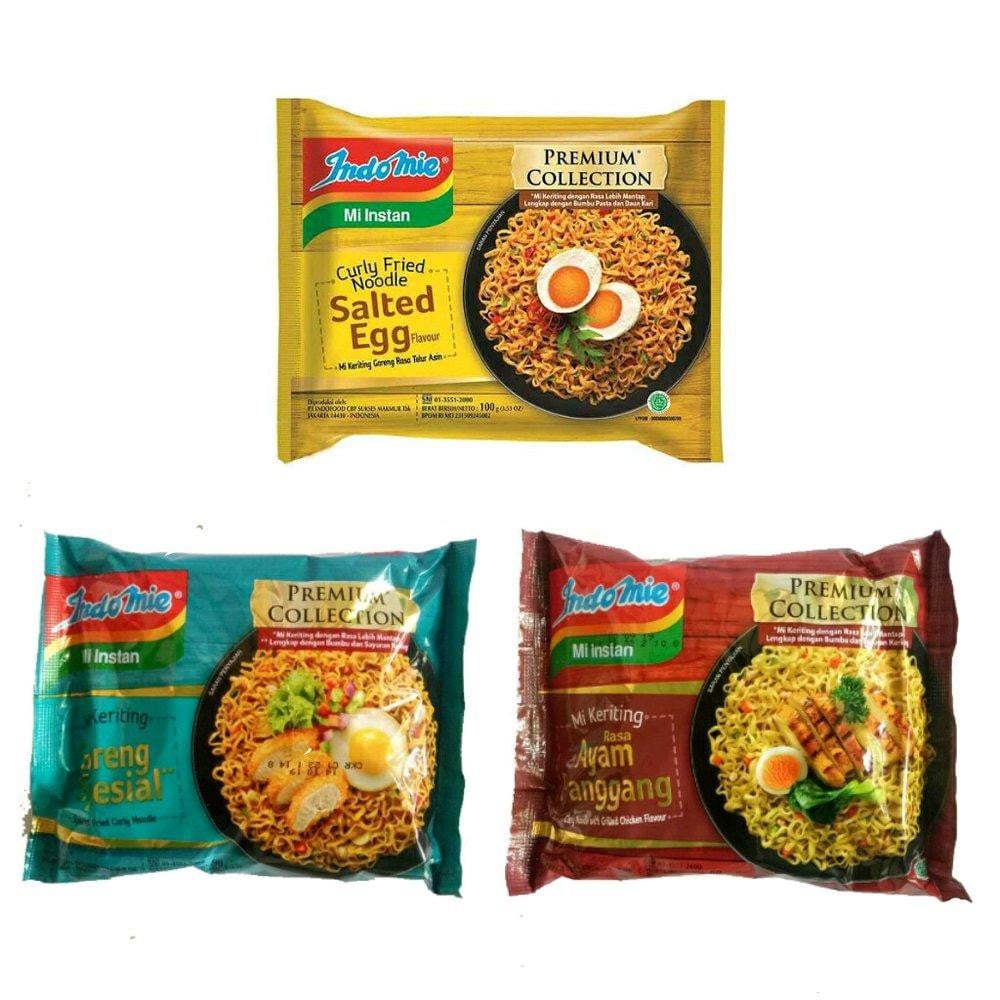 What makes The Curly unlike any other noodles that Indomie has is not only that it's curly but it's their chewy, wide textured noodles, bigger portion. They are rather like Bakmi noodles. The Indomie Fried Curly noodles are like its original one but if you're looking for something to fill your belly and for texture, you should definitely go for The Curly! They also have different flavors to broaden your taste! Here's the list :
Indomie Special Fried Curly Noodles
Indomie Curly Noodles BBQ Chicken
Indomie Fried Curly Noodles Salted Egg
5. The Jumbo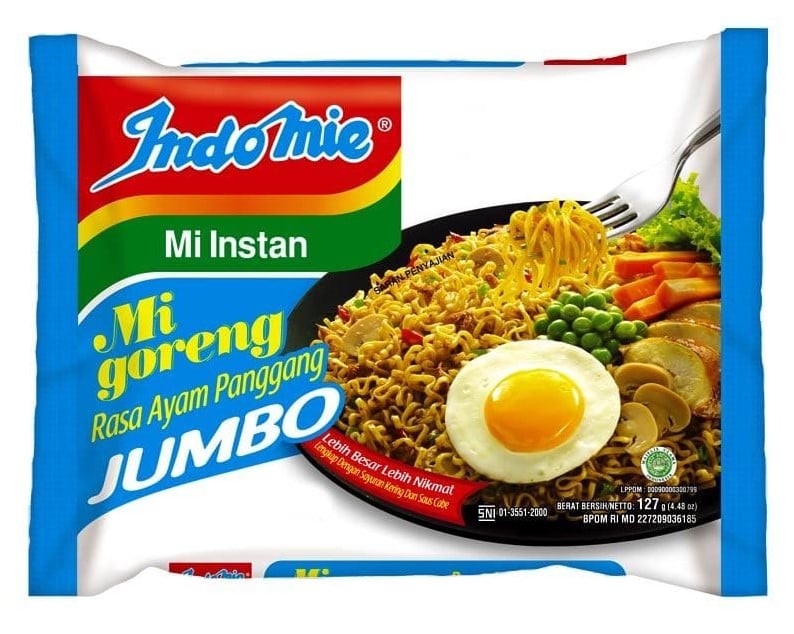 If you want noodles for breakfast, lunch, or dinner, and you want to be full and satisfied, then The Jumbo variant is the Indomie for you! Lots of people say that the portion of the ordinary Indomie isn't enough to make you content, of course, they could've just had two ordinary Indomie, but it turns out that it would be too much since most can't finish two bowls of noodles. So, Indomie has given them a solution by presenting the jumbo pack for their two best-ranked noodles:
Indomie Mi Goreng Jumbo
Indomie Mi Goreng Barbeque Chicken Jumbo
6. The Hype Edition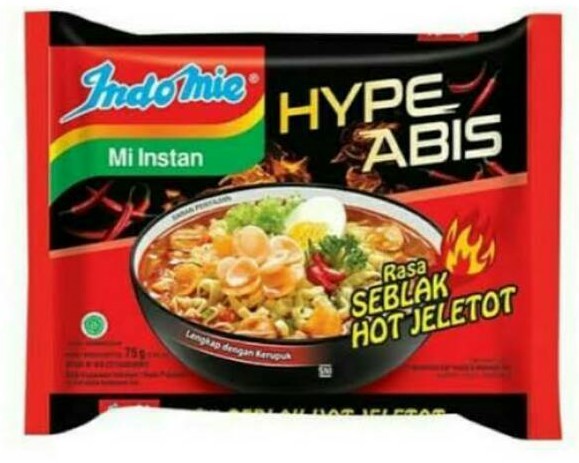 This time, Indomie made noodles that are based on hyped or trending foods in Indonesia. What's remarkable is that these trending food aren't all noodle dishes, surprisingly, Indomie can succeed in making a product that is usually known as chips or eaten with rice. The Hyped variant ironically became so hyped in their first week of launching, people in Indonesia were curious to see what Indomie has yet installed for them. Curious what those noodles are? Here's the list:
Indomie Mi Goreng Hype Abis Seblak
Indomie Mi Goreng Hype Abis Ayam Geprek
Indomie Mi Goreng Hype Abis Chitato
Indomie Mi Goreng Bulgogi
Purchasing Indomie
Where to buy?
Indomie itself has spread throughout supermarkets and minimarkets such as Indomaret or Alfamart in Indonesia. In fact, you can also find Indomie in small grocery stores in residential complexes and on the side of the road. Besides that, you can also buy Indomie online, through official stores in e-commerce such as Shopee, Tokopedia, and Lazada.
How much is it?
The price of Indomie for each flavor is different, but the price range is Rp 2,200.00 to Rp 5,000.00 per piece only. You can also buy in a box for each variant at a price of Rp 50,000.00 to Rp 100,000.00 per box. Very affordable, right? That is why Indomie is Indonesian's favorite instant noodle!
How to Enjoy Indomie
Apart from being cooked according to the instructions on the packaging, you can also add some side dishes or spices to make your Indomie even more satisfying! Here are some easy tips that you can try:
Add eggs (fried or boiled)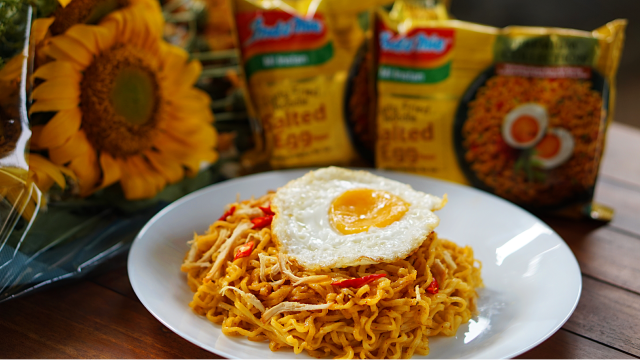 Adding eggs is something Indonesians do most often. Besides being easy, the taste of the egg itself complements its pleasure.
Add cheese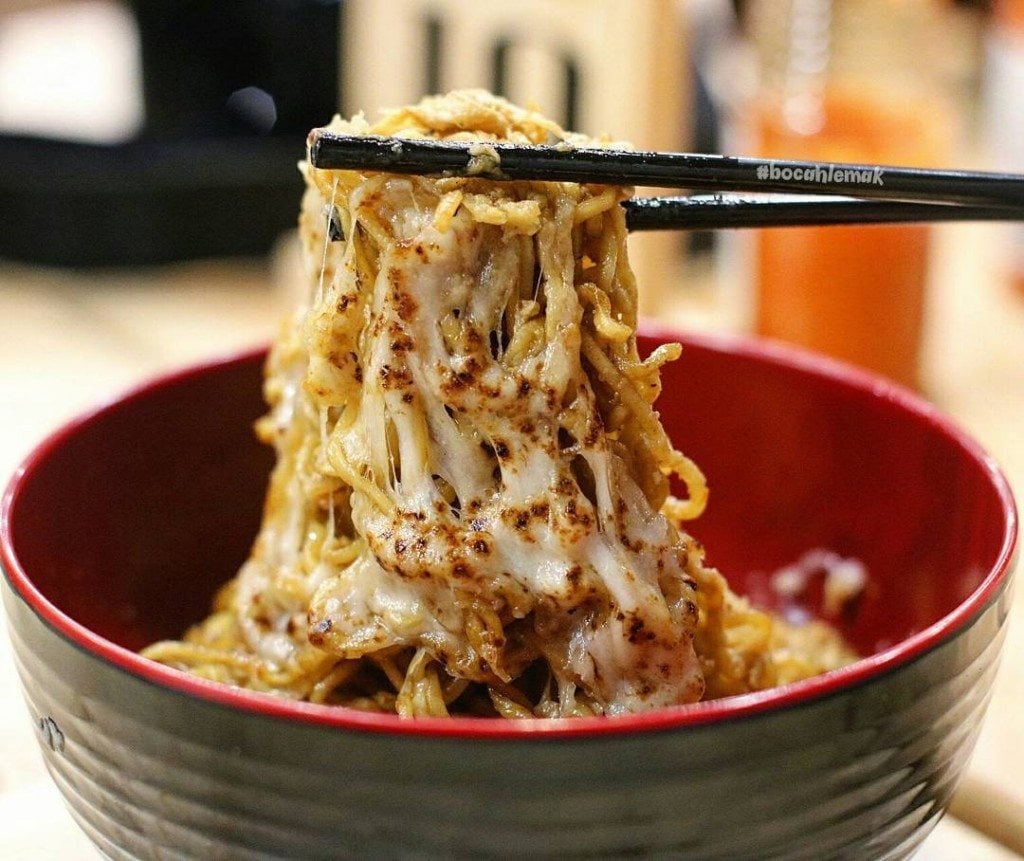 Cheese lovers also don't want to miss their Indomie moment without cheese. You can use grated cheese or mozzarella to add to the fried or boiled noodles of your choice!
Add beef, smoked beef, sausage or nuggets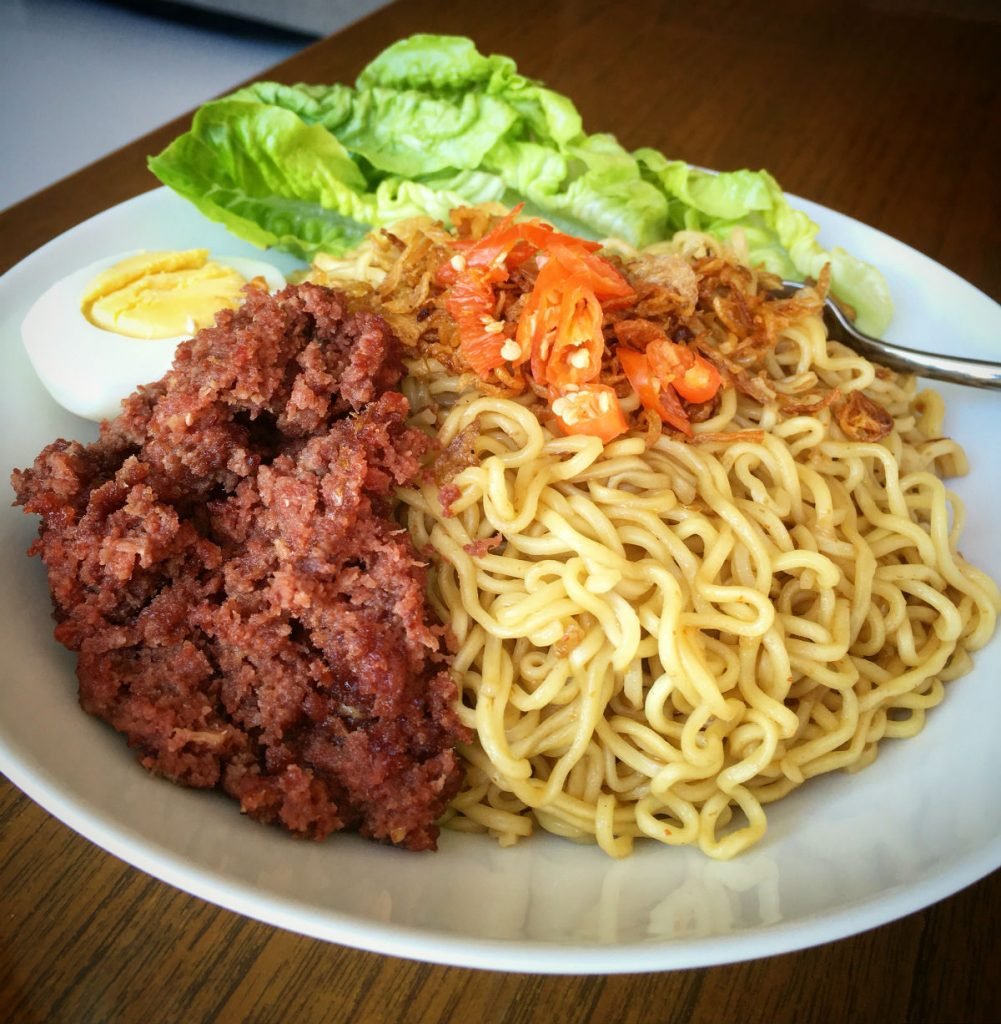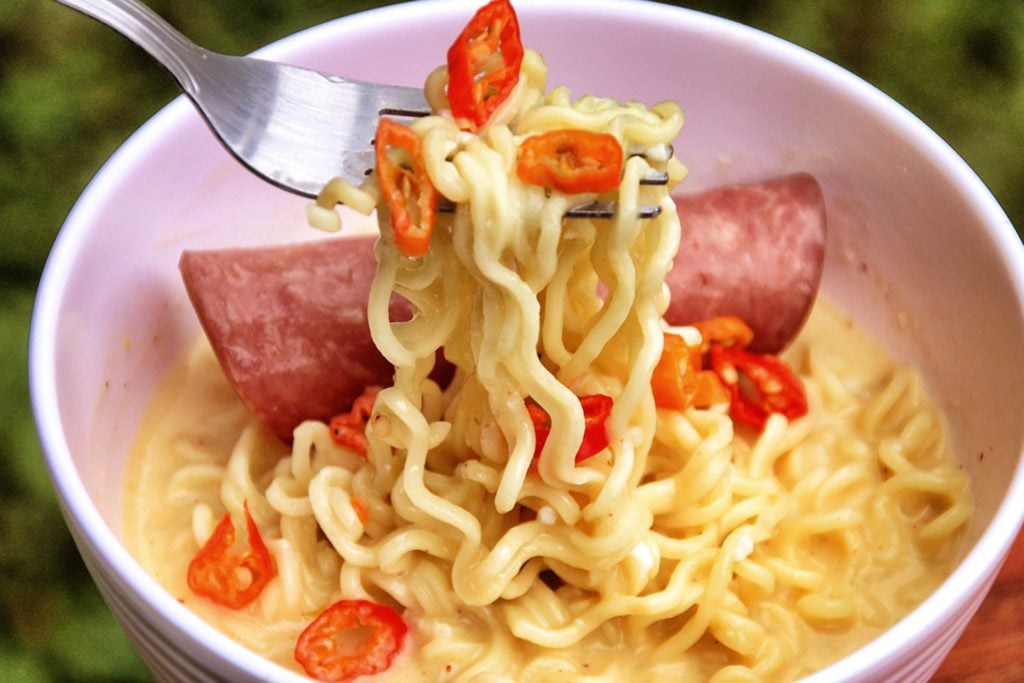 If you want to add side dishes that are easy and hassle-free, you can choose corned beef, smoked beef, sausage or nuggets to add to Indomie! Usually all fried noodle variants go well with all side dishes, but for the soup noodles, corned beef or smoked beef is more often added.
Add vegetables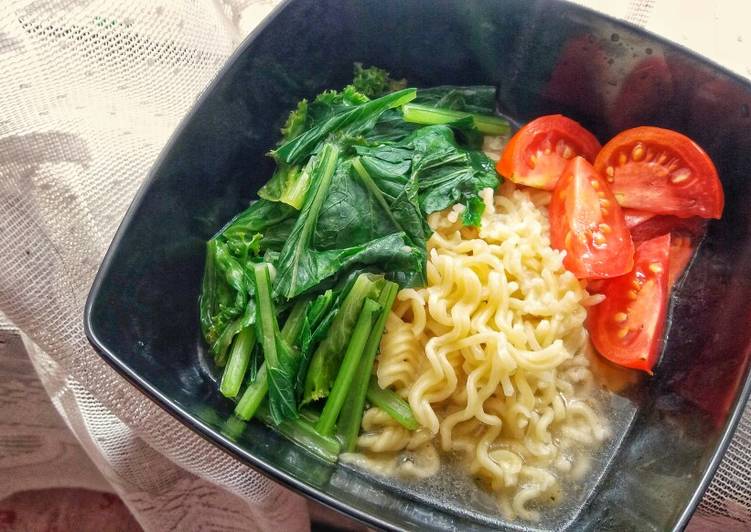 Adding vegetables can also make your noodles more nutritious, you know! You can add mustard greens, chicory, cabbage, spinach, carrots, or green onions to the bowl.
Make it Carbonara Noodle
If you like carbonara sauce while enjoying pasta, you can also try turning your indomie into indomie carbonara!
What you need:
1 packet of fried noodles
200 ml of full cream UHT milk
Cheddar cheese according to taste
1 tablespoon flour
1 tablespoon butter
Pepper powder
How to make:
Prepare the shredded cheese
Boil Indomie until half cooked, remove from heat
Melt the butter, add the flour and stir gently
Then, add the milk
After that, put Indomie into the dough while stirring
Add ground pepper and Indomie spices
Once cooked and well blended, serve
Put more chili!
If you like spicy food, then Indomie Goreng Ayam Geprek can be a great choice for you. However, you can also add red chilies or bird's eye chilies that are crushed or sliced directly so that it feels even spicier and more challenging!
---
So, there you have your basics to Indomie noodles, but those are just a small part of the Indomie products! There are still more out there for you to try! Until then, enjoy your meal and keep exploring their taste! If you're wondering where to find them, you could get them anywhere in any supermarket, mini-mart, and small coffee stalls nearby! Here's an extra tip: serve your noodles with eggs, chicken or even vegetables to add more taste!