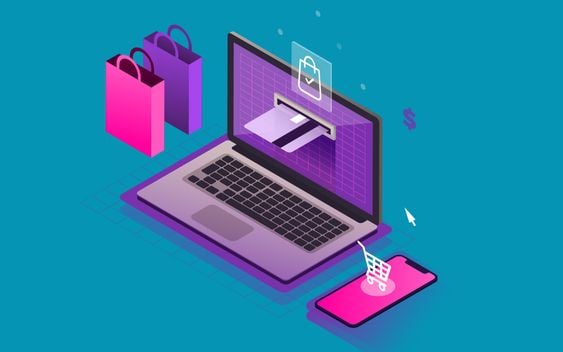 According to GlobalWebIndex, Indonesia has the highest rate of e-commerce use than any other country in the world and because of this, many entrepreneurs find that Indonesia has a good and promising success due to its market consumers. They start building their own start-up companies and many of them are an e-commerce based start-up. According to the Ministry of Communication and Information of Indonesia, e-commerce in Indonesia has grown up to 78 percent in 2019, the highest growth rate in the world.
What exactly is e-commerce? Ecommerce is short for electronic commerce or internet commerce. The buying and selling of goods or services using the internet, the money transaction is mostly done virtually as well (e-money or transfer). The growth of e-commerce itself is not only with local startup companies but also foreign e-commerce startup companies trying to compete to be the best leading and most used e-commerce in Indonesia. So, here is some more information regarding Indonesia's e-commerce growth until 2020.
The Most E-commerce Type in Indonesia
There are four main types of e-commerce models that are known all around the world. These types of e-commerce are transactions that are known to be done by two stakeholders, consumers, and businesses. Ecommerce also have different forms of e-commerce, whether its a form of product or services.
The first type is Business to Consumer (B2C), which is like an online shopping mall where a business sells stuff or services to an individual consumer. Second, Business to business (B2B), is where a business sells stuff or services for the success of other businesses, for example, a financial company sells their software product that manages invoices to other companies. Third, consumer to consumer (C2C) is when a consumer sells stuff or services to their consumer, for example, a startup platform that allows people to sell their stuff. Last, consumer to business (C2B), when a consumer sells their products or services to a business, for example, a freelancer in a company.
In Indonesia, the most used type of e-commerce is business to consumer (B2C), that being said, companies like Traveloka, Lazada, and Shopee has been connecting businesses to consumers, making things a lot easier. It is the most used type because both sides have great advantages due to the large prospect sales or the broader market. The system and transaction of B2C are also much easier and takes less time, all it takes is a click on the screen. Next in line is Customer to Customer (C2C), platforms like Bukalapak, Tokopedia, and Kaskus allow anyone that has or doesn't have a business to sell their goods to other people. Coming on the third place is Business to Business (B2B) and lastly Consumer to Business (C2B)
The Biggest E-Commerce in Indonesia
According to CNN Indonesia, 2019 has been the year that many local startup e-commerce platforms have been used the most by consumers, and by that, other foreign companies enter Indonesia to compete against it. According to GoodStat, on the end of 2019, Tokopedia, one of Indonesia's e-commerce, is still the most visited e-commerce in Indonesia with around 66 million visitors, coming next is the e-commerce from Singapore, Shopee, with around 58 million visitors, and Bukalapak that has been second for 2 years has come done with around 42 million visitors.
Although the biggest e-commerce in Indonesia is still Tokopedia (click here for e-commerce in Indonesia), By 2020, the graphics have changed. Tokopedia has become the second place for the most visited e-commerce in Indonesia with a total of 69 million visitors. The first place would be Shopee with 71 million visitors. This is because Shopee has extended and varied their services to engage more with consumers over the past few months.
Surprisingly, the e-commerce sites in Indonesia have gender preferences. Woman in Indonesia tends to like using Shopee because it tends to have various and complete choices of fashion and beauty. To sum things up, Shopee has many various discount events, and women just love discounts! Whereas men tend to like Tokopedia since it sells complete products of digital, electronic, and hobby stuff that men tend to like.
Total Market Value and Economy Growth in Indonesia
Of course with the growth of e-commerce in Indonesia, total Market value and economy rates have grown too. In 2019, the gross market value (GMV) or known as the companies worth of e-commerce in Indonesia has reached US$ 21 billion, it is predicted that in 2022 it'll hit US$ 42 billion and by 2024, it will reach around US$ 51 billion. With these predictions, Indonesia has a great potential to become the biggest e-commerce economies in Southeast Asia. This is also due to Indonesia's government loosened investment rules making e-commerce in Indonesia received some big amount of investment.
Of course, the effect on the economy is big. With many e-commerce businesses running in Indonesia, it opens up various work opportunities for the people, reducing its unemployment. In 2019, Indonesia's digital economy has reached US$ 40 billion and will still keep growing. This is due to the market value that has investors interested. Investors could invest not only in startups but also by making their own business in Indonesia, contributing to its national economy.
Other advantages in the economy are how these e-commerce businesses give buyer benefits, which means that consumers are benefited more to get cheaper products because the supply chain is been broken down between the producers and buyers directly. This also could reach social equality, anyone from anywhere could have unlimited access to these facilities that e-commerce has to offer.
_
So, there you have a picture of the e-commerce growth in Indonesia. With this being said, many work opportunities are opened but many of the other occupations are not needed anymore too because they are being replaced by machines. People are slightly beginning to understand that they need extra skills to have prosperous work in the e-commerce industry. In years to come, Indonesia would be one of the leading countries in economic growth because of this.