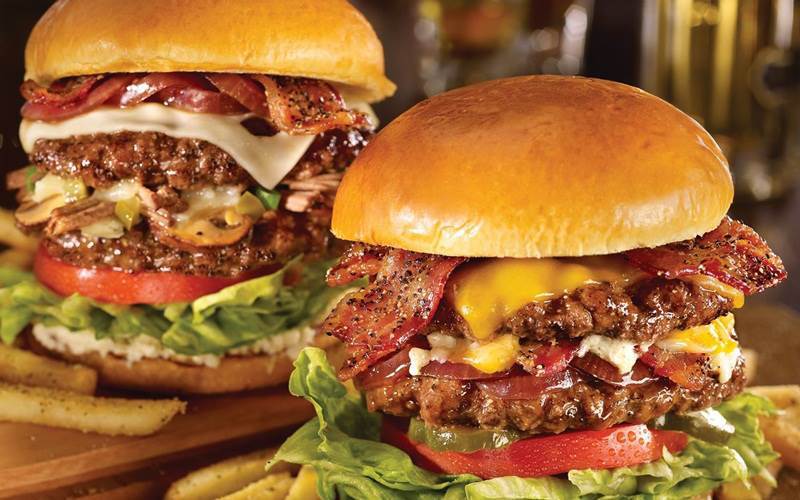 If you want to taste a little bit of heaven, you should try to eat a little fast food in your life, at least once. In Jakarta, fast food chains are scattered ranging from import and local chains. A fast-food restaurant, also known as a quick-service restaurant (QSR) within the industry, is a specific type of restaurant that serves fast food cuisine and has minimal table service. The food served in fast-food restaurants is typically part of a "meat-sweet diet", offered from a limited menu, cooked in bulk in advance and kept hot, finished and packaged to order, and usually available for taking away, though seating may be provided. Fast food restaurants are typically part of a restaurant chain or franchise operation that provides standardized ingredients and/or partially prepared foods and supplies to each restaurant through controlled supply channels
In Jakarta, we may find some of them. But there are only a few people that know that some of the fast-food restaurants that exist are the restaurants that are owned and established originally in Indonesia. Here is the list of Indonesia's Fast Food Chains that you can found in Jakarta.
1. HokBen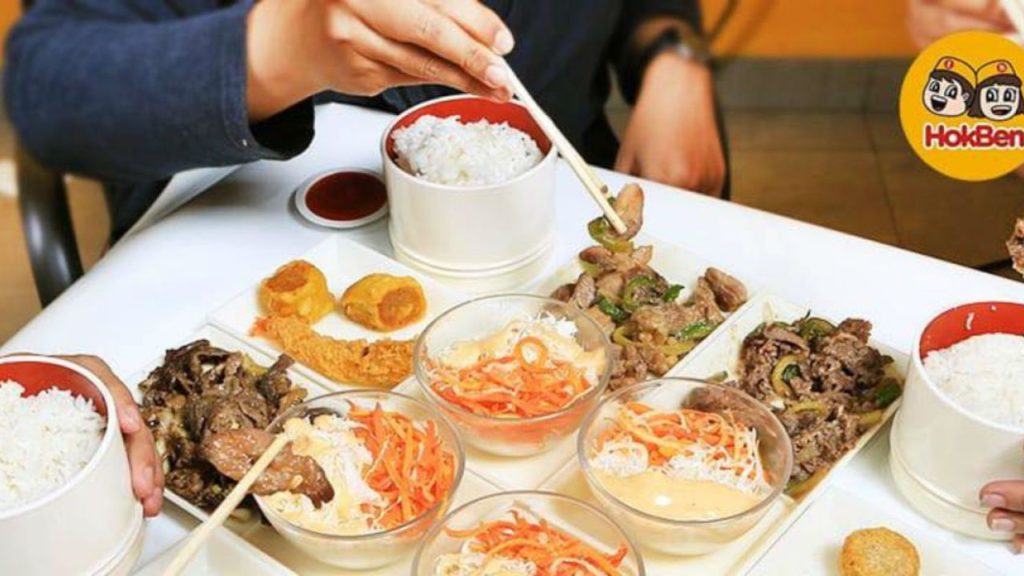 HokBen (the new name of Hoka Hoka Bento) is a chain of fast-food restaurants that serves Japanese-style food based in Jakarta, Indonesia. Until now, HokBen has 170 outlets (as of the end of January 2020) spread across the islands of Java, Bali, and Sumatra. The name Hoka Hoka Bento itself comes from the Japanese language which means "warm food in a box". On April 18, 1985, HokBen was first established under the auspices of PT. Eka Bogainti. The company was founded in 1985 in Jakarta by Hendra Arifin. The first restaurant is located in Kebon Kacang, Central Jakarta.
This restaurant serves a variety of popular Japanese dishes, ranging from stir-fried (such as sureiku, teriyaki, with choice of beef or chicken) fried foods (such as chicken katsu; ekkado; Ebi furai; spicy chicken; tori baaga; and Kani other egg chicken roll, and shrimp roll), sukiyaki, shumai, gyoza, to salads and soups (such as sukiyaki, chicken tofu, shrimp ball, and shrimp dumpling) both can be ordered by single meal or packages. There are other things that you can order such as Pop Corn, drinks and specialties such as bird's nest ice, Ogura ice, konyaku Koori, and pudding
Price Range: Rp. 25.000,00 – Rp. 60.000,00 / person
Opening: Monday – Sunday (10 AM – 10 PM)
Social Media:
Website: http://www.hokben.co.id/ 
2. J.Co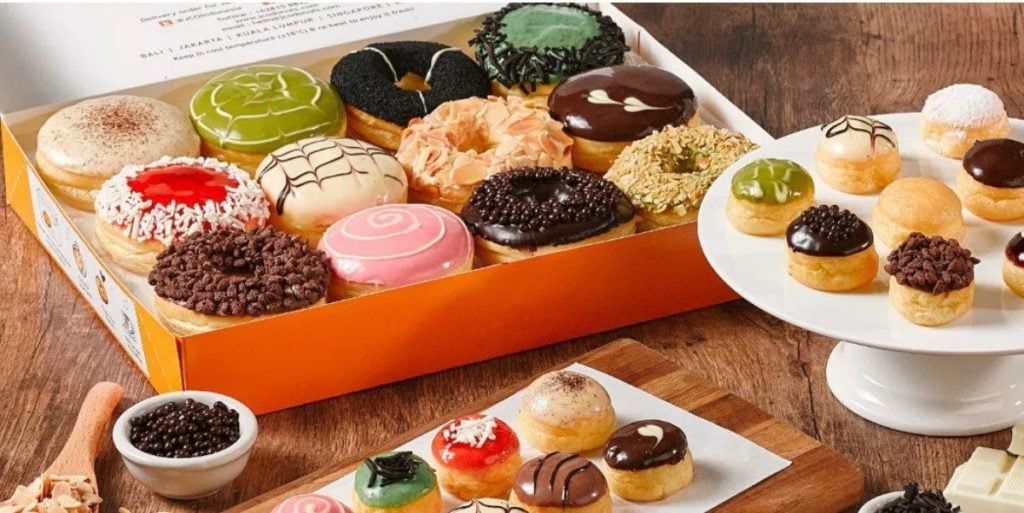 J.CO Donuts & Coffee is a cafe restaurant chain originating from Indonesia that specializes in donuts, coffee, and frozen yogurt. The company is owned and managed by Johnny Andrean Group. The first J.CO opened on June 26, 2005. In four months, the outlet made money and continued growing. In its eighth year, J.CO had 120 outlets in Indonesia, 12 in Malaysia and the Philippines, 4 in Singapore, and 2 in China.
J.CO is the fastest growing donut and coffee chain in Indonesia with 236 stores opened since 2005. They have successfully penetrated the local market in Indonesia against Krispy Kreme and Dunkin' Donuts to become one of the market leaders for donuts and coffee.
J.CO's donut flavors are either named using eponyms or wordplays such as puns. One example is, Alcapone, the most popular donut flavor, inspired by most-wanted American gangster Al Capone. As of 2017, they have launched over 45 flavors, some of which are inspired by local tastes such as their kaya donut and kurma donut.
Some complementary products they sell include J.CRONUT (croissant donuts), J.POPS (mini bite-size donuts), J.CLUB (donut sandwiches), J.COOL (frozen yogurt), and gourmet selections of pastries, sandwiches, and salads. The J.COFFEE line features a variety of coffee beverages ranging from the classics to iced blends.
Price Range: Rp. 50.000,00 – 100.000,00 / person
Opening Hours: Monday – Sunday (10 AM – 10 PM)
Social Media:
Website: www.jcodelivery.com  
3. Kebab Baba Rafi
PT Baba Rafi Indonesia, also known as Kebab Turki Baba Rafi is the world's largest chain of kebab shops, which operates more than 1.200 outlets in Indonesia, Malaysia, Philippines, and Bangladesh. Headquartered in Indonesia, the business began in 2003 as a cart operated by young entrepreneurs, Nilam Sari and Hendy Setiono. In 2005, the business applied the franchise system. It is owned by the founders through their company Baba Rafi Enterprise, which also owns Piramizza, Bebek Garang, and Voila! 360' communication agency.
An outlet is operated either by a franchisee or by the corporation itself. It is also a pioneer of the sharia investing franchise in Indonesia. A variety of outlets types are used, such as food carts, shops, booths, indoor, and non-stop 24-hour outlets.
Kebab Turki Baba Rafi primarily sells doner kebabs, hamburgers, sandwiches (such as shawarma and hot dogs), kripik, roti canai, and frozen foods.
The business began in 2003, with a cart operated by husband and wife team Nilam Sari and Hendy Setiono at Nginden Semolo Street in Surabaya, Indonesia. They built the business inspired by a journey to Qatar and the many sellers of Turkish-style doner kebab or shawarma. The "Baba Rafi" name was taken from the Arabian word, "baba" meaning father, and "Rafi" is inspired by their first child's name, Rafi Darmawan.
Price Range: Rp. 15.000,00 – Rp. 20.000,00 / person
Opening Hours: Monday – Sunday (10 AM – 9 PM)
Social Media: www.instagram.com/kebabbabarafi
Website: www.babarafi.co.id 
Read also : Top 5 Jakarta's Street Foods
4. California Fried Chicken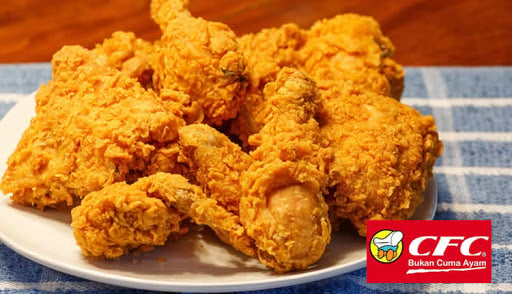 California Fried Chicken (CFC) is an Indonesian fast food restaurant chain, serving principally fried chicken. Its major competitors are KFC, McDonald's, A&W, and Texas Chicken and as of March 2019, it runs 269 locations across Indonesia.
The chain was established in 1983 in Jakarta as a franchisee of the American-based Pioneer Take Out, has an American name, and is now entirely Indonesian owned. The chain is supplied by the same group, the Sierad Group, which also supplies chicken to Wendy's and Kentucky Fried Chicken. it is the fifth most popular fast-food chain in Indonesia after Restoran Sederhana, KFC, McDonald's, and Pizza Hut.
CFC and professional equalize local product quality standards so it can be coupled with fast-food fried chicken products originating from the United States though. Four basic concepts will serve as basis CFC product quality control, ie Discipline, Quality, Service, and Cleanliness. The fourth concept is to be executed by each employee in CFC so that consumers can get more service than expected. With the hope that customers will come back to get the quality and the service is good and consistent.
CFC which is the slogan, "Not Just Chicken" really meets the needs of the diverse tastes of Indonesian people. Not only serves savory fried chicken alone but CFC also provides other menus such as the California Burger, Chicken Rice Pepper, Spaghetti Chicken, Chicken Porridge, Zuppa Soup, Spaghetti Fried, and Fried Rice. Besides, there are many variations of fried chicken is Chicken Strips, Chicken Kranz, and Chicken Dramz.
Price Range:
Starting from Rp. 7.000,00 for A La Carte
Rp. 26.000,00 – Rp. 140.000,00 for package meals
Opening Hours: Monday to Sunday (10 AM – 10 PM)
Social Media:
Website: www.cfcindonesia.com       
5. Klenger Burger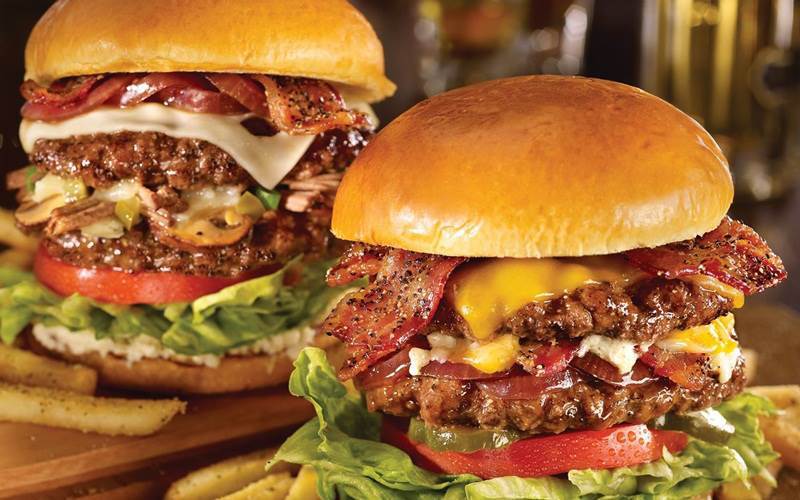 Klenger Burger Tari is an Indonesian restaurant chain based in Jakarta, operated by PT Kinarya Anak Negeri. The restaurant chain served halal hamburgers designed to suit the Indonesian palate. The company sold a variety of burgers, including a 25 cm Raja Klenger (King Klenger) designed to serve seven people.
It was founded by husband and wife Velly Kristanti and Gatut Cahyadi, who previously ran a restaurant 'Pondok Sayur Asem'. The name 'Klenger' is intended to convey a sense of spicy sauce, as in sambal.
At its peak, the company used to operate around 70 outlets in Java, Bali, and Medan under franchise agreements, plus several dozen outlets in Alfa Midi supermarkets. However, in late 2011, the company went through restructuring. As of December 2012, a few outlets are still operating. 2013, Klenger Burger came with a new concept, Klenger Burger Gourmet and Klenger Burger Delivery. Also introducing a brand new logo and a new mascot, Super Klenger.
Price Range: Rp150.000,00 for two people (approx.)
Opening Hours: Monday – Sunday (10 AM – 10 PM)
Social Media: www.instagram.com/klengerburger_id
6. Flip Burger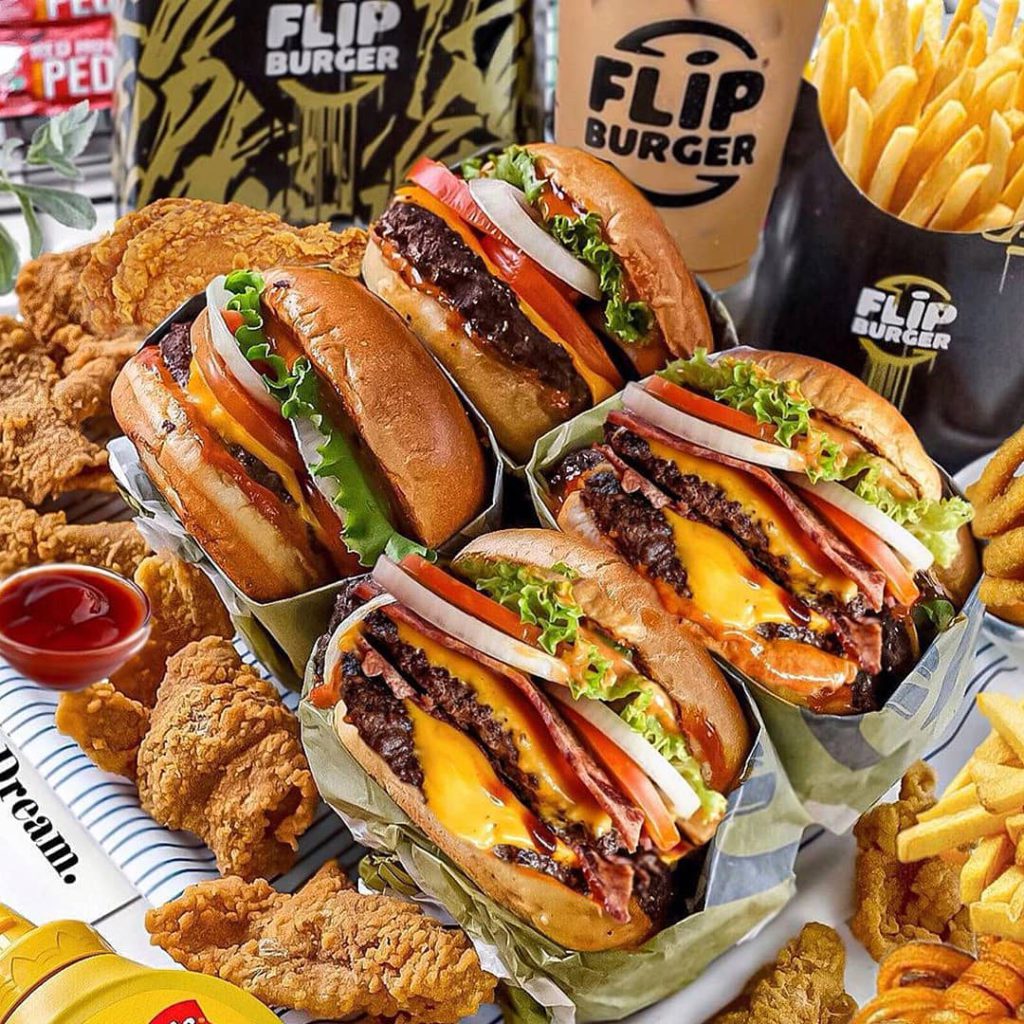 Flip Burger is one of Jakartans' most favorite fast foods. Operated since 2016, this fast-food chain has several branches in Indonesia's big cities such as Jakarta, Yogyakarta, Bandung, and Surabaya. The concept is good dining and takes away the restaurant, a comfortable and convenient fit makes visitors feel at home for a long time here. The atmosphere is different from other fast-food restaurants! Attractive ornaments are displayed in every corner of the room. All burger menus offered by this restaurant are dominated by juicy meat patty and good quality cheese melt. You have to try the most favorite menu here, Smacker which consists of 2 thick beef patty, 6 pieces of crispy beef bacon, and 2 melted American Cheese. There are also several other favorite menus, such as Fish Burger, Eggsy Bacon, and Chicken Skin.
Price Range: Rp150.000,00 for two people
Opening Hours: Monday – Sunday (7 AM – 11 PM)
Social Media: www.instagram.com/flipburger_id
Website: www.flipburger.co
So, those are recommended Indonesia's fast-food chains in Jakarta. You can have different options based on your mood. What are you waiting for? Eat those foods and give your money!