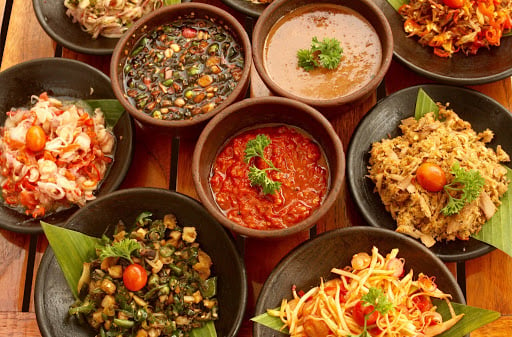 "Can't eat without sambals" is the most accurate term to describe almost every local in Indonesia. To understand Indonesian's love of spicy food is to appreciate the heritage. Almost every province in Indonesia has its own hot, spicy dishes. Padang, Manadonese, and Bali cuisines are just a few of Indonesia's signature spicy foods. Almost all restaurants in Indonesia have a sambal/chili sauce placed on the table. Because Indonesian assume that any dish can taste a hundred times better with a dollop of sambal.
There are 212 variants of sambal in Indonesia. They have a lot of different sambals with several levels of spiciness, ranging from the sweet-and-spicy, salty, or just simple spicy.
No matter what kind of sambal is, this traditional spicy condiment is an essential part of Indonesian meals, in the same way, ketchup is to fries. That is why it's very common for Indonesian to bring at least one bottled Sambal or chili sauce when they are abroad.
Sambal
Basically, sambals are sauces. They're usually made up of quintessential Indonesian cornerstone spices, such as chili pepper, cayenne pepper, bird's eye chili, and garlic.
Making sambal has become a skill of every housewife in Indonesia, it requires craftsmanship. They must master how to combine the sambal ingredients to create a fulfilling consistency of texture each time. Making sambal also requires great memory and hard work. You must remember every single ingredient's characteristics and tasting notes. So, you can create and blend all the ingredients to become the perfect sambal.
Sambal can be served in two ways, they are sambal masak (cooked) and sambal mentah (raw). Cooked sambal has undergone a cooking process, usually stir-fried, which resulted in a distinct flavor and aroma, while raw sambal is mixed with additional ingredients and usually consumed immediately. Sambal masak or cooked sambals are more prevalent in western Indonesia, while sambal mentah or raw sambals are more common in eastern Indonesia, such as Bali and Manado.
Sambal is very personal, everyone in Indonesia has its recipe. The list compiled below is just a few delicious varieties of sambals available in Indonesia that we believe will refine your dining experience!
Want to know more about spicy foods? Nasi Padang maybe? read here
1. Sambal Matah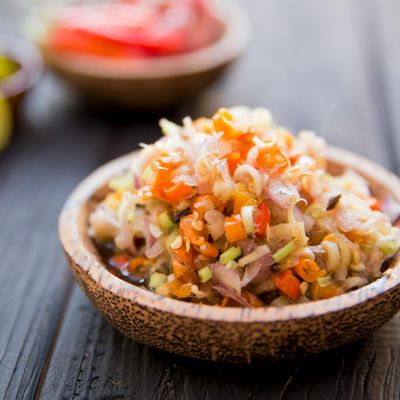 This popular sambal originated from Bali, The Island of Gods. Sambal Matah is a fresh type of Indonesian sambal from Bali that is spicy and refreshing at the same time. This sambal is made from raw ingredients, including red chilies, green chilies, Asian shallots, green tomatoes, lemongrass, kaffir lime leaves, and kaffir lime juice.
Sambal Matah is a very unique one, it is spicy and refreshing at the same time. The spiciness comes from the chilies and Asian shallots. And a sprinkle of lime juice on top makes it taste more refreshing. One of the restaurants that offer the best Sambal Matah in Jakarta is Kopi Kitchen, you should try their Nasi Bebek with Sambal Matah!
Location:Kemang Village (Lippo Mall Kemang), Lantai Upper Ground, Avenue of The Stars Jl. Pangeran Antasari, Kemang, Jakarta Selatan
Instagram: @kopikitchen
Opening Hours: 10.00 am- 11.00 pm
2. Sambal Terasi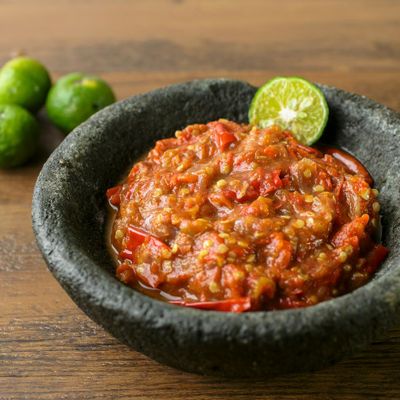 Sambal Terasi is one of the most popular and common styles of sambal in Indonesia. Originated from Central Java, Sambal Terasi offers two types, cooked Sambal Terasi or raw Sambal Terasi. The main ingredient is the terasi (shrimp paste), other ingredients are red chili, shallots, and tomato.
This is probably the first type of Indonesian sambal you should try in Indonesia, and get used to before exploring all other types because this can be the standard and the very basic flavor of sambal. You can easily find Sambal Terasi almost everywhere. But, Warung Bu Kris, located in Fatmawati has one of the best Sambal Terasi in the city!

Location: Golden Fatmawati, ruko, Jl. RS. Fatmawati Raya No.D-10, RT.8/RW.6, Gandaria Sel., Kec. Cilandak, Kota Jakarta Selatan, Daerah Khusus Ibukota Jakarta 12420
Instagram: @warungbukris
Opening Hours: 10.00 am- 09.00 pm
3. Sambal Ijo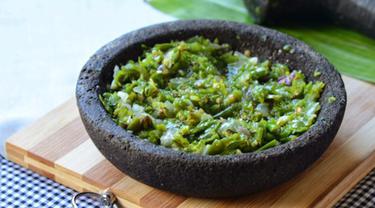 Ijo or hijau in Indonesia means green. Sambal Ijo is a beloved fixture in Padang cuisine. Sambal Ijo is a West Sumatran specialty, using green chili, stir-fried with dried shrimp, red shallots, garlic, and other spices, and best served with Rendang, No. 1 most delicious dish of CNN International World's 50 most delicious foods: Readers' picks list.
Sambal Hijau has its unique aroma and flavor because it is made from green chilies. And because of that, it is not as spicy as another Indonesian sambal. You can try Sambal Ijo in Pala Adas Restaurant. Here, you can get a variety of foods with unique Sambal Ijo! One of their worth to try dishes is Bebek Cabe Ijo (Rp. 78,000) which is very rich in flavor, delicious, and of course spicy!
Location: Crown Golf Boulevard, Blok D, No. 11 & 12, RT.7/RW.2, Kamal Muara, Kec. Penjaringan, Kota Jkt Utara, Daerah Khusus Ibukota Jakarta
Instagram: @palaadas_id
Opening Hours: 11.00 am- 10.00 pm
4. Sambal Kecap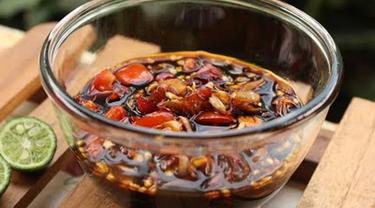 Sambal Kecap made of fresh and raw ingredients, such as sweet soy sauce, bird's eye chili, shallots, peppers, and tomato. This sambal is one of the easiest Indonesian sambals to make because none of the ingredients need to be cooked. Definitely worth to try and make in your kitchen. It has a sweet and spicy taste and usually used for lamb satay or other grilled foods such as grilled fish and barbeque dishes.
The sweet soy sauce usage was influenced by Chinese immigrants who tried to mimic the production of soy sauce but with added locally grown products found in Indonesia, such as palm sugar, herbs, and spices. You can find Sambal Kecap in one of the best sambal based food chains in Indonesia, Waroeng SS, in which one of its branches is in Tanjung Duren.
Location: Jl. Tanjung Duren Utara IV No. 224, Tanjung Duren, Jakarta Barat
Instagram: @waroengss
Opening Hours: 10.00 am- 10.00 pm
5. Sambal Kacang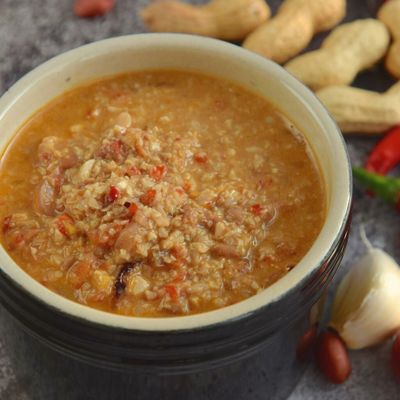 Sambel Kacang is made from a mixture of chili, garlic, shallots, sugar, salt, crushed fried peanuts, and water. The thickness of this particular Indonesian sambal is the main factor in creating a perfect Sambal Kacang – too thick and it becomes too dry to blend with the food, too watery and it becomes difficult to handle.
The only ingredient that makes this sauce spicy is the bird's eye chili. You can simply lower the level of its spiciness by reducing the number of chilies. People usually eat this sambal with boiled vegetables such as bean sprouts, spinach, and cabbage.
6. Dabu-Dabu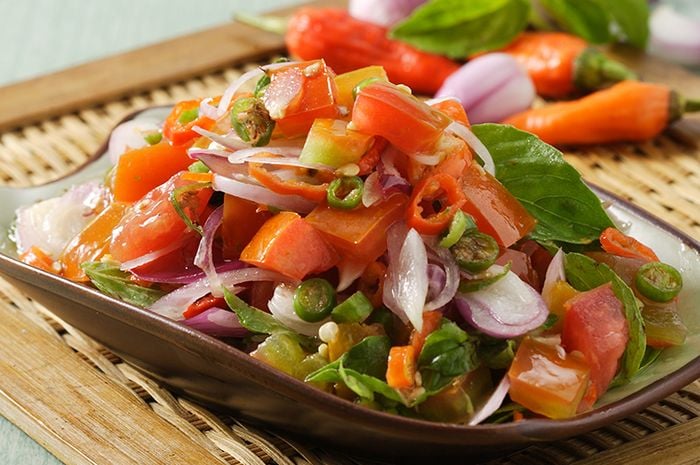 Sambal Dabu-Dabu is very similar to Mexican salsa sauce. This Indonesian sambal is originally from Manado, a city known for its spicy cuisine. This sambal uses raw ingredients such as coarsely chopped tomatoes, calamansi, or known as lemon cui or jeruk kesturi, shallots, chopped bird's eye chili, red chili, basil, poured with hot vegetable oil, and salt.
Sambal Dabu-Dabu is very refreshing and colorful, usually complementing a serving of grilled fish by either being lathered on top of the fish or served on a separate plate. Ikan Tude Manado Restaurant is the most authentic Manadonese restaurant in Jakarta and you'll definitely find the best Sambal Dabu-Dabu in here.
Location: Jl. Blora Raya No. 29, Thamrin, Jakarta
Instagram: @restoranikantudemanado
Opening Hours: 10.00 am- 10.00 pm
So, there you have some of the Indonesian sambals you need to try and where to find them in Jakarta. Are you ready to handle all the heat and spiciness?