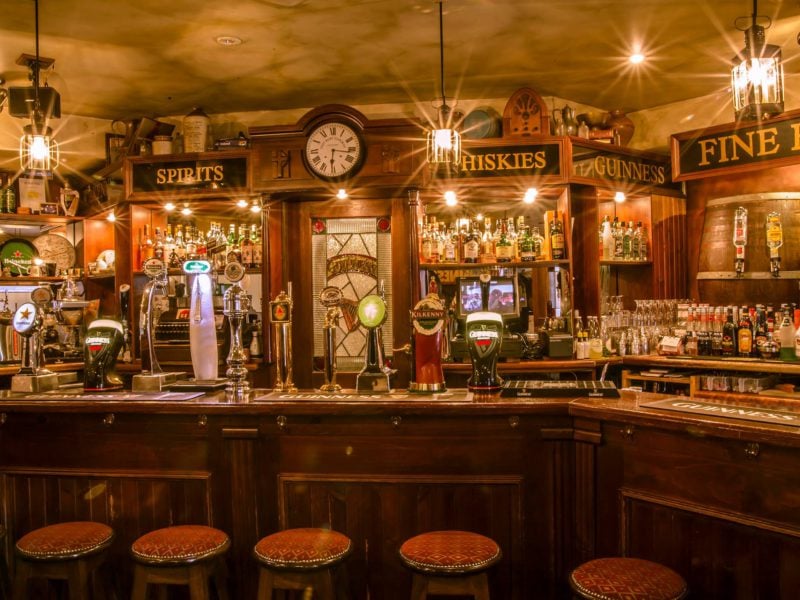 Who doesn't love Irish pubs? When we have a hard day, or just looking for a good vibes atmosphere, the Irish pub is the perfect solution! The warmth, the ambiance, and the incredible drinks will exactly make your day better. Today, Jakarta is home to a myriad Irish pub where you can hit Guinness, whiskey, and other many choices with the authenticity guaranteed. We made this incredible list to bring you to the absolute best Irish pubs in the whole bustling city, where you can always get your favorite draft beer, lots of whiskeys, delicious bites, a jolly good time, and also a jubilant crowd. Let's find you the best Irish pubs in Jakarta and let's toast to drinking like the Irish!
1. Murphy's Irish Pub and Restaurant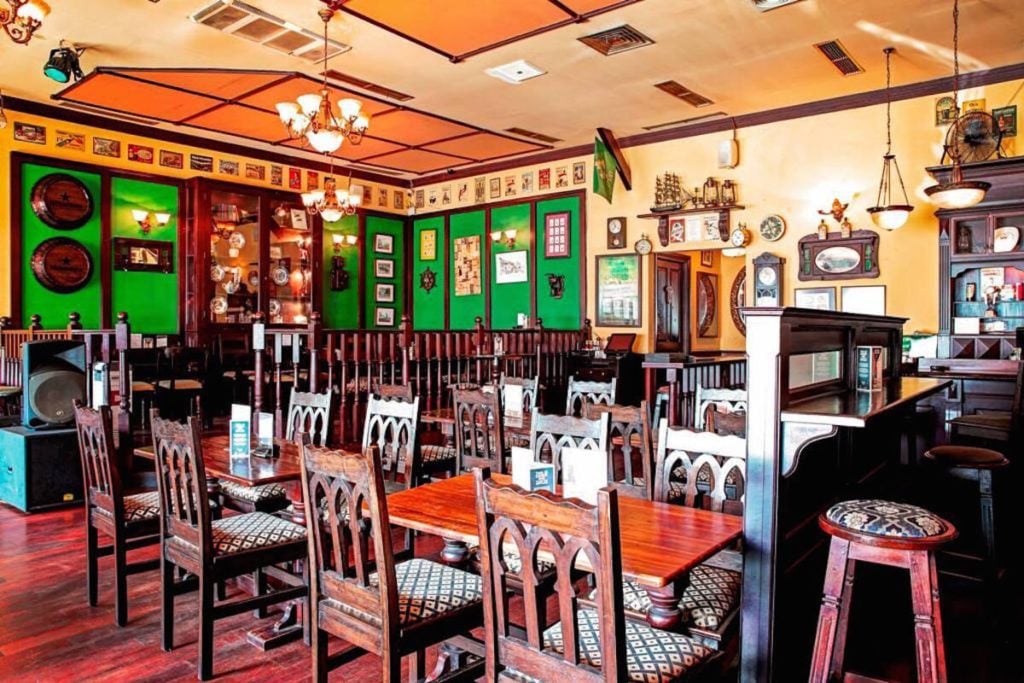 This is the right place to drink imported beer directly from Ireland, with elegant vintage decoration and also the live music that will make you decided to stay a little longer time. Opened in 2010, Murphy's is the first authentic Irish pub in Jakarta. They offering guests the option of watching a game on one of the TV's on taking in live music, this bar in Kemang is the perfect place to visit if you're in the neighborhood and would enjoy a uniquely Irish environment. This is the kind of place that actually makes you feel like you're in Ireland. The feel of Ireland is increasingly through the music they offered such as U2, Sinead O'Connor, Westlife, Boyzone, and others, This pub concocts Irish folk music, traditional pop, modern pop, and classic rock. Every Thursday – Sunday, there are local live bands and fiddle performers (traditional Irish violins) and traditional banjos.
According to Founder, the couple Killian Murphy and Irene Murphy, the Irish pub is a place where guests can come home each time from work and have a relaxed chat accompanied by a glass of beer, enjoy delicious food, and fun music. In Ireland, it has become a habit of people to relax in the pub after work. They consider the pub as an extension of the house. For the sake of presenting the original pub in Ireland there, Murphy that originally from Ireland, trying to carry the original atmosphere of Ireland. The interior of this pub was designed by an interior design company from Ireland who specializes in designing Irish-style pubs. "Most of the decorations were imported from Ireland," said Irene.
Besides the perfect ambiance, your hangout times will be even more complete with traditional menu offerings, such as Beef & Guinness Casseroles, Irish stew, Cod & Chips, also Bangers & Mash. If you come in the morning, then you must try their traditional breakfast menu, like Bed B'fast, Black Puddings Sausages, and other tasty meals. If you have never tried it, it's an unforgettable experience for your own. By the way, the drink promo is very tempting as well, which is great! So… What are you waiting for?
Phone Number: +6221 – 7179 – 4510
Address: Jl. Kemang Raya No. 11A, Jakarta Selatan
Social Media: –
Price Range: IDR 200.000,00 – IDR 500.000,00 per person
Opening Hours:
13.00 – 02.00 (Monday – Thursday)
11.00 – 02.00 (Friday – Saturday)
11.00 – 01.00 (Sunday)
2. Molly Malone's Irish Pub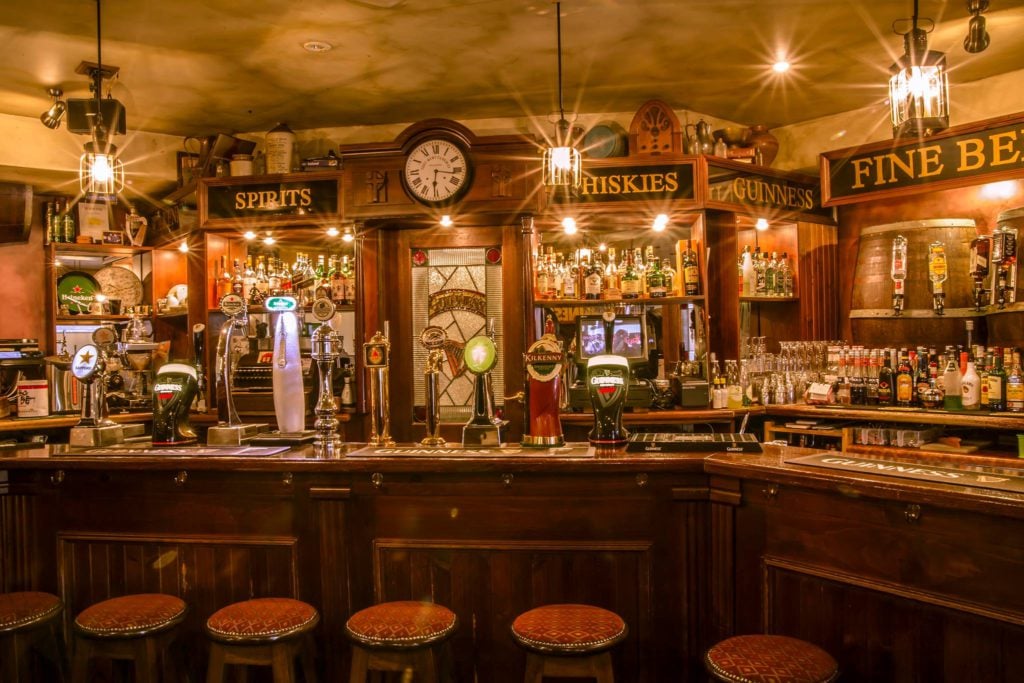 Looking for an authentic Irish pub with delicious pub grubs and cold beers? Molly Malone's Irish Pub is the answer for you! Established in June 2012, Molly Malone's is the second Irish Pub located in Arcadia Senayan, Central Jakarta. Molly's is part of the same group with the first order on this list, the popular Kemang venue Murphys Irish Pub. Split into two distinct areas, the place features a traditional cozy Irish Pub, with a large live music venue. The location draws in neighborhood professionals and supports various sports teams such as the rugby, football, pool, and Gaelic football teams who all consider the pub a home from home.
Molly Malone's Irish Pub is an everyday go-to for fellow expatriates to relax over a drink. The heavy wooden chairs and tables plus the classic Irish colors such as maroon and green with the antique display pieces are the familiar features of the Irish pub and this is strengthened with the serving of traditional Irish dishes and drinks on the list here at Molly Malone's.In addition, this bar also often holds a thematic party. Their favorite theme is St. Patrick's Day in March, which used to be a big celebration in Ireland.
The menu choices offered are very diverse, ranging from light bites, soups, salads, sandwiches, main courses, to dessert. From some offerings, most of them are dominated by the meat menu. Due to the famous of Ireland's natural green conditions with high rainfall and fertile soil. Therefore, many high-quality natural products such as fish, meat, and various dairy products. Don't forget to try their Beef & Guinness Stew, Fish & Chips, Pork Bangers & Mash, and last but not least, they're Full Irish Breakfast that will fuel up your day. Worth to try!
Phone Number: +6221 – 5790 – 1433
Address: Plaza Senayan Arcadia, Jl. New Delhi Pintu 1, Jakarta Pusat
Social Media: @mollymalonesjkt on Instagram
Price Range: IDR 100.000,00 – IDR 350.000,00 per person
Opening Hours:
10.00 – 00.00 (Monday – Thursday)
11.00 – 02.00 (Friday – Saturday)
10.00 – 12.00 (Sunday)
Read also : Best After-Hours Pubs in Jakarta to Wind Down
3. McGettigan's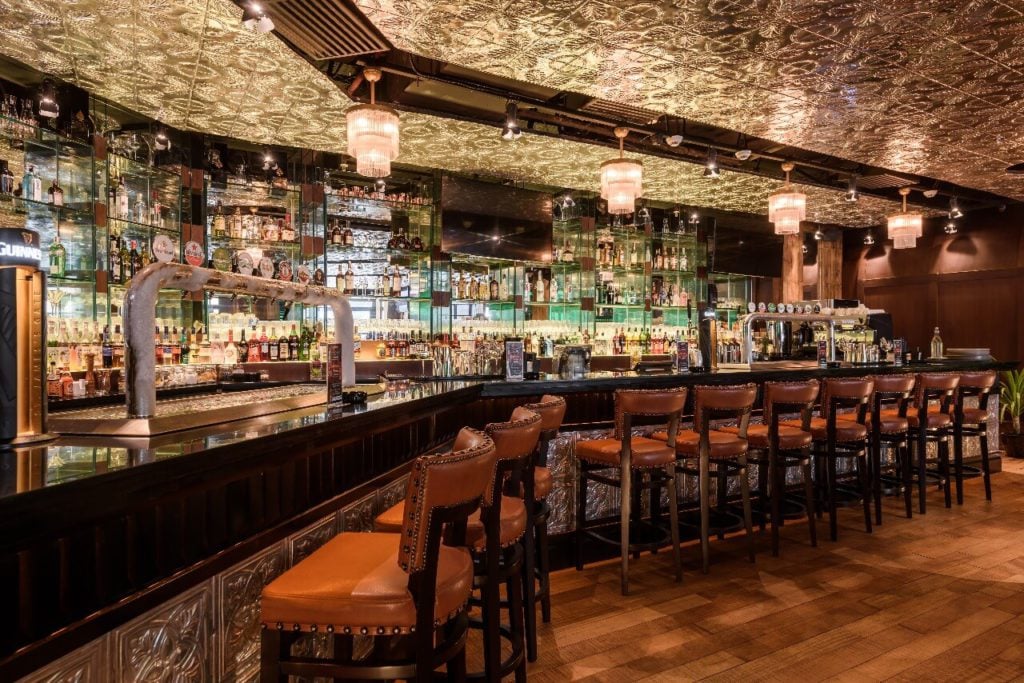 McGettigan's is a modern Irish pub and sports bar that was founded in 2017. Fairly new, but they worth entering the list of the most recommended Irish pub in Jakarta because of their high quality to satisfy their customers. Located on the ground floor of Menara BTPN, yet they have a quite wide place with a capacity of around 300 – 500 people. The first thing you will notice was that it certainly doesn't look like a typical Irish pub. In fact, McGettigan's is much more modern, especially for urban living in Jakarta. The entertainment in McGettigan's os primarily sports-watching with 12 LED TV screens and 1 projector screen throughout the venue. Also, they have live bands in the evening and the DJ playing right after the live band finishes performing.
For the menus, it's more conventional and features all the classic crowd-pleasers: Western ones like Burgers, Fish and Chips, Pies, Bangers and Mash, and Indonesian ones like Nasi Goreng, Sop Buntut, Iga Bakar. They also serve imported 200-gram and 300-gram Black Angus beefsteaks. If you are watching your weight, there are more healthy options like Grilled Salmon and Salads. In care you are wondering, pork is available too.
Mega Kuningan has been several interesting new openings these past few years and it clearly becoming the most happening nightlife destination in Jakarta. McGettigan's is a great addition. Very recommended.
Phone Number: +6221 – 2295 – 8904
Address: Menara BTPN, Basement 1, Jl. Dr. Ide Anak Agung Gde Kav.55-56, Jakarta Selatan
Social Media: @mcgettigansmegakuningan on Instagram
Price Range: IDR 100.000,00 – IDR 500.000,00 per person
Opening Hours:
10.00 – 01.00 (Sunday – Tuesday)
10.00 – 02.00 (Wednesday – Saturday)
And there you have it! We have listed some of the finest Irish pubs that you can visit in Jakarta. Now if you're an Irish expatriate or foreigner that wants to have a blast in visiting these pubs, this list might help you. However, there aren't many Irish pubs here as Jakarta tries to embrace more of its local pubs. So what are you waiting for? Come visit and give these a try!