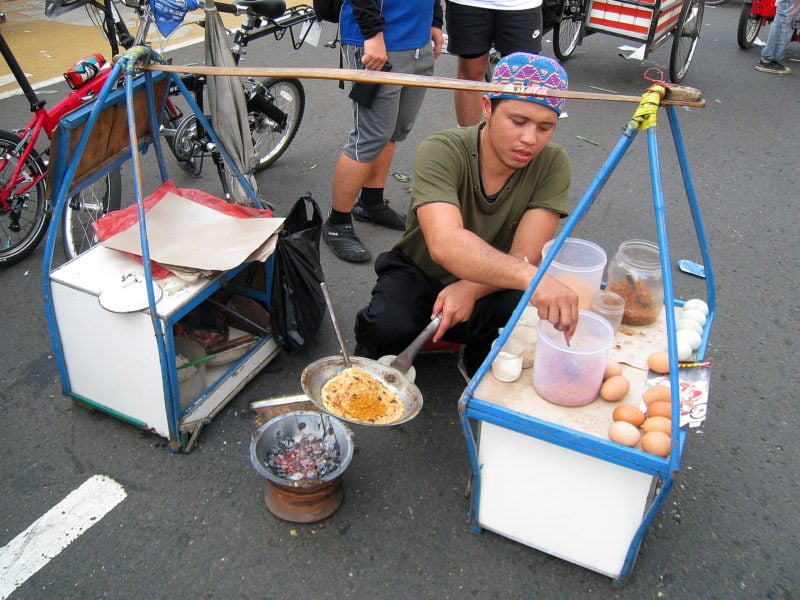 This metropolitan city with its fancy Instagrammable restaurants and fine-dining experience that cost an arm and a foot has a delicious little secret. Jakartans have harbored a love affair with a quick, no fuss, and delectable street-food scene for many years. The street-food is alive and well in Jakarta with the constant creation of new must-eat quick-bites that always has a line forming. From the improved version of childhood favorites to the authentic Jakarta signatures, the city feeds its street food lovers with a wide range of great flavors. So, try them on your own risk and fall in love with the first bite!
1. Kerak Telor
Kerak Telor is undoubtedly the signature street food of Jakarta. Kerak Telor is a traditional snack of the Betawinese people, an ethnic group native to the city. The savory fare is a sticky rice omelet cooked in a wok over charcoal. It is made by mixing glutinous rice, fried shallots, dried small shrimps, serundeng (spicy coconut flakes) with chicken or duck eggs on a hot wok until it's nice and crispy. When it is cooked, Kerak Telor is wrapped with a sheet of brown paper. The crust forming outside the eggy snack is why it is called Kerak Telor (Bahasa for "egg crust")    
Read also: 6 Best Traditional Market in Jakarta
Despite being the signature street food of Jakarta, Kerak Telor is a bit hard to come by. You can find this crispy creation in the Central Jakarta area, around certain spots such as Monas, Kota Tua (Old Town), and Setu Babakan; where a large group of street vendors sells them along the sidewalks. 
Recommended Vendor:
Kerak Telor Bang Doel in Sawah Besar, Central Jakarta
Address: Jl. Pintu Air Raya No. 68, Pasar Baru, Sawah Besar, Central Jakarta 10710
Phone Number: +62 85814161841
Price Range: Rp12.000 – Rp.30.000/ item
(The price depends on the vendors)
Opening Hours: Monday to Sunday (10.00 – 22.00)
2. Martabak Terang Bulan
Martabak is the most hyped street food in Jakarta over the last few years, with innovative flavors and toppings being added into this late-night favorite. There are two kinds of Martabak, the savory kind, and the sweet kind. The sweet martabak also known as Terang Bulan (Bahasa for 'shining moon') got its name from the golden shine it has when it is folded and brushed with butter. In fact, it is the most common street food you can find in Jakarta. 
Read also: Hottest Merchants on GoFood
It is made from a thick pancake-like batter with eggs, milk, and flour and cooked on a cast iron pan. Also, you can fill it with condensed milk, caster sugar, chocolate sprinkles, or any other toppings of your choosing. 
Nowadays, there are many variations of this delicacy, from the original filling of cheese and chocolate one to black forest or red velvet flavor. Whether you prefer the original one or the "upgraded" version, Terang Bulan is best shared with friends.
Recommended Vendor:
Martabak Boss in Senopati, South Jakarta
Address: Jl. Gunawarman No. 75, Senopati, Jakarta
Phone Number: +62 81219194814
Price Range: Rp12.000 – Rp150.000
(price changes with added topping)
Opening Hours:Monday to Sunday (17.00 – 00.00)

3. Gorengan
The childhood snack of every person in Jakarta. Gorengan refers to batter-dipped ingredients that range from tofu, tempeh (fermented soybeans), and various vegetables or fruit fried in oil. The concept is similar to Korean twiggim or Japanese tempura of assorted deep-fried items. Moreover, it is a famous snack amongst Indonesian from all across the archipelago. 
It is very popular in Jakarta, not only because of its taste but because of the low-price for only Rp1000 -Rp 2000 (10-20 cents) per item. You can find Gorengan everywhere in Jakarta; Just look for vendor wagons that have the word "gorengan" on them. As with other street foods, there are new leveled-up versions of this modest snack with more options on the fried items and addition of toppings.
Recommended Vendor:
Gorengas (Gorengan Naik Kelas) in Cilandak, South Jakarta
Address :Ampera Garden Food Festival, Jl. Ampera Raya no.119, Cilandak, South Jakarta
Phone Number: +62 85782506981
Price Range: Rp17.000 – Rp18.000
(price changes with added toppings)
Opening Hours: Monday to Sunday (10.00 – 20.00)

4. Asinan Betawi
Asinan Betawi is a traditional Indonesian salad with a fresh and sweet taste. The salad consists of slices of white cabbage, tofu carrot, bean sprout, and a handful of egg-based yellow noodles. There is also a special ingredient called "sayur asin" or salted vegetable, which is made with fermented Chinese cabbage. The mixed greens then combined with a thin sauce made with a combination of peanut sauce, brown sugar, and a hint of vinegar. The dish is then topped with dices of cucumbers and kerupuk or crackers.
Read also: Indonesian Dessert Drinks in Jakarta 
Furthermore, this street food has a complex flavor of sweet and savory with a little bit of tartness coming in from the fermented Chinese cabbage and vinegar. Plus, it is a perfect low-calorie street food option for those who are on a diet.   
Recommended Vendor:
Asinan Betawi H. Mansur in Rawamangun, Central Jakarta
Address: Jl. Taman Kamboja 3 No. 10, Rawamangun, Central Jakarta
Phone Number: +62 214707242
Price Range: Rp.16.000 – Rp17.000/ item
Opening Hours: Monday – Sunday (10.00 – 21.00)

5. Cakwe
The deep-fried dough of goodness is a street fare adapted from Chinese doughnut called youtiao. Cakwe is made by deep-frying a strip of lightly seasoned dough until they are golden brown. This cheap snack is light and has a chewy texture. So, it is best served with sweet and spicy chili sauce. Cakwe is good as a topping for congee or as a quick snack. You might find that there is a lot of variation of cakwes with savory toppings like mayonnaise, mozzarella cheese, and shrimp meats. But, whatever your preferences, make sure to eat it while it's hot!  
Recommended Vendor:
Cakwe Galaxy on 5th Floor FX Sudirman, Central Jakarta
Address: Jl. Jendral Sudirman, Sudirman, Central Jakarta
Phone Number: +62 2129889204
Price Range: Rp15.000/ item
Opening Hours: Monday – Sunday (10.00 – 22.00)