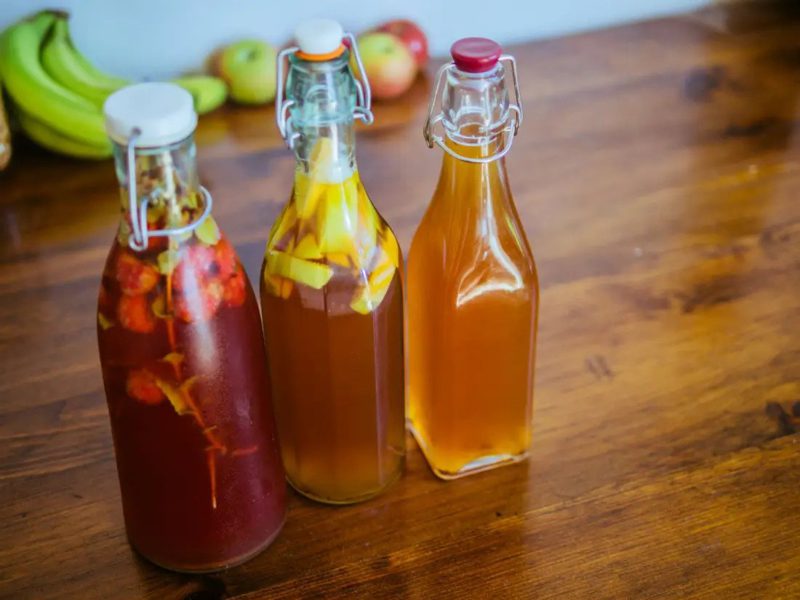 Kombucha is a fermented tea originated from East Asia and arrived in Germany via Russia around the end of the last century. Kombucha is commonly consumed for its supposed health benefits and considered a slightly alcoholic drink. But, some commercial kombucha tea is labeled non-alcoholic with most of it contains around less than 0,5% alcohol. Kombucha is an ancient herbal drink, produced by fermenting sugared tea using a symbiotic culture of bacteria and yeast (SCOBY) that commonly called "tea fungus" or "mushrooms". This drink also popularly believed to reduce blood sugar levels, good for digestion, reduce the risk of heart and kidney disease, protect the body from cancer, and so on. With all the goods that come inside, it's no wonder that kombucha is gaining popularity nowadays.
In other countries, you can easily find kombucha at the supermarket, but sadly, it's quite different here in Indonesia, indeed there is some commercial kombucha that has entered Indonesia's supermarket, but it still kind of difficult to find. Best options might be ordering it online, but sometimes you still want to take a little trip to get your favorite drink. Worry not! We have lists of Jakarta-based stores that sell this fermented tea, as well as online stores that can deliver to Jakarta area, no more confusing yourself on where to buy kombucha in Jakarta.
1. LocalBrew Kombucha
If you live near the Kalibata area, you are close to the LocalBrew Kombucha store! This store has been established since 2018 and also already has Halal Certified so the kombucha that they sell are non-alcoholic. LocalBrew has various flavors of kombucha, from their original flavor, kiwi, mango, even dragonfruit! This store also has easy access for public transportation as its a walking distance from Pasar Minggu Baru railway station, and also less than 2 km away from Duren Kalibata railway station. And for you who are not in the mood of going out, they also provide delivery via Go-Food and Go-Send services or you can directly place your order through their WhatsApp.
Phone Number: +62-852-5640-0757
Social Media: @localbrew.id on Instagram
Address: Jl. Rawajaati Timur VII No.1, RT.5/RW.8, Rawajati, Kec. Pancoran, Kota Jakarta Selatan, Daerah Khusus Ibukota Jakarta 12750, Indonesia
Price Range: starts from Rp 50.000,00
Opening Hours: 8 AM – 9 PM (Monday – Saturday), Closed on Sunday
2. Booch Kombucha Jakarta
Located in the Senopati area, a popular area for youth to hang out, and with that, Booch store precisely located Blue Zone Center, a shop that provides a healthier choice of foods and beverages. Booch comes in rather a pretty packaging and lots of flavor choice, with their most recent one taking the summer concept with Watermelon Mint flavor! Can you also imagine the freshness? Not to forget that this store also available to order via Go-Food, GrabFood, or Blue Zone Center online store at Tokopedia.
Phone Number: +6221-7203-752
Social Media: @booch.idn on Instagram
Address: Blue Zone Center, Jl. Gunawarman No.51, RT.4/RW.7, Rw. Bar., Kec. Kby. Baru, Kota Jakarta Selatan, Daerah Khusus Ibukota Jakarta 12180, Indonesia
Price Range:
Starts from Rp 50.000,00
Opening Hours: 9 AM – 9 PM (Monday – Thursday), 9 AM – 5 PM (Friday), 6.30 PM – 10 PM (Saturday), 8 AM – 9 PM (Sunday)
3. Indokombucha
Got no time to buy your favorite drink in the store? Indo Kombucha is here for that! They do shipping throughout Indonesia, and of course, Jakarta is included. This brand is an artisan kombucha since 2004, there is no need to doubt the quality of the product. Indo Kombucha also has a variety of flavors, from original green tea, lemongrass, mint basil, and many more! The flavors also come with less sugar option, fiving more variety of choice based on your preference. You can order yours now via their WhatsApp. Indo Kombucha is also available at offline stores in Jakarta such as Mars Kitchen, Organik Klub, Philocoffee Project, and Serasa Salad Bar Jakarta.
Phone Number: +62-878-2345-1768
Social Media: @indokombucha on Instagram
Price Range:
500ml starts from Rp 65.000,00
1000ml starts from Rp 120.000,00
Read also : Healthy Drinks: Best Juice Bars in Jakarta
4. Vibre
Another store that has both offline and online options available! Vibre Kombucha is popular for its good quality. If you like your kombucha to be on the sweeter side, we recommend to try their Berries Mint flavor, but if you are up to balanced sweet-sour flavor, definitely try their Rosella Guava ones. You want to buy Vibre Kombucha online, you can place your order on Tokopedia (vibre_id) or Shopee (Vibre). You can also find their kombucha at some Ranch Market outlets in the mall likes Grand Indonesia, Pondok Indah Mall, or Lotte Shopping Avenue. The fresh kombucha of Vibre also available in Kemchicks, Burgreens, Naked Inc, and Zero Waste Store by Navakara.
Phone Number: +62-8121-2094-563 (WhatsApp for Business Inquiries)
Social Media: @vibre_id on Instagram, Line Official Account @ryx3429f
Price Range:
Starts from Rp 35.000,00 – Rp 40.000,00
5. Hi Boost
Lastly, we have Hi-Boost on the list! An online store that claimed to sell kombucha with premium ingredients. We recommend trying the Honi Pineapple flavor, it's uniquely good! But don't worry, they also serve a surprisingly tasty range of refreshing Kombucha; Fuji Apple, Mandarin Orange, and Lemongrass Ginger. They also sell a bundle set starter pack perfect for you who just begin a healthy journey and a Hibooster bundle that is perfect for detox! You can order their kombucha via online store Tokopedia (Hiboost), Shopee (Hi-Boost Kombucha), WhatsApp, or direct message on Instagram.
Phone Number: +62-8177-77-605
Social Media: @hiboost.co on Instagram
Price Range:
330ml stars from Rp 40.000,00
1000ml starts from Rp 120.000,00
Kombucha is good to boost your immune system, improve your health, and much other goodness that can't be mentioned here by itself. It's no wonder that this drink is becoming popular as time goes by. There are still lots of kombucha brands but with this list, we hope that we can help you enough to give information as to where to buy kombucha in Jakarta. So what are you waiting for? Go order it online or visit the stores offline!