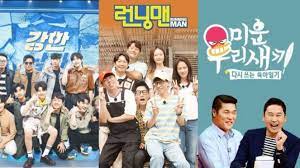 Staying In
Korean Variety Shows: Our Top 12 Picks to Cure Your Boredom
South Korea is indeed a hotbed of exciting entertainment shows. Starting from drama series with fresh stories to fun variety shows that are super funny. Korean variety shows are perfect for those of you who need refreshing. While filling your spare time, especially now that we're all stuck at home because of the pandemic, it can really be a marathon watching Korean variety shows from morning to morning. Watching variety shows is also very suitable when traveling to campus or work.
There are dozens of variety and reality shows broadcast in Korea. But, not all variety shows are fun to watch. So, here are our best Korean variety and reality show recommendations that you must watch. Laugh guaranteed!
1. Running Man
When it comes to Korean variety shows, this one program can't be missed. "Running Man is arguably one of SBS's most successful variety shows. Not only have many fans in Korea, but also around the world. Well, besides having a unique final mission, "Running Man" also has a myriad of super fun and funny games. Guaranteed, it will make you laugh!
When it comes to Korean variety shows, this one program can't be missed. "Running Man is arguably one of SBS's most successful variety shows. Not only have many fans in Korea, but also around the world. Well, besides having a unique final mission, "Running Man" also has a myriad of super fun and funny games. Guaranteed, you will laugh until you cry while watching it. The "Running Man" players also made you laugh. The problem is all funny, really! Yoo Jae Seok, Haha, Kim Jong Kook, Song Ji Hyo, Lee Kwang Soo, Jeon Somin, Yang Se Chan, and Ji Seok Jin are ready to make your weekend even more colorful. Apart from being a regular "host", "Running Man" also often brings in guest stars, you know. Starting from Kpop idols to Hollywood movie players.
2. Knowing Brother
This variety show from JTBC has also succeeded in capturing the attention of fans of Korean shows around the world. Knowing Brother or Knowing Bros has a concept that is quite unique.This program is fronted by reliable presenter Kang Ho Dong and several other celebrities such as Kang Hee Chul, Seo Jang Hoon, Lee Sang Min, Min Kyung Hoon, Lee Soo Geun, and Kim Young Chul.
The setting that Knowing Bros took was also unusual, namely in the classroom. So, Kang Ho Dong, Hee Chul, and other celebrities take on the role of school students. Well, every episode of an idol or celebrity will come as a new school student.Simply put, everyone can ask each other regardless of age. Fresh, unscripted humor makes people watching variety shows addicted, right?
---
Read also: 6 Series to Binge-Watch on Roomies Movie Night
---
3. Happy Together
The show has been on air for more than 10 years (from 2001 to present). Not only that, but Happy Together also often invites guest stars who are on the rise or make comebacks, such as EXO, SNSD, Super Junior, and so on. The program, which is more focused on talk shows, has a duration of 90-95 minutes and has 2 segments since June this year, namely 'Happy Together Town' and 'Legendary Big Mouth'. These two segments are led by Yoo Jae-suk with their respective members, wherein 'Happy Together Town' contains members of the old Happy Together co-host, and 'Legendary Big Mouth' contains the new co-hosts (Ji Suk Jin, Kim Soo-yong, Kim Yong-man, and Park Soo-hong).
Even though it is only a talk show, because the two segments are guided by experienced comedians, it is certain that you will not be able to endure their jokes which will make you laugh out loud!
4. The Return of Superman
Do you like kids? Then you have to watch "The Return of Superman"! This reality show is about the life of celebrity dads that have to take care of their kids without their wife. Cameras are set up in their house to capture any funny and cute behaviors from the kids. Moreover, besides watching these cute kids, they often also invite famous guests such as Korean actors or members of K-pop groups!
5. Three Meals a Day
This variety show is one of Na Young-seok aka PD Na's programs, who are indeed good at making television programs successful. Each season stars three South Korean celebrities who are asked to live together in a mountain or beach village. Their job is to prepare breakfast, lunch, and dinner from scratch without modern equipment. Vegetables must be harvested by yourself. Tofu must be made of soybeans that are ground themselves. If they want to eat fish, they also have to fish themselves. Even the stove is also made from a traditional stove.
The simplicity of the cooking process, the expertise of the hosts in the kitchen, and the various hilarious misfortunes they have experienced are the main attractions of this variety show. From season one to five, Three Meals A Day has starred Lee Seo-jin, Eric Moon, Ok Taecyeon, Cha Seung-won, Park So-dam, and Yoo Hae-jin. A number of well-known celebrities also guested at this event. For example, Gong Hyo-jin, Lee Kwang-soo, Go Ara, and Park Shin-hye.
---
Read also: What Friends Series Has Taught Us About Flatsharing
---
6. 4 Wheeled Restaurant
Four Wheeled Restaurant or also known as Restaurant on Wheels has a similar concept to Youn's Kitchen. It's just that celebrities have to cook and sell food on food trucks.
The first season takes place in Thailand, starring Lee Min-woo (Shinhwa), Yeo Jin-goo, and Hong Seok-cheon as chefs. The second season takes place in China with celebrity chef Lee Yeon-bok as the main cook and Kim Kang-woo, Seo Eun-soo, and Heo Kyung-hwan as assistants. Currently, the program has reached its fourth season. Due to the Covid-19 pandemic that has hit the world, 4 Wheeled Restaurant has switched to South Korea with a different concept, namely a special food delivery restaurant.
7. 2 Days 1 Night Korean Variety Show
This show has aired from 2007 has changed their casts often, but it doesn't affect their rating! With the concept of introducing antimainstream tourist places in Korea, this KBS World's show is suitable for you who want to have a trip to South Korea. Besides showing cool places, "2 Days 1 Night" is also filled with many fun games that are entertaining to watch. So, if you run out of series to watch, you can watch this show. Guaranteed to make you laugh!
---
Read also: Scary Movies to Binge-Watch on Halloween
---
8. King of Masked Singer Korean Variety Show
To judge someone's voice, we should not look at the appearance so as not to be biased. So, "King of Mask Singer" has become a favorite singing competition for many people, including in Indonesia. In this event, celebrity singers will sing a song while wearing a mask. So, only votes were judged by the jury and the audience. You will also be amazed by the melodious voices of celebrity singers you don't even know. In addition, this music show that airs on MBC sometimes invites Hollywood film players, for example Ryan Reynolds, who comes to promote his latest film.
9. I Can See Your Voice Korean Variety Show
Apart from "King of Mask Singer", a variety show with a fun singing competition concept is "I Can See Your Voice". Because of the success of this variety show in Korea, this program was also made an Indonesian version by one of our private television channels, you know.
10. New Journey To The West
New Journey To The West is a fun variety show. This variety show tells the story of a group of characters who are looking for 7 dragon balls. Variety show which is often abbreviated NJTW has run until season 5. You will see the excitement of Lee so-Geun with his friends here.
11. Amazing Saturday
Amazing Saturday is a variety show that aired since 2018 until now. This event is about two events, namely Doremi Market and Prison Life of Fools. You'll see the excitement of the cast of Shin Dong-yup, Kim Dong-Hyun, Moon Se-Yoon, Park Na-Rae, Taeyeon, Nucksal, and P.O, with Boom with various other guests stars.
12. The Game Caterers
The Game Caterers is a variety show where some people visit someone at their workplace. The hosts visited guest stars in the form of actresses, actors, and Idols at their workplaces. Some episodes featured Jennie Blackpink as a guest star, the cast of The Silent Sea, and the cast of Vincenzo.
---
So, these are our recommendations for the best Korean variety shows. Watching funny Korean variety shows is a fun activity to fill up your spare time. Besides being able to entertain, it can also be used for relaxation. Starting from unique singing competition shows to reality shows where there are lots of cute and adorable kids. So, ready to laugh so hard by Korean variety shows? Which one do you want to watch first?