Atma Jaya Catholic University of Indonesia (also known as "Atma Jaya University") is an institute of higher learning in Jakarta, Indonesia, which was founded by Atma Jaya Foundation on 1 June 1960. They have several college complexes in Jakarta, with the main campus in Semanggi area, and the other campus in Pluit, and Serpong Damai, Tangerang. Whenever there's a university in an area, chances are you're going to find many rumah kost surrounding it. For this particular pick, we decided to focus on finding many choices of rumah kost near the main campus of Atmajaya, the one in Semanggi. We hope to find you choose the best home for you to rest after your university days.
Kost Near Atma Jaya University with Budget Under 3 Million
1. Tashi Deley
The Tashi Deley kost is another choice for you near Atma Jaya University, with comfortable rooms and good prices. Located in this well-strategized place, this housing is very convenient for students and workers, especially at great affordable prices. This housing is located near the WTC 2 Tower, so you can be sure to find this kost easily even when you're first looking for it. Moreover, there are also many restaurants, mini-markets and shopping malls around, so you won't ever feel bored if you don't have any school work to keep you busy.
Address: Jl. Bek Murad No. 30, Karet Kuningan, Setiabudi, South Jakarta
Contact: 0818218565
Price: Start From Rp 2.500.000,00/month
Facilities:
Fully furnished room
AC
Water Heater
Kitchen
Function Room
TV
24-hour Security With CCTV
Fridge
Washing Machine
2. Aras Lodge
Next is Kost Aras Lodge @Buyan that also one of the kost in the Semanggi area which has access to several main roads in the Jakarta area. The distance from the Aras Lodge Kost to the Atma Jaya main campus is only about 3.7 km, which you can take about 15 minutes of driving. Around the kost, you can find parks, houses of worship, laundry services, minimarkets, restaurants or cafes, and traditional markets.
This kost accepts male and female residents, especially for students. In addition, each room provided is fully furnished, including wifi and AC. As for shared facilities, there is a kitchen and a living room that residents can use. This kost is a good choice, especially for Atma Jaya students because of its facilities and comfortable atmosphere.
Address: Jl. Lake Buyan No. 91, Rt. 008/003, Blok F2, Bendungan Hilir, Jakarta.
Contact: 0878-0013-4013
Price: Starting from IDR 2,000,000.00 / month
Facilities:
Fully furnished
AC 
Wi-Fi
TV
Work desk
Bathroom and toilet
Water heater
CCTV
Shared Pantry
Living room
Motorcycle parking
3. Sultan Agung 26
Kost Sultan Agung 26 is also a kost located in Semanggi which has quite complete facilities. The rooms it offers are also very comfortable equipped with premium quality furniture. The facilities provided include Wifi, TV, and also a private bathroom. What's more, residents will also get laundry services.
The location is very strategic and easily accessible. If you are an Atma Jaya student, this kost is located quite close to the campus which is only 3.5 km away. In addition, being in a strategic area makes travel access very easy. There is no need to worry about the surrounding facilities, because near Sultan Agung 26 there are minimarkets, bus stops, hospitals and shopping centers that can facilitate your daily life.
Address: Jl. Sultan Agung No.26, RT.1 / RW.1, Guntur, Setiabudi District, South Jakarta City, Special Capital Region of Jakarta 12980
Phone Number: 0857-1406-9950
Price: Starting from Rp. 2,000,000.00 / month
Facilities:
Water heater
Private bathroom
Fully furnished
Wifi
TV
Laundry
Small refrigerator
Parking area
Dispenser
Living room
Shared kitchen
Washing area
You might also want to read: Kost Exclusive Setiabudi
Kost Near Atma Jaya University with Budget Above 5 Million
1. Golden Mansion
Next, we have Kost Golden Mansion that one of the exclusive kost located in the Karet Kuningan area. This kost is only 2.2 km from the Atma Jaya campus. What's more, the area around the Golden Mansion Kost is the central business district. There are many conveniences that you can get, such as access to shopping and entertainment centers, offices, and also culinary centers.
The facilities provided by each room include a refrigerator, AC, Wifi access, TV, pantry, and private bathroom. Further, residents will also get laundry services and regular room cleaning.
Address: Jl. Karet Pedurenan Gang Blumbang No.90A Karet Kuningan, Setiabudi, South Jakarta
Contact: 085719001329
Price: Starting from Rp. 3.500.000 / month
Facilities:
Fully furnished
Pantry
Fridge
Parking area
CCTV 24 hours
AC
Wifi
TV
Room cleaning service
Laundry
Private bathroom
2. Cheetah Residence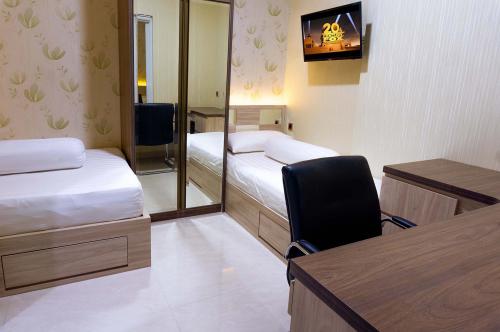 Cheetah Residence is the first choice on our list. Not only is this rumah kost very close to the Atma Jaya University, but it also has easy access to the Gatot Subroto, Kuningan, Sudirman, and Semanggi area. If you have private transportation like a car or a motorcycle, this is a good thing for you because it's easy to go anywhere. Being in this area also makes it a good housing for employees who work in those business districts. It also means that you are very close to several shopping malls in South Jakarta, such as Lotte Shopping  Avenue, Kuningan City Mall, ITC Ambassador, Planet Hollywood, and the health center RS Siloam, RS Jakarta, and MMC.
Address: Jl. Guru Mughni No. 10 (Sebelah Parkiran Belakang Gedung Mitra / Planet Hollywood) Karet Semanggi, Setiabudi, Kuningan – South Jakarta 12930
Contact: 081806984718 / 021-5262166 / cheetah.indo@gmail.com
Price: Start From Rp 3.000.000,00/month
Facilities:
Fully furnished room
AC
Water Heater
Kitchen
Function Room
TV
24-hour Security With CCTV
Parking Space
3. Griya Amartha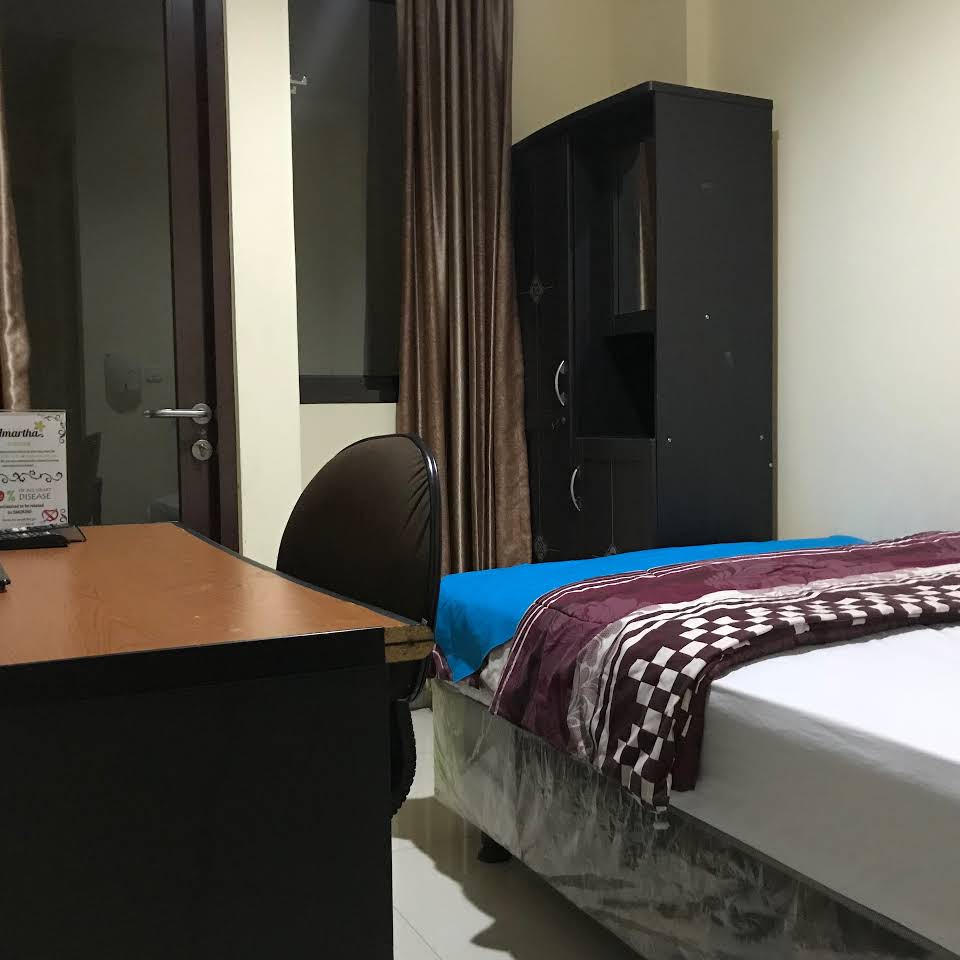 Homestay Griya Amartha is one of the kost located close to Atma Jaya campus that is in top quality for their residents. Usually, these rumah kost are newly built (at least the last 10 years) so the facilities and building is still in great condition and are taken care of very carefully by the owners. The other nice perk of living here is how near it is from Stasiun MRT Setiabudi Astra, so you can travel to many areas in Jakarta easily. Popular areas like these make it easy for you to order online ojek and online taxis as well, because many people are familiar with the area. With great accessibility to your campus and to hang out on the weekends, living in this rumah kost is one of the best possible choices for you.
Address: Jalan Setiabudi Tengah #3, Setiabudi, South Jakarta, DKI Jakarta, 12910, Indonesia
Contact: (021) 5251926, 0812-3407-345, 0812-3413-720
Price: Rp 3.500.000 – Rp 4.000.000 per month
Facilities:
Fully furnished room
AC
Water Heater
Kitchen
Function Room
TV
24-hour Security With CCTV
Fridge
Washing Machine
Basement Parking
Being a student in university requires hard work for a long time. Getting a great college life also means that you have to get your rest in a comfortable home and a safe environment. With these picks that we've gathered for you, we hope to give you an idea of how much good quality rumah kost are out there near universities for you to find. We think it's wouldn't take too long until you find the best place for your new home.
Read more: Kost in Semanggi