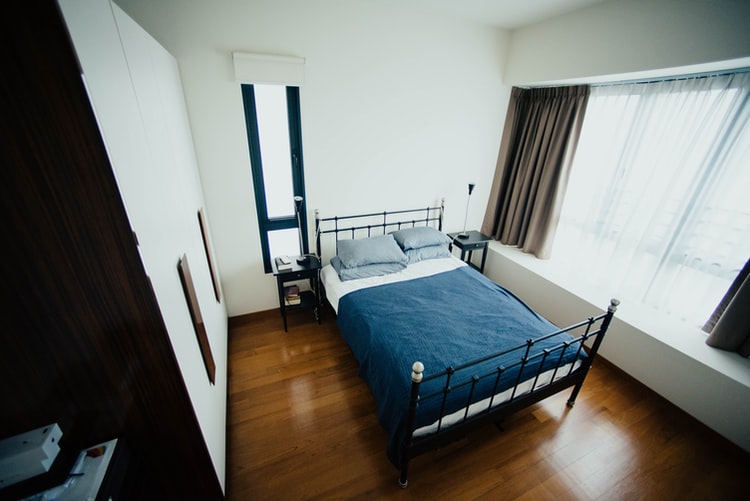 Talking about Tangerang, we will never run out of topics. There are many things to do in this area. Tangerang is located in the province of Banten and is the third largest urban area in Jabodetabek. The area is quite ideal because it is not too noisy with the hustle and bustle of the city, and there are various necessities that can be found here. If you are currently studying or working and have to stay in Tangerang, we have recommendations for kost in Tangerang that you can live in.
List of Kosts in Tangerang Based on Location
Kost in Karawaci Tangerang
Karawaci is one of the sub-districts in Tangerang, formerly known as Cimone. In this sub-district there is Lippo Village complex. This area has easy public transportation access. The area is very developed because it has several shopping centers. If you are looking for a kost in Karawaci, Tangerang, here is our recommendation for you:
1. Mirzakos
Mirzakos Karawaci has a strategic location. Close to ATM centers, cafes, restaurants, gyms, UPH campus, schools, minimarkets, clinics, salons, and even malls! Transportation access is also easy, apart from online transportation you can take public transportation or buses. This kost also has a housekeeper to clean the room and even toilets.
Address: Perumahan Taman Ubud Estate 5 No. 61 Lippo Karawaci.
Phone Number: +6285781938991
Price: Rp 1,500,000.00 / month
Facilities:
WiFi
AC
Fully furnished
Living room
Kitchen
Fridge
Dispenser
Parking area
Terrace
2. Three J Living
There are 3 types of kost from the same management, which are Three J Home, Three J Residence, and Three J Living. Each venue provides a large living room, a post box and a large amount of space. Here you will get private TV facilities, cleaning service, and laundry service. No need to worry anymore, laundry piles up if you are busy packing. If you choose to stay at Three J Living, you can also choose premium facilities such as a refrigerator in the room and a queen bed. Three J Properties gives you a place to live where you feel right at home at a competitive price.
Address: Permata Kasih II C7 / 1 & 36, Lippo Village, Karawaci
Phone Number: +628179989984, +622130067978
Price: Rp. 3,500,000.00 / month
Facilities:
Cleaning service
Fully furnished
Laundry Service
AC
TV
Private bathroom
Free Wi-Fi
CCTV
Indoor refrigerator
Kitchen
Free electricity
Read also: Kost in Karawaci
Kost Gading Serpong Tangerang
Gading Serpong is a residential area located in Kelapa Dua. This area was later developed by Summarecon Agung and Paramount Land to become a residential area with a more developed environment. Kawawsan has quite a number of quality schools and campuses, shopping centers, and recreational parks. Gading Serpong also has direct access to the Jakarta – Merak toll road and the Jakarta Outer Ring Road toll road. The following are recommendations if you are looking for a kost in Gading Serpong, Tangerang.
1. Treasure Kost
As the name suggests, this Treasure Kost really reflects a treasure where you can find comfort and a conducive environment. This kost has a private bathroom equipped with a water heater. This room is also equipped with air conditioning and also a wifi connection. In addition, you can also get facilities at this kost like a star hotel. They also complement the room furniture such as tables, cabinets, and chairs. There is a complete kitchen on each floor of the building for you to cook food.
Address: Jl. Curug Sangereng rt / rw 02/05, Curug Sangereng, Kelapa Dua, Tangerang. Gading Serpong
Phone Number: +628161988068
Price: Rp. 1,450,000 / month
Facilities:Private
Fully Furnished
Private bathroom with
AC
Water heater
Living room
Kitchen
Fridge
Dispenser
TV
Wash room
Parking area
2. Wiens Residence
Kost Wiens Residence is a very strategic location because it is close to Summarecon Mall Serpong, Tangerang. This kost area is easy to reach because it is traversed by public transportation. Even though it is simple, the facilities offered are quite complete so that you will still feel comfortable living in this kost.
Address: Jl. Kelapa Gading Selatan Blok AH 10 No.11-12
(Next to Mall SMS) Gading Serpong Tangerang.
Phone Number: 085100234021
Price: Rp. 950,000 – Rp. 1,350,000
Facilities:
Wardrobe
Table
Bed
Wi-Fi
Parking
Security 24 hours
Refrigerator
Bathroom with water heater
Also check: Kost in Gading Serpong
Kost Alam Sutera Tangerang
Alam Sutera is a residential area developed by PT Alam Sutera Realty in the Tangerang area. The infrastructure in this area is built with high quality. Moreover, this area was developed to meet the various needs of residents ranging from essential needs, education, sports areas, hospitals, and places of worship. The following is the recommendation for kost in Alam Sutera, Tangerang.
1. Adhitthana Residence
Kost Adhittana Residence is a kost located in Alam Sutera offering kost facilities equivalent to an apartment. The location is very strategic, residents just need to walk for 5 minutes to Alam Sutera Mall and the Binus campus. This kost not only offers complete facilities but also of excellent quality. If you are looking for a kost in the Tangerang area or precisely in Alam Sutera, this kost is highly recommended.
Address: Jl. KH Dero, RT.001 / RW.003, Panunggangan, Kec. Pinang, Kota Tangerang, Banten 15143
Phone Number: 0822-9868-2811
Price: Rp. 2,500,000
Facilities:
Parking Area
Kitchen
Dining
AC
Private bathroom
Wifi
Fully Furnished
Type of Kost
From hundreds or maybe even thousands of kosts available in Tangerang, there are several types of kosts that might be able to adjust to your standard of comfort. Like a kost which doesn't have strict rules, such as 24-hour access, free to invite guests. Also there are kost only for men, only for women, and for both.
Kost With Non-Strict Rules
Kost with non-strict rules means the residents have 24 hour access and more freedom. Usually, several kost have time limits to access the kost gate. The purpose is to maintain the convenience of other residents. In addition, at a certain kost, there is a rule that limit the number of guests that can visit and even limits the gender of the guest. If you feel uncomfortable and don't fit with those rules, you might be looking for a kost with non-strict rules. The following are our recommendations of non-strict kost in Tangerang:
1. Cengkareng Transit
This Kost Cengkareng Transit is located in an area close to Soekarno-Hatta Airport. It is very convenient for employees who work in this area or at the airport. This kost also provides a shuttle bus service to the airport once a day. The facilities at this kost are equipped with Wifi .
Address: Jl. Adisucipto Km. 2.5 Ex. Pajang, Kec. Benda, Tangerang City
Phone number: 085213880707
Price: Rp 2,000,000
Facilities:
Bed
TV
Wardrobe
Private
Free Wi-Fi
Bathroom
Water heater
2. Pradotos Mansion
Kost Pradotos Mansion is a free kost located in Lippo Karawaci, Tangerang. The atmosphere of this kost is very clean, comfortable, and quiet. Access roads in this kost area can be passed by public transportation so that it will greatly facilitate residents. The room provided is quite spacious, measuring 4 x 4 meters. What's more, this kost has quite complete facilities. The room has been furnished with a private bathroom.
Address: Jl. Newton Road No. 27, Lincoln Drive Dormitory, Lippo Karawaci – Tangerang
Phone: 081807166079
Price: Rp 2,000,000
Facilities:
AC
TV
Wi-Fi
Hot water
CCTV
Private bathroom
Laundry
Locker
Fully Furnished
Kost For Men
This kosts are only accept male to become resident of kost. The existence of this type of kost for men only, is to provide extra comfort and freedom for residents with the male gender. If you are searching kost for men in Tangerang, here are our recommendations:
1. 4SD Dormitory
The 4Sd Dormitory provides a good student room at a very affordable price. This hostel is for men only. Complete, clean, quiet, safe and friendly. The dorms are located about a few kilometers from the UPH Medical Faculty and also about 5 km from the UPH main campus. If you are looking for a good learning environment, 4SD is one of your best choices. Luxurious appearance like home. The room is equipped with a bed set (bed cover, pillow and pillow), table & chairs, mirror, and wardrobe.
Address: Jl. Newton 32-36, Lippo Karawaci, Tangerang
Phone Number: +622133999790, +622133999791
Price: Starting from Rp. 2.000.000
Facilities:
Fully furnished
Private bathroom
AC
Free wifi
24 hours CCTV
Water dispenser and freezer per floor
Free laundry maximum 2 sets per day
Hot water
Large parking area
TV channels
Small carpet
2. Cozy Residence
One of the men-only kost is located near UMN and Pradita Campus, Summarecon Mall Serpong, and SDC Mall only 15 minutes away. Cozy Residence offers comfort and sleep quality because the mattress is soft and comfortable. In addition, you don't need to worry about laundry because this services are provided for 15 kg per month (clothes only).
Address: Jl. Allogio Barat VII No. 50, Cluster Allogio Summarecon Serpong, Gading Serpong – Tangerang
Phone Number: +6281908450006 (Whatsapp), +6285781592192
Price: IDR 1,800,000 / month
Facilities:
Fully furnished
AC
LED TV
Wifi
CCTV
KitchenParking
Fridge
area
Kost For Women
This type of kost is only accepts women to be the residents. The existence of this kind of kost is to accommodate certain people who feel uncomfortable and insecure when living near the opposite gender. The following are our recommendations kost in Tangerang only for women:
The Holan Kost
Located near to UMN and Surya University, it is suitable for you as a student on that campus. There are minimarkets, restaurants, and malls around the area, such as Summarecon Mall Serpong, AEON, Giant, and Hypermart. Each room is equipped with 24 LED TV, and the room measures 3 x 2.5 m. This room has AC and also has its own bathroom. Every month, you can get a laundry voucher worth 12 kg. Since Holan Kost is only available for women, it is forbidden to bring male guests into the kost.
Address: Jl. Scientia Square, Ruko Newton Barat No. 36, Gading Serpong, Tangerang
Phone Number: +628192291992
Price: Rp 2,000,000 / month
Facilities:
Fully Furnished
AC
Private bathroom
LED TV
Wi-Fi
Refrigerator
Electric stove
Dining room
24 hour CCTV
Water heater
2. 911 Homes
911 Home is a type of mixed kost that is clean, safe, and comfortable to live in Tangerang. It's hard to believe to find a place that has such a friendly price, with the quality and facilities of an apartment. In this place, it is very easy to maintain a healthy lifestyle, because in the cluster where the kost is located, there is a swimming pool and a basketball court. Each room is fully furnished with a wifi connection to complete any task or work. There are minimarkets as well as several canteens nearby, so finding your needs is not difficult.
Address: Allogio Timur 1 No. 9, Cluster Allogio, Gading Serpong, Tangerang
Phone Number: +6281575091995
Price: IDR 1,400,000 / month
Facilities:
Fully furnished
AC
TV
Laundry
Kitchen
Wifi
Water heater
CCTV
Dispenser
Refrigerator
Middle Room
Parking Area
3. Mixed Kost
If you are a person who does not care about the gender category of the kost, or feel that it is okay to live side by side with the opposite sex you do not know, you might be able to choose this type of kost. The following is recommendation if you are in need of mixed kosts in Tangerang:
1. Alesha House
Alesha House is a kost located in Vanya Park, BSD City. The facilities in this Alesha house are very complete, including swimming, wifi, and AC. The location of this kost is also close to restaurants, Prasetya Mulya University, Multimedia Nusantara University (UMN), ICE BSD, AEON, IPEKA BSD, Jakarta Nanyang School.
Address: Alesha House, Yellow 7 No 8, Vanya Park, Pagedangan, BSD, Serpong, Tangerang, Banten
Phone Number: +6281322090808
Price: starting from Rp2,500,000.00 / month → 2.5 mx 3 m
Facilities:
AC
Water heater
Internet
Refrigerator
Dispenser
Pantry
Cleaning equipment
Complete furniture Large
vehicle parking
Golf Car for internal transport
Shuttle bus Vanya Park-AEON-ICE
Security & CCTV 24 hours
Swimming pool
Located near Vanya lake
List of Kost in Tangerang Based on Budget
Want to save budget for temporary housing costs? or do you prioritize premium facilities for comfort and don't have too much trouble with price? Following are the recommendations for kost in Tangerang based on budget:
Affordable Kost in Tangerang Budget Under 2 Million
The area of ​​Tangerang has various residential classes. If you are looking for a kost with a budget of under 2million with comfortable facilities, here are our recommendations:
Kost BSD Residence 1
This kost has very complete facilities for a very affordable price. The home atmosphere provided is also clean and comfortable. In addition to complete furniture, this kost area also has a swimming pool that can be used by residents. The location is also strategic, close to Binus International School BSD, offices, restaurants and shopping centers.
Address: Jl. Kelapa Gading Selatan Blok AH 10 No.11-12
(Next to Mall SMS) Gading Serpong Tangerang.
Phone Number: 085100234021
Price: Rp. 950,000 – Rp. 1,350,000
Facilities:
Private Bathroom
Wi-Fi
TV
AC
Desk & Wardrobe
Wash clothes.
Shared kitchen
Drinking water
Fridge
Jogging track
Garden
Pool.
Harapan Mandiri
Kost Karapan Mandiri is located in the Ciledug area, Tangerang. No need to worry about fulfilling your needst, there are several minimarkets nearby that sell groceries. The location of this kost is also close to the ATM Center. It is suitable for those of you who need to rent temporary housing in the form of kost in the Ciledug area, Tangerang.
Address: Jl. Dr. Cipto Mangunkusumo No. 36
Telephone Number: 089666584639
Price: Rp. 1.250.000, – (AC)
Facilities:
Include Electricity
AC
Wardrobe
Tables and chairs
Beds
Mirrors
Private bathroom
Free Wifi24 hours
Kost Exclusive in Tangerang with Budget 2 – 5 Million
If you have a budget that is more to the cost a place to live in Tangerang and want premium facilities that are very comfortable, you might be interested in an exclusive kost. Exclusive kost is a kost that provides high-quality and very complete facilities. Usually this kost has special services such as a 24-hour reception, cleaning service, housekeeper, and laundry. Following are recommendations for Tangerang exclusive kost at a price of 2 – 5 million.
M-Suite
M Suites is one of the luxurious residences in Karawaci. Built in a residential area located 15 minutes from Pelita Harapan University which is called the Permata area. This kost can accept women and men. The area around the kost is quite cool and quiet so it is very comfortable to stay, rental fees include laundry, cleaning service, fully furnished rooms, swimming pool, pantry shared, private bathroom, and for security, fingerprint access is provided for each resident.
Address: Taman Permata Milenium, block B2 37, Binong, Lippo Karawaci, Tangerang, Banten 15810, Indonesia
Phone Number: (+6221) 55658606
Price: Rp 4,000,000.00 per month
Facilities:
Parking area
Swimming pool
Gym room
Wifi
Living Room
Kitchen
Cable TV
AC
Refrigerator
Water heater
Laundry 3 sets / day
CCTV
Acc fingerprint
Have an Extra Budget? You Can Try Living in a Shared Apartment!
What is a shared apartment?
A shared apartment is an apartment unit that is rented jointly by sharing space and rental fees with other people. You can feel the guaranteed facilities, services and security of an apartment at a lower price. Even though you are in one apartment space, you can get full privacy with each room. You also have the right to choose a roommate to live with, either old friends, relatives, or new people by getting to know them first. The shared apartment is perfect for those who don't want to live alone.
What are the advantages of a shared apartment?
Most of the kosts can only be occupied by one person per room. Maybe this is suitable for those of you who like solitude. Apartments are also more private. It's difficult to interact with neighbors around the room. However, if you live in a shared apartment, you won't feel lonely with roommates. Lots of fun things to do together
Of course, the cost of living can be more efficient. If you live in a kost, maybe you have to bear everything you need. If you live in a shared apartment, you can share payments for utilities, household needs such as cleaning tools, or staples.
Besides the presence of cleaning services or housekeeper, living in an apartment with roommates will make it easier to complete homework. So, you don't need to feel overwhelmed by yourself to clean up your living space.
Security and utilities guaranteed.
If you live in an apartment, safety and utility are guaranteed. If there are problems or problems in this case, there is a management or apartment manager who can help solve the problem. Apartment access also tends to be free for 24 hours. Even if you live in an apartment, facility maintenance is carried out by the kost manager.
Residents' facilities are more complete.
Facilities in apartments are usually very complete. These facilities may not even be owned by an exclusive kost. If you live in an apartment, you can enjoy the shared facilities available, such as a gym, swimming pool, meeting rooms. With a budget that is more or less the same as an exclusive kost, you can get various facilities.
How do I rent a shared apartment in Tangerang?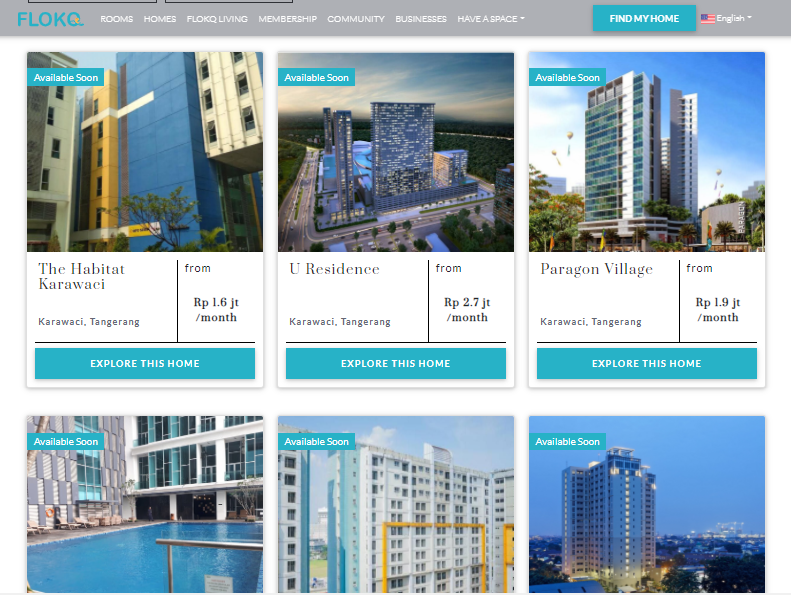 If you want to rent a kost room in an apartment, or live in a shared apartment at a low price, you can visit the website Flokq. There are various choices of apartment rooms that can be rented. Generally, apartment rentals are charged on an annual basis. With Flokq, it can help you to rent a room in the apartment that you want paid per month. With a budget under 5 million rupiah, you can have it!