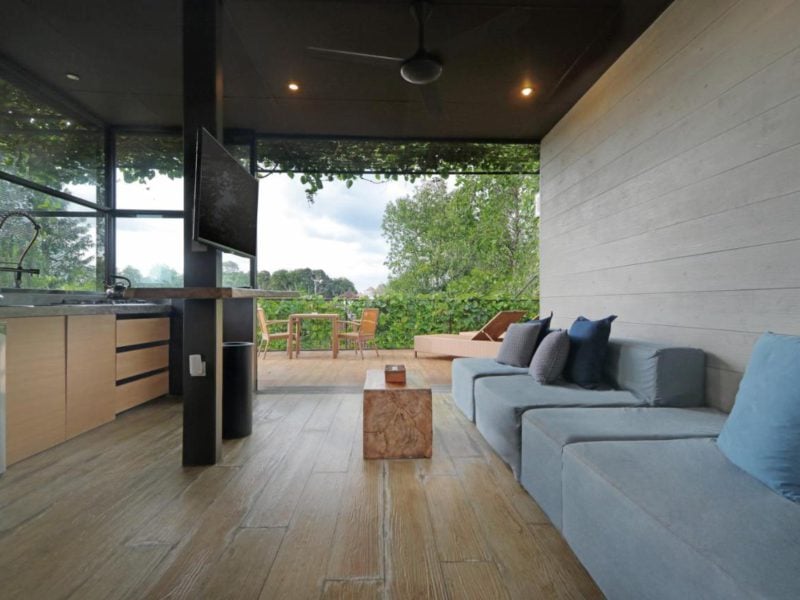 For executives or workers from other cities, choosing a comfortable temporary residence sometimes requires a lot of consideration. Besides the great location from the office, many of us want to stay in a 'kost' or boarding house and looking at the view from the balcony.
Living in a kost with a balcony will give you extra comfort. You see, you can relax while enjoying the view of the city around the kost. In addition, you can use the balcony space as a relaxing space or put things in.
Well, if you're interested in living in a kost with balcony in Jakarta, check out the following article for recommendations. Let's go!!!
Kost with Balcony in the Apartment
Currently, there are many apartments that can be paid for monthly. In fact, many apartments allow renting with a minimum of 1 month of staying. This will make it easier for those of you who work temporarily in other cities. Just like renting a regular kost, isn't it?
This kost with a balcony is located in North Jakarta and stands in a quite strategic area. Here, you can easily access the Jakarta Inner Ring Road toll, so it is not difficult to reach other areas around Jakarta.
There are three types of rooms that you can choose for boarding in this apartment. Studio-type units are available for those of you who want to live in a small and simple room. In addition, there are also 1BR, 2BR, and 3BR units also with balconies and complete furniture. So you don't have to bother moving by carrying a lot of stuff, right?
Pluit Sea View Apartment is located close to many entertainment places such as malls and tourist attractions. Some of them are Emporium Pluit, Pluit Village, Taman Impian Jaya Ancol, and Holywings. Public transportation is also easily accessible from the apartment, such as the TransJakarta bus stop the Luar Batang Mosque, and the Jakarta Kota KRL Station.
Prices start from IDR 2.9 million/month
Are you thinking about boarding alone or with friends? Well, this apartment might suit you. Menara Cawang Apartment offers units that can be rented monthly with a balcony and are fully furnished, ranging from studio type, 1BR, 2BR, or 3BR.
The kost, which is located in Cawang, East Jakarta, can be reached from various parts of the city of Jakarta. This is because the apartment is close to protocol roads such as MT Haryono, Jakarta Inner Ring Road, Jagorawi, Tebet, and others.
Not only that, but you also have many public transportation options around the apartment. So, it is easy for you to travel to the office or other places.
Prices start from IDR 2.7 million/month
Looking for a kost with a balcony in West Jakarta? You should add Puri Parkview to your wishlist. This apartment provides complete facilities and a strategic location that you can rent per month at an affordable price.
Moreover, the apartment is located quite close to supermarkets and restaurants. Within 1 km, there is Ranch Market Pesanggrahan and Food Hall to fulfill your daily needs. Other supermarkets that you can find are Hypermart and Carrefour in Puri Indah (15 minutes).
If you stay here, you will easily get to the airport. The apartment is only 2.5 km from the Jakarta-Tangerang toll gate. This toll road also makes it easier for those of you who have to travel outside the city.
Prices start from IDR 3 million/month
This kost allows you to enjoy many interesting facilities, including a balcony with a view of Ragunan, South Jakarta. Kebagusan City Apartment is an environmentally friendly residence with easy access to Jalan TB Simatupang and Jakarta Inner Ring Road. Surely this is the right choice for those who work in the South Jakarta area.
Furthermore, some of the facilities that you can enjoy when boarding here are a swimming pool, jogging track, ATM center, mini market, and others. If you don't have time to wash your own clothes, there is a laundry service here.
Prices start from IDR 4.5 million/month
Here, you can get easy access to public transportation and many entertainment options. Apart from having many cafes and restaurants, the apartment is also close to tourist attractions and museums.
This apartment is the right choice for those of you who are looking for a kost with a balcony in the TB Simatupang area. Plus, the environment is comfortable and quiet which is suitable for taking a rest.
Prices start from IDR 4.8 million/month
Exclusive Kost with a Balcony
Apart from 'kost' in apartments, now there are many exclusive kost(s) that offer balcony facilities. Of course, this is a plus point because you can stay comfortably while relaxing on a private balcony.
The following are five 'kost exclusive' with balconies that are suitable for workers.
1. SCBD Homestay Kost Exclusive
As the name implies, this kost is located in the Sudirman business center area. Suitable for those of you who don't want to rent an apartment but want to stay in with premium facilities.
This kost with a balcony has many advantages that make you feel like you are staying at home. In addition to its location which is very close to offices, the boarding rooms here are quite spacious and have complete furniture. Don't worry about security, because there are lots of CCTV in the building.
Prices start from IDR 3.5 million/month
2. The Legacy Residence Kost Exclusive
Located in the Pondok Indah area, this kost is suitable for those of you who have a lot of activities in the South Jakarta area. The Legacy Residence not only offers comfortable housing and a quiet atmosphere but also boarding rooms equipped with balconies.
This kost is only about 800 meters from Pondok Indah Mall. Plus, there are many facilities that make you feel at home in the kost, such as Wi-Fi connection, shared kitchen, work desk, and work lamp, and also a large parking area.
Prices start from IDR 4 million/month
3. Marrakesh Inn Kost Exclusive
This kost at Bendungan Hilir is equipped with complete furniture and a balcony in each room. You don't need to worry if you have to work from a kost, because there is a Wi-Fi signal and AC.
Additionally, Marrakesh Inn provides laundry facilities, a dining area, and a swimming pool. If you are too lazy to prepare food, there is catering that residents can order.
Prices start from IDR 5.75 million/month
4. Yankties Residence Kost Exclusive
Want to live in a kost that has five-star hotel facilities? Yankties Residence is one of the most famous kost(s) in South Jakarta at a friendly price.
This kost with a balcony on the second floor is equipped with many luxurious facilities, a shared kitchen, a luxurious dining room, and a large swimming pool. In addition, the Yankties Residence kost is located in an elite residential area that is relatively quiet.
Prices start from IDR 3.5 million/month
---
That's 9 most(s) with balconies that can be your reference. Are you planning on renting an apartment or kost in Jakarta? Flokq has many recommendations on the website. Come on, check here!