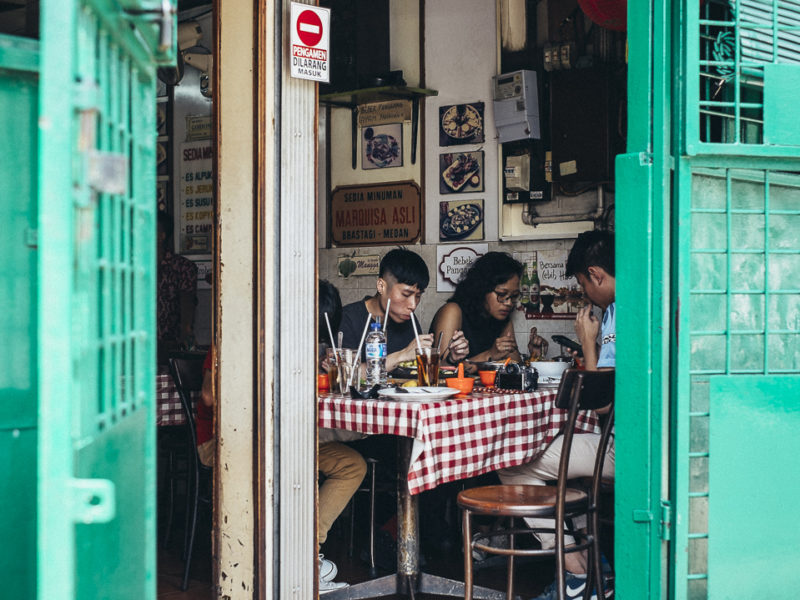 As the capital city of Indonesia, Jakarta has many places to eat, from traditional food with hereditary recipes to modern and contemporary food. However, even though there are many hits places to eat today, in Jakarta, there are also many legendary places to eat or culinary delights that have been around for decades.
No less famous than modern restaurants, these street food and restaurants have become legendary culinary delights in Jakarta. Even though it has been established for decades, this legendary culinary delicacy still maintains its taste, uniqueness, and uniqueness of their food menu so that it is always crowded with buyers ranging from local residents to tourists.
Legendary Food in Central Jakarta
1. Ragusa, Gambir (since 1932)
Located on Jl. Veteran I No. 10, Gambir, this legendary ice cream place is definitely known to the people of Jakarta. Ragusa is one of the most legendary places to eat in Jakarta. Open every day from 10.00 – 22.00, this ice cream place that was founded in 1932 is timeless. The design of the place is thick with the atmosphere of the past, starting from the exterior, interior, to the furniture that is owned.
Ragusa offers a classic ice cream menu from ancient times. As for the menu types, they have four types of ice cream to choose from: regular, premium, mixed, and fancy flavored. Starting from Rp.15,000.00, all you have to do is choose the menu you like, pay, and it will be served immediately. Confused about what to order? One of the unique ice cream menus is Spaghetti Ice Cream.
2. Soto Betawi H. Ma'ruf, Cikini (since 1940)
Established since the colonial era, Soto Betawi H. Ma'ruf deserves to be included in the list of legendary places to eat in Jakarta. In fact, before having a homey place like now, the founder had time to go around selling Soto Betawi on his shoulders, you know, before finally becoming popular and lasting a long time. Located on Jl. Pramuka No. 64, Cikini, this Jakarta's legendary culinary delights open every day from 10.00 – 22.00.
The Soto Betawi served here has its own flavor. The broth is darker and contains a lot of ingredients in it. The taste is impressive once you get into your mouth. With prices starting from IDR 38,000 per portion, you must try this Betawi specialty if you are in Jakarta!
3. Restoran Trio, Gondangdia (since 1947)
Has the name "restaurant", but this legendary restaurant in Jakarta that was founded in 1947 does not offer an Instagrammable restaurant interior design. However, the restaurant, which is open daily from 10.00 – 1.00 and 17.00 – 21.30, serves culinary dishes with guaranteed delicious and special flavors.
Located on Jl. RP. Soeroso No. 29A, Gondangdia, this restaurant serves Chinese food with Cantonese flavors. In total there are more than 200 food menus that they offer, with 42 food menus that have a "recommendation" sign for customers who are confused about what to order, such as chicken nan king, swallow soup, and gohiong.
If you are interested in trying the general menu with a different taste from the others, you can order a variety of noodle menus, wud kee chicken, or prawn spring rolls. Well, what about the price? To eat at Trio Restaurant, the average price is IDR 350,000 for 2 people. The foods are a bit pricey, but it's worth the taste!
4. Bakmi Gang Kelinci, Pasar Baru (since 1957)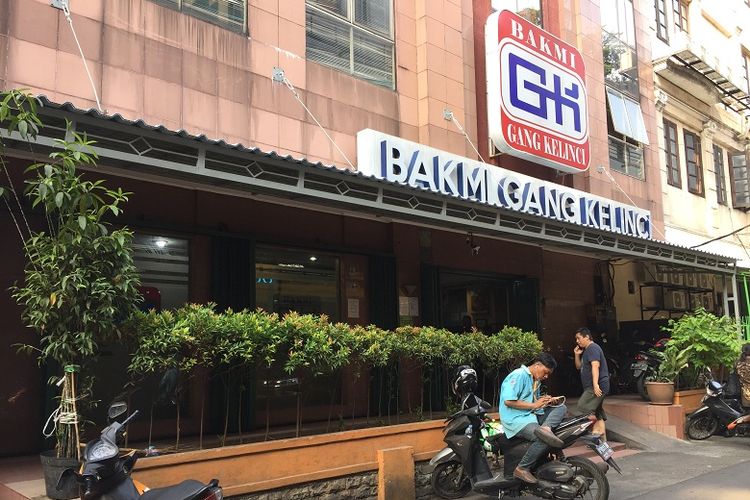 Established in 1957, Bakmi Gang Kelinci is one of the legendary places to eat in Jakarta. This noodle place is located on Jl. Kelinci Raya No. 1-3, Pasar Baru. The popularity of Bakmi Gang Kelinci has survived from the past until today, you know. Its popularity can be seen from the crowd of visitors who fill every seat every day, from 7.00 – 21.00 hours.
As the name implies, this restaurant offers a wide variety of noodle menus. You can choose the noodle dishes according to your preferences or based on their recommendation choices. However, their favorite menu is their mushroom chicken noodles. With prices starting from IDR 25,000.00, you can enjoy a serving of noodles here!
5. Nasi Goreng Kambing Kebon Sirih, Menteng (since 1958)
Successfully maintaining its existence and taste for approximately 60 years, Nasi Goreng Kambing Kebon Sirih deserves to be included in the list of legendary food delights in Jakarta. This legendary culinary is one of the favorites among culinary lovers in Indonesia, as it can be seen from the number of visitors.
As the name implies, this famous culinary is located on Jl. Kebon Sirih Raya, Menteng. Nasi Goreng Kebon Sirih is open every day, from 17.00 – 2.00 in the morning. With prices starting from IDR 30,000 per portion, you can already enjoy delicious goat fried rice with special spices. It really makes you satisfied to eat it!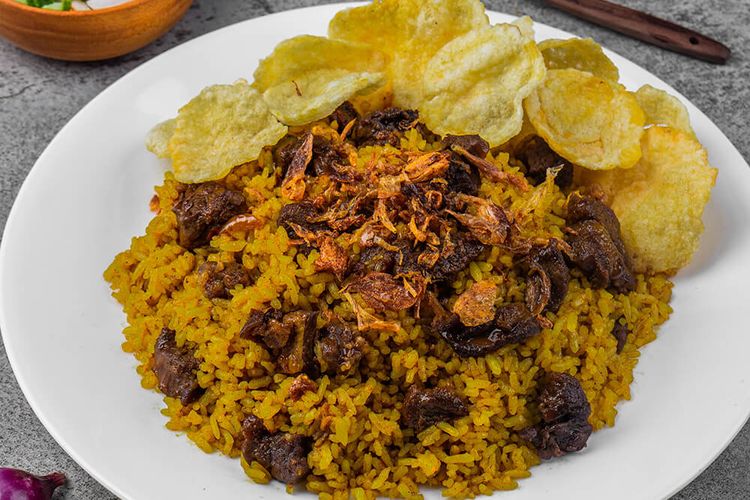 The choice of herbs and spices such as cardamom, turmeric, pepper, lemongrass, and others is one of the keys to the delicious taste of goat fried rice. In addition, the selection of rice and cooking techniques that make goat meat smell good also play an important role in this dish. Must try!
6. Gado-Gado Bonbin, Cikini (since 1960)
If you like gado-gado, you should try this legendary food in Jakarta! Located on Jl. Cikini IV No. 5, Cikini, Menteng, Gado-Gado Bonbin is a simple place to eat with a special taste and great popularity.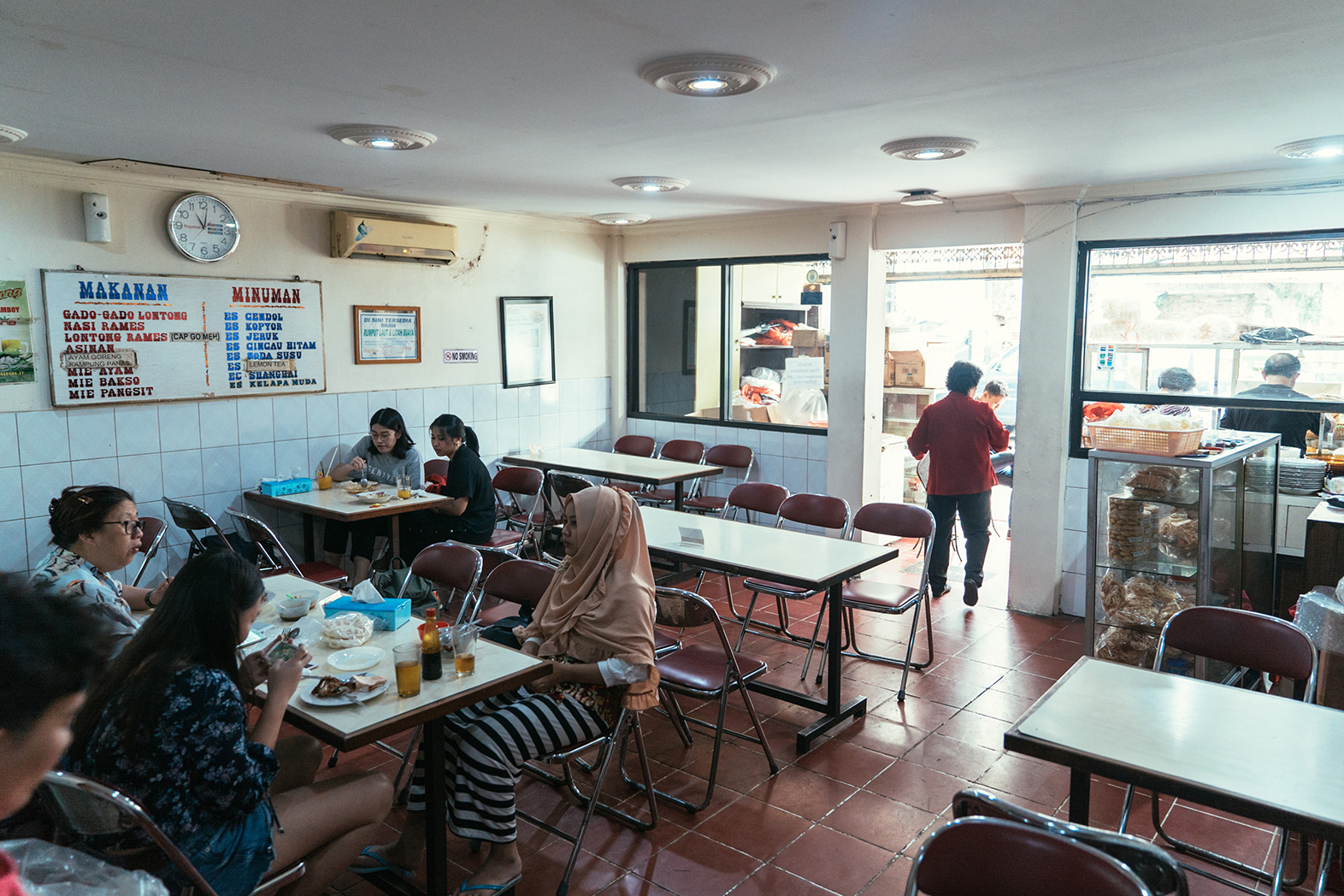 Open every day from 10.00 – 17.00, the taste of this Jakarta's street food that was founded in 1960 is still consistent. The owner himself mixes his own peanut sauce, boils the vegetables, and makes rice cake! This has kept the quality of Jakarta's legendary culinary flavors preserved until now.
The thing that makes this Gado-Gado peanut sauce different is that the peanuts are roasted before cooking. With prices starting from IDR 23,000.00, you can already eat a plate of gado-gado that consists of bean sprouts, cabbage, long beans, spinach, cucumber, potatoes, tofu, eggs, fried onions, and additional chips and prawn crackers.
7. Mie Ayam Gondangdia, Cikini (since 1968)
Another legendary place for food specialized in noodles in Jakarta is Mie Ayam Gondangdia on Jl. RP. Soeroso No. 36, Cikini, Menteng. Since its establishment in 1968, the taste quality of their noodles has been maintained until now. No wonder so many customers are willing to queue to be able to enjoy their menu here.
Open every day from 9.00 – 22.00, this place also provides a variety of other menus to choose from, from fuyunghai, kuluyuk chicken, and fried rice noodles. However, if you want to order something that must be tried, the mainstay of this restaurant is chicken noodles with meatballs and dumplings.
Starting from IDR 28,000, you can eat thin noodles that have a soft texture topped with chicken and mushrooms. Served with boiled meatballs and dumplings, topped with chicken and mushrooms, along with a small bowl of hot chicken broth. Very complete! Just imagining it makes you hungry, right?
8. RM Pondok Djaja, Gambir (since 1969)
Padang food is indeed a favorite and comfort food for many people. For you lovers of Padang food, try the authentic Padang cuisine at RM Pondok Djaja on Jl. Hasim Ashari No 13, Gambir. This place serves legendary food in Jakarta because RM Pondok Djaja is one of the oldest Padang restaurants here.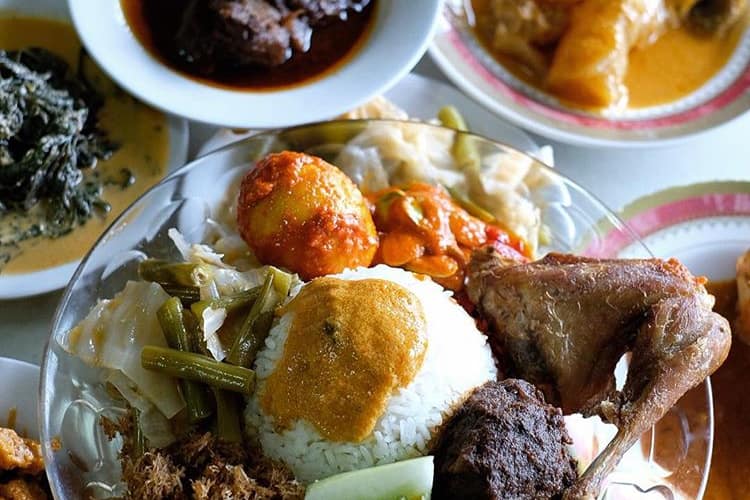 This restaurant, which is only open from 11.00 – 16.00, serves a menu of Padang dishes with flavors that have been preserved from generation to generation. Not only that, the price also includes a perfect fit in the pocket for lunch. For a portion of curried chicken which is also a favorite menu, you only need to pay IDR 23,000.00. Don't worry, the portions are not small.
9. Gandy Steak House, Menteng (since 1973)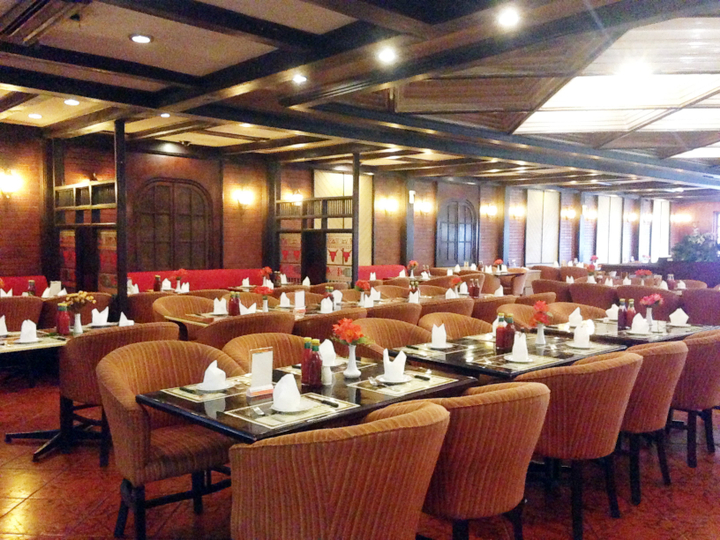 Steak fans in Jakarta must try this restaurant. Gandy Steak House is a legendary steakhouse in Jakarta with a classic vintage atmosphere that is perfect for dining with family. Besides Menteng, there are several other branches you can visit in Jakarta: Kuningan, Hayam Wuruk, and Kebon Jeruk. For opening hours, on average they are open from 11:00 – 23:00.
According to testimonials on Traveloka Eats, one of the favorite menus of visitors is Grilled US Sirloin for IDR 230,000. So, if you want to come here together, prepare around Rp. 500,000. The price of this food is quite expensive, but the taste is worth the price. The sirloin steak is tender with a delicious sauce, it doesn't make you regret it.
10. Pempek Megaria, Cikini (since 1989)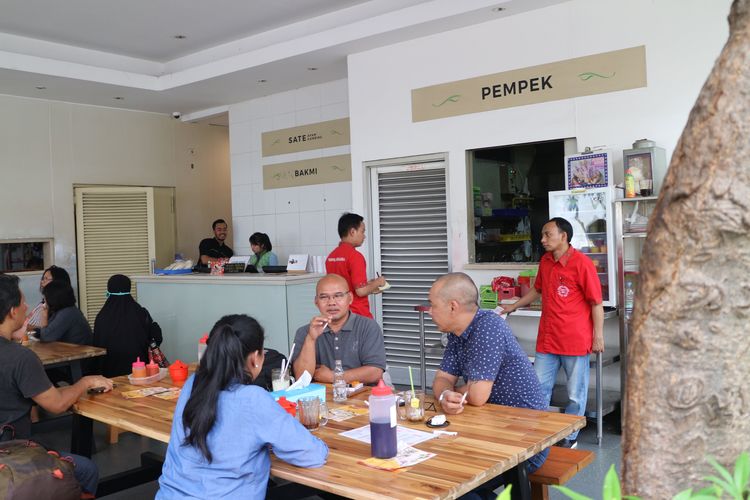 This legendary pempek restaurant in Jakarta has been famous for a long time and is still popular today. Located in the same area as the Metropole XXI cinema, Jl. Pegangsaan Timur No. 21, this pempek place which also joins other food stalls is open from 12.00 – 21.00 hours.
The most favorite menu choice is Pempek Kapal Selam which you can eat for IDR 24,000.00. So, around Rp.50,000 – Rp.70,000 for 2 people. If you like pempek with slightly sweet vinegar and not too spicy, then you should try Pempek Megaria. You can eat here while waiting for a movie at the cinema or just fill your stomach after 2 hours of watching the cinema!
---
Read also: Top 5 Jakarta's Street Foods
---
Legendary Food in South Jakarta
11. RM Sepakat, Melawai (since 1969)
Want to enjoy typical Padang culinary delights in South Jakarta? Try to go to the Sepakat Restaurant on Jl. Melawai 9 No. 165, Kebayoran Baru! This legendary restaurant is open every day, from 10.00 – 15.00. Opened in 1969, RM Sepakat presents the flavors of Minang specialties. You can find a variety of typical Minang foods that have savory, spicy, and coconut milk flavors.
If you come here, you must order Gulai Gajebo. Gajebo curry is one of the dishes that make this restaurant worthy of being included in the list of legendary places to eat in Jakarta. The curry with beef filling with the hump with thick fat stuck to the meat is cooked with tamarind, without coconut milk, and only uses coconut water.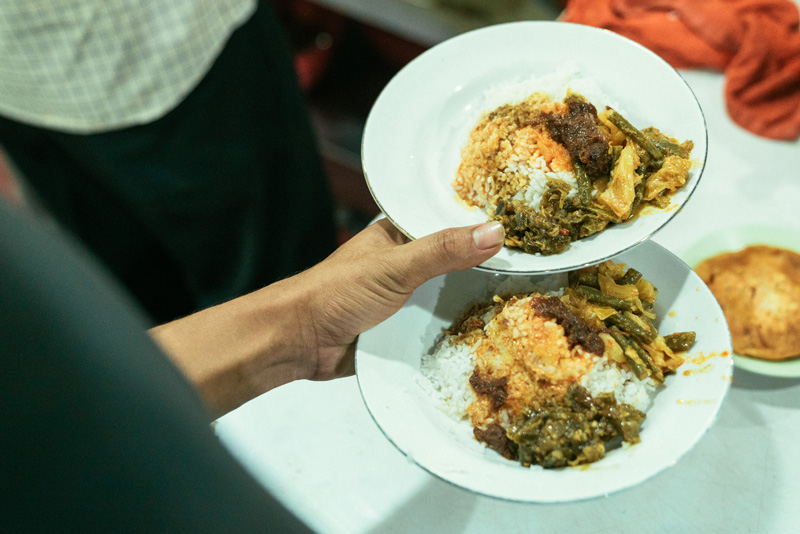 The price for a portion of Gulai Gajebo and rice starts from IDR 23,500.00. One portion of this curry is guaranteed, though, it is served on a small plate. It might even add, you know! Apart from that, you can also order other Padang dishes that they serve. No less delicious!
12. Roti Bakar Eddy, Blok M (since 1971)
Toast is a classic snack food that can be eaten for breakfast to evening snacks. Toast is also often a chop when hungry. Well, in Jakarta, there is a famous toast shop that is open daily from 18.00 – 2.30 am : Roti Bakar Eddy.
Established in 1971 in Blok M, to be precise now on Jl. Raden Patah No. 11, Selong, Kebayoran Baru, the founder of this bakery shop has successfully made his shop one of the most popular places to eat and hang out in Jakarta to date. It's no wonder because the taste and quality of the toast have been preserved for decades. Roti Bakar Eddy even already has several branches in Jakarta and its surroundings.
Roti Bakar Eddy is legendary because of its special bread. With prices starting from IDR 12,000.00, you will get toast whose bread is homemade or homemade, so it has a different taste from market bread. The most famous menu? Chocolate-cheese toast, of course!
13. Laksa Betawi Asirot, Kebon Jeruk (since 1978)
Maybe you know Laksa as Peranakan culinary. However, there are also, you know, Jakarta's signature laksa that is worth a try because of its popularity: Laksa Betawi Asirot on Jl. Assirot No. 1, Kebon Jeruk. Opened in 1978, this legendary eatery is still open today because of its preserved quality.
Open every day, from 10.00 – 21.00, you will be treated to laksa with a strong spicy taste. The combination of typical Indonesian spices such as galangal, ginger, turmeric, nutmeg, cumin, pepper, lemongrass, hazelnut, lime leaves, bay leaves, coriander, and rebon gives a distinctive taste. Besides that, the added coconut milk also gives a savory taste!
With prices starting from IDR 20,000.00, you can enjoy laksa with fillings such as tofu, eggs, and stew meat served with ketupat, chives, bean sprouts, and fried onions. The taste of this laksa makes it a legendary culinary treat in Jakarta! It's not wrong if this place to eat is a destination for culinary lovers.
---
Read also: Local Food You Should Try in Jakarta
---
Legendary Food in West Jakarta
14. Kopi Es Tak Kie, Glodok (since 1927)
For coffee fans, chances are that you have heard of or have tried coffee here. Kopi Es Tak Kie is a legendary coffee and tea shop in Jakarta that was founded in 1927. Located in Gang Gloria, Glodok, precisely on Jl. Pintu Besar Selatan III No. 4-6, they are open daily, from 6.30 – 00.30.
This culinary spot that hits in Jakarta consistently serves the legendary iced coffee and tea menu. With an age of almost a century, this shop has a simple and classic interior design in the old Jakarta style. Some of the displays such as signboards and wall hangings have been preserved from year to year.
Sebagai tempat kopi legendaris, kedai kopi ini justru tidak menawarkan berbagai macam varian kopi, melainkan hanya dua varian! Kamu bisa memesan kopi hitam atau kopi susu khas mereka dengan harga mulai dari Rp15.000,00. Walaupun tidak memiliki banyak menu seperti kedai kopi kekinian, mereka memiliki rasa khas tersendiri yang tidak ditemukan di tempat lain.
15. Kwetiau Sapi 78, Mangga Besar (since 1978)
Do you like rice noodles (kwetiau)? Kwetiau Sapi Mangga Besar 78 Restaurant was originally a pick-up food business that has been running since 1956. Located on Jl. Mangga Besar Raya No. 78D, Taman Sari, this legendary dining venue is open every day, from 10.00 – 24.00.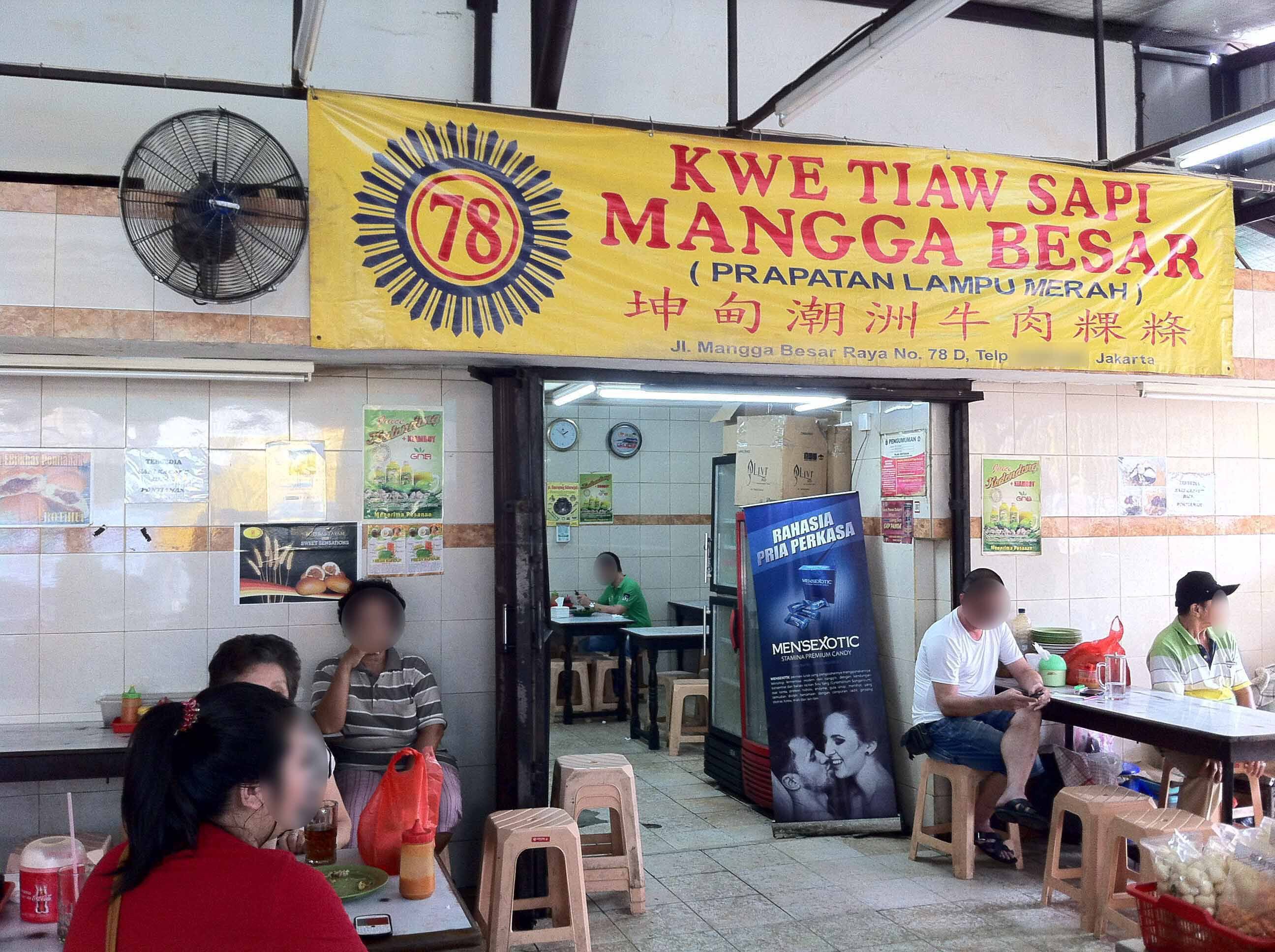 As the name of the place is, they are famous for their delicious kwetiau menu. Their popular menu is kwetiau siram, soft rice noodles with garlic spices and savory beef broth, plus beef tripe, veal veins, and chewy beef. A must-try!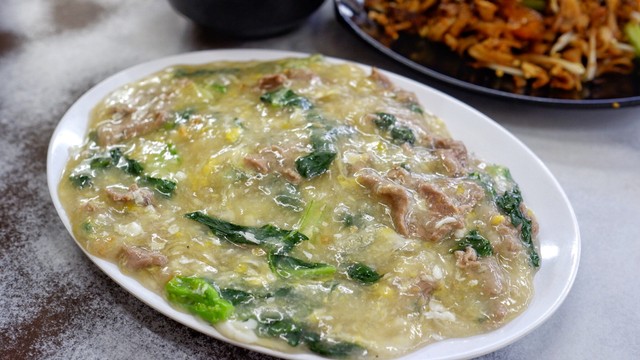 Apart from its delicious taste, which makes this restaurant's menu special is its abundant portion. With prices starting from IDR 24,000.00 per portion, don't worry about feeling less or getting a small portion. If you come with friends or family, you can order different types of kwetiau to share!
---
Read also: 7 Best Local Food in Jakarta You Must Try
---
Legendary Food in East Jakarta
16. Asinan Betawi H. Mansyur, Rawamangun (since 1970-ish)
Also known as Asinan Kamboja Rawamangun, Asinan Betawi H. Mansyur has such popularity that people are willing to line up for a serving of this asinan. Located on Jl. Cambodia Park No. 10, Rawamangun, Pulo Gadung, this place to eat is open every day from 10.00 – 21.00.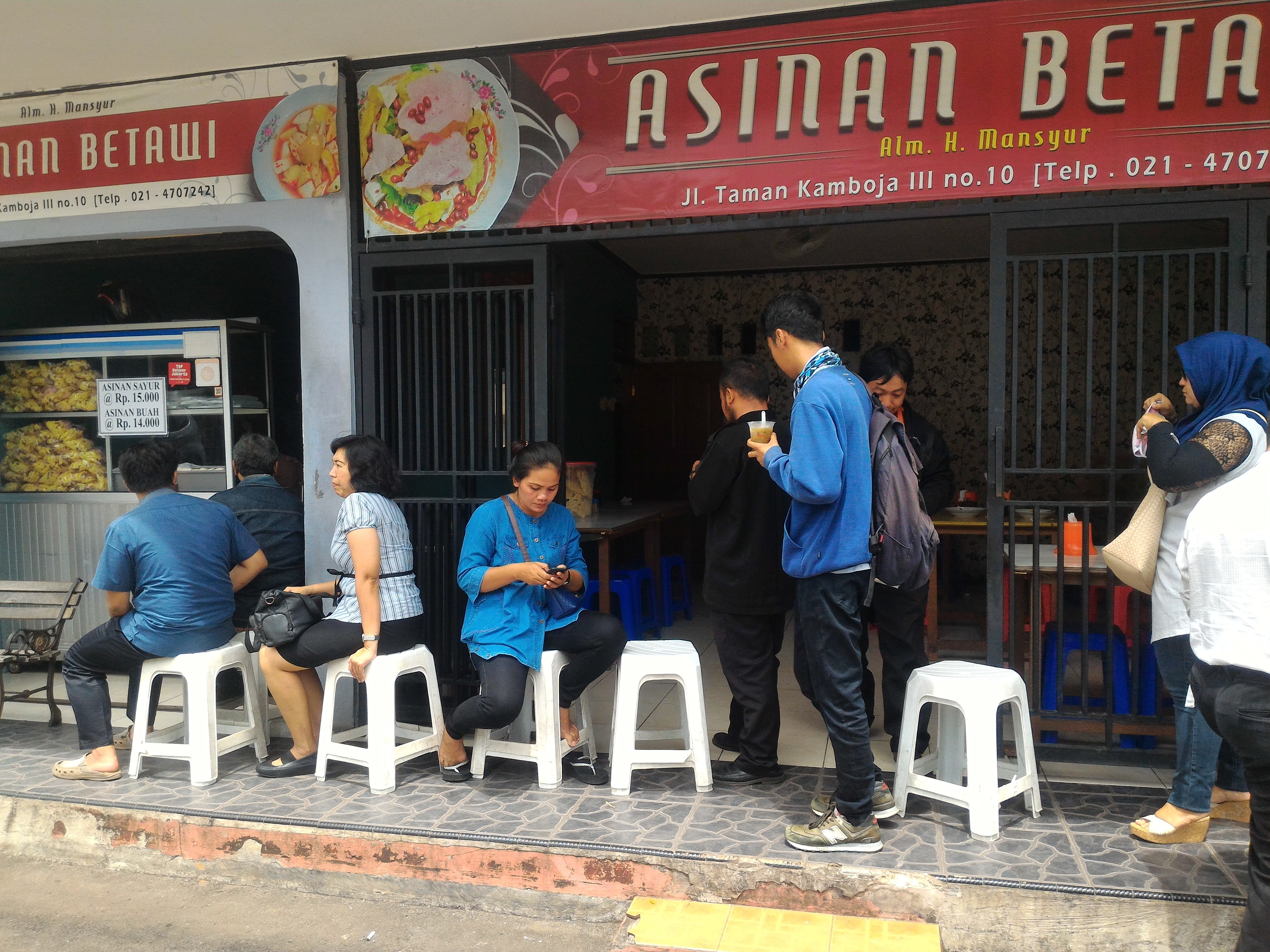 Asinan sayur is a menu that is often ordered at one of the legendary places to eat in Jakarta. With the filling of bean sprouts, cabbage, lettuce, white tofu, fried peanuts, and cucumber, it gives a distinctive taste along with the poured-over thick peanut sauce. Plus, there are still yellow and red noodle crackers as a complement.
With prices starting from Rp. 16,000 per portion, you can eat pickles here. Besides that, you can choose other menu options such as pickled fruit with spicy, sour, salty, and sweet flavors. Fresh fruit slices mixed with vinegar and sweet brown sugar give it a really fresh taste!
---
So, those are 16 legendary food to eat in various areas in Jakarta. If you are a culinary lover or are bored with eating at contemporary restaurants, you can really try the various legendary places to eat above!
Which culinary choices will be your favorite? Which place to eat will you go to first?
Ready for culinary trips? Book a unit in Senayan area from here