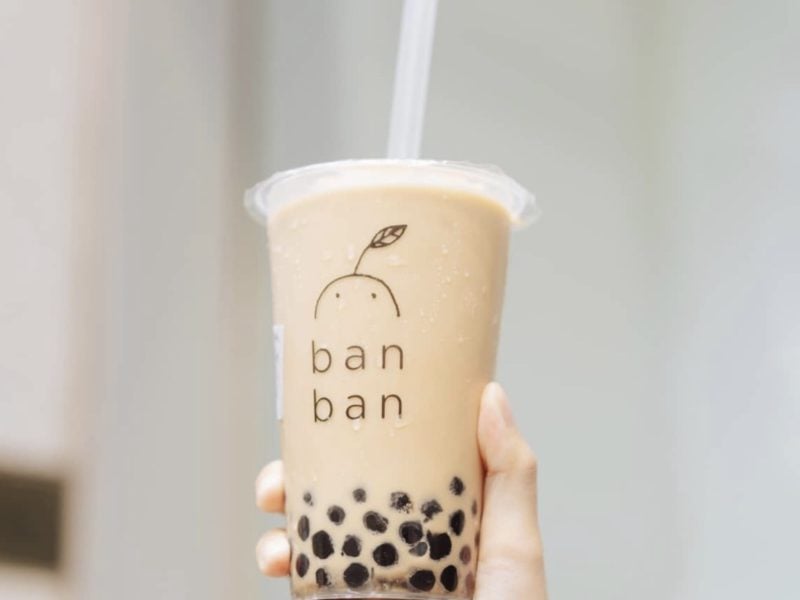 Local Guide
Top 5 Menu Recommendations at Ban Ban; Perfect For Your Sweets Cravings
Boba, or bubble tea, is one of the most popular beverages in the last couple of years. It was first popularized in Taiwan back in the late '80s, where both milk tea and tea were drunk daily by Taiwanese. Boba then slowly but surely spread all over East and Southeast Asia. In regions like Hong Kong, Mainland China, Japan, Vietnam, and Singapore, boba continued to gain popularity amongst youngsters, withstanding the test of time. In Indonesia, boba is also one of the most sought-after beverages, especially during the hot days of summer. You can get boba practically everywhere, but one of the best places to get boba is Ban Ban Tea! Ban Ban Tea, known as Ban Ban, serves organic and fresh cheese tea amongst other menus. Due to their success, they already have 9 branches in Jakarta! If you're planning to visit one of Ban Ban's branches this weekend, and if you're unfamiliar with their menu, don't worry! Flokq is here to give you the top 5 menu recommendations at Ban Ban. Psst, they're guaranteed to be delicious and sweet!
Also read: Give It a Try! Top 5 Recommended Menu at Golden Lamian
1. Ban Ban's Signature Milk Tea
The first beverage on our menu recommendations at Ban Ban is a classic; Ban Ban's Signature Milk Tea! For those of you who aren't totally familiar with boba, or are just into the classics, this menu is perfect for you. Ban Ban's Signature Milk Tea is a black tea-based milk tea, and they come in three sizes. Those sizes include small, medium, and large. You can also customize your milk tea with its various toppings, which you can select up to two for an additional price! From boba pops lychee and strawberry, Ban Ban bubble, egg pudding, and their famous cheese, Ban Ban has it all! Start your boba adventure at Ban Ban with this milk tea. You'll surely come back for more!
2. Beri Beri Chizu
Second, on our menu recommendations at Ban Ban is deliciously light and refreshing! It's their famous Beri Beri Chizu While still sweet, this drink is perfect for those who are looking for a balanced drink that's not too sweet or too creamy. Essentially, Beri Beri Chizu is blended blueberry and strawberry with green tea and cheese on top. Sounds amazing, right? With those ingredients, this drink can also be considered healthy, as blueberry and green tea are both good sources of antioxidants. You can even make this drink healthier by requesting for no sugar, or switching sugar with honey! Just imagine, drinking Beri Beri Chizu on a hot summer day. Yum!
3. Miruku Boba Cream Cheese Brulee
If you're not a fan of fruits or tea, but you love creamy, decadent desserts, we've got the perfect menu for you. At number three on our menu recommendations at Ban Ban is Miruku Boba Cream Cheese Brulee! This drink consists of the delicious brown sugar-infused bubble with fresh milk and mouthwatering cream brulee on top. The combination of sweetness from the brown sugar to the saltiness of the burn cream on top is simply divine! That is because they're all balances with Ban Ban's delicious fresh milk. Don't be afraid of the number of calories in this dessert! You can burn it by going to the gym or going on a run later.
4. Shizouka Matcha Chizu
Calling all matcha lovers! Up next on our menu recommendations at Ban Ban is their Shizouka Matcha Chizu. This drink is the perfect blend of creamy chizu, which Ban Ban is famous for, and freshly made matcha. If you need some energy in the afternoon, this drink is perfect for you. That is because matcha can wake you up and gives you energy, and is a much healthier source of caffeine than coffee! The chizu on top will also give you that added sweetness and saltiness. Delicious!
5. Boba Fuwa Pancake
Last but not least on our menu recommendations at Ban Ban is a food! Yep, other than amazing beverages, Ban Ban also offers food for their customers. They've got moffles (a cross between a mochi and a waffle) and toasts, but today we're going to recommend you their Boba Fuwa Pancake! What is this dish, exactly? Boba Fuwa Pancake is a fluffy pancake, topped with brown sugar boba and fresh cream. If you'd like to eat your boba instead of drinking it, this menu's a perfect dessert for you!
These menus taste as they look. Don't believe us? Be sure to visit, or order from, one of Ban Ban's branches this weekend for your end-of-the-week treat! Plus, try ordering one of our menu recommendations at Ban Ban. You won't regret it!