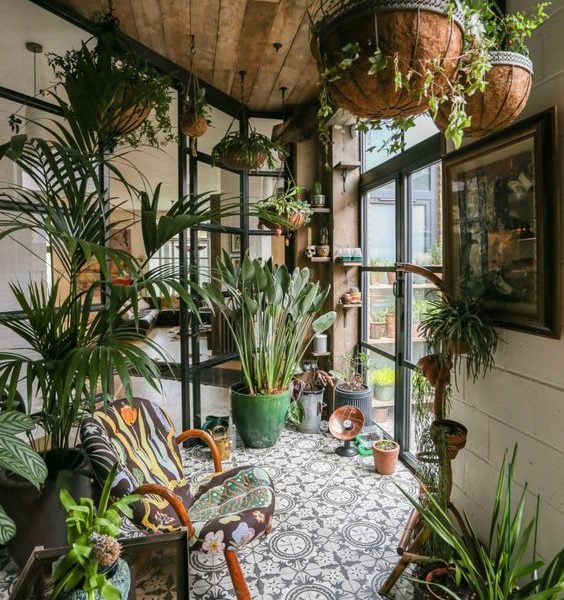 Staying In
10 Ideas of Minimalist Garden Design For Your Dream House
Nowadays, most minimalist homes have a small garden to make the house look more lively. In addition, the park also serves as an air pollution barrier so that the house is not full of fine dust. You can also convert the garden into an open area for drying clothes. With a garden at home, you will get many benefits plus make the house healthier. To create a minimalist garden, Flokq then provides some ideas for minimalist garden design that you can apply.
---
Read also: Minimalist Room Divider Inspiration that Might Suit for You
---
1. Garden x Laundry
One of the minimalist garden design ideas is to create a garden that becomes one with the laundry area. You can create an open area at the back as a garden by setting aside space to be used as a laundry room. This kind of design is also quite flexible because of the open area you can make as a drying place. So, you can enjoy the afternoon after washing and drying.
2. Garden x Kitchen
In addition to the laundry area, you can also create a minimalist garden concept that is united with the kitchen. You can put tables and chairs in the open area and put the dirty kitchen area in the enclosed area. With this concept, you can also have a small party with your family or just have lunch. For open areas, you can make the roof transparent so that when it rains do not wet the dining table in the garden.
3. Open Roof Garden
Alternatively, you can create a garden with an open roof by making several places to put pots and plants on the walls of the house. You can also plant trees in the garden with this concept because it can support the growth of the tree. You can plant some trees that will prevent rainwater from entering too much.
4. Classic Model Garden
A minimalist garden with a classic concept is a garden that is quite popular in ancient times. If you have enough land left, you can use this concept. This park usually has towering trees such as fir trees and palm trees. However, you can also create a garden in the front yard of the house with this concept.
In addition, the classic concept also usually makes it easier for children to play because the place is quite spacious. You no longer have to worry about children playing in distant places.
5. Balinese Gardens
The next minimalist garden design is a garden with a typical Balinese concept. Balinese gardens usually have a touch of Balinese culture and customs such as gazebos, statues, small ponds, and distinctive wall carvings. You can make a small gazebo in the back garden of the house and place a small fish pond. Such a garden is also commonly referred to as a tropical garden with coconut trees and other plants.
6. European Garden Design
In addition to Balinese gardens, you can also use the concept of a garden with a touch typical of Europe. A typical European garden like it has a slightly complicated concept, but you can use flowers of various colors to be placed in the back garden of your home.
You can add a pool with a fountain or a statue with a shower. To give the impression of Europe, you can put chairs and garden tables equipped with shady umbrellas. Garden walls can also be made with classical European carvings.
7. Vertical Minimalist Garden
If the rest of the land in your house is not so large, you don't need to worry, because you can create a vertical minimalist garden. You can create a garden using the wall at the front or back of your home. By using a shelf affixed to the wall, you can put some of your favorite plants there.
This concept can also be used if you live in an apartment area. You can remodel the balcony of your unit into a comfortable garden for tea in the afternoon. Moreover, apartment areas usually require good air circulation.
8. Indoor Garden
If you don't have enough land in the backyard, you can still create a garden. You can use the concept of an indoor garden as a garden in the house. This kind of concept is similar to the concept of a greenhouse but with a smaller size.
You can create a mini garden by the window to smooth air circulation. This concept also makes it easier for you to take care of each plant because automatically sunlight will enter through the window. You can also put a small chair as a place to relax.
9. Patio Garden
What is a patio garden? Patio Garden is a garden terrace concept that will give a natural impression. However, this is not a natural garden but rather a synthetic grass that covers the porch area of the house. You can add some of your favorite flowers and plants to complement the garden area.
In addition, putting a guardrail or swing can also be a complement to your patio garden. The concept of this park is also quite safe for children to play in. So, you can put some of their favorite toys there.
10. Minimalist Garden Philippine Style
The next minimalist garden design is a garden with a typical Filipino concept. This concept is similar to the concept of the Balinese garden but more minimalist. Because you only need a few plants and statues. The concept of this park is quite simple because it does not require a large area of land and you can also cover the garden area with iron in an order that provides space for sunlight to enter.
---
Those are some recommendations for minimalist garden design ideas that you can apply. With a garden, your home will look fresher and get cleaner air because of the presence of plants that will rotate air circulation.