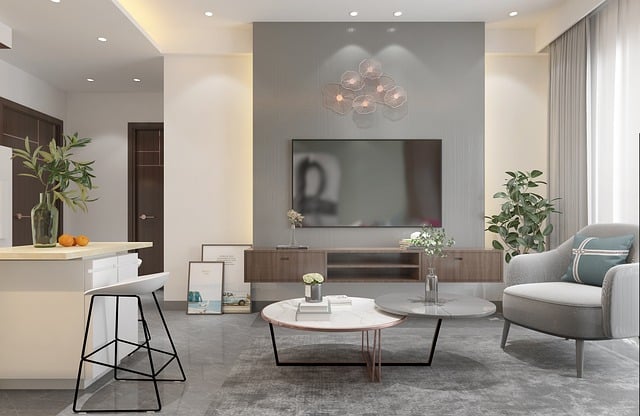 Staying In
5 Tips to Make Minimalist Living Room: Family-Friendly and Easy!
Your living room is a space where you can relax and chill. Together with your loved ones, you can do many activities in the living room. Turn up the karaoke for a sing-along, watch a movie together, or have a little competition by playing games! The comfort of the living room is one of the keys to maximize the quality of time spent with your family. The minimalist living room is becoming more popular these days as it offers simplicity with warm and cozy vibes, perfect for the family to spend time together or simply relax after a long day. Here we have 5 tips to make a minimalist living room, family-friendly and easy!
1. Declutter

First things first, the main concept of a minimalist living room is having less stuff. Try to get rid of small and unnecessary items. Storage is key for keeping items in order. This doesn't mean you have to throw everything out altogether. You just need to store items out of sight for your living room to feel less cluttered. Don't worry, nowadays there are plenty of storage variations to store your stacks of magazines, albums, souvenirs, and other random items.
2. Color Palette

A minimalist living room is identical to its white color but you can also add neutral tones. When choosing your colors for both walls and accessories, avoid cold tints and go for warmer neutral hues like creamy or beige tones. Feeling a little bit creative? You could also use different and mix tones and textures, such as using various shades of the same color for your walls, rug, and other furniture.
3. Focal Point

Add a beautiful lamp, textured vases, or a few large pieces of art propped up against a wall as a simple yet effective focal point. Keep in mind that each and everything should pair well together. Apart from the color scheme, everything in the room should pair well together.
4. Furniture

A minimalist living room should have very little in terms of ornaments and furniture. For starters, you can use a floating shelf to make your living room feel more modern. The living room is a place to kick back and relax, so it is also a good idea to add soft throws and cushions to daybeds and sofas is key.
5. Plants and Natural Vibes

Plants make your minimalistic living room feel fresh and natural. Add two or three bright green houseplants with neutral-colored planters. Lights and wood make a great combination for a tranquil feel. Also, add wood-like from wooden picture frames, console tables, and trays right down to add the natural vibes.
"Less is more" is the main principle of a minimalist living room. Fewer things, more space for laughter and fun with the family!
Read also: How to Create a Minimalist Bedroom in 10 Easy Steps