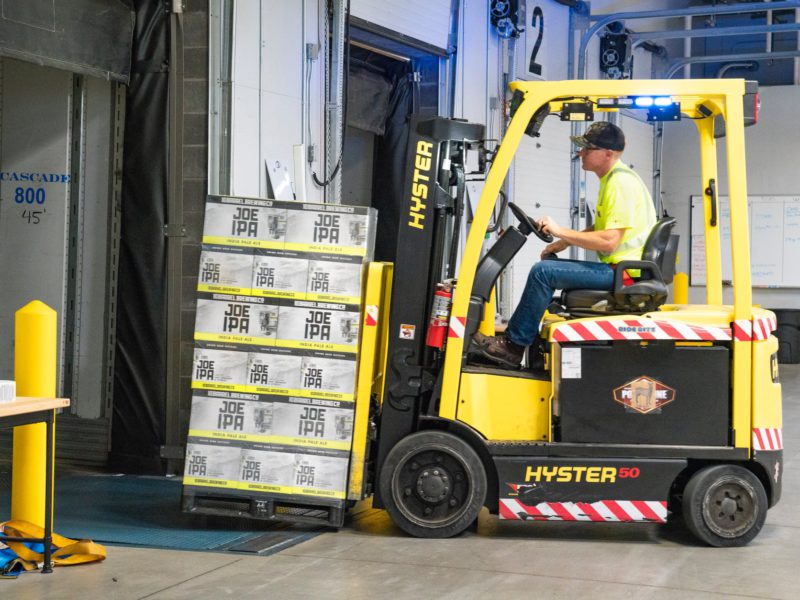 Moving Companies in Jakarta is one of the first things to know when moving to the city. Jakarta is the capital city of Indonesia as well as the center of business in Indonesia. Many people migrate temporarily or permanently to Jakarta with the purpose to work, whether those are local people or expatriates. There are a bunch of things that you need to take care of if you are planning on moving to Jakarta such as looking for a suitable residing place, managing important documents such as a domicile transfer letter and leasing agreement, and moving your stuff from the previous place to the new place.
We believe that choosing the best place for you to reside and managing the moving documents can be done by yourself with the help of people around you like your friends and family to fulfill your personal needs and conveniences. But, what if you're moving all your stuff and furniture from your old place to your new place? Managing the details of moving might be overwhelming when done alone, many people also consider it insufficient, takes a lot of time, and lacks security. Thus, we have a solution for you.
If you're planning to move and live in Jakarta or if you are moving from Jakarta, there are numerous professional and trusted moving companies that will help you move your stuff from your current location to your new location. Some of the companies are also international companies that will take care of your goods when transferring them, and this will surely help you to ease the burden of moving. So, here is the list of moving companies in Jakarta that could help you do all the heavy work in relocating all your stuff.
1. AGS International Movers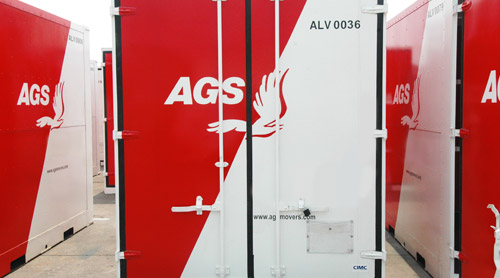 AGS International Movers is an international removal and storage company that provides services Indonesia-wide and worldwide. Other than moving your belongings, AGS offers services in transferring vehicles from a place to another place. AGS helps more than 85,000 families with their relocation every year, and they will guarantee to deliver your belongings safely and successfully. Has been operating since 1974, AGS group has expanded its brands in Europe, Asia, Africa, and joined together by its partners in America and Oceania. The great thing about moving with AGS is that AGS does a partnership with an NGO, Planète Urgence, in which there will be one tree planted for one international move. AGS already gained trust from all around the world in moving goods for 46 years, making it one of the best moving companies in the world.
Address: Menara Bidakara 2, Level 10, Jl. Gatot Subroto No.Kav. 71-73, RT.8/RW.8, Menteng Dalam, Kec. Tebet, Kota Jakarta Selatan, Daerah Khusus Ibukota Jakarta 12870
Website: https://www.agsmovers.com
Phone Numbers: (+6221) 83708395
Opening Hours: 09.00 – 18.00 (Monday – Friday)
Don't know where to start on unpacking? Let us help you through our guide for Things to Do in The First 24 Hours of Arriving in Your New Apartment
2. International Movers Storage (IMS) Relocation Moving Company
International Movers Storage (IMS) Relocation is a moving company that helps individuals and local or international companies of their moving needs. Being an international moving company, it has carried-out relocation of household goods and office effects worldwide and all-over Indonesia. This company also helps various removal needs, ranging from the relocation of their household effects, office equipments, to Fine Arts handling. This company also provides other various services like project relocation, records management service, and storage service. IMS Relocation also provides personalized service, that has a guarantee in security and is reliable to help you move.
Address: Jl. Mampang Prpt. Raya No.81, RT.7/RW.1, Tegal Parang, Kec. Mampang Prpt., Kota Jakarta Selatan, Daerah Khusus Ibukota Jakarta 12790
Website: http://www.ims.co.id/
Phone Number: (+6221) 7989978
Opening Hours: 09.00 – 17.00 (Monday – Friday)
3. Jakrelo Moving Company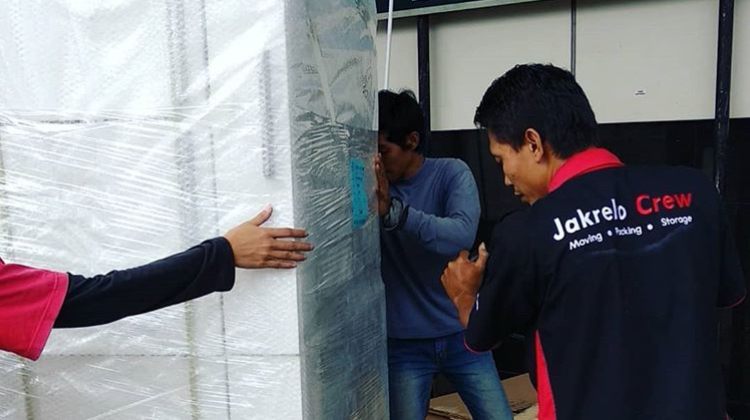 Third, we have Jakrelo. It is an abbreviation of Jakarta Relocation, is a client-oriented moving company headquartered in Jakarta. Jakrelo provides a competitive price, completeness of facilities, and professional manpower that will help you move your logistics locally, domestically, and internationally. Other than moving household goods, they also provide pre-move consultation, packing shipping, online tracking customs clearance, storage, delivery of goods, warehouse services such as cargo and logistics, and also office relocation services. They are experts in handling heavy furniture and sensitive computer equipment, so if you are planning to move those items to Jakarta, Jakrelo will gladly help you.
Address: The Manhattan Square Building Mid Tower,12th Floor Jl. Kav 1 S, Jalan Tahi Bonar Simatupang, RT.3/RW.3, Cilandak Timur, Pasar Minggu, RT.3/RW.3, Cilandak Tim., Kec. Ps. Minggu, Kota Jakarta Selatan, Daerah Khusus Ibukota Jakarta 12560
Website: http://www.jakrelo.com/
Social Media: @jakrelo_integrated on Instagram
Phone Number: (+6221) 80641084
Opening Hours: 08.00 – 18.00 (Monday – Saturday)
4. Allied Pickfords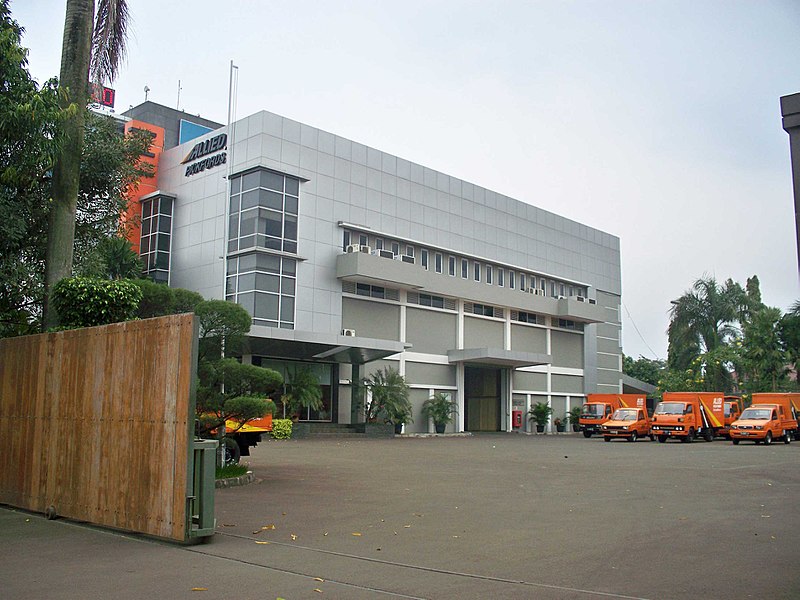 Located in Jakarta and Surabaya, Allied Pickfords is actually one of the biggest international moving companies. They have over 600 locations in more than 40 countries and have handled over 50,000 domestic and international moves every year. Allied Pickfords has a certified ISO for the quality management system of moving services, this means that Allied Pickfords works tirelessly to achieve optimal customer satisfaction. They provide services like professional consultants in moving, experienced packers, and staff who are on the clock ready to provide personalized moving solutions. This makes Allied Pickfords one of the companies that provide the best quality service to their customers.
Address: Kav. 89, Jl. Tol Tahi Bonar Simatupang, RT.3/RW.2, Tj. Bar., Jakarta, Kota Jakarta Selatan, Daerah Khusus Ibukota Jakarta 12530
Website: https://www.alliedpickfords.co.id/
Phone: (+6221) 7807851
Opening Hours: 08.00 – 17.30 (Monday – Friday)
5. Deliveree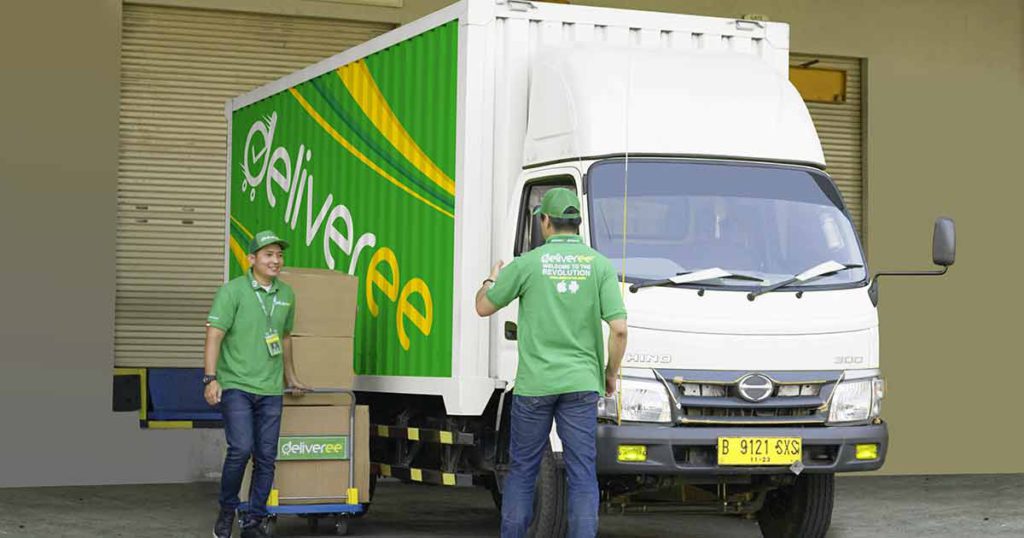 Deliveree is a logistics service provider that is quite a name in Indonesia with trucks to be used as you wish such as in same-day deliveries and long-term logistics contracts for business. Launched back in 2015 in Indonesia, Deliveree presents itself as one of the moving companies and cargo transport with a known quality. To this day, Deliveree has over 86.000 operational vehicle with a total of almost 2 million consumers world-wide. This data makes Deliveree as a professional moving company that is in high demand. You can consult regarding their services using their 24-hour live chat feature available at their website.
Address: Wisma Anugraha, 2nd Floor Jl. Taman Kemang No 32B Bangka, Mampang Prapatan RT.14/RW.1, RT.14/RW.1, Bangka, Kec. Mampang Prpt., Kota Jakarta Selatan, Daerah Khusus Ibukota Jakarta 12730, Indonesia
Price: Starting from Rp 35,000.00 (+ Rp 5,000.00 for the next kilometers)
Website: deliveree.com
Contact: +62 21 80681234
Opening Hours: 09.00 – 21.00 (Monday – Friday) and 09.00 – 00.00 (Saturday)
6. Saga Movers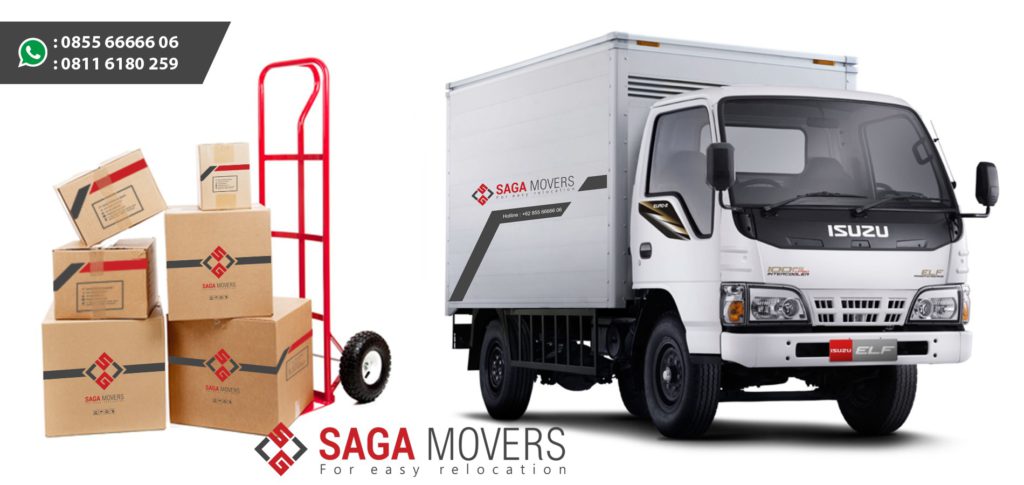 Saga Movers was found to make a quality moving company that is also the most complete in its services in Indonesia. They provide various moving services, whether that is for personal purposes (residential) or commercial (office, factories, warehouses, etc). This moving company provides a one stop service for moving starting from packaging until overhail, recondition (restoration of office buildings) and storage. Saga Movers have a wide network and is spread throughout Indonesia even to its most remote locations so that it can provide you your needed moving services anywhere. They also innovate to awlays use the latest technologies.
Address: Jl. Tekno Widya, Ciater, Serpong, Ruko Tekno Boulevard Blok AA.09, Kota Tangerang Selatan, Banten 15310, Indonesia
Price:
Packaging, starting from Rp 450,000.00 per m3
Delivery, consult through their agents
Website: sagamovers.com
Contact: (021) 75671023
Email: info@sagamovers.com
Opening Hours: –
7. Raja Pindah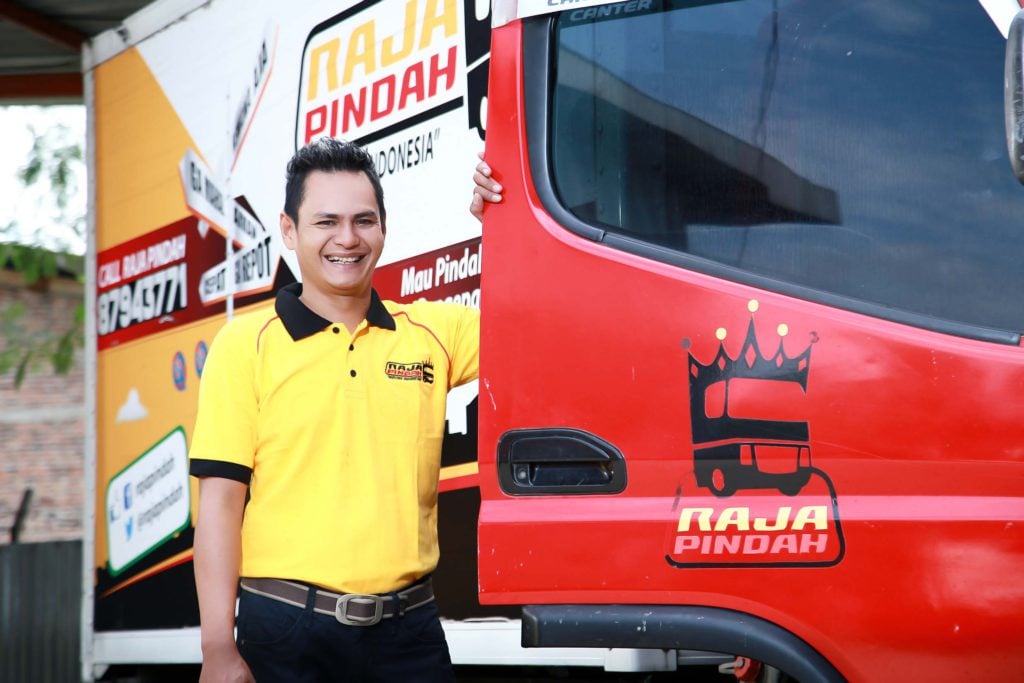 Raja Pindah is a professional moving company that can help you move out to your new home, help you with packaging and also storage services. This company was found in 2011. Through its experienced corporate excellence, Raja Pindah always tries to increase its services' quality while maintaining its domestic and international price to be affordable. As a national company, Raja Pindah is ready to rival and be the forefront of the business nationally in the moving, packing, and storage business. If you decide to use services from Raja Pindah, you'll feel like moving to a new place is without stress at all! That is because Raja Pindah guarantees the placing and organizing of things once on-site.
Address: Jalan Mampang Prapatan XV No.23, Jakarta Selatan – Jakarta
Price: Starting from Rp 250,000.00
Website: rajapindah.com
Contact: (021) 7983555 and 08118111915
Email: info@rajapindah.com
Opening hours: –
8. TheLorry Indonesia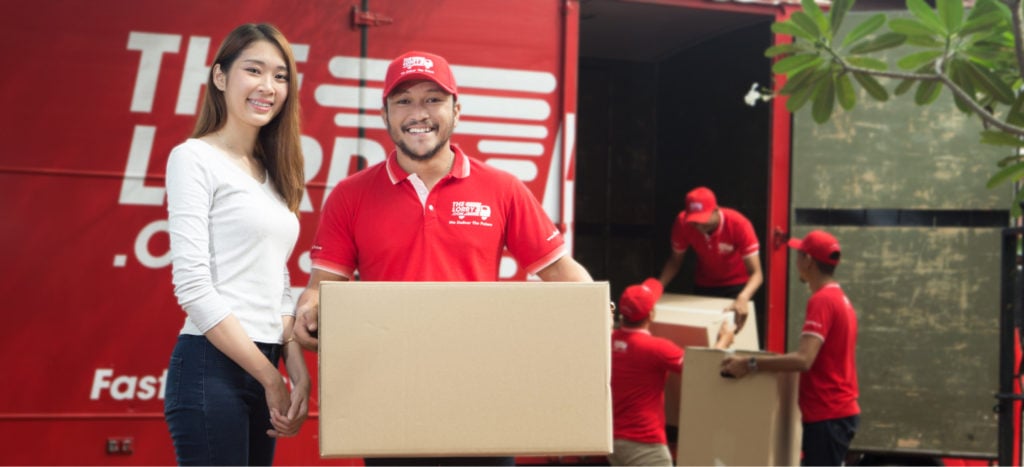 Started back in 2014, TheLorry is a moving service provider that have been serving big Indonesian cities such as Jakarta, Bandung, Bali, and Surabaya. They offer various services which includes vehicle storage, packing, assembly/unloading of furnitures and insurance. With drivers that are guaranteed to be professional and insured, consumers need not to worry about their deliveries. To make it easier for consumers to consult and feel the moving process without worry, TheLorry provides live chat services which can be accessed through their official webpage.
Address: Jl. RS. Fatmawati Raya No.37E, RT.5/RW.3, Cilandak Bar., Kec. Cilandak, Kota Jakarta Selatan, Daerah Khusus Ibukota Jakarta 12430, Indonesia
Price: Starting from Rp 120,000.00
Van: Rp290.000
Pick up bak: Rp290.000
Pick up box: Rp330.000
Engkel bak: Rp525.000
Engkel box: Rp575.000
Double bak: Rp1.000.000
Double box: Rp1.050.000
Website: thelorry.com
Contact: +62 813-8006-3885
Opening hours: 09.00 – 21.00 (Monday – Sunday)
9. Daslogistic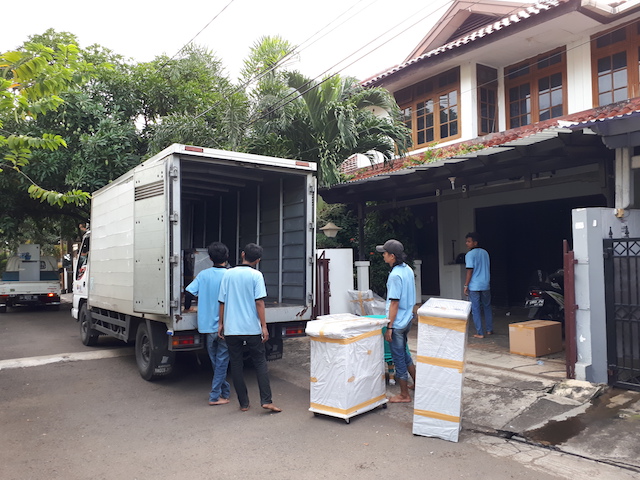 Daslogistic is a moving company that is headquartered in Central Jakarta. Founded back in 2014, Daslogistic is ready to serve their customers' moving needs by guaranteeing an affordable price as well as quality services. Daslogistic's services include surveying before moving, packing, overhaul, unpacking to the adjustment of deliveries' location on the new site. Competitive prices is not the only thing making Daslogistic ahead of their competition, but also their professional manpower and 24-hour customer service will guarantee your satisfaction!
Address: Gg. Merdeka I No.1a, RT.002/RW.001, Bintara, Kec. Bekasi Bar., Kota Bks, Jawa Barat 17134
Price: Rp 200,000.00 x total cubic measure of delivery
Website: daslogistics.com
Contact: (021) 294 860 34, 0878 852 62000, 0817 6000 500 (Customer Service 24/7)
Email: cs@daslogistic.com
Opening hours: 09.00 – 18.00 (Monday – Sunday)
10. Matelindo

With more than 10 years' worth of experience in the field, Matelindo is a solution to almost all of moving problems in Jakarta. Matelindo ensures that every customer gets a stress-free and comfortable moving experience. Providing moving planning in great detail, Matelindo provides guarantee to everything delivered to be sent safely. Matelindo's moving procedures might have international standards but still has an affordable for your price!
Address: Jl. Rawamangun Muka Timur No.48 RT.3/RW.12, Rawamangun, Kec. Pulo Gadung, Kota Jakarta Timur, Daerah Khusus Ibukota Jakarta 13220, Indonesia
Price: Dikonsultasikan melalui Layanan & Biaya Matelindo
Website: matelindo.com
Contact: 0852 1010 2325
Email: yossi@matelindo.com
Opening hours: 08.00 – 17.00 (Monday – Friday)
So, there you have a list of some of the most trusted moving companies that are located in Jakarta. You don't have to stress or worry about moving to or from Jakarta anymore! We hope this information helps you get on the move, don't forget to check other posts on our blog to help you move to your new place!