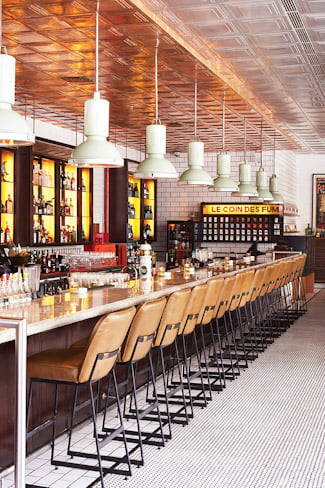 Jakarta is full of eccentric bars and half the fun is in finding them. New bars open all the time in Jakarta – some unicorn-themed tiki bars or places serving beers made exclusively by cats probably just opened around the corner from wherever you're currently located. But there's nothing better than the classics. We know that you might not have the time to put in all the legwork yourself, so fear not. We have rounded up the ultimate list of our must-visit bars in Jakarta – the places we find ourselves returning to over and again. They're the standbys that make this city what it is. In other words: the Greatest Hits.
Henshin
Jakarta has so many amazing choices for rooftop bars with a view, but there are some that stand above the rest. Henshin is by far one of the best rooftop bars with a view in the whole city (the view itself makes it one of the must-visit bars in Jakarta). It's located on the 67th floor of the Westin Hotel. Henshin is a premier rooftop bar and lounge featuring Peruvian Japanese (Nikkei) restaurant with a sweeping unparalleled panoramic 360-degree view of Jakarta's Skyline and gleaming city lights.
You can unwind in one of the lounge sofas or clink your wine glasses by the alfresco rooftop bar while feasting on the magical Jakarta's skyline for hours. Other than the fine classics, the rooftop bar offers unique mixology cocktails with a fusion of Peruvian and Japanese influences you can indulge in. This hot spot also provides an in-house DJ to give you the complete Henshin experience!
Address: The Westin Jakarta, Lantai 67-69, Jl. H. R. Rasuna Said, Kuningan, Jakarta 12940.
Phone Number: +62-21-2788-7768 (Table booking recommended)
Price Range: Bar drinks start from Rp.115.000.
Dress Code: Smart Casual
Opening Hours: 12.00-14.30,18.00-01.00 (Sun-Thur) and 12.00-14.30, 18.00-02.00 (Fri-Sat).
Official Website: https://www.henshinjakarta.com
Social Media: @henshinjakarta
Loewy Jakarta
Once you arrive at Loewy, you have very little reason to leave. This place is primarily a casual bistro, but they also have a great bar that serves the best, stiffest drinks in town. Those are all things you come here for. But you end up staying because of the extremely pleasant well-designed but informal decorated space with a mixture of Paris bistro meets 1940s vintage New York.
Loewy is as much a bar as it is a restaurant. The bar serves nostalgic old favorites such as martinis or the finest single malt whiskeys. You could start or end your night at Loewy, but this is your warning that anyplace you go before or after will seem disappointing in comparison. It's a classy way to have fun on a Friday night!
Address: Oakwood Premier Cozmo, Jl. Lingkar Mega Kuningan E4.2 No. 1, Jakarta 12950.
Phone Number: +62 21 2554 2378
Price Range: Bar drinks start from Rp.50.000.
Dress Code: Smart Casual.
Opening Hours: 07.30-01.00 (Mon-Fri) and 09.00-02.00 (Sat-Sun).
Official Website: https://www.loewyjakarta.com
Social Media: @loewyjakarta
Duck Down Bar
Nestled in Gunawarman's underground basement with lousy interiors and saucy posters pasted all over the walls, serving affordable shots and combos accompanied by the wild strings of the good old rock 'n' roll. These are the reasons you come to Duck Down Bar. Duck Down Bar is an American dive bar inspired establishment sprouted in late 2018 at Gunawarman, the bar quickly gained attention for its wild reputation. The bar is definitely not fancy, this is the kind of drinking spot you go for to loosen up and have a good time! Both expats and locals alike rave about this bar, so it's definitely a great expat-friendly hangout spot!
Address: SOHO Building – Basement Floor, Jl. Gunawarman No. 61, Kebayoran Baru, Jakarta 12240.
Phone Number: +62-21-2751-9786
Price Range: Bar drinks start from Rp.75.000.
Dress Code: Casual.
Opening Hours: 18.00-03.00 (Tues-Sun).
Official Website: https://www.biko-group.com/duck-down-bar
Social Media: @duckdownjkt
Letterpress Bar
If you like your bars themed, but are sick of the wave of 1970s Disco that hit the city hard in recent years, try the glamorous Letterpress Bar on for a change. It serves up a vintage 1920s golden Shanghai-inspired speakeasy aesthetic that's reliant on glamorous floor-to-ceiling windows, glimmering ceiling lights and authentic Chinese golden accents. This hidden gem is masked inside The Chinese National restaurant, situated in Swissotel Pik Avenue. Be sure not to miss out the bar, enter the restaurant and ask a staff member to take you to Letterpress, You'll be brought up a staircase.
Letterpress offers classic bar drinks, however, their house cocktails are a must-try menu as each cocktail comes with a Chinese origin back story. If you're feeling adventurous you can ask your classic cocktails to be transformed with their collection of tea. If you're not a drinker, bartenders will gladly make you refreshing non-alcoholic mocktails!
Address: Inside Chinese National Restaurant- Swissotel Jakarta PIK Avenue, 7th Floor Jl. Pantai Indah Utara I, Pantai Indah Kapuk, Penjaringan, Jakarta 14460.
Phone Number: +62-21-2257-1188
Price Range: Bar drinks start from Rp.100.000.
Dress Code: Smart Casual
Opening Hours: 18.00-00.00 (Sun-Thurs) and 18.00-02.00 (Fri-Sat).
Social Media: @letterpress_bar
Black Pond Tavern
The Black Pond Tavern looks a little like an upscale cabin in the woods, and it's good for a casual date or an even-more-casual cocktail by yourself while you stare out one of the big windows. The Black Tavern has just opened in 2020, located at Senayan Golf Course, the drinking den is decorated with rugged and rustic 1950s Native American folk house aesthetic.
The signature cocktails are tasty, the bar plays popular repertoire of blues, rock, country golden eras, and you will want to eat everything on the menu. This is what you call a "feel-good bar," so go here, order a cotton field cocktail, and feel the glorious golden era of America's southern vibe!
Address: The MAJ, Senayan. Jl. Asia Afrika, Pintu IX, Tanahabang, Kota Jakarta Pusat, Jakarta 10270.
Phone Number: +62-21-5085-1872
Price Range: Bar drinks start from Rp.70.000.
Dress Code: Casual.
Opening Hours: 16.00-02.00 (Sun-Thurs) and 16.00-03.00 (Fri-Sat).
Official Website: https://www.biko-group.com/black-pond-tavern
Social Media: @blackpondtavern
There you go, 5 must-visit bars in Jakarta that you need to check out as soon as possible! After a crazy night, go order some late-night drunk-food from some of the hottest merchants on Gofood to help you sober up when you get home.