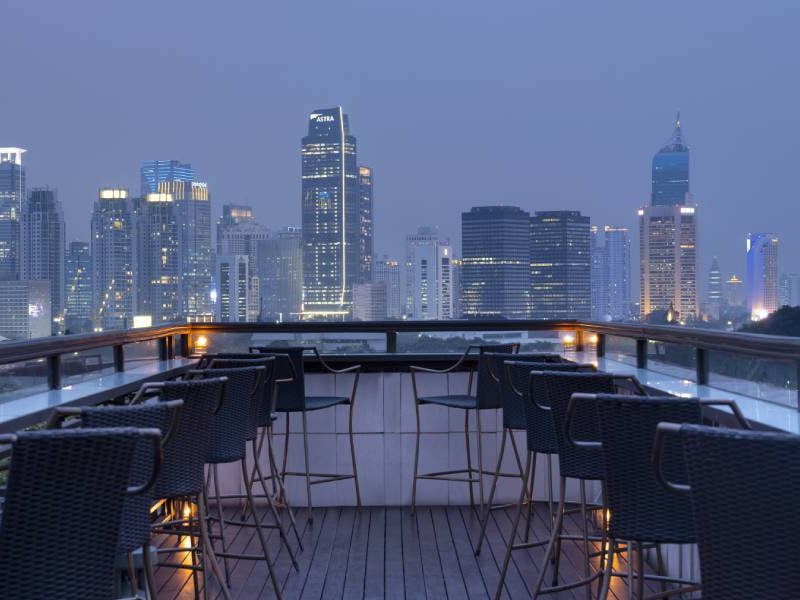 Jakarta is indeed a big city. With its fast-paced lifestyle and long history, it makes this city full of historical sites and areas. Besides how glamorous this city is, there is a lot of story behind it. One of the areas inside the Central Jakarta, Menteng, Might have a lot of stories behind it. A lot of officials also live here, starting from the governor, ambassador of different countries, until the President of Indonesia itself. That's why this place might be called the most important and prestigious area in Jakarta. And not only the officials, even the former president of the united states, Barack Obama, also live here when he was young. There are lots of things in Menteng, so here is a guide for you to get around Menteng.
Transportation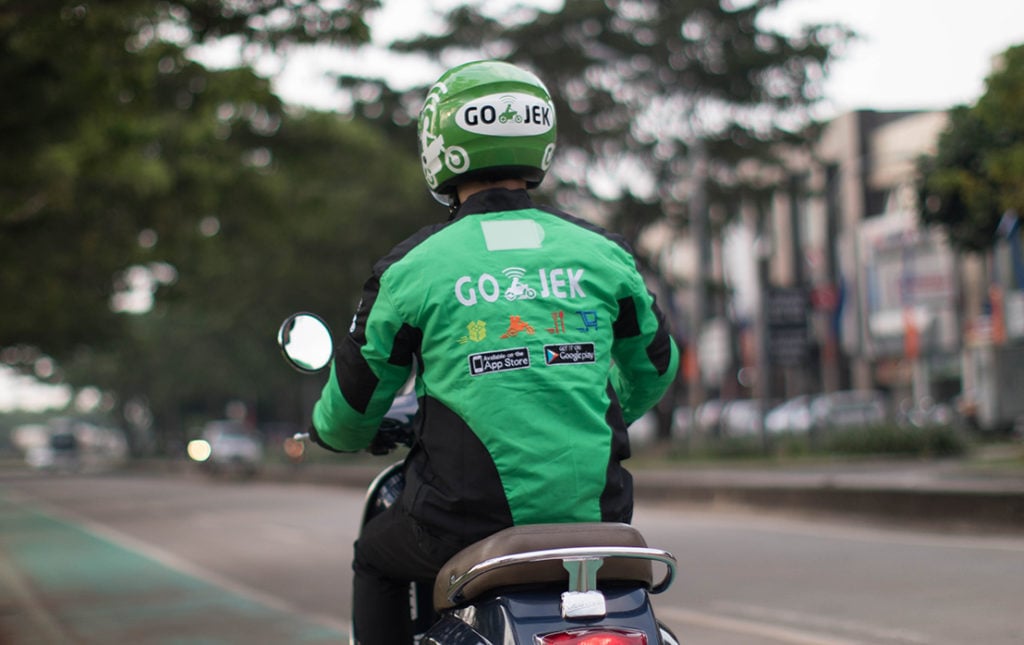 If you want to explore the area of Menteng. You can try to use the uber-like apps that are pretty famous in Indonesia called Gojek or Grab. With Gojek or Grab, you can order someone to pick you up with their motorcycle/car. These days, the citizens of Jakarta prefer to use the motorcycle because it will be easier for them to reach their destination on time. Because with the motorcycle, it will fasten your trip reminding that Jakarta's traffic might be one of a kind.
Are you searching for something more flexible? Or do you want to try something new for yourself? Well, of course, we have something for you. Nowadays, you can rent your own electric transportation in Jakarta. Motorcycle rental called Migo might be the most famous among its kind. With this rental motorcycle, you can use it to explore certain areas in Jakarta and even Menteng. This yellow motorcycle usually was seen to be ridden by the youngster after the night comes. You can try this rental motorcycle by picking it up in the pick-up area and pay a certain amount of money and then drop it off in the drop off area.
There are also many public transportations in Menteng. Like MRT and the KRL. Just find the nearest stations! There is also TransJakarta operating around the are.
Restaurants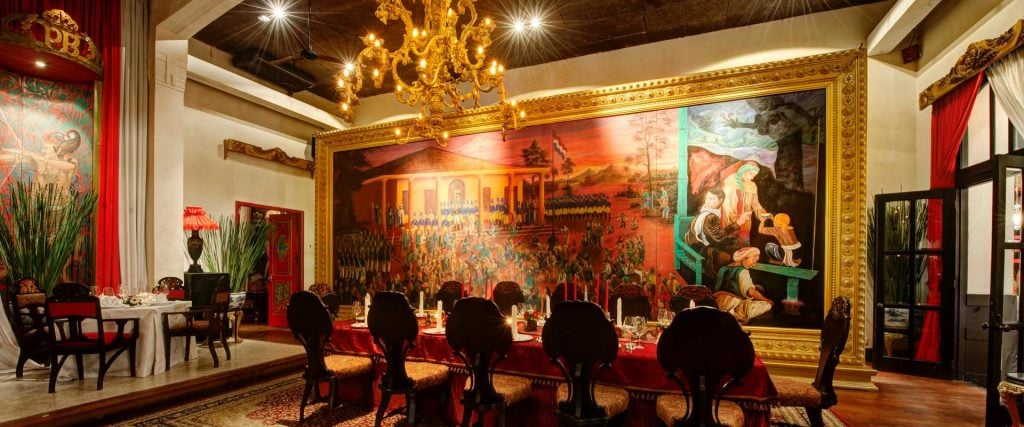 In the middle of exploring the Menteng Area. Do you want to try something that you can only find in Jakarta? Menteng is the home for several restaurants that the authenticity of it is not questionable anymore.
Tugu Kunstkring Paleis
To find a new restaurant to try out in Jakarta might be easy because a lot of restaurants are established in this capital city of Indonesia. Located in one of the streets in Gondangdia, Menteng area, Tugu Kunstkring Paleis might be one of a kind for several years after its establishment. Because Indonesia has been colonized by the dutch, the banquet culture has been passed down since then. When you visit Tugu Kunstkring Paleis, you might feel the atmosphere and experience that are historical and different compared to others. This is not only because of the interior of this place but it's also because this place used a historical building. The feast that is served here is also the dutch and Indonesian cuisine that the quality is not questionable anymore.
Phone Number: +6221 3900899
Social Media: @kunstkring on instagram
Address: Jl. Teuku Umar No.1, RT.1/RW.1, Gondangdia, Kec. Menteng, Kota Jakarta Pusat, Daerah Khusus Ibukota Jakarta 10350
Price Range:
Coffee-based drinks starting from Rp 28,000.00 – Rp180,000.00
Mains starting from Rp 78,000.00 – Rp498,000.00
Opening Hours:
11.00 – 21.00 (Every day) | Adjusted opening hours due to the pandemics.
Nasi Goreng Gila Gondrong
We also have something for you who are searching for street food to fill your hungry belly. When The former president of the United States, Mr. Barrack Obama was elected as the president. Not only the U.S citizens that celebrate the results but also Indonesians, because Mr. Obama once lives in the street inside the Menteng Area. In front of the elementary school that Mr. Obama used to attend, there is a famous Nasi Goreng stall named Nasi Goreng Gila Gondrong that served their dishes in front of the elementary school. This Nasi Goreng stall is not only famous because of the president, but also because they taste of Nasi Goreng that is different from the other. With the taste that might be considered as beyond its level, Nasi Goreng Gila Gondrong might be considered as affordable compared to the other Nasi Goreng Stalls in Jakarta.
Social Media: @nasigorenggilagondrongobama on Instagram
Address: JI. Besuki No.1, RT.3/RW.5, Kec. Menteng, Jakarta Pusat, DKI Jakarta 10310
Read also : Neighbourhood Guide: Bendungan Hilir
Bars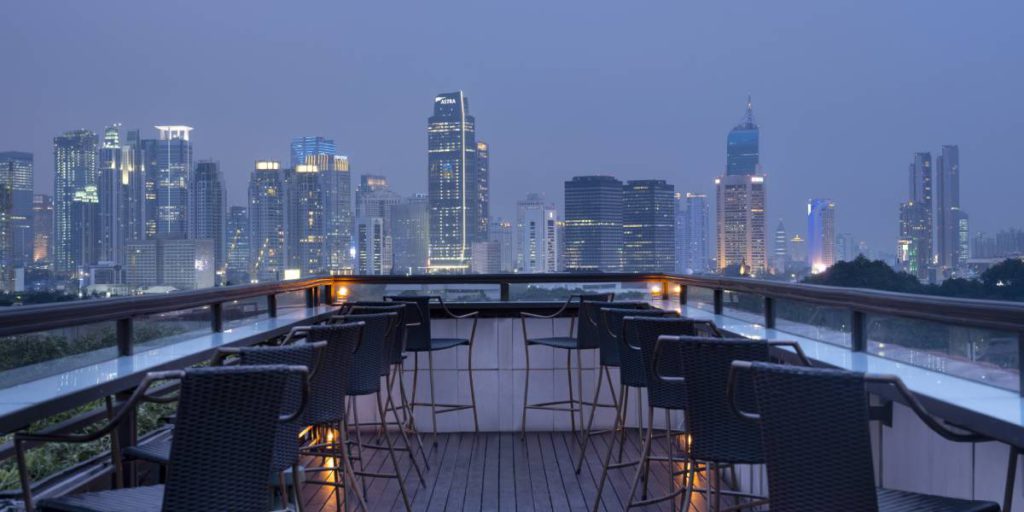 La Vue Rooftop Bar
Located inside The Hermitage, La Vue might give you the elegant ambiance once you enter this place. The hermitage itself used the ambiance and interior that might remind you of the colonization era. Just by the name of this place, we can straight up go to the rooftop floor, where all the glamorous light of Jakarta can be seen from this place.
We recommend you to go to this place in the evening so you can enjoy the sunset and the transitions of the day and night. When the night gets darker, the ambiance will be light up more and more because the skyscrapers started to turn on their lights. This place served varieties of wine and also cocktails that you can try out. And with this kind of experience, the price is not too expensive compared to other places that offer the same experience in Jakarta.
Phone Number: +6221 31926888
Social Media: @lavuerooftopbar on instagram
Address: The Hermitage, a Tribute Portfolio Hotel, Jakarta, Jl. Cilacap No.1, RT.11/RW.5, Menteng, Kec. Menteng, Kota Jakarta Pusat, Daerah Khusus Ibukota Jakarta 10310
Price Range:
Coffee-based drinks starting from Rp 50,000.00 – Rp1,250,000.00
Mains starting from Rp 115,000.00 – Rp245,000.00
Opening Hours:
10.00 – 23.00 (Monday – Thursday)
10.00 – 24.30 (Friday – Sunday)
Attraction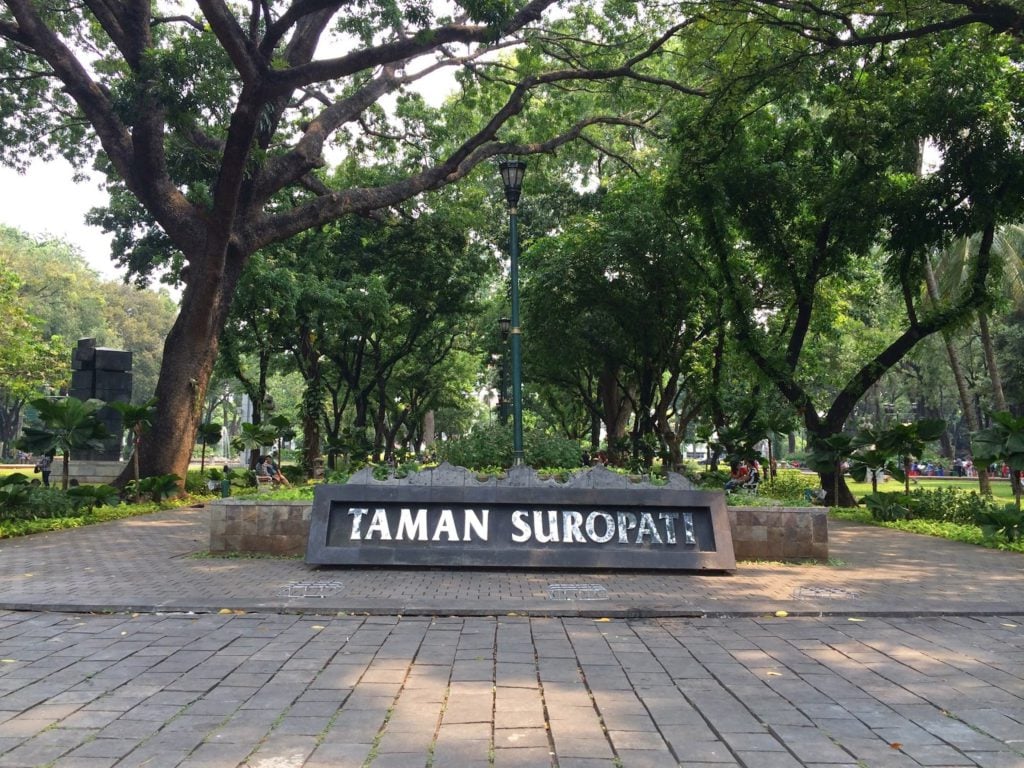 Taman Suropati
Living in Jakarta might stressed out not only your mind but also your health systems. As one of the most reputable areas in Jakarta, of course, Menteng offers something to relax your mind in the middle of the rush. Taman Suropati is the first public park that is established in the Menteng Area back in the colonization era. The name of this park itself is taken from the name of the Indonesian Warrior, Untung Suropati.
Not only used as a place for a run or breathe for awhile. Taman Suropati can also be your to-go place when you want to try street foods in Jakarta because there are tons of food stalls with various dishes that establish its stall in this place when the night comes. This place is also known as a hub for youngsters because there is barely a closing time in this place.
Address: Jl. Taman Suropati No.5, RT.5/RW.5, Menteng, Kec. Menteng, Kota Jakarta Pusat, Daerah Khusus Ibukota Jakarta 10310
So there you have your guide around Menteng. We hope this helps you know and explore more about Menteng. Don't forget to check other posts on neighborhood guides around Jakarta!