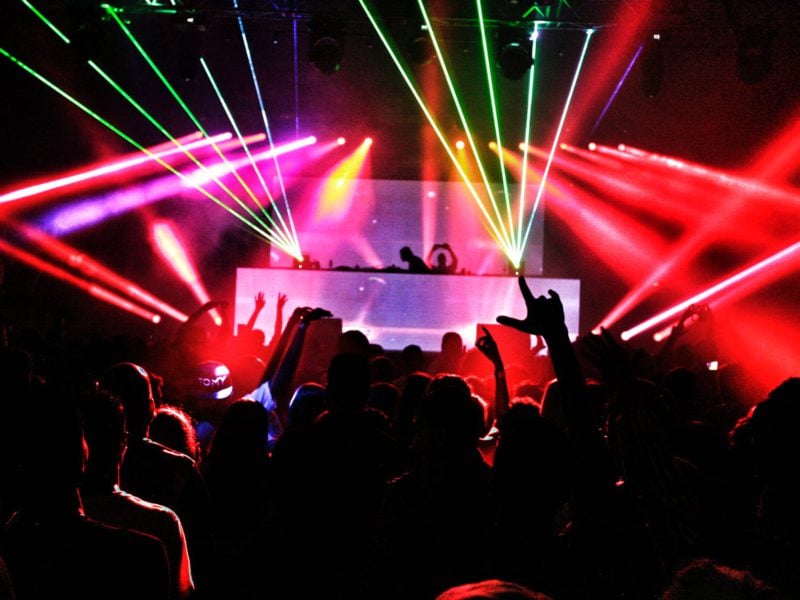 Bali is famous for many things: beautiful beaches, challenging surf spots, seafood, and various exotic temples. Besides that, Bali's nightlife is equally exciting. Cool bars and nightclubs are scattered everywhere in Bali with their respective advantages.
There are several bars and quirky nightlife spots worth a visit. Who knows, one of them will become your favorite hangout place on the Island of the Gods!
Check out some of these bars and nightlife spots for your splendid nights in Bali!
1. Bounty Discotheque, Kuta
Bounty is one of the legendary nightclubs in Kuta, Bali. It is famous for holding 'wet n' wild' parties and attracting young foreign party-goers who are having a vacation in Bali. Also fondly called the 'Bounty Ship', this one-stop entertainment complex comprises its expansive main discotheque venue, a restaurant, and a bar.
Location: Jalan Legian, Kuta, Badung, Bali 80361
Open: Daily, 9 PM to 3 AM (May change due to pandemic)
Phone: +62 (0)361 752 529
2. Paddy's Pub, Kuta
Paddy's Pub is one of the legendary Bali nightclubs, besides Bounty Discotheque, on Jalan Legian that attracts the partying crowd with its fun themed parties and reasonably priced drinks. The pub flanks its sister site, Bounty Discotheque, and forms a small yet popular group of spots in Legian for pub crawls.
Location: Jalan Legian No. 166, Legian, Kuta, Badung, Bali 80361
Open: Daily, 5 PM to 4 AM (May change due to pandemic)
Phone: +62 (0)361 758 555
3. Engine Room Bali – Super Club
Engine Room Bali – Super Club is located at Jalan Legian, Kuta. They have 4 different bars under 1 roof which will pump beats from almost every genre from their 4 different DJ booths. Their resident DJs are professional and passionate about their job.
Engine Room Bali – Super Club will guarantee your safety and comfortable feeling during your party at their venue. 16 CCTV cameras will help them keep you safe inside their walls, to give you a carefree party experience.
The atmosphere they bring to you will refresh your mind, feel free to unleash your inner party spirit! The professional security will constantly make you feel safe while they sit back and keep the crowd happy, thus, they can ensure a problem-free night. Also, in 2013, they won the best nightclub in Bali.
Location: Jl. Raya Legian No.66, Kuta, Kabupaten Badung, Bali 80361
Open: Daily, 6 PM to 4 AM (May change due to pandemic)
Phone: +62 (0)361 755188
4. Hard Rock Café Bali, Kuta
Hard Rock Café Bali is Bali's branch of the world-famous rock n' roll restaurant franchise, located right at the front of the Hard Rock Hotel Bali in Kuta. The 2-level café serves American dishes off its rock music-inspired all-day dining menu. The lower stage area and bar is where live music happens on Saturdays or for special events. 
Like any Hard Rock Café worldwide, you can find a Rock Shop that sells official merchandise like logo T-shirts and collectible pins. One-of-a-kind shirts endorsed by artists like Bon Jovi, Green Day, and Shakira make the top-shelf items.
Location: Jalan Pantai Kuta, Banjar Pande Mas No.1, Kuta, Badung, Bali 80361
Open: Daily 10 AM – 9 PM
Phone: +62 (0)361 755 661
---
Check out these amazing villas in Kuta for your vacation!
5. VIN+, Seminyak
Initially, VIN+ was a restaurant group known for its best wine collections from around the world. But at VIN+ Seminyak visitors can not only enjoy delicious food and drinks, but also the beauty of architecture that pampers the eye.
Enjoy your evening at VIN+ Seminyak with charcuterie boards (a dish of various processed meats and/or cheeses), salmon and bottles of wine.
Location: Jalan Kayu Jati I, Seminyak, Kuta Utara, Kabupaten Badung, Bali 80361
Open: Daily, 9 AM to 9 PM (May change due to pandemic)
Phone: +62 (0)361 4732377
6. La Favela, Seminyak
When you hear the name, you might immediately guess that this is a Brazilian-themed bar. It's not wrong, but what makes this place super cool isn't just the Brazilian feel.
La Favela looks like an abandoned colonial heritage building complete with antique furniture, vines everywhere, old bicycles and scooters, and old VWs that add to the old and vintage feel. Even so, the atmosphere of La Favela feels more alive because it is also inhabited by older parrots, civets, and fish passing by in the pond. Spending the night here will be more perfect while accompanied by a variety of tapas and cocktails.
Location: Jalan Laksamana Oboroi No.177X, Seminyak, Kuta, Kabupaten Badung, Bali 80561
Open: Daily, 8 PM to 1 AM (May change due to pandemic)
Phone: +62 (0)818-0210-0010
---
Want to stay in the Seminyak area? Find your perfect villa here!
7. Single Malt Bar 68, Seminyak
Located at IZE Hotel Seminyak, once you enter Single Malt it's like stepping into New York during the Prohibition Era (a period when liquor was forbidden to be bought and sold).
You feel transported back to the 1920s, and Single Malt is a hidden bar where you can enjoy a drink freely. Exposed brick walls, large leather benches, vintage lamps, and Persian rugs reinforce the atmosphere of that era.
The difference is, what is the highlight of Single Malt is its complete whiskey collection! There are 60 types of whiskey available here, including ancient ones and those rarely found elsewhere. And the best thing is, here you can order a variety of alcoholic drinks at affordable prices. Anyway, you will be satisfied hanging out at Single Malt with friends
Before drinking, make sure your stomach is filled first with the wide selection of tapas available here!
Location: Jl. Kayu Aya Oberoi No.68, Seminyak, Kuta, Kabupaten Badung, Bali 80361
Open: Daily, 6 PM to 12 Midnight (May change due to pandemic)
Phone: +62 (0)361 8466996
8. The Bamboo Bar and Lounge, Sanur
Its uniqueness makes The Bamboo Bar a work of art. This place was designed by an architect from Bali and built entirely using bamboo as raw material. It is not only beautiful but also environmentally friendly. The best part is the hanging chairs that surround the bar area, where you can enjoy cocktails while swinging in the bamboo cradle.
Another reason to come to this Bali bar? Mocktails, delicious thin pizza, and a great WiFi connection. Since this bar is located on the beach, you can also laze around and sunbathe there. Or if you're not too drunk maybe you can take a walk down the beach playing in the water, or even go swimming.
Location: Jl. Cemara, Sanur Kauh, Kec. Denpasar Sel., Kota Denpasar, Bali 80228
Open: Daily, 11 AM to 12 Midnight (May change due to pandemic)
Phone: +62 (0)361 288011
---
Those are all the 8 nightclubs in Bali that we recommend for you to visit. Remember to always drink responsibly. Have a great night in Bali, Flokqers!
Thinking of getting a tattoo in Bali? Find the best Bali tattoo studio here!
---
Want to find a rental option for your vacation in Bali? Flokq has several rental options in Bali with well-facilitated rooms and at an affordable price! Click the button below to find out more.
Click Here to Check Out More Flokq's Homes