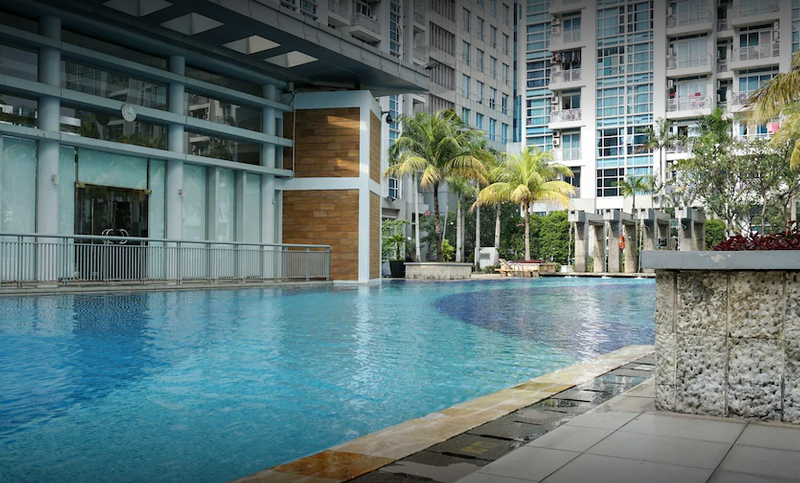 Settling Down
3 Apartments Near Transportation Hubs in North Jakarta
North Jakarta is one of the five administrative cities which form the Special Capital Region of Jakarta. North Jakarta used to be the main port for the kingdom of Tarumanegara back in the days, which made it a city that is full of historical sites and artifacts. There are also several natural mangrove forests in North Jakarta. The colonial Dutch legacy is still there for you to see at the Old Town and the Sunda Kelapa harbor. Aside from being a home to many attractions, North Jakarta is a great residential area, there are a lot of complex houses and apartment building, because of this many transportation facilities are developed in this area. Access to MRT, KRL, and TransJakarta is easier. Then we have listed some of apartments in North Jakarta that are near transportation hubs like MRT, KRL, and Transjakarta!
Read More: Luxury Apartments in North Jakarta
1. CBD Pluit Apartment
CBD Pluit Apartment is located in North Jakarta's central business district. It is perfect home for every business people who are eager to beat every sale given in a running marathon since, as a plus, a car-drive is wrapped in just 15 minutes or so to reach Soekarno-Hatta International Airport, and a couple of minutes to the nearest TransJakarta terminal. It also has easy access to the highways.
CBD Pluit Apartment is one luxury you could get in North Jakarta. Along with its complete facilities that support your hobbies like swimming, jogging or playing tennis with friends, and a space for quality time with family at the children's playground or BBQ area during the weekend, you could now say that nothing is compared to this property. They have a 1BR unit, a 2BR unit, and a 3BR unit for you to consider. It's also a few steps away from the Emporium Pluit Mall!
Address: Jalan Pluit Selatan Raya, RT.23/RW.8, Penjaringan, Kota Jakarta Utara, Daerah Khusus Ibukota Jakarta 14440
Phone: –
Price: starting from Rp85,000,000.00/year
Facility:
24 hours lobby
Swimming pool
Gym center
Children playground
Basement parking
Mini Mart
ATM
One step to Emporium Pluit Mall
Also check: Affordable Apartments in North Jakarta
2. MOI City Home
Introducing MOI City Home, the all-in-one apartment complex in the heart of Kelapa Gading, North Jakarta. Modern living meets convenience, MOI City Home is a part of the mixed-development area of Kelapa Gading Square which includes residential buildings, a shopping mall, and offices. Built by the experienced Agung Sedayu Group, the apartment consists of five high-rise buildings (Hawaiian Bay, Miami Bay, Santa Monica Bay, Manhattan Bay, and San Fransisco Bay) that are connected to one another. It has a choice of a studio bedroom and a 2BR bedroom.
The neighborhood of this North Jakarta apartment has a pretty decent selection of public transportation, such as Transjakarta busses and an LRT (Light Rail Transit) line. The nearest bus shelter is on the West Boulevard catching line 12 from Pluit to Tanjung Priok. Meanwhile, the LRT Line began in Mall Kelapa Gading and is connecting North Jakarta to Velodrome in Central Jakarta. Another alternative is to use online taxi services, such as Grab and Gojek, which is a fairly easy and convenient choice.
Address: Jl. Boulevard Barat Raya, West Kelapa Gading, Kelapa Gading, North Jakarta, Special Capital Region of Jakarta 14240
Phone: –
Price: starting from Rp 60,000,000.00/year
Facility:
Swimming Pool
Tennis Court
Jogging Track
Fitness Center
Gym
Table Tennis
Garden
Barbeque Area
Mini Market
Salon
Shops and Mall of Indonesia Just Across The Building
Read also : Serviced Apartments in North Jakarta
3. Maple Park Apartment
The Maple Park Apartment is an apartment developed by Pikko Group, strategically located at affordable prices. Located in North Jakarta, Maple Park is a good choice either for youngster individuals or small families. Location is very strategic which is Sunter in North Jakarta. Hence, you can have easy access to hospitals Mitra Keluarga Hospital Kemayoran, schools, markets, the harbor, and toll gate to the Airport. One of the best things in this apartment is, the swimming pool is surrounded by the apartment. You could choose from a studio bedroom, 1BR, or 2BR to rent!
Furthermore, this apartment also near to public transportation hubs in North Jakarta, such as MRT and TransJakarta. To cut the traffics you can go to the nearest bus station (Ancol Bus Station, Penjaringan, Bandengan, Mangga dua Bus Stop) that surrounded this area or go for MRT for a more expressway. You can also go to the nearest train station for more better and convenient for you to cut time.
Address: Jl. HBR Motik No.2, RT.18/RW.5, Sunter Agung, Tj. Priok, Kota Jkt Utara, Daerah Khusus Ibukota Jakarta 14350
Phone: (+6221) 65832777
Website: http://www.maplepark-jakarta.com/
Price: starting from Rp 36,000,000.00/year
Facility:
Swimming Pool
Kids Pool
Jacuzzi
Fitness Centre
Jogging Track
Playground
Park
Basketball Court
Supermarket
ATM machines
Large Parking Lot
Multipurpose Room
Laundry
Expedition Office
Salon
Church.
So, there you have your best apartments that are near transportation hubs like Transjakarta and MRT in North Jakarta. We hope this helps you consider things before moving! Don't forget to check out our other recommended apartments that are near transportation hubs all around Jakarta!
---
Want to find an apartment rental option for your stay in North Jakarta? Flokq has several rental options in Jakarta with well-facilitated rooms and at an affordable price! Click the button below to find out more.
Click Here to Check Out More Flokq's Units in Jakarta