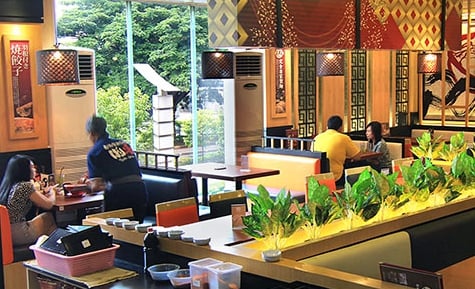 Have you ever traveled to the area around Setiabudi? Setiabudi is one of the most important business centers in Jakarta. This area is filled with various office buildings, embassies, luxury hotels, and shopping centers. Besides that, there are also offers a wide selection of restaurants and bars along Rasuna Said street that remains crowded throughout the night.
Furthermore, Setiabudi is an area that has many apartments that become favorite choices for expatriates, young couples, and executives who work in the capital's business district. Also, this area is filled with various shopping and entertainment centers. For instance, Shopping Avenue, Kuningan City, or even a place to buy various kinds of electronic devices like ITC Kuningan.
There are still so many places at Setiabudi that you can explore. So, here are the lists of places that you can visit near Setiabudi area.
1. Setiabudi One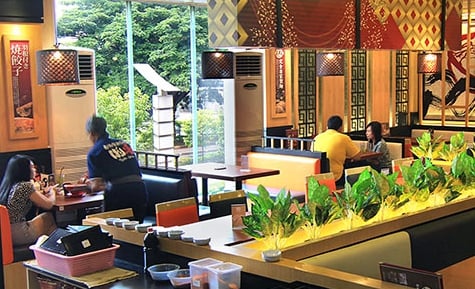 For those who are located in the Poros Sudirman – Thamrin – Kuningan area, you are sure to be familiar with this mall. Setiabudi One is located on Jl. H. R. Rasuna Said, RT.18 / RW.2, Kuningan, Karet Kuningan, Setiabudi District, South Jakarta City, Special Capital Region of Jakarta 12920. Setiabudi One is an ideal spot for conducting various business meetings or just relaxing in a cafe or restaurant. You can also enjoy dining, coffee break, fitness, beauty treatment, and entertainment in there.
Read also: 5 Best Coffee Shops in Setiabudi
Their open hours are from 10.00 until 22.00. There are various facilities like ATM center, free wifi access, and valet service. You can also visit various cafes and restaurants such as Wingstop, Imperial Tables, Krispy Kreme, Dairy Queen, Anomali Coffee, etc.
2. Lotte Shopping Avenue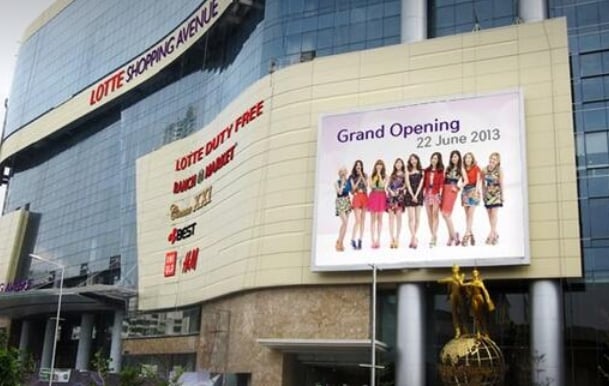 Lotte Shopping Avenue is located on Jl. Prof. Dr. Satrio Kav 3 – 5, Karet – Kuningan, Jakarta 12940, Indonesia. Lotte Shopping Avenue is the largest department store from Korea which was officially opened on Saturday, 22 June 2013. This mall consists of seven floors, complete with Korean nuances and thick K-pop style entertainment.
They provide various brands and tenants like H&M, Uniqlo, Cinema XXI, ACE Hardware, Samsung, Adidas, etc. They also provide e-commerce through their website for brand like SK-II, Lock n Lock, Planet Sports, etc. Besides, Lotte Shopping Avenue often makes events and promotions inside the mall to attract more visitors. The mall is open from Monday to Sunday from 10 am until 10 pm.
3. Epicentrum Walk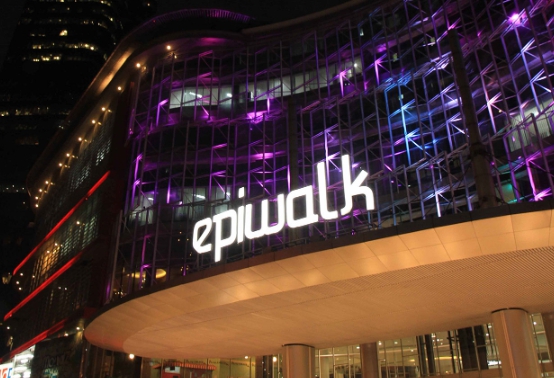 Epicentrum Walk is located on Rasuna Epicentrum Area, JL. HR. Rasuna Said, Jakarta. Epicentrum Walk, known as Epiwalk, is the center of amusement and lifestyle that brings a new creative atmosphere through three different choices of space indoor, outdoor, and semi-outdoor.
Inside the Epiwalk, sometimes, there are events and promotions for the visitors to enjoy. Hence, you will find Gala Premiere for a movie, anniversary and gathering, and gallery exhibition. Besides, you can also enjoy the restaurants and cafes such as Starbucks, Mokka, Mama Malaka, and Kafe Betawi. Also, you can go to the salon or other tenants as entertainment.
4. Kuningan City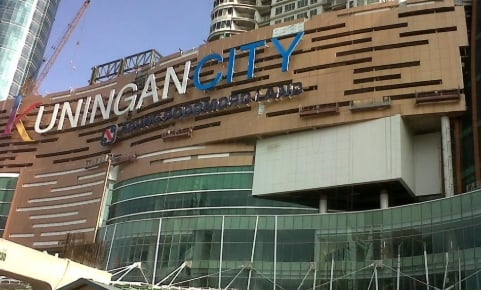 Kuningan City is located on Jl. Prof. Dr. Satrio Kav. 18 – Setiabudi, Kuningan South Jakarta 12940, Indonesia. Kuningan City is a multipurpose complex consisting of a shopping center, two apartment towers, and one office tower. Comprising of two luxury residential towers, one office tower, and a lifestyle & entertainment center, Kuningan City fulfills the need for a convenient, comfortable, and exciting place to work, rest and play.
Kuningan City Mall provides facilities like ATM Center, nursery room, prayer room, plentiful parking spaces, and other facilities. The opening hours are Monday to Friday at
10:00 – 23:00 and Saturday to Sunday at 08:00 – 23:00. Kuningan City Mall also put on events and promotions like the street food market, music festival, and other events to attract visitors.
Check out more great malls in Jakarta here!
5. Kota Kasablanka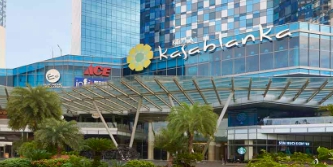 Kota Kasablanka is located on Jl. Casablanca Raya Kav. 88 South Jakarta 12870. Kota Kasablanka has established since 2012 and become one of the busiest shopping centers in Jakarta, Indonesia. Kota Kasablanka provides hundreds of global fashion brands, favorite beauty shops, and selection of entertainment & lifestyle stores. There are also offers a dedicated floor for kids. You can find apparel, toys, and feel an exciting experience at the rooftop swimming pool.
If you love culinary, you can pick from a variety of dining choices in Food Society such as Bakerzin, Caprese, Dairy Queen, Denny's, Excelso, and Fish & Co. However, if you want to enjoy Japanese foods, you can simply go to Little Tokyo. There, you can have a bowl of classic ramen to Japanese desserts.
Kota Kasablanka also offers various facilities such as nursery room, mosque, taxi lounge, first aid room, and other facilities.
6. ITC Kuningan dan Mall Ambassador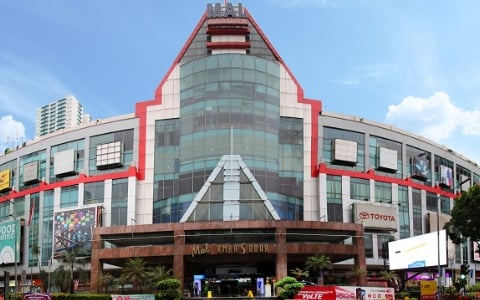 ITC Kuningan and Ambassador Mall are located on Jalan Professor Doktor Satrio No.18 RT.11 / RW.4 Kuningan, RT.11 / RW.4, Kuningan, Karet Kuningan, Setiabudi District, South Jakarta City, Special Capital Region of Jakarta 12940. PT Duta Pertiwi Tbk, the developer, built ITC Kuningan side by side with Ambassador Mall, which was already present when ITC Kuningan was built. Ambassador Mall – which also belongs to Duta Pertiwi – is only four floors while ITC Kuningan has seven floors.
Although both malls are connected to each other, they have different concepts. Ambassador Mall is more luxurious than ITC Kuningan. In ITC, there are contains very large numbers of small kiosks, aka modern markets. Ambassador Mall is a large and complete shopping center. Thus, hundreds of outlets of various fashion products, electronics, cellphones, computers, books, food, and others are available there.
7. Culinaria MODENA (Cooking Class)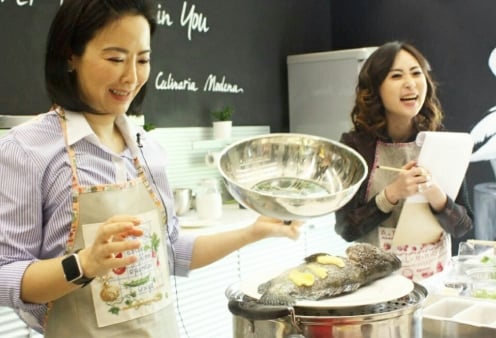 Culinaria MODENA is located on Jl. Prof. Dr. Satrio C-4 no. 13 Jl. Suryo no. 22, Jakarta 12950 Indonesia. Culinaria MODENA is a place for people who want to learn how to cook. So, as part of the MODENA Experience Center, Culinaria MODENA provides space for culinary enthusiasts to realize their dreams. Moreover, MODENA believes that everyone can cook.
MODENA's kitchen studio is designed to accommodate the needs of both amateur and professional chefs. So, anyone will feel comfortable and inspired. CENENARIA MODENA's class curriculum includes important basic steps. For example, introduction to cooking equipment and methods, standardization of hygiene and safety protocols, to the understanding of materials and sourcing techniques.
8. KidZania Jakarta
KidZania Jakarta is located on Pacific Place L6 – 601 Sudirman Central Business, Jalan Jendral Sudirman No.52-53, Senayan, Kebayoran Baru, Kota Jakarta Selatan, Special Capital Region of Jakarta 12190.
KidZania Jakarta is a theme park or 'city' of children that put the first education and entertainment (edutainment) elements in Southeast Asia for children aged 2-16 years. So, in this city, children can play adult roles or professions. For instance, becoming doctors, pilots, police, cooks, scientists, and more than 100 other professions.
The opening hours and ticket price are, from Monday to Friday at 09.00-15.00 the ticket price is from Rp 50.000 – Rp 225.000, and for the weekend and national holiday at 09.00-15.00 the ticket price is from Rp 100.000 – Rp 275.000.
Here it is! Now you know some places that you can explore and enjoy while strolling around Setiabudi area. So, don't forget to prepare your budget before you travel. I hope you enjoy!
Want to learn more about South Jakarta? Click here!