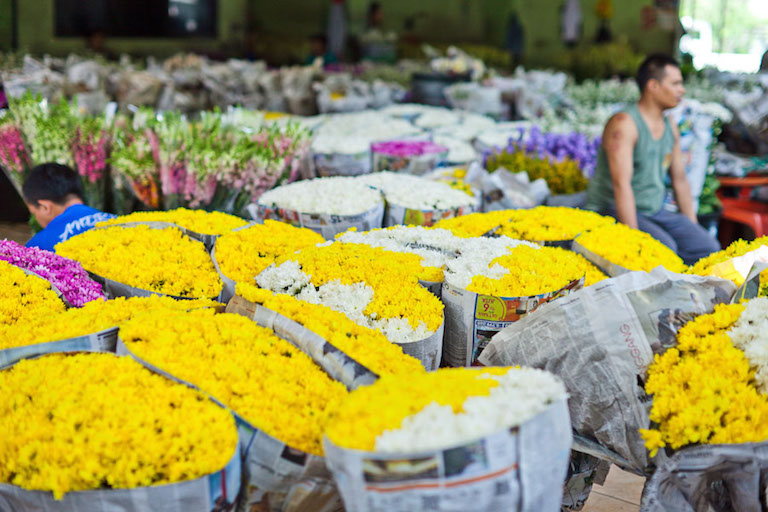 Being a part of the capital city of Jakarta, West Jakarta is renowned for its office district after Central Jakarta. Besides being an office district, West Jakarta is also famous for its historical tourist attractions, and one of them is the Rawa Belong Flower Market. This market is not only, for obvious reasons, buying flowers, but also believed to have a history with 'Si Pitung', a hero from Betawi. Rawa Belong is also been well-known as a producer of orchids and continues to be developed as a tourist attraction as well as a selling center for various type of flowers
Located at Jl. Sulaiman No.56, Kebon Jeruk, West Jakarta, this market is the largest flower market located in Southeast Asia. Florists in this market can reach up to 400 people, they directly align the flowers they sell in the center of ​​the market so that visitors can see and look directly for the flowers they want to buy. Because of that, the scenery of this market resembles a beautiful flower garden.
You can find various types of flowers imported from diverse cities across Indonesia. It is not impossible to find flowers from overseas in this market. The price range for flowers in this market varies and is quite affordable, depending on the type of flowers or how many flowers you want to buy. However, the price can be jumped up to 4 times at moments like Valentine or before public holidays in Indonesia. The usual price for dozen of roses ranged from Rp 70.000,00 – 100.000,00, and roses that are offered here are not only red-colored ones, but varies from white to blue, even to rainbow colors. There are lots of options for you to choose which colors you like.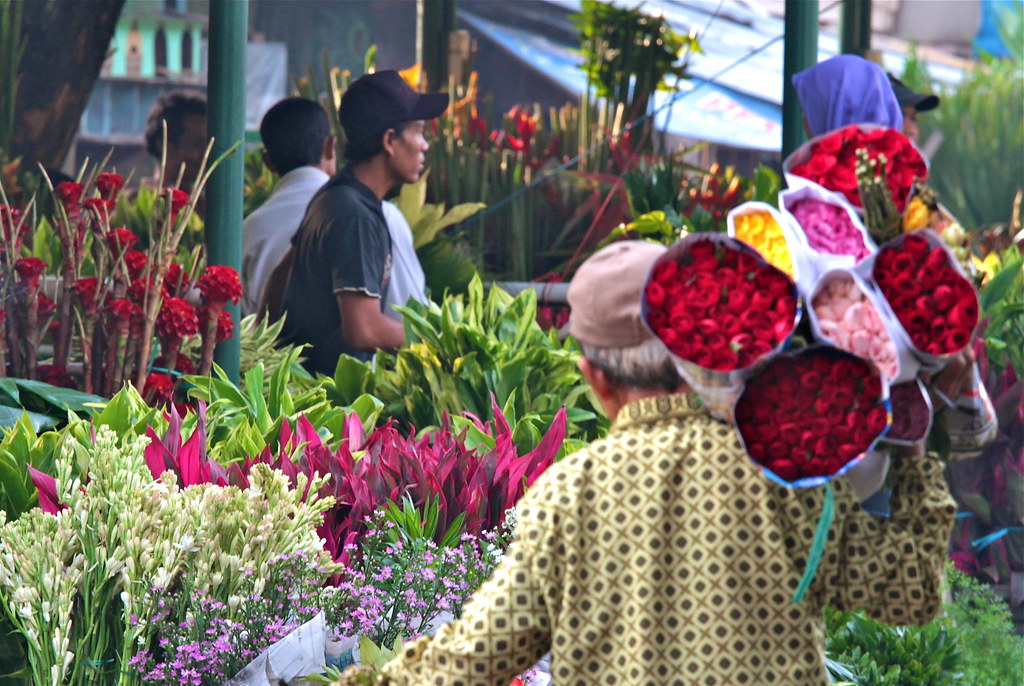 Besides roses, sunflowers are also one of the best-selling flowers here. The price offered is quite affordable, starting from Rp. 20.000,00 for five flower stems. These bright yellow flowers are usually bought for room decoration or event decoration. Imported flowers such as Dendrobium Orchids from Thailand can also be found here at Rp 120.000,00 per bunch, while local flowers are priced at Rp 80.000,00. The price offered is also influenced by the place where the flower is planted, so different plantations mean different prices. They also have Chrysanthemums, Hyacinth, Lotus flowers and pods, Lilies, Baby's breath, and many other flowers that you can find while strolling around. You don't need to be afraid of wilting flowers, because traders here will immediately replace flowers that are already look withered with the fresh one. Even more, they also have an option to deliver flowers to your home.
Being open for 24 hours, this place also has another uniqueness, and that is a specific time for the fresh flowers to come. If you want fresh flowers from Sukabumi and Bandung, you can come in the morning at 02.00 – 06.00 WIB. While at 14.00 – 21.00, you can see fresh flowers coming from the Sumatra region. Not only selling flowers, but the Rawa Belong flower market is also divided into three blocks, namely blocks A, B, and C. Block A and B are places where people sell wet and live flowers while Blok C is a place for artificial flower sellers, ornamental plants, and even wedding decoration equipment.
This Flower Market is located in an easily accessible area. To be able to visit this place, you can choose several modes of public transportation available in Jakarta, which are :
Transjakarta
The first option that you can choose is using the Transjakarta bus. With a low fare of only Rp 3.500,00, you can get off at several bus stops that are closest to this flower market like Kelapa Dua Sasak stop, Pasar Pisang stop, and the Palmerah stop. Transjakarta only accepts non-cash payments with e-money cards such as BCA Flazz, BNI Tap Cash, BRI BRIZZI, Mandiri e-money, Bank DKI JakCard, and Bank Mega Mega Card. Transjakarta is normally operating for 24 hours. However, if you still need other modes of transportation to continue your trip, it is recommended to use online motorcycle taxi modes to shorten the time.
KRL Commuter Line
This electric train is quite a popular mode of transportation used by people who want to visit the Rawa Belong Flower Market because Palmerah Station is only 5 km away. If you rarely use this transportation or just want to travel occasionally, you can buy a daily ticket or known as THB (Tiket Harian Berjaminan) that is available at the train station counter. However, if you often use this mode, it is recommended to buy the KRL Commuter Line multi-trip card (KMT), or use a bank card (e-money) that already cooperates with the Commuter Line. Fares using this transportation may vary, ranging from how far you travel, the fare for the first 25 km is Rp. 3.000,00, and Rp. 1.000,00 per additional 10 km.
Jak Lingko
Jak Lingko is a public transportation integration system in Jakarta which is part of the Ok-Otrip transformation program. If you want to use this mode of transportation, you can take JAK14 with Tanah Abang – Meruya route, then go on Jl. Rawa Belong 2A and continue to walk on to Jl. Sulaiman as far as 500 meters. Or you can also use JAK56 with the Grogol Terminal – Taman Kota Srengeng route, and get off at Jl. Sulaiman to continue the trip by walking. The Jak Lingko fare is Rp 5.000,00 for three hours of travel, and only accept payment with a non-cash card (e-money) from BNI Tap Cash, DKI Card (JakCard), and OK-Otrip card. Jak Lingo operates from 05.00 – 22.00
Angkot (public minivan)
Transportation options other than those mentioned above are an angkot (public minivan). M09 (Tanah Abang – Kebayoran Lama route), M11 (Tanah Abang – Meruya Ilir route), and M24 (Srengseng – Slipi Kemanggisan – Tanjung Duren route) are angkot routes that pass through this flower market. Fares using this public transportation in Jakarta are around Rp 4.000,00 – 5.000,00
Online Transportation
You can also choose to directly use e-hailing rides such as online taxis or online motorbike taxi (ojek), especially for its fairly cheap price and no hassle. Since the roads around this area are quite congested, using ojek might be a feasible option. The application can be accessed 24 hours, with an initial fare ranges around Rp 15.000,00 – 20.000,00 depending on how far is the distance.
So if you are looking for affordable flowers to decorate your living spaces, have a plan to give it to someone special in your life, or need it for various occasions, take a visit to this Jakarta's biggest flower market. Find the various type of flowers and flower arrangements, from a freshly cut, bouquet, or flower arrangements board with more affordable prices!
Read also : Best Florists in Jakarta For Your Loved Ones