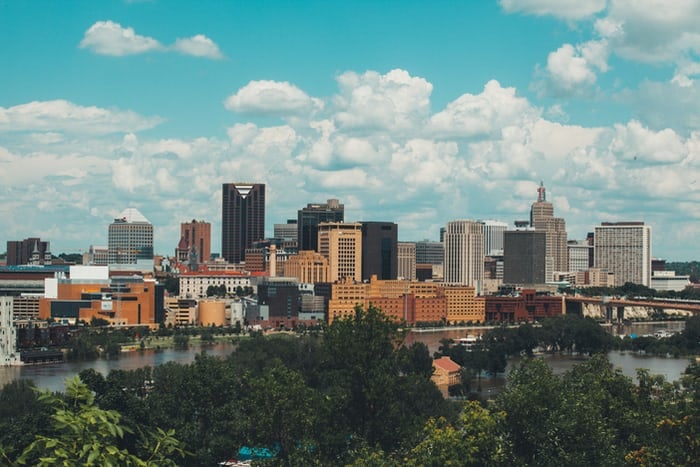 Settling Down
5 Recommended Apartment Rentals in Cilandak with Complete Facilities
Thinking about renting an apartment in Cilandak? Don't miss this article because Flokq has the best apartment recommendations for you. Cilandak is an area that has many offices and is crowded with residents. Not only that, but this area is also complete with effective transportation access and a range of entertainment that helps you to refresh. You can have a balanced lifestyle between various aspects of life even though you live in the capital city.
1. Branz Simatupang Apartment
Luxury apartment located in Cilandak, South Jakarta with a blend of Indonesian and Japanese culture. Inspired by the waterfall motif, Branz Simatupang offers a residence that saves natural beauty. With high-quality facilities, Branz Simatupang ensures its residents have an interesting life experience. After being tired of working in the capital city, you can pamper yourself by the pool. Or if you want to relax and chat with friends, you can go to the cafe in this apartment.
Other interesting facilities such as a gym, library, supermarket, grocery store, children's playground are also available in this apartment. In addition, the environment around this apartment is also known to have the best infrastructure such as office buildings, schools, hospitals, to hotels. This area is also famous among expatriates who want to rent an apartment. In addition to complete facilities, this apartment is also close to several shopping centers. It only takes 7 minutes to get to Cilandak Town Square, a mall with a very complete supermarket and a row of delicious restaurants. Or if you want to walk further, you can go to Pondok Indah Mall. You can use various public transportation options from TB Simatupang to reach all corners of the city. There is Transjakarta with the closest bus stop "Astra" which only takes 5 minutes on foot to get there.
Address: Jl. R.A.Kartini No.10, RT.10/RW.4, West Cilandak, Cilandak, South Jakarta City, Jakarta 12430.
People also read: 5 Recommended Apartments for Expats in Central Jakarta
2. Hampton's Park
Located in a premium apartment complex consisting of four towers next to the Pondok Indah golf course. The location is quite strategic to go to supermarkets, cafes, and bars within walking distance. Due to its location on a relatively small street, this apartment complex is not crowded or noisy from the hustle and bustle of the capital city. But if you need to meet your monthly or daily needs, you can go to Pondok Indah Mall (PIM). and Cilandak Town Square (Citos).
Hampton's Park is the perfect apartment for young executives and new families looking to rent an apartment. There is a school near Hampton's Park that is great for children to get the best possible education. In addition, this apartment also offers complete basic facilities for its residents. You can find minimarkets to ATM centers that are easy for you to access. To exercise, you can use the jogging track, tennis court, basketball court, and swimming pool. Or there is also a fully equipped gym with an aerobics room and sauna. You just choose what sport you want to do today.
Address: Jl. Terogong Raya No.18, RT.10/RW.10, Cilandak Bar., Kec. Cilandak, South Jakarta City, Special Capital Region of Jakarta 12430.
3. Bumimas Apartment
Many expats choose this apartment because of the good air quality and neat arrangement. Its location which is not too crowded and has less pollution than other areas is a plus point. In addition, there are also many facilities that residents can enjoy, such as a sports center with a crystal clear swimming pool, a Jacuzzi, a gym complete with an aerobics room, a sauna, and a tennis court. There are also other additional services such as supermarkets and salons that you can find without having to leave the apartment.
This apartment is also suitable for young executives and new families who want to rent an apartment. Because it is surrounded by good schools in Jakarta. Or if you want to go to a shopping center, there are several nearby malls that are affordable by vehicle. The distance is only about 11 minutes from Street Gallery and 9 minutes from Cilandak Town Square. If you need something urgent, you can go to a minimarket called Papaya or walk to Hero, a more complete supermarket. You can also use public transportation close to this apartment such as the MRT from Cipete Raya station.
Address: Jl. Terogong Raya No.18, RT.3/RW.10, Cilandak Bar., Kec. Cilandak, South Jakarta City, Special Capital Region of Jakarta 12430.
People also read: 4 Recommended North Jakarta Apartment to Rent Near Mall Kelapa Gading
4. Ampera Avenue Residence
Ampera Avenue Residence has a pleasant and relaxing environment nearby. It is located quite far from the busy city life of Jakarta. It is suitable for those who are looking for a quiet life but surrounded by modern facilities. Even though the area is far from the city center, that doesn't mean it doesn't have complete facilities. Residents can use laundry & dry clean facilities. You can still visit various shopping centers with a 15-minute drive.
For the most practical and efficient public transportation, you can use motorcycle taxis and online taxis. Or you can also use the MRT to go for a walk to see the city. Moreover, the MRT is very comfortable and professional for you to use. You can rent an apartment on Ampera Avenue to get a quiet life away from the bustle of the capital city.
Address: no. 60 Sunday Market,, Jl. Ampera I No.1, RT.2/RW.9, Ragunan, South Jakarta, City of South Jakarta, Special Capital Region of Jakarta 12560.
5. Beverly Tower
Rent an apartment in Cilandak has many advantages, especially its strategic location to reach around South Jakarta makes it easier for residents. In fact, not only office buildings, but this apartment is also close to Prasetiya Mulya University. From Beverly Tower, the nearest MRT station is Fatmawati (950 m), with a travel time of 1-2 minutes. Another alternative is TransJakarta (busway) Corridor 8 (Lb Bulus-Harmony) from Lebak Bulus Terminal. In addition, access to the highway is only 5-6 minutes. The facilities are also perfectly designed to pamper the residents. You can relax by the pool and use the sauna for a better experience. In addition, you can also have a barbecue party with friends.
Other additional facilities are also available, such as tennis courts, ATM centers, grocery stores to fitness centers. You can still have a healthy life even if you live in an apartment. To meet your monthly needs, you can shop at Cilandak Town Square (citos) or One Belpark Mall. This apartment is also close to practical public transportation such as MRT or busway. However, if you are in a hurry, you can use an ojek or online taxi which is more efficient.
Address: Jl. R.A.Kartini No.16, RT.16/RW.6, Cilandak Bar., Kec. Cilandak, South Jakarta City, Special Capital Region of Jakarta 12430.
People also read: 4 Sudirman Apartment Recommendations with Strategic Access