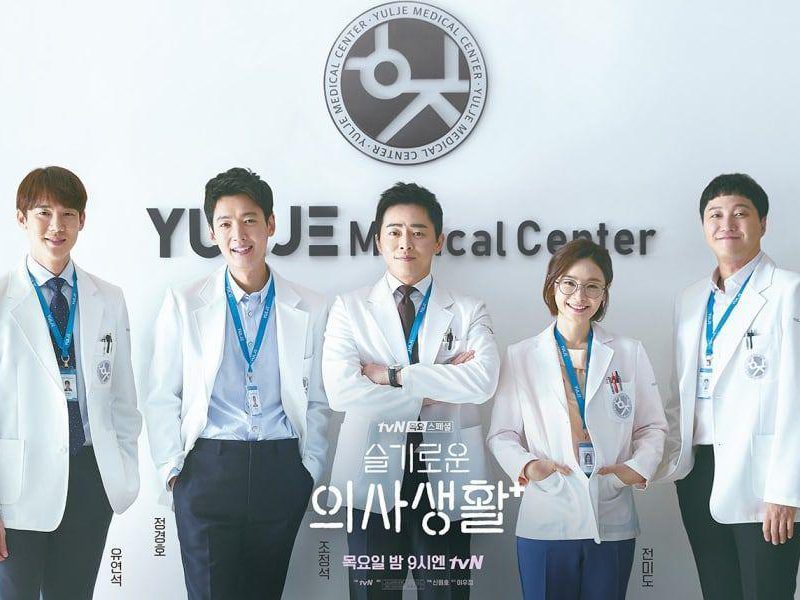 Staying In
Recommended Korean Series to Watch During Pandemic
Do you often feel bored during a pandemic nowadays? If you are bored, then what did you do? Have you tried to spend your time watching drama series? Korean dramas are currently the right choice to reduce your sense of boredom, especially now that there are various Korean drama choices that you can watch with good storylines and high ratings. For that, we have listed some recommendations for you of the hyped Korean Drama series that you can watch!
read also Best Korean Variety Show to Watch
1. It's Okay to Not Be Okay (2020)
As the title suggests, the Korean drama titled It's Okay to Not Be Okay carries an important message to be more accepting of yourself. Broadly speaking, the series, starring Kim Soo-hyun and Seo Ye-ji, still carries a love story like most typical Korean dramas. However, the mental health issues as the main theme in this drama add more value, It's Okay to Not Be Okay, so it feels more interesting. This back and forth plot is also quite successful at making the audience curious, but on the other hand the dark aura from past footage makes the drama feel terrible in some parts. This atmosphere is most pronounced when telling the past of Ko Moon-young's life, which is still a shadow of the trauma of his current life. It's Okay to Not Be Okay is an interesting spectacle for Korean drama lovers with high ratings.
2. Reply 1988 (2015)
Even though this drama is not the newest drama, lately this drama has become the talk of Korean drama lovers. This Korean drama has a setting in 1988 which makes everyone flashback to that time which was the time that was so missed. This Korean drama presents stories of everyday life living side by side with neighbors, so that this drama has a connection with life in the real world. Even though it has a back and forth plot, this drama's storyline is very light so it doesn't make you think hard. From the first episode, you will be wondering who Sung Deok Seon's future husband. This woman who underwent adolescence in 1988 experienced a difficult youth as a middle child who was often overlooked. Deok Seon, who spends time with her boyfriend, doesn't think that her soul mate is one of them. Between Kim Junghwan, Choi Taek, Sung Sunwoo, and Dong Ryong, this is a crucial time that makes Deok Seon choose the man of her choice.
3. Crash Landing on You (2019)
In the early half of 2020, it looks like there are many new series that have entered the list of the best Korean dramas of all time. One of them is Crash Landing on You. The story from this romantic drama genre takes the background of North and South Korea. A South Korean woman named Yoon Se Ri is trapped in North Korea due to strong winds while paragliding. He met Captain Ri who was on guard at the time. Two different citizens of this country try to help each other without being caught by their respective authorities. Time goes by, it turns out that Se Ri and Captain Ri fall in love with each other. Even though they try to lie with their own feelings, until the last second they are still working on each other to be happy together.
4. Hospital Playlist (2020)
Hospital Playlist has become a hot topic for Korean drama lovers because it was worked on by director Shin Won Ho and script writer Lee Woo Jung. Korean dramas about health and medicine are one of the best in the world. One of the newest ones is the Hospital Playlist, starring Jo Jung Suk, Kim Dae Myung, Jung Kyung Ho and Jeon Mi Do. As the title suggests, this drama is set in a group of doctors working in a hospital. Hospital Playlist tells about five doctors who have made friends since they entered the medical school 20 years ago. They are so close as if they could read each other's minds. Their daily lives are filled to serve people who are critical or just stop by at the hospital. Not only tells about hospital life, the Hospital Playlist shows a doctor's daily life, starting from love stories, friendships to daily conflicts.
5. The King: Eternal Monarch (2020)
This drama is one of writer Kim Eun-sook's latest comebacks who previously had success with various cool dramas with high ratings such as Descendant of The Sun, Goblin, and Mr. Sunshine. The King: Eternal Monarch tells about a demon who comes to the human world with the intention of opening the door to the parallel world. However, this was opposed by the Korean Emperor Lee Gon (Lee Min-Ho). Therefore, the Emperor tries to close the door to a parallel world with the help of South Korean Detective Jung Tae-Eul (Kim Go-Eun) to protect the lives of those he loves.
6. Prison Playbook (2017)
This Korean drama also tells about friendship. The story begins with a professional baseball player who is stranded in prison for an unknown case. He became friends with several other people there. Through this friendship, the audience was invited to look at the athlete's past and background until he finally ended up behind bars. Even though it seems to be lifting the criminal genre, this series actually emphasizes the comedy side. Many say the first episode is too vague and can make people bored at first. However, if you really follow it painstakingly, the best drama of all time has been able to bewitch a unique plot in each episode.
7. Itaewon Class (2020)
No one would have thought that this webtoon adaptation drama would also be one of the good Korean dramas in early 2020. A man named Park Sae Ro Yi has a mission that is quite naive and ambitious. He wants to run his own bar business and beat the big franchise company Jangga Group. A period of grudge in the past, made him have a great desire to make it happen. In this process, Sae Ro Yi was accompanied by two tough female figures, Jo Yi Seo and Oh Soo Ah. The two of them showed their respective strengths to win this endless complex competition.
Budget-friendly korean restaurants in Jakarta
8. The World of the Married (2020)
As the title suggests, the drama The World of the Married shares the story of married life that faces various trials, one of them is betrayal. This drama is starring the senior actress Kim Hee Ae as Ji Sun Woo, Park Hae-Joon as Lee Tae O, and Han So Hee as Yeo Da-kyung. In this drama, the audience's emotions are drained with a storyline that is not boring and is revealed in the first episode, so that it makes viewers at home captivated and feel at home sitting sweetly continuing the excitement of the story.
9. Dr. Romantic 2 (2020)
Romantic Doctor Kim 2 is a sequel to the previous drama and is a medical drama played by Han Suk Kyu, Lee Sung Kyung, and Ahn Hyo Seop. Dr Romantic 2 tells the story of a woman doctor who is smart and full of confidence. She meets a male doctor who is good at surgery. They both confronted senior doctor Kim and learned many new lessons. Cha Eun-Jae and Seo Woo-Jin met an unusual doctor, Teacher Kim. They grew up as humans and doctors with their experiences with Master Kim.
10. Hi Bye, Mama! (2020)
Hi Bye, Mama is a family drama with a fantasy genre. The series Hi, Bye Mama tells the story of a woman named Cha Yoori (Kim Tae Hee) who has died in a tragic accident. Interestingly, after five years of her death, Cha Yoori was reincarnated as a human for 49 days to be able to reunite with her husband Jo Kanghwa (Lee Kyuhyung) and her daughter. However, when that moment happened, Cha Yoori found that her husband had remarried. Even though it's covered in comedy that churns the stomach, in every episode you will be made to cry with unexpected stories. Prepare yourself for the journey of the story and ending that was completely unimaginable before.
Well, that's it! Some recommendation for Korean dramas that are currently very popular and you should watch as soon as possible. Don't forget to include this list in your watch list and visit other articles to see other shows!
read also Best Romantic Movies of All Time