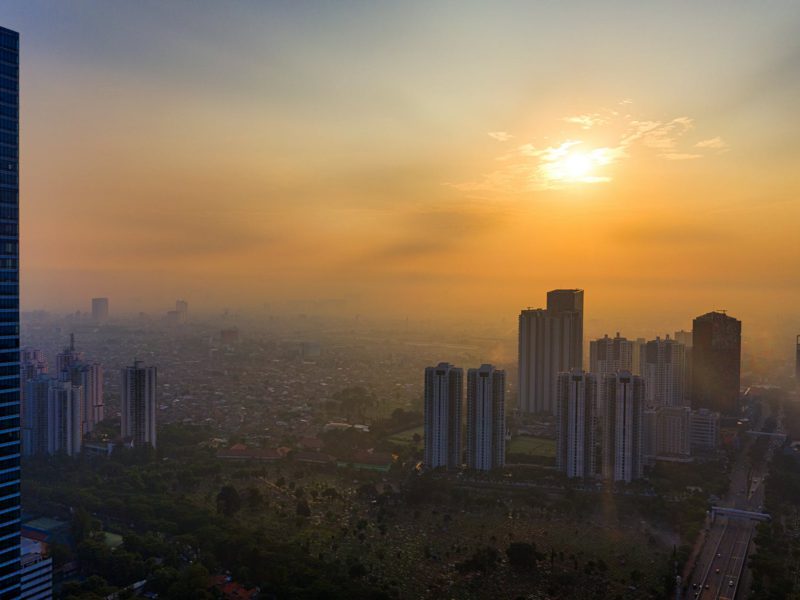 Living in Jakarta with family might give many advantages for those whose activity is based in the city. Besides its strategic location, renting an apartment in Jakarta would make it easier to get everything you need. Are you planning to live here with your small family or by yourself? Flokq will help you find the best apartments where you can rent a 1BR apartment in Jakarta that meet your convenience. Let's get started!
The Royal Olive Residence
This place is one of the best choices to rent the 1BR apartment in Jakarta. Bringing a mix of modern and comfortable concepts, it is a great option for living with your beloved family.
A 1BR apartment here comes with one bathroom in a spacious fully-furnished unit. They provide one to three bedrooms with various adjustable sizes from 35sqm to 79sqm.
Each unit is equipped with a cable TV and high-speed Wi-Fi connection. Working from home doesn't feel like a bad thing, right?
Moreover, The Royal Residence has plentiful amenities to maximize your comfort. Keep your body active by exercising at the jogging track, swimming pool, or fitness center.
Need to have self-care after a long tiring day? Pamper yourself at the spa here. You are also able to have fun with friends at the sky garden and lounge.
Rent 1BR apartment Jakarta here at: Rp 5.300.000/month
Salemba Residence Apartment
Surrounded by universities and offices, Salemba Residence is perfect for those who seek a comfy yet affordable apartment in the Menteng area. Renting a 1BR apartment here would give you access to clean and complete facilities.
Salemba Residence provides all the basic amenities that you need, such as a spacious basement parking spaces, fitness center, and swimming pool. If you love to play tennis, the tennis court is available here. Moreover, you can also spend your day in the working space and have a coffee in the cafes on the ground floor.
Furthermore, another convenience that you should consider is that you will be close to hospitals and other vital places. Some traditional markets like Pasar Pramuka and Pasar Kenari Djaya are accessible from this apartment. There is a big Gramedia bookstore nearby too!
Rent 1BR apartment Jakarta here at: Rp 3.750.000/month
Capitol Park Residence Apartment
You should consider this place if you want to rent 1BR apartment Jakarta at affordable prices. Located at Salemba, Central Jakarta, Capitol Park Residence has two residential towers, Sapphire and Emerald; and will build a new tower in the future.
It has a stylish and modern architecture focusing on function and space efficiency. Furthermore, this apartment provides comfort on top of the list. With luxurious resort-style facilities, Capitol Park Residence is a great place to stay in Jakarta.
You can enjoy the high-quality amenities like the gazebos at sky garden, jacuzzis, BBQ area, the 24-hour housekeeping service, etc. Apart from its convenient facilities, this place is close to the famous art center Taman Ismail Marzuki, several CBDs, Grand Indonesia, and many more.
Moreover, living in Capitol Park Residence will make it easier for you to reach other places by public transportation. The TransJakarta shelter, MRT and Commuter Line station is available nearby. You can also use online transportation such as Grab or Gojek.
Rent 1BR apartment Jakarta here at: Rp 4.600.000/month
Ancol Mansion Apartment
Want to rent a 1BR apartment in the North Jakarta area? Ancol Mansion is suitable for those who love enjoying the beach view while working from home! As the residents, you have access to several premium facilities and it is easy to reach other places.
The units come with different sizes from 50sqm to 330sqm which is spacious for you and your family. It also provides a large swimming pool, jogging track, ATM center, grocery store, basketball and tennis court, function room, and many more. Don't worry about safety, because the building has CCTVs and 24-hour security.
Located in the high-class area of North Jakarta, it is close to the Jakarta Outer Ring Road and Jakarta Inner Ring Road. This will make it easier to travel or work!
Moreover, is near some shopping malls, such as Mangga Dua Square, WTC Mangga Dua, Pluit Village, and Emporium Pluit. You can have your favorite seafood dish at some restaurants nearby, like Bandar Djakarta or Segara Ancol. Seems legit, right?
Rent 1BR apartment Jakarta here at: Rp 6.950.000/month
MTH Square Apartment
Are you planning to live in East Jakarta? Well, this apartment might be your best option. MTH Square has 1BR units which are fully-equipped and comfortable for you and family.
Located in a residential area of Jatinegara, this apartment offers easy access to your daily needs. Here, you can find a mall, hospital, highway access, and some restaurants, so you don't have to go far for it.
Moreover, MTH Square already has a minimarket in its building. This makes it easier to buy some stuff and you can save more time. If you need to shop in a bigger grocery store, there is Frestive Otista nearby. The mall is connected to the MTH Square mall and is reachable to the Bassura City mall.
MTH Square is equipped with some facilities to maximize your comfort. There is a rooftop swimming pool and fitness center to keep you active. Every unit has a high speed internet access, so no worries if you work from home.
Furthermore, If you love to work by public transportation, this apartment gives you easy access to Duren Kalibata commuter line station. It is just 3 km away from home. The TransJakarta bus stop is also close to MTH Square.
Apart from its access and plentiful facilities, the area is free from flood and traffic zone. Such a great place to stay, right?
Rent 1BR apartment Jakarta here at: Rp 4.100.000/month
---
So, that's all 5 options to rent 1BR apartment Jakarta that suits your needs. You are able to find and rent more cool apartments in Flokq's homepage here!