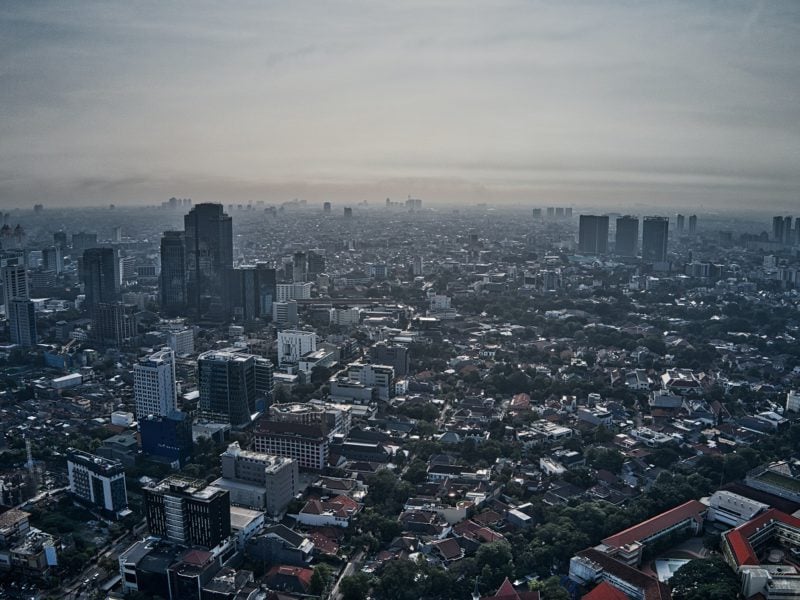 Settling Down
10 Reasons Why You Should Rent The Gateway Ciledug Apartment
The Ciledug area is located between Tangerang and Jakarta. Many workers and executives live here because of its very strategic access to anywhere. One of the famous rental apartment destinations here is the Gateway Ciledug Apartment.
The apartment, which is also called Gateway Pesanggrahan, has many advantages compared to other apartments in Ciledug. The rental price is quite affordable and has a number of interesting facilities.
Are you interested in renting an apartment in Ciledug but still unsure which apartment to choose? Flokq has 10 reasons you should rent the Gateway Ciledug apartment.
Rent Gateway Ciledug apartment here
1. Apartment Close to Toll Road
Living in a residence close to the toll road is indeed beneficial for those who frequently travel in Jabodetabek. If you want to rent an apartment in Ciledug that has access to toll roads, this Gateway apartment might be the answer.
Located only 5 minutes from the Ciledug toll road, this apartment allows you to easily reach offices in Jakarta. This toll road is also connected to the South Tangerang area, so you have no trouble when you have to go to BSD or Serpong.
You can easily access other areas because this toll road is connected to the Jakarta Inner Ring and Outer Ring Road. Both can be reached in about 30-45 minutes. Moreover, Soekarno-Hatta International Airport is also easy to reach. You just need to drive for 25 minutes via the toll road.
2. Many Schools and Universities Around The Apartment
For those of you who live with family, renting the Gateway Ciledug apartment will provide many choices of best-quality schools that are located quite close. This apartment is also suitable for college students studying in Ciledug and its surroundings.
Right in front of the Gateway apartment, there is Budi Luhur University. If you study or work here, of course, it is very efficient to rent this apartment. There are several universities that are still affordable from the apartment, such as Prof. Dr. Moestopo Beragama University, Mercu Buana University, Pertamina University, and BINUS.
You can send your children to the nearest school, such as SD Cendrawasih Pondok Aren (6 minutes), Darunnajah Islamic Boarding School (11 minutes), and SMAN 90 Jakarta (4 minutes).
The apartment is also quite close to international schools in South Jakarta and South Tangerang, such as Sinarmas World Academy (22 minutes), Jakarta Intercultural School (17 minutes), and Lentera School Indonesia (14 minutes).
3. Easy to Reach Shopping Center
Those of you who like shopping may ask where you can find malls or markets. Don't worry, the Ciledug Gateway apartment is close to many shopping centers.
For shopping centers with relatively affordable prices, you can visit ITC Cipulir which can be reached for 10 minutes. About 15 minutes from the Gateway, you can also visit Gandaria City. In this more premium mall, there are many branded goods, restaurants, and cinemas.
Because the location of this apartment is close to the toll road, you can easily explore malls in other parts of Jakarta, such as Lippo Mall Puri, Central Park, Pondok Indah Mall, and others.
4. The Environment Is Not Too Crowded
The Gateway Ciledug Apartment is perfect for those who want to live on the outskirts of the city, but have strategic access to vital places in the city of Jakarta. The environment around this apartment tends to be quiet.
Even so, the apartment has complete facilities to make you feel at home. You will also have no trouble meeting your daily needs or finding the nearest entertainment.
5. Bus Stop Near the Apartment
Working by public transportation is considered more efficient and cheaper for some people. So, if you usually use TransJakarta buses, don't worry.
If you rent the Gateway Ciledug apartment, you will have easy access to the TransJakarta bus stop. This bus stop is even right in front of the apartment, so you can reach it on foot.
The bus stop connects Ciledug with other bus stops in Jakarta via a special TransJakarta flyover. It's time to say "bye" to traffic jams!
6. Apartment Unit with Complete Facilities
Gateway Apartments have a total of 1000 units with an area ranging from 31 m2 to 35 m2. There are unfurnished units and fully furnished units that you can choose according to your needs.
For monthly rent, this apartment offers a fairly low price. You can rent a 1BR unit with complete facilities starting from IDR 2.5 million per month!
With this price, you can live comfortably on the edge of the city, but have easy access to the city center. Gateway Apartment is perfect for newly married couples or those whose activities are based around Ciledug.
7. The Apartment is Easily Reachable from the Hospital
It is important for all of us to take care of ourselves during the Covid-19 pandemic. Nevertheless, it is undeniable, sometimes our bodies are weak and need doctor help.
If you live in this Ciledug Gateway Apartment, you don't need to panic when you are sick. You see, there are several clinics and hospitals nearby.
The nearest hospital is Petukangan Hospital, which is only 3 minutes from the apartment. In addition, there is also Dr. Hospital. Suyoto (10 minutes), Pondok Indah Hospital (15 minutes), Pertamina Central Hospital (16 minutes), and RSIA Brawijaya (24 minutes). Even the Fatmawati Hospital can be reached within 20 minutes from the apartment.
8. Complete Public Facilities in the Apartment
Besides providing fully furnished units, the Gateway Ciledug apartment has many public facilities that you can use to fulfill your needs. For sports lovers, there is a swimming pool and a fully-equipped fitness center.
This apartment also provides a mini-market, a children's playground, and a multipurpose room. If you are hungry, you don't have to go far to find food. You see, there is a food court in this apartment.
Do you need to make a transaction at an ATM? Just go down to the ground floor to find the ATM Center. The apartment is also equipped with lots of CCTV and 24-hour protection by security guards, so the residents can live safely.
9. Easy to Reach Tangerang and Jakarta Area
The very strategic location of the Gateway Ciledug apartment makes it easy for you to reach many important places in Jakarta or Tangerang.
Do you want to take a trip to the BSD or Serpong area? Want to hunt for food at Bintaro? Or visiting upscale malls in South Jakarta? Just take TransJakarta or take a private vehicle via toll road to get there in no time.
You can also travel by KRL. You just need to take an online motorcycle taxi to the KRL and you can reach your destination in the Jabodetabek area. It's easy, right?
10. Many Food Stalls Around the Apartment
Gateway Ciledug is not only famous because it is located near the toll road and TransJakarta bus stop, but also has many food choices around it. Yes, you will have no trouble finding tasty local food if you rent this apartment.
There are several fast-food stalls, cafes, and even some contemporary Korean food stalls. You will also find many famous franchise restaurants, such as Richeese Factory Ciledug Raya, HokBen, and many more.
If you want more food choices, you can look for them at the nearest mall, such as Metro Cipulir, PIM, or Gandaria City.
---
Those are the 10 reasons why you must rent the Gateway Ciledug Apartment, a middle-class apartment at an affordable price. Are you interested in renting it? Or are you still looking for other recommendations? Check Flokq's homepage here, come on!