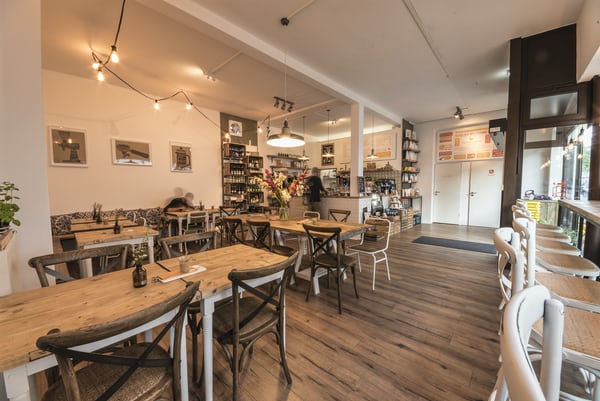 Settling Down
Here Are 4 Jakarta Apartment Attached to Coffee Shops
What things do you consider when choosing an apartment in Jakarta? Must be a lot, yes. Well, for those of you who are considering living in a residence with a coffee shop in it, Flokq has several choices. A coffee shop that blends with the apartment environment has many advantages, you know. One of the advantages is that it makes you feel comfortable when you want to work outside the office or at home.
What are the apartments that have a coffee shop in them? Curious? Let's take a look at some of the choices below!
People also read: 25 Jakarta Apartments with Monthly Payment 5 Million
1. Istana Sahid Apartment
The first apartment is Istana Sahid. This residence has 4 types of units: private, common, queen, and master. Located in the Sudirman area, Jakarta, this apartment is suitable for those of you whose offices are located in the area. There are so many facilities on offer, from tennis courts to large swimming pools.
But, it doesn't end there. The main thing to note is that this apartment has a coffee shop inside. The coffee shop is called Roco (Room for Coffee). The place is not so big, but it feels very comfortable because the atmosphere is quiet and lonely. You can come here just to relax and chat with office friends.
Price: Starting from IDR 7 million / month
Address: Jl. Gen. Sudirman No. Kav 86, RT.10/RW.11, Karet Tengsin, Tanah Abang District, Central Jakarta City, Special Capital Region of Jakarta 10220
2. Casa Domaine
Second, this apartment is located in a strategic area in Jakarta. Yes, the apartment in question is Casa Domaine. The types provided by this residence include master, queen, common, and private. You can choose a room that suits your needs.
In addition, this apartment also has a coffee shop called Scandinavian Coffee Shop. The place is not so big, it makes this coffee shop feel comfortable. You can choose to sit outdoors or indoors. The recommended menu to try is Scandi's Es Kopi Susu and Almond Croissant.
The existence of this coffee shop is certainly a plus for residents of the Casa Domaine apartment.
Price: Starting from IDR 25.6 million / month
Address: Jl. Kh. Mas Mansyur Kav. 1 RT. 6 / RW. 8, Karet Tengsin, Tanah Abang, RT.6/RW.8, Karet Tengsin, Tanah Abang District, Central Jakarta City, Special Capital Region of Jakarta 10250
3. Taman Rasuna Apartment
Next, there is Taman Rasuna which is no less interesting than the apartment – the previous apartment. This apartment is located in an elite area in Jakarta, namely Menteng. The facilities offered are a fitness center, swimming pool, children's playground, basketball court, and a green garden.
Moreover, in the middle of this apartment, there is a coffee shop which is quite loved by young people. This unique coffee shop is called Escalator Coffee. Escalator Coffee is in a hidden place. Precisely in the middle of the apartment, on the 4th floor the swimming pool podium area.
The menu offered is very diverse, ranging from cakes, pasta, and other processed coffee drinks. For coffee lovers, you can try the Heritage Es Kopi. This coffee place is in the form of a greenhouse consisting of two parts. The part of indoor the greenhouse and the part outdoor wider near the swimming pool area equipped with terraced benches.
Price: Starting from IDR 4.2 million / month
Address: Jl. Taman Rasuna Tim., RT.16/RW.1, Menteng Atas, Setiabudi District, Jakarta, Special Capital Region of Jakarta 12960
4. Metro Park Residence
Last but not least, there is an apartment located in the western part of Jakarta, namely Metro Park Residence. This vertical residence has various premium facilities to pamper its residents. These facilities include a swimming pool, jogging track, fitness center, as well as tennis and basketball courts.
In addition, this apartment is equipped with a coffee shop which is quite a hit. The coffee shop which is directly below this apartment is called 8th Brew Coffee. There are many apartment residents who spend quite a lot of time at 8th Brew Coffee. Especially, office people who want to work there or just relax.
Residents often come around 4 to 6 pm. They usually enjoy coffee while watching the sunset. The land that is still spacious around the building creates a lot of fresh air, making the outdoor area cooler and more comfortable.
Price: Starting from IDR 3.7 million / month
Address: Jl. Pilar Mas Utama No. Kav. 28, RT.7/RW.3, Kebon Jeruk, West Jakarta, DKI Jakarta 11520
People also read: Top 4 Apartment with Tennis Court in South Jakarta: Flokq's Picks!
There are 4 apartments in Jakarta that are equipped with coffee shop facilities. How? Interested in renting one of the apartments above? Come on, order immediately with Flokq!