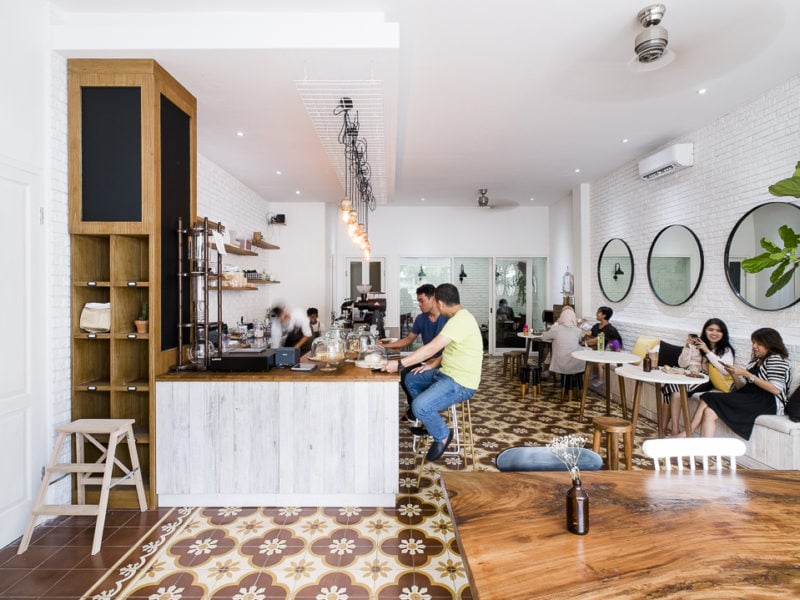 Restaurants in Bintaro can be a culinary choice for you who live in the area of Tangerang, BSD, Alam Sutera, and surrounding areas. Although located on the outskirts of Jakarta, the food and restaurants in Bintaro are no less cool than those in the middle of the city. Many places are recommended for eating, from cafes to family restaurants. If you want to have coffee while relaxing, find cool photo spots, or eat deliciously at an affordable price, you can get all of it in these 8 restaurants at Bintaro. Check it out!
1. Pigeonhole Coffee
Pigeonhole Coffee looks small from the outside, but when you come inside, this cafe turns out to be quite spacious with a comfortable atmosphere. Pigeonhole Coffee serves various kinds of menu, especially desserts.
You can enjoy a long weekend afternoon with a cup of flat white and honey cake by Pigeon Hole. The coffee has a nice hint of sweetness in the aftertaste with perfection in every sip. The honey cake is a perfect pairing too. It has a light texture with a sweet flavor that comes from honey.
Opening Hours: 07.00–22.00
Address: Jl. Bintaro Utara Raya Blok P2 No.1 6, RT.6 / RW.8, Bintaro, Kec. Pesanggrahan, South Jakarta, Special Capital Region of Jakarta 12320
Instagram: @piegonholecoffee
2. Sebastian Coffee and Kitchen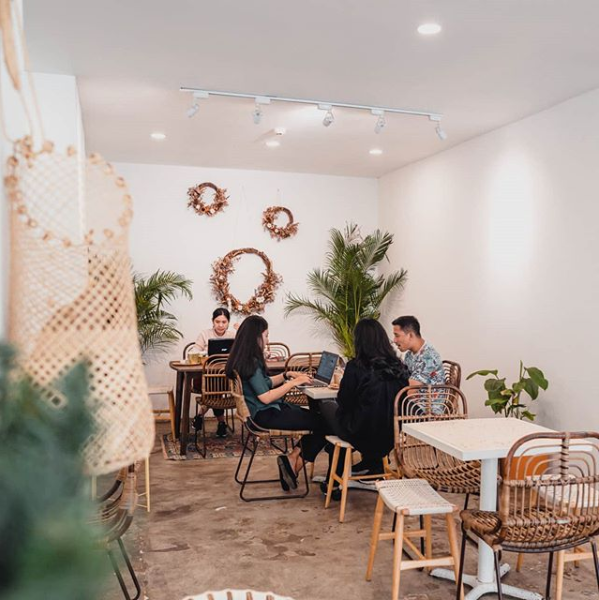 Sebastian Coffee and Kitchen has a minimalist industrial concept. The most iconic of the restaurant's interior is the bright green container which is part of the decoration.
They serve a variety of local coffees. In addition, there is also a Rooster Coffee and Matcha Frappe that becomes a customer's favorite. If you are hungry, Carbonara Rice with Chicken is highly recommended. It is a creamy Carbonara sauce mixed with rice with melted cheese and soft fried chicken topping that will make you crave for more!
Opening Hours: 08.00–23.00
Address: Jl. RC. Veteran Raya Jl. Health V No.3, RT.1 / RW.11, Bintaro, Kec. Pesanggrahan, South Jakarta, Special Capital Region of Jakarta 12330
Instagram: @sebastiancoffeeandkitchen
3. Yamalu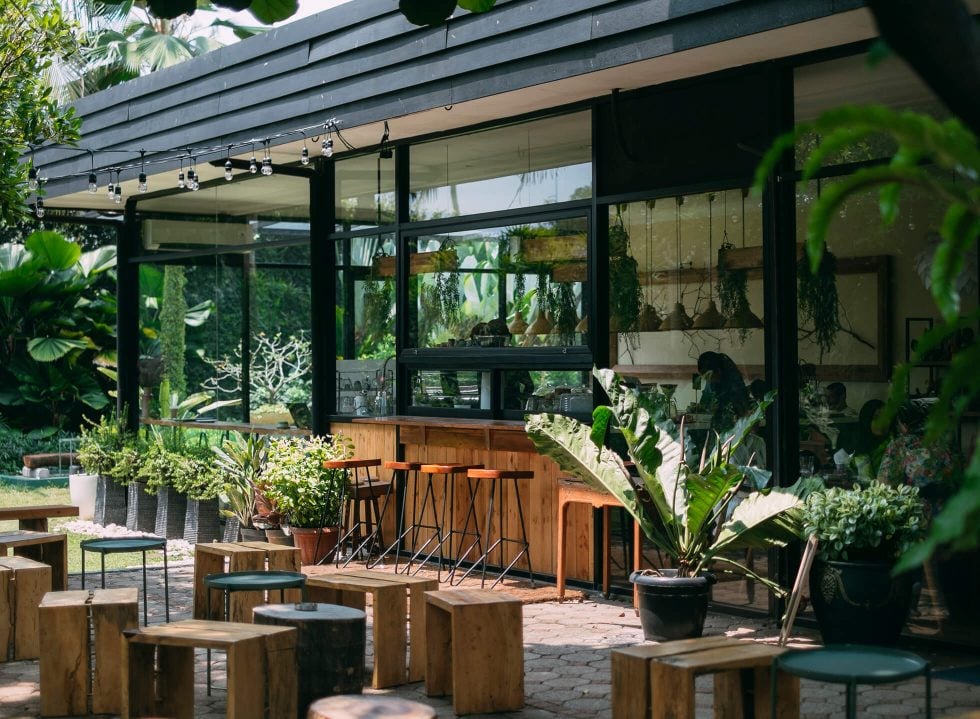 This coffee shop is a hidden gem in Bintaro. Yamalu is a coffee shop that carries the theme of back to nature. When you enter this place, you will be treated to a view of all-green trees and gardens. Besides being able to breathe fresh air, you can also find cool spots for photo hunting.
Yamalu serves food with an attractive appearance. One of them is Sunrise Breakfast which is omelet and sausage served with toast and veggies. Definitely a great fuel to start a day not to mention very delicious!
Opening Hours: 09.00–20.00
Address: Jl. Deplu Raya No.16, RT.3 / RW.3, Bintaro, Kec. Pesanggrahan, Jakarta, Special Capital Region of Jakarta 12330
Instagram: @ya.ma.lu
4. Lot 9 Bintaro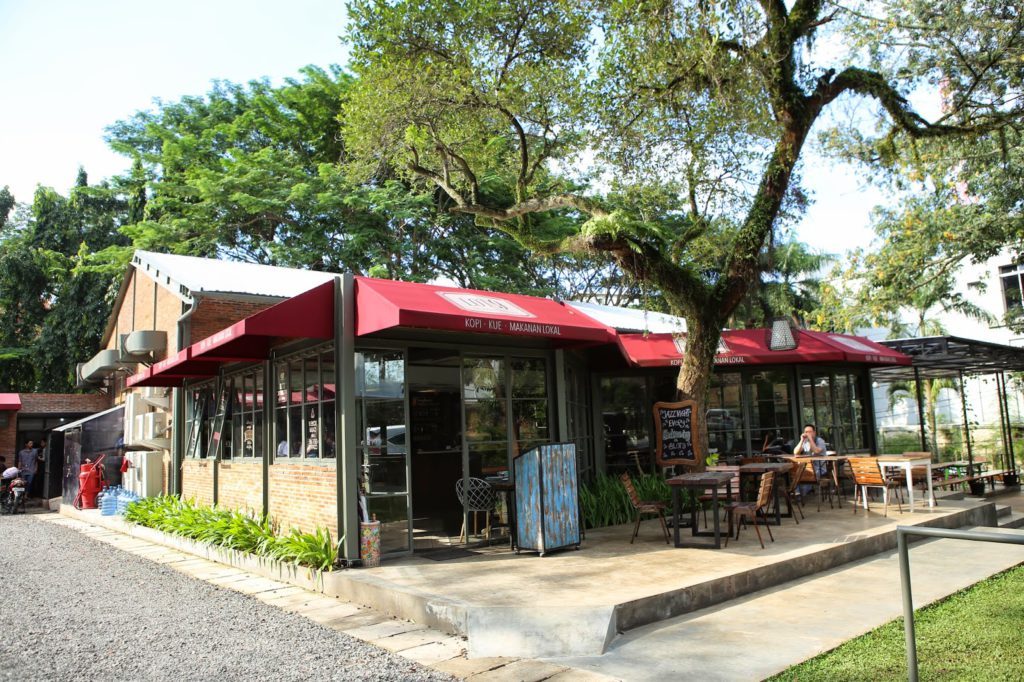 Lot 9 is one of the most crowded restaurants in Bintaro area. The atmosphere of the restaurant is very comfortable with its dim lights, so it feels more intimate to eat with family or friends. The place is quite spacious with an outdoor and indoor area. Plus, they also have smoking areas inside and live music on weekends.
If you look at the menu, they serve a lot of Indonesian dishes such as fried rice, fried gurame, Manado porridge, and other delicious upscaled local cuisines.
Opening Hours: 07.00–00.00
Address: Bintaro Artery Road No. 78 Bintaro Jaya Sektor 9, Pd. Pucung, Kec. Pd. Aren, Kota South Tangerang, Banten 15229
Instagram: @lot9bintaro
5. IND.USTRIE Kitchen & Coffee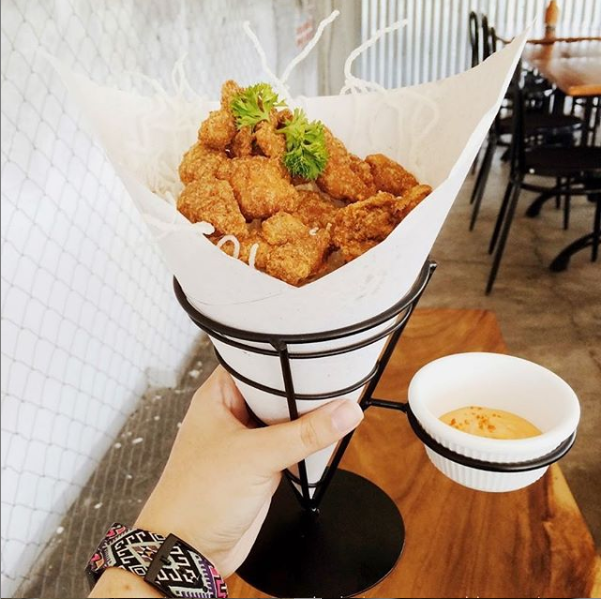 This restaurant has an industrial concept with a variety of interesting décor that filled every café room. They even turn used car tires into aesthetic tables that make the decoration more unique.
If you visit this restaurant, you might want to try their recommended menu which is Red Ramen, a chewy noodle texture with fresh and spicy broth, and Spaghetti Carbonara, a delicious creamy sauce based pasta with smoked beef topping.
Opening Hours: 07.30–21.00
Address: Ruko Kebayoran Arcade 2 Blok B3 No.58 Jalan Boulevard Raya Sektor 7 Bintaro, Pd. Jaya, Kec. Pd. Aren, South Tangerang, Banten 15224
Instagram: @industrieid
6. Abuella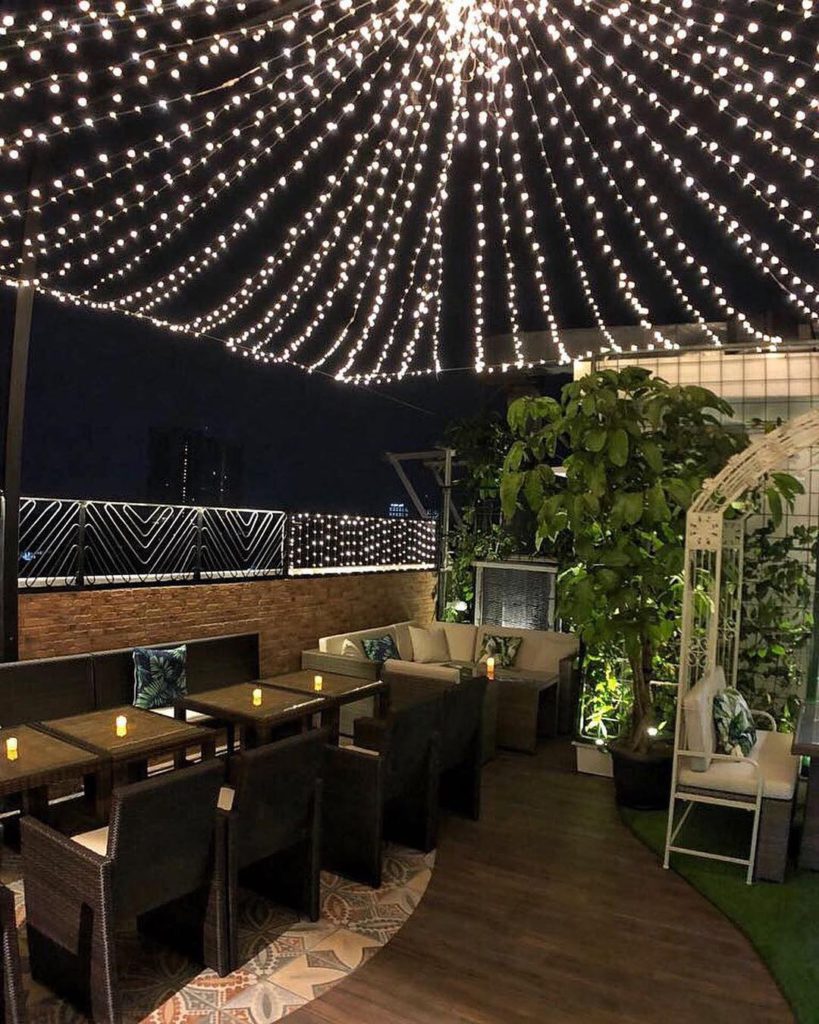 Abuella is a cafe located in the mall Bintaro Jaya Xchange, appears to have a fairly wide area both indoors and outdoors. The indoor area is filled with various colorful sofa bench furniture and varied marble wooden tables, so it doesn't look monotonous. For outdoor areas, they have balcony that faces directly towards the park. The name Abuella itself is taken from Spanish which means grandmother.
The menu offered is also varied. One of them is Mozarella Choco Fried Banana, two fried bananas served with melted mozzarella cheese and chocolate sauce. Not to forget a slice of strawberry fruit and caramel sugar shaped Eiffel tower placed above it as a beautiful garnish.
Opening Hours: 10.00–20.00
Address: Ruko Golden Madrid, RUKO GOLDEN MADRID I, BSD, Kota Tangerang Selatan, Banten 15310, Blk. A2-A3, Rawa Mekar Jaya, Serpong Sub-District, South Tangerang City, Banten 15310
Instagram: @abuella_cafe
7. Rene9ade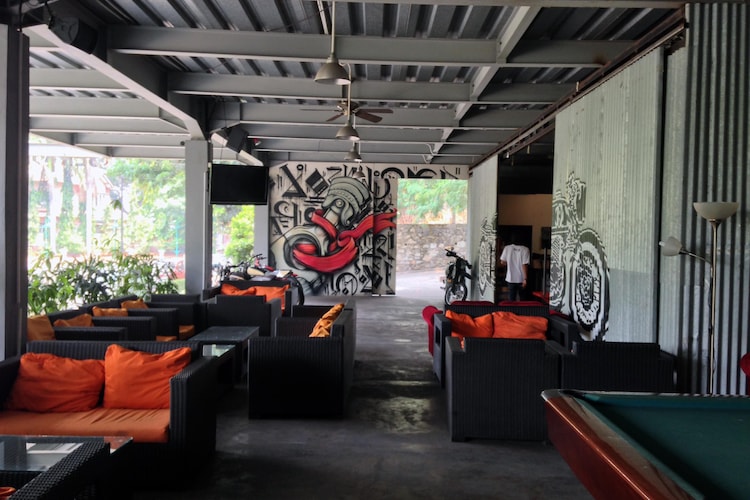 If you are a custom motorcycles lover, Rene9ade is the right place for you. This café was originally a custom motorcycles workshop that was given an additional café as a place to hangout for motorbike lovers. The place is quite cozy, and they have extra-large sofas so it's nice to hang out with a lot of friends
This cafe serves various menus such as salads, pasta, burgers, seafood, Asian foods, and Western foods that you can enjoy.
Opening Hours: 10.30–22.00
Address: Jl. Kucica XVI No.JF14 / JF14 / 1, Pd. Pucung, Kec. Pd. Aren, South Tangerang, Banten 15229
Read also : 6 Restaurants You Must Visit in Kemang
8. Happiness Kitchen & Coffee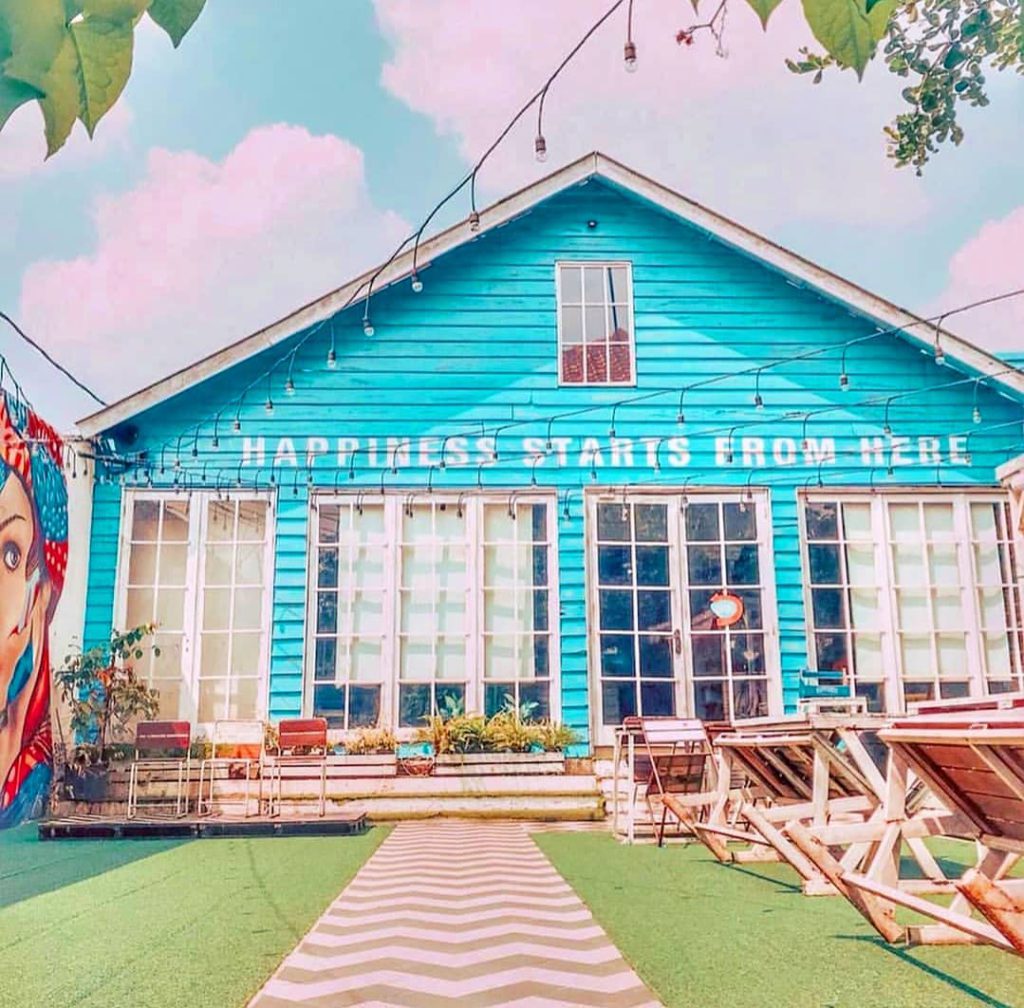 This restaurant has a very unique interior and instagenic decorations with an urban and rustic atmosphere. The unique interior makes this cafe suitable for photo hunting. Many customers come here to take pictures and hang out with friends.
Besides the interior, the food served also has an attractive appearance. The menu is also varied, ranging from drinks with cute decorations and various foods such as pasta, pizza, rice bowls, noodles, and other dishes.
So, ready to grab a bite and try some of our recommended restaurants in Bintaro? 
Opening Hours: 08.00–00.00
Address: Blok JC1 No, Jl. Maleo Raya No.2, Pd. Pucung, Kec. Pd. Aren, South Tangerang, Banten 15229
Instagram: @happinesskc