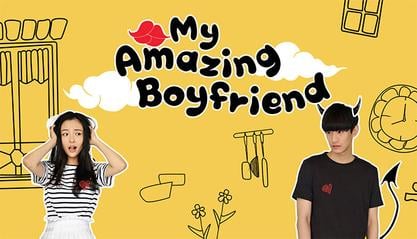 Staying In
9 Romantic Chinese Drama for Your Binging Pleasure
Romantic Chinese dramas have long presented unique and memorable stories. With the growing and growing popularity of streaming services, it is easier for us to re-access the best romantic Chinese dramas from our oldest memories or even discover new stories. Here are some of the best romantic Chinese dramas.

People also read: Romantic Comedy Korean Drama to Watch
1. Romantic Chinese Drama My Amazing Boyfriend
The first drama recommendation tells the story of a 500-year-old superhuman Xue Ling Qiao who is accidentally awakened from his sleep by Tian Jing Zhi. This happened because of a car accident that occurred between the two of them. Ling Qiao then lived under one roof with Jing Zhi. An interesting and funny story arises because Jing Zhi, a young actress, wants to get rid of Ling Qiao but they both become even closer.
2. Romantic Chinese Drama Boss & Me
This Chinese drama on Netflix is ​​for those of you who like to watch stories with characters from rich and luxurious backgrounds. Boss & Me tells the story of conglomerate Feng Teng who seeks a blood transfusion for his younger sister. Her younger sister's blood type is quite rare but fortunately, there is an employee at her company by the name Shan Shan who has the same blood type as her. After agreeing to provide a blood transfusion, Feng Teng and his sister felt that they owe Shan Shan.
Feng Teng's younger brother then advised his brother to give Shan Shan a special lunch to accompany the recovery process after the transfusion. Shan Shan, who likes to eat, really likes this and he slowly makes Feng Teng, who was originally cold, become more attentive to his surroundings.
3. Romantic Chinese Drama Eternal Love

This romantic Chinese drama tells the story of Bai Qian, a god who is given a quest to descend into the world to catch a demon god who escaped after 70,000 years ago being trapped by gods and goddesses. While descending into the world, Bai Qian actually falls in love with someone named Ye Hua. Bai Qian was then given the name Su Su while wandering the world and decided to stop being a goddess.
The story turns tragic when Su Jin appears who is jealous of Bai Qian and Ye Hua's love affair. Su Jin then makes the two fight until Bai Qian is blind in one eye. Bai Qian, who feels sadly of this betrayal, jumps from Zhu Xian's terrace at the same time asking for the erasure of his memory of Ye Hua.
Hundreds of years passed and the two of them met again as gods and goddesses. Only Ye Hua apparently remembered who Bai Qian was, not the other way around.
4. Love O2O

This romantic Chinese drama tells the story of Xiao Nai who is someone who is known to have talent in the virtual world and in real life. Apart from being an expert in online games, Xiao Nai is also a model student who is good at swimming and playing basketball. His status as an ideal female student on campus does not make Xiao Nai interested in his school girls. He is actually interested in Wei Wei, who is a science student who is proficient in playing online games. Xiao Nai also used all her real and virtual world abilities to approach Wei Wei.
5. Meteor Garden
It tells the story of Dong Shan Cai, who was asked by his parents to go to school in a place that is known to be a place for rich people to study, even though he is someone who is poor. In that school, there is a gang that goes by the name F4 which consists of students who are the most handsome in the school. Shan Cai actually dared to fight F4 and made its leader, Dao Ming Si, attracted to him.
6. Ashes of Love

This romantic Chinese drama returns to the setting of a god and goddess story. Jin Mi is the son of the Flower Goddess who died after giving birth to him. Before he died, the sewi asked his men to hide the birth of his daughter. Jin Mi hid for 10,000 years in Shui Jing. 4 millennia later, Xu Feng, a prince from the Heavenly Kingdom accidentally walked into Shui Jing after being caught by someone. Jin Mi then saved the prince. Xu Feng fell in love with Jin Mi after 100 years of living together. They also try to defend their love from those around them who want to take advantage of it.
7. Accidentally in Love
Back to the background of a rich family story. This romantic Chinese drama tells of Chen Qing Qing, who is the daughter of a rich family who seeks all ways to avoid matchmaking. He wants to determine his own love story and he runs away on the wedding day. After escaping, he enrolls in the college where his parents go to school to find out the cause of their mysterious death. Qing Qing tries to change his appearance so as not to be recognized. Even though he was careful, he actually met Si Fu Teng whom he sees as familiar from before. Fu Teng doesn't seem to realize that his seatmate is Qing Qing even though he actually hates Qing Qing. They both often fight. But gradually they are having interest to each other amidst Qing Qing's efforts to find out the cause of his parents' death
8. When We Were Young
Set in the 90s, When We Were Young tells of five friends who went through hard, happy, and sad lives in their lives. Family conflicts and love stories did not fail to be the driving force behind the story of the five friends.
9. A Love So Beautiful
This latest romantic Chinese drama tells the story of Chen Xiaoxi. He harbored feelings for his neighbor Jiang Chen from his childhood until now in high school. Although many felt that their love would not be repaid, Xiaoxi was never ashamed to show her feelings to Jiang Chen. Many people felt that the personalities of the two were too different, Xiaoxi was very friendly while Jiang Chen was very distant from people around him. Xiaoxi, who is not good at taking classes, feels things are confusing when Jiang Chen wants to enter the medical department after graduating from high school. Xiaoxi also looked for ways to stay close to Jiang Chen.
That's Flokq's recommendation for the best romantic Chinese drama. They're all available on streaming services like Netflix, so it should be easy to watch them in full and with subtitles. Don't forget to put this article in your bookmark so it's easy to reference at any time!