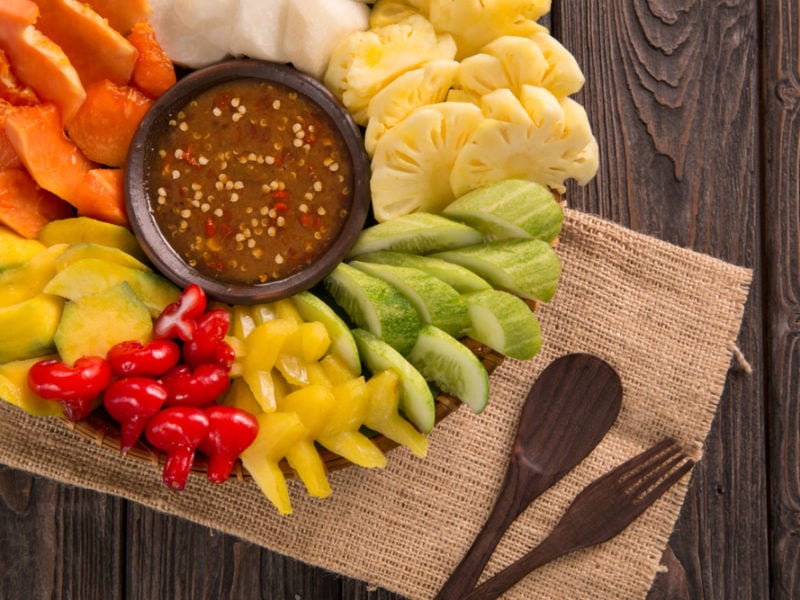 Local Guide
An Ultimate Guide to Rujak: Indonesia's Legendary Sweet Savory Dish
What is Rujak?
To have a basic imagery, Rujak is basically an Indonesian traditional fruit salad. Though you can also find it in Malaysia and Singapore due to its close ties, Rujak is most commonly known from Indonesia. The most common way of serving Rujak is in a bowl of colorful slices of fruits and vegetables dressed with either a sweet, spicy, and tangy palm sugar sauce, or with ground peanut sauce.
The striking combination of spicy and sour makes Rujak so popular among the locals as a refreshing snack. The tropical climate which breeds diverse variety of fruits also makes it unique depends on where you get them. Rujak is so close to Indonesian lives that it becomes a part of the traditional prenatal ceremony called 'tujuh bulanan' (seven months pregnancy) among Javanese. It is also one of the oldest dishes and the earliest historically identified food of ancient Java.
Common Ingredients in Rujak
The fruits and vegetables in Rujak vary basically as according to each food stall that sells it. It can also varies depend on the availability, which follows the harvest season of each ingredient. Some of the most popular fruits and vegetables are pineapple, green mango, guava, jicama (bengkoang), cucumber, star fruit, ambarella (kedondong), and rose apple. Pretty much any fruits/vegetables firm enough that won't fall apart when mixed with the sauce and stern when picked with a skewer to eat.
As for the sauce, it comprises of palm sugar, particularly Javanese palm sugar. Rujak also uses shrimp paste or terasi to create a unique sense of spiciness. Most importantly, chilies! Indonesians usually use a very hot and spicy kind of chili. So if you prefer it less spicy, make sure to remove the chili seeds or not to put chili at all. The sauce ingredients are mixed together by grinding them in a special tool called cobek and ulekan, which are traditional cooking tools made from stones to grind spices into a paste.
How Rujak is Served
You usually find Rujak served in a plastic container or in a banana leaves plate with a bamboo skewer to pick the fruits. This practical serving, mostly in small personal portions, makes it really easy to find in food stalls on the streets and handy to carry while wandering to many places. As for the dressing, it really differs according to which type of Rujak you're getting. Below you can see all the types of Rujak there is!
1. Rujak Buah (Fruit Rujak)
It's currently the most popular rujak in Indonesia and giving you a more sweet taste. As the name implies, fruit rujak is made from a combination of several fruits, mainly tropical fruits such as jambu air (water apple), pineapple, unripe mangoes, bengkoang (jicama), cucumber, kedondong, and raw red Ubi jalar (sweet potato) that cut to bite-size pieces. The sliced fruits are dressed with the sweet and spicy sauce made of palm sugar, tamarind, shrimp paste, peanut, and chili, with the addition of sambal garam powder (a simple mixture of salt and ground chili powder) that put on the side for those who prefer the more salty taste.
2. Rujak Tumbuk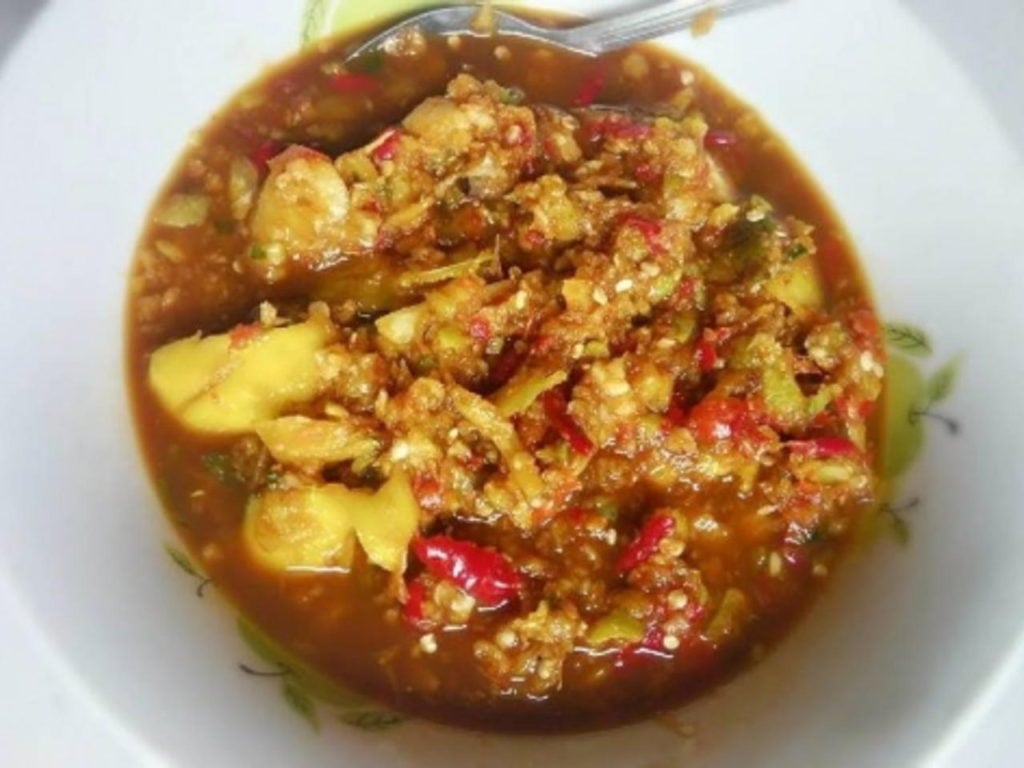 This basically means a ground rujak, with all the ingredients, are being grounded and mashed together in a wooden mortar. The fruits used are green pisang batu (some types of banana), raw red yam, jicama, Java apple, kedondong and young unripe mango. The dressing is not poured but mixed during the grinding process. Rujak tumbuk usually served in smaller portions on banana leaf plates, but later now it's commonly served in plastic cups.
3. Rujak Cuka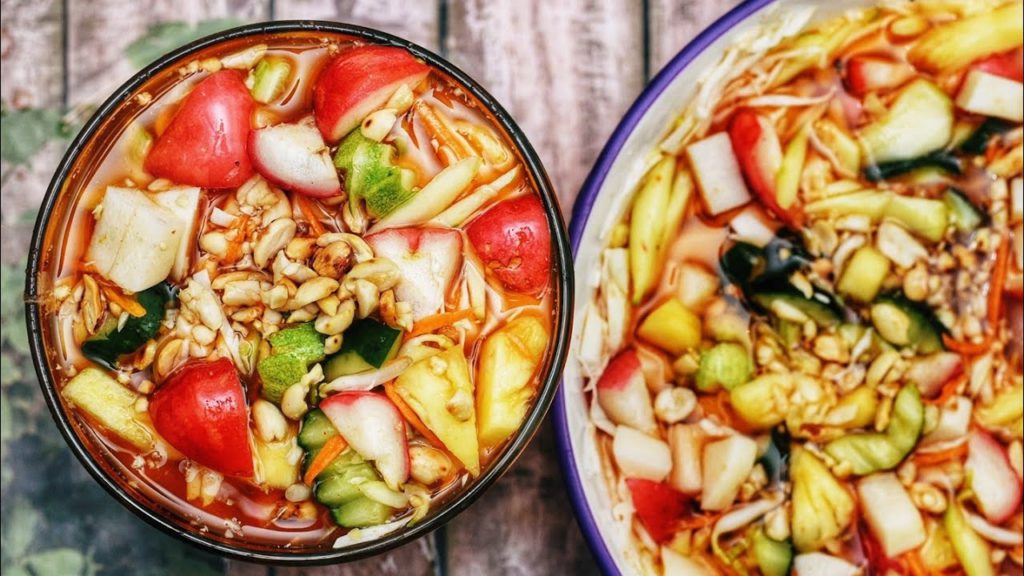 This type is a vinegared rujak that originates from West Java. It gives you some sour freshness the moment you eat it. The fruits that are in this rujak are the same as others and also served with sour and spicy dressings are from vinegar, chili pepper, and palm sugar on top of it. This dish is quite familiar with asinan, a brined or vinegared vegetable or fruit dish.
4. Rujak Cingur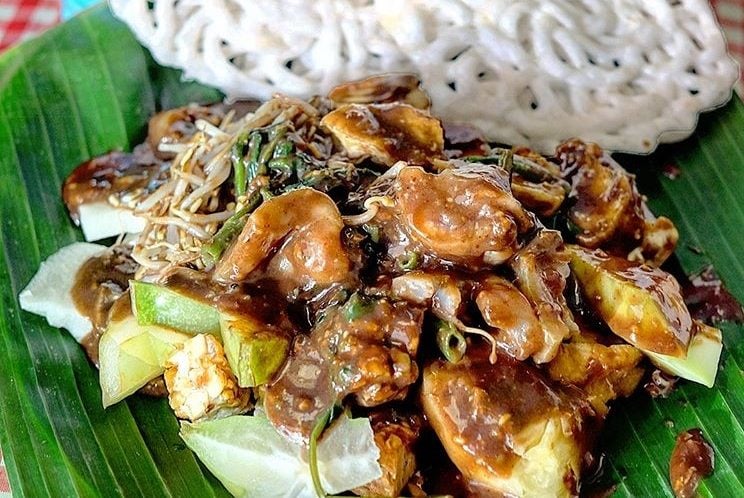 Cingur means mouth in Javanese, and rujak cingur is from a cow's mouth. This Rujak originates from Surabaya, the most Eastern provincial capital in Java, and become specialty rujak with a meaty taste. The ingredients for this dish are cooked buffalo or cow lips, bangkuang, unripe mango, pineapple, cucumber, kale, lontong (rice cake), tofu, and tempeh. Served with the black sauce that made from petis (a condiment of fermented fish or shrimp) and ground peanuts, and completed with a sprinkle of fried shallots and kerupuk (crackers).
5. Rujak Petis
Also another variant rujak from Surabaya. Rujak petis don't have any meat but contains sliced of yam (bengkoang), unripe mango, cucumber, kedondong, tofu, and beansprouts. Served with petis sauces, fried shallots, palm sugars, and ground peanut. You can usually find this traditionally on banana leaf, but it's more common now to serve on a plate.
6. Rujak Serut
Serut means shredded rujak, quite similar to tumbuk, but the ingredients are being shredded into bite-sized pieces instead of mashed.
Read also : Indonesian Traditional Foods You Can Find in Jakarta
7. Rujak u'Groeh
This Rujak is An elegant dish from Aceh province, the most western part of Indonesia. Instead of fruits, it's from young and tender coconut meat and papaya and sauced with a mixture of sugar, palm sugar, ice, salt, lime, and chili. You can enjoy this dish best when cold!
8. Rujak Shanghai
This dish specially from the Chinese community in Jakarta. The name of this rujak is not from Shanghai City but Bioscoop Shanghai located in Batavia (Jakarta's old name) during the colonial period. The main ingredients for this dish are kale, edible jellyfish, boiled and sliced octopus, and yam. Completed with a red sweet-sour sauce, pineapple juice, and toasted crushed peanuts. You can find this rujak in Indonesia's Chinatown like Glodok, Jakarta.
9. Rujak Juhi
Juhi means salted cuttlefish in Indonesian, this dish originated from the Chinese community in Jakarta that now become a Betawi dish closely related to asinan Betawi.  Usually contains fried tofu, fried boiled potatoes, fried shredded cuttlefish, fried garlic, cucumber, lettuce, cabbages, and noodles as the main ingredients.
10. Rujak Kuah Pindang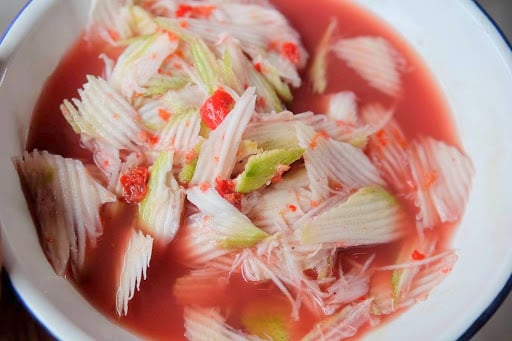 One of rujak variants that comes from Bali. It's quite resembling fruit rujak but instead of using the normal rujak dressing. The fruits are soaked in a spiced fish broth made from shrimp paste (terasi), salt, chili, and of course, fish broth.
11. Rujak Pengantin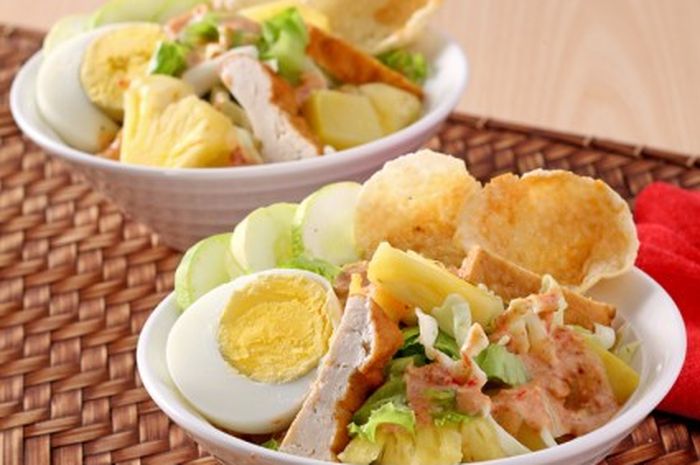 Pengantin means the bride or groom in Indonesia, its unique name comes from how the dish is usually there when there is a wedding or big celebration. What differentiates the most from other rujak is this dish using yellow-colored noodles. It also contains slices of boiled eggs, fried tofu, pineapples, potatoes, carrot, chili, bean sprouts, pickles, lettuce, cabbage, cucumber, roasted peanuts and completed with emping crackers (slightly bitter chips made from belinjo or melinjo nuts). The sauce from ground peanuts and little vinegar, sometimes it is also mixed with mayonnaise. This dish is somewhat familiar with gado-gado from Central Java.
12. Rujak Tolet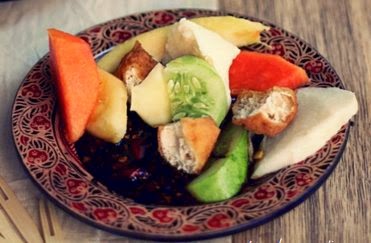 This type of rujak also familiar with fruit rujak, and originated from Surabaya. Aside from using fruits as the main ingredients, rujak tolet also use fried tofu, garlic, and optionally beef tendons. And completed with petis sauces.
13. Rujak Soto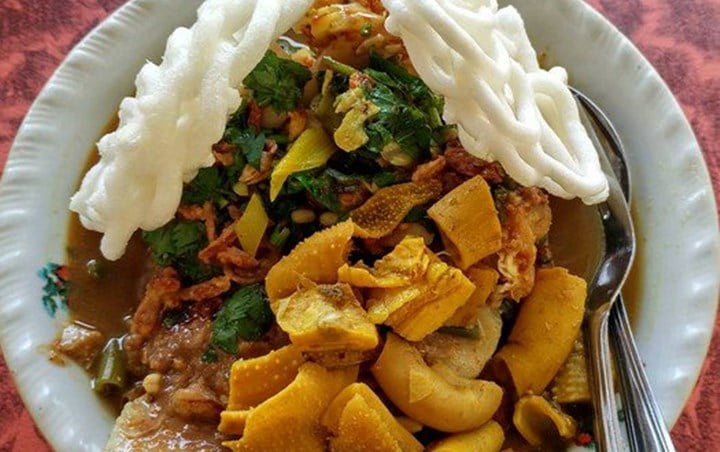 Last but not least, rujak soto comes from Banyuwangi, East Java. The dish is a combination of rujak cingur with beef soto, a traditional Indonesian soup mainly composed of broth, meat, and vegetables. With it being uniquely mixed, it creates a unique and rich flavor to your taste. Served with vegetables like water spinach and bean sprouts, along with lontong rice cake in petis sauces poured with soto soup. A specialty dish that you must try!
Surely are mouthwatering! That would be all the types of Rujak from Indonesia you should know. Did we miss something? Share with us your favorite way of enjoying Rujak by commenting down below!