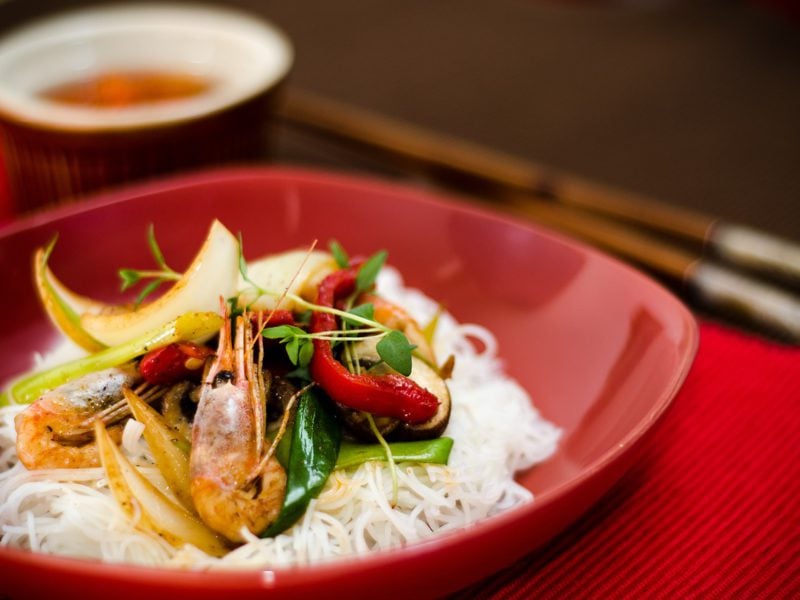 Others
9 Seafood Restaurants in Ubud for the Best Bali Cuisine Experience
Ubud is one of the famous tourist areas in Bali. Each area in Bali has its charm that attracts tourists from all over the world. Ubud is famous for arts, culture, nature, and also various tourism activities. You will find yourself busy choosing the perfect destination or activities as there are so many things to do in Ubud! The next thing you would do after a long day of exploring Ubud is eating out. Here we have 10 seafood restaurants in Ubud for the best Bali cuisine experience.
---
Read also: Everything You Need To Know about Ubud!
---
1. Bale Udang Mang Enking
Stepping into this seafood restaurant, you will enjoy a natural vibe with bamboos surrounding the place. Bale Udang Mang Engking has an outdoor setting that will make you feel the breeze of Bali's fresh air. The main point of this restaurant is the koi fish pond. Enjoy your seafood in a tranquil vibe with the rice fields view. The recommended menu is honey grilled prawn.
2. Seasoned
This restaurant serves international cuisine but mainly focuses on seafood. Seasoned combines local, organic, and sustainable Balinese ingredients to the dish. You can also enjoy wines and beers. The restaurant is cozy and with greens surrounding the area. Menus in Seasoned are also suitable for vegetarians and gluten-free.
3. Lovster
Like the restaurant name, Lovster specializes in lobster menus. As one of the seafood restaurants in Ubud, Lovster serves delicious seafood dishes. The lobsters are wild-caught, traceable, and sustainably harvested in Bali. It is an option if you want to enjoy tasty local seafood in Bali. The lobsters are customizable to your choice, made-to-order.
4. Sawah Indah Resto
This is one of the seafood restaurants in Ubud that is far away from the city buzz. You will enjoy the traditional Balinese food by the beautiful paddy fields. Sawah Indah Resto has a great traditional Balinese indoor and outdoor that attracts tourists from all over the world. Not only famous for the seafood, but Sawah Indah Resto is also famous for the duck dishes. Recommended menus include; Friend Gurame and Gurame Soup.
5. Paon Dahar
This seafood restaurant is nearby accommodations. Paon Dahar has a cosy interior. It is not too big, or too small so, it is perfect for hangouts with your family and friends. Paon Dahar specializes in grilling fresh seafood. Recommended seafood dishes include; Kerang and BBQ Fish.
6. Hippie Fish
This restaurant specializes in fusion of the Mediterranean and traditional Bali seafood. Hippie Fish is the place to go for you who likes a homely, artsy, and atmosphere. This is one of the seafood restaurants in the heart of Ubud. Not just a restaurant, Hippie Fish is also a place for live music and art exhibitions. Recommended dishes in Hippie Fish are pan-fried snapper with burnt corn and salsa verde, Pappardelle Alla Aragosta with slipper lobster, and crab ragu.
7. Liap-Liap
This restaurant is cozy with warm vibes. The place is ideal for a casual hangout. Liap-Liap serves dishes with exotic grilling and smoking techniques. It also showcases traditional, indigenous cooking styles with the best traditional spices and ingredients. Recommended dishes are Smoked Sting Ray and Tempura Veggies.
8. Warung Mina
From the humble beginnings of a simple shop selling grilled fish, Warung Mina has now become one of the famous seafood restaurants in Ubud. Seafood in Warung Mina is complete with the finest quality ingredients. You will also feel a friendly atmosphere while enjoying your dish. Warung Mina is also affordable in terms of price. Not just seafood, Warung Mina also serves traditional Bali food.
9. Warung Be Pasih
This is one of the seafood restaurants in Ubud that people call a "hidden gem". You will feel traditional and natural vibes at Warung Be Pasih. The prices of the menus are also affordable. Warung Be Pasih specializes in seafood with a traditional Bali taste. Recommended dish in Warung Be Pasih is the fresh grilled fish you can enjoy with various sauces.
So, have you decided which restaurant to try first? While traveling in Ubud, make sure you have the most comfortable accommodation as well. You can go to Flokq's website to search for the best villas, hotels, and guesthouses in Ubud.