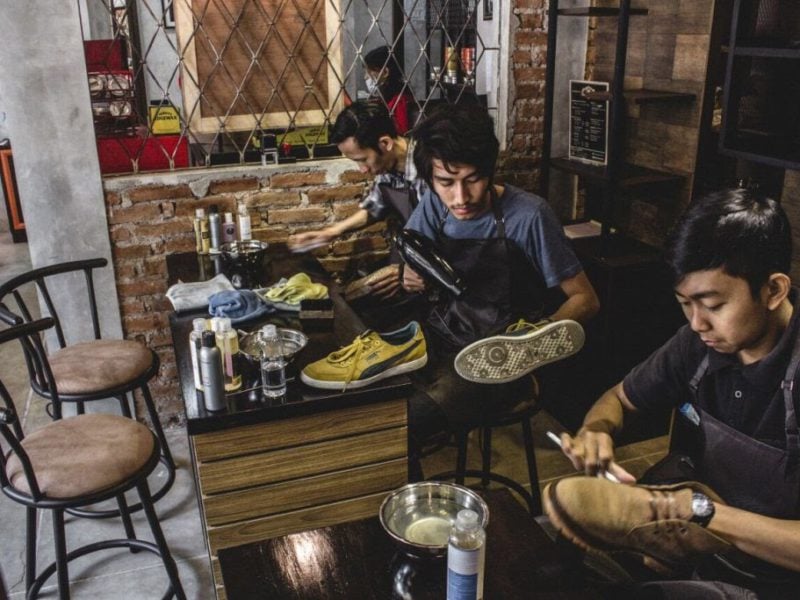 Shoes are an important aspect to support your appearance. Therefore, if your shoes are dirty, they probably won't look nice on you. If you want to make your dirty old shoes look like new again, don't worry, you only need to bring your shoes to a shoe laundry! Your shoes will certainly look like brand new after a proper wash and care. So, here, we have recommendations for well-known shoes laundry and care places in Jakarta.
1. Shoes and Care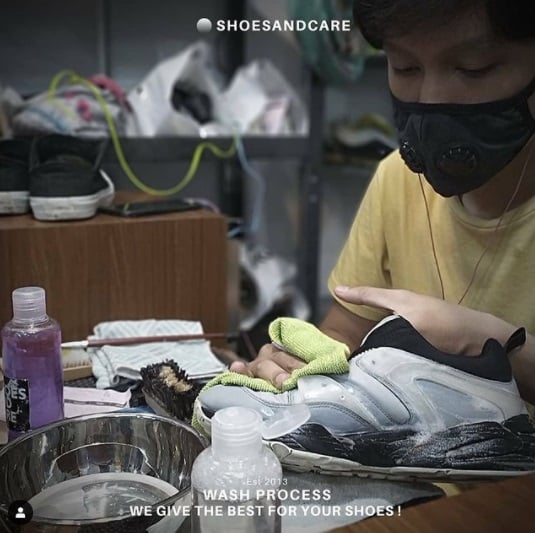 This shoes laundry, which was founded in 2013 from Yogyakarta, has many branches throughout Indonesia, including Jakarta. No half-hearted, they have 8 branches in Jakarta which are spread across South Jakarta, East Jakarta, and West Jakarta.
Apart from regular shoe washing, other services include unyellowing and whitening for white shoes, leather shoe care, care for women's shoes such as heels, re-coloring, and shoe repair. If you are in a rush, they also have a Fast Clean service for IDR 30,000 to clean your shoes in no time, which is about 30 minutes! Not only shoes, but they can also clean your hat or bag. Check out their complete location and price list on Instagram @shoesandcare or shoesandcare.com/lokasi-workshop.
Locations: Senayan, Tebet, Haji Nawi, Bintaro, Pasar Rebo, Rawamangun, Jatiwaringin, Kembangan
Price: Starts from Rp60.000 (deep cleaning regular mild)
2. Footlab Jakarta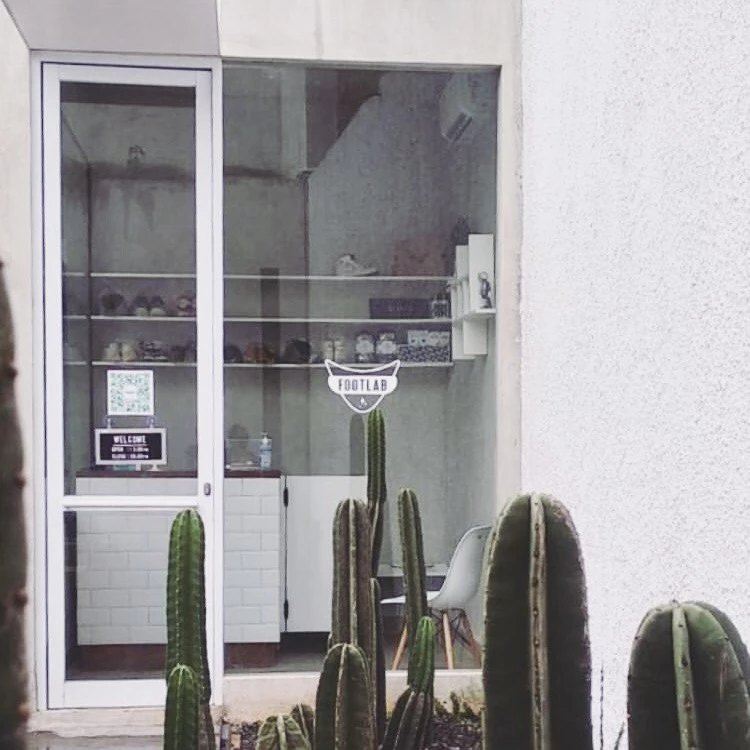 Having been around since 2014, this shoe laundry has many branches in Jakarta, especially South Jakarta. The services offered are not only shoe washing but also shoe re-coloring and repair. Not only that, but they can also do maintenance and repairs for bags and hats. If you're busy, they offer free shoe pick-up and delivery, you know, so you don't have to bother. For the complete address and price list, directly visit Instagram @footlabjkt.
Locations: Gandaria, Pondok Indah, Fatmawati, Grand Indonesia, Bintaro, Senopati
Price: Starts from Rp70.000 (deep clean canvas)
---
Read also: 8 Barbershops Recommendations in Jakarta
---
3. Sneaklin
This shoes laundry shop in Jakarta is one of the pioneers of premium shoes laundry in Indonesia which was first established in Bandung in 2013. Until 2019, they already have 40 branches in 14 provinces throughout Indonesia!
Apart from washing shoes, services offered are unyellowing and shoe repair services. They can also do the finished shoe wash in one day, perfect if you're in a rush. Well, for those of you who are lazy to go to the store, you don't need to worry because you can send your shoes there online. Just check Instagram @sneaklinjkt for more info!
Locations: Pasar Santa, Lebak Bulus, Bintaro, Mall of Indonesia, Pantai Indah Kapuk, Kalideres
Price: Starts from Rp50.000 (regular cleaning – fresh clean)
4. Tjoetji Sepatoe
One of the recommendations for the next shoe wash in Jakarta is Tjoetji Sepatoe. This shoe laundry with a unique name will provide premium service for your shoes. For leather shoes or boots, they have special care, you know. By using cleaning tools imported directly from England, they are ready to make your shoes clean like new. If you want to repair shoes or wash a bag, the price will be adjusted accordingly. Well, for those of you who are curious about the quality of this shoe wash, you can immediately check Instagram @tjoetjisepatoe.
Locations: Kemang, Kelapa Gading, Pantai Indah Kapuk
Price: Starts from Rp100.000 (shoe laundry)
---
Read also: 6 Best Home Spa and Salon Services around Jakarta
---
5. Dapper Clean
This shoes laundry has three branches in South Jakarta and West Jakarta. There are various kinds of shoe washing packages offered, such as Standard Cleaning, which only takes 1 day to complete and only cleans the upper and middle parts of the shoe. Then, there is Deep Cleaning which takes 3-5 days to work and cleans all parts of the shoe, starting from the top, midsole, outsole, insole and others. You can also whiten yellowing shoes by choosing the Unyellowing package, which takes 5-6 days to complete. For more information, you can visit their Instagram @dapperclean.
Locations: Bintaro, Tebet, Bina Nusantara University
Price: Starts from Rp40.000 (fast cleaning)
6. Jeeves Indonesia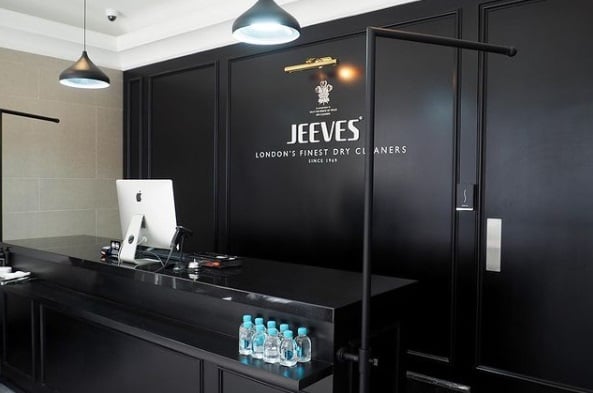 For those of you who have a premium shoe collection at a price of millions of rupiah, you can entrust it to Jeeves. Jeeves, a London-based laundry place, has been in Indonesia since 1996. It is one of a few premium shoe laundry in Jakarta. For instance, it has experience in handling high-quality leather and suede products such as Hermes, Prada, Yves Saint Laurent, Coach, Fendi, Chanel, and Bottega Veneta. They always prioritize quality above all. So, it's no wonder that now it has grown to 6 branches in Indonesia. For complete information, check their website https://www.jeeves-indonesia.com/.
Locations: Pondok Indah, Kemang, Menteng, Hang Lekir, Cipinang, Pluit
Price: Visit their store for a thorough price list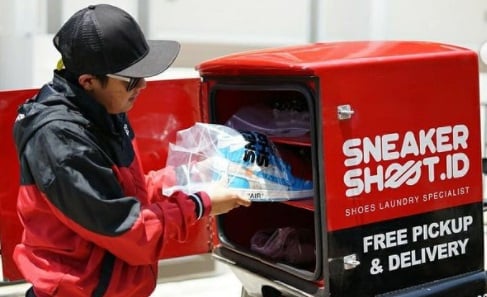 This specialist shoe laundry is based in Jakarta, and currently has more than 100 spots. The advantage of Sneakershoot's laundry shoes that they provide pick-up & delivery services that focus on the Jakarta area and surrounding satellite cities. Ordering services can be made through the official Sneakershoot website.
There are various types of laundry services provided by this place, such as deep cleaning , unyellowing, and repainting. They also provide repair and evenservices custom to beautify sneakers customers'. Not only sneakers, they also accept heels, flat shoes, and even bags, you know!
Location: Jl. Abuserin III No.80, Jaksel
Price: Rp. 80.000 (Deep Cleaning)
This shoes laundry is the first time opening a business in the Bekasi area. Because it is growing rapidly, this shoes laundry service can also be found in the Jakarta area. Apart from shoes, they also receive services for caring for bags, wallets and hats.
Currently Mo Clean is also developing its business by opening a pick up & delivery service. However, the system is still very simple, which is only by contact through Whatsapp. The packages provided by this shoes laundry are quite complete, starting from cleaning, unyellowing, repairing and repainting.
Location: Jl. Duren Tiga Raya No. 37, RT.5 / RW.6, Duren Tiga., Kec. Pancoran, Kota Jakarta Selatan
Price: Rp. 100,000 (Deep Cleaning)
So, those are some recommendations for some shoes laundry and care places in Jakarta. Your shoes certainly need to be clean for you to look good. However, the rainy season is starting in Indonesia. That is to say, we hope that this information will be useful to you. Don't worry, the experts will surely clean your shoes carefully!
Keep this article on the bookmark as a cheat sheet when you're looking for a shoes laundry in Jakarta. So, which place to wash your shoes, do you want to go to?